By Eric Vandenbroeck
Late 9 early 10 August news came that the rebels have broken the siege of Aleppo. But fighting remains so intense that no significant amount of aid has been able to reach eastern Aleppo, aid workers say.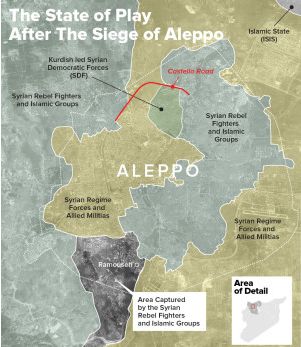 On 14 August, heavy fighting took place in different sectors of the Syrian city as rebels assaulted two government strongholds in the city's northwest and south, Reuters reported. reported. Fighting for control of Aleppo, split between its government-held west and rebel-held eastern neighborhoods, has intensified: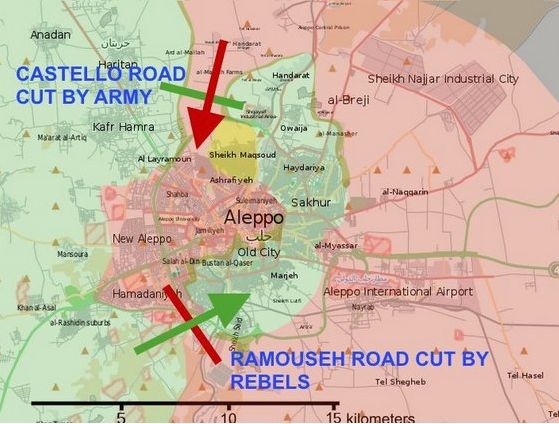 The Assad, Syrian army, and its allies, captured some buildings in the southwestern 1070 housing development.
Insurgents detonated car bombs before launching an attack on the Jamiat al-Zahraa district. Rebel groups then attacked the army's positions in a cement factory on the city's southwest, adjacent to the mouth of a corridor into opposition-held east Aleppo that insurgents had opened up a week ago, breaking a government siege.
I was reported on 10 August that a large contingent of Hezbollah commandos reportedly arrived in Aleppo on Tuesday night.
Victims in all of this are the civilian population who are targeted with barrel bombs including chlorine gas. New York Times World reported that due to Government and Russian airstrikes and artillery bombardment of opposition neighborhoods at least 327 civilians have died in Aleppo Province in the last two weeks.
The United Nations has called for a 48-hour ceasefire to allow the delivery of humanitarian aid to Aleppo. Although Russia announced a daily three-hour halt to air strikes on August 11, the UN said it was not long enough.
UN special envoy Staffan de Mistura estimated in April that at least 400,000 people had been killed in Syria in a five-year-long war that has uprooted nearly half of the country's population.