By Eric Vandenbroeck
Only little over a month ago America's Al Jazeera came out with an article claiming Erdogan seeks a new Turkish sultanate.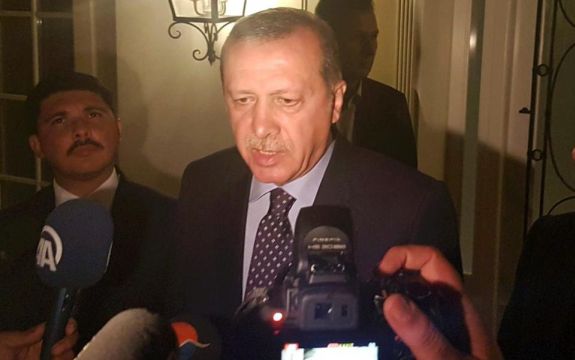 President Recep Tayyip Erdogan speaks to the media as the attempted coup unfolded late on July 15
Erdoğan who called it "a gift from God to us because this will be a reason to cleanse our army," was quick to accuse his earlier running mate Fethullah Gülen, but this does not mean that this was an exclusively a coup by the Gülenist's. More likely is that Coup forces were an assortment of Gülenists, secularists who oppose the ruling Justice and Development Party (AKP) government and President Recep Tayyip Erdogan; pragmatists who joined the plotters for career advancement and personal interests; soldiers who had to join under pressure or blackmail; and lower-ranking soldiers who couldn't defy orders because of the Turkish Armed Forces's absolute-obedience culture. After all some Turkish military high command and staff officers lost significant blood and prestige in the Gülen-orchestrated "Ergenekon" trials between 2009 and 2013. Soldiers detained following the coup reportedly also told interrogators they were not aware they were part of a coup attempt and had been told by commanders they were taking part in military maneuvers.
While some details suggest that the plot may have been long in the making, it swung into action ahead of a twice-yearly meeting of the military's supreme council, where Turkish officials say the agenda included removing many of those eventually implicated in the coup. Unless this was due to having to act sudden and in a hurry, surprising was the amateurishness of the coup attempt.
What some might say is merely a consolidation of his earlier power grab, within hours after Turkish forces quashed the attempted coup in the early morning hours today, the Turkish Anadolu News Agency reported that (apparently without evidence they were in any way involved with the coup) 2,745 judges across the country were sacked and  that authorities detained 10 members of Turkey's highest administrative court. The Anadolu Agency then added a little later, that arrest warrants were issued for 48 administrative court members and 140 members of Turkey's appeals court.
Middle East correspondent Robert Fisk earlier today wrote: "Two thousand or so arrests are quite a coup for Erdogan – rather larger, in fact, than the coup the army planned for him. But they must be just a few of the thousands of men in the Turkish officer corps who believe the Sultan of Istanbul is destroying his country. It's not just a case of reckoning the degree of horror which Nato and the EU will have felt at these events. The real question will be the degree to which his (momentary) success will embolden Erdogan to undertake more trials, imprison more journalists, close down more newspapers, kill more Kurds and, for that matter, go on denying the 1915 Armenian genocide."
As of right now, Erdogan thus has removed the two last hurdles on his way to absolute, supreme power: holdouts in Turkey's judicial branch and in the army.
The Turkish president is masterful at playing both victor and victim, a man (who as we showed in a seminar study published in February 2003) brought Turkey's secularist old guard to heel and gave a voice to the country's conservatives, but who since, also claimed to be surrounded by enemies both at home and abroad.
Under the subtle but relentless Islamising influence of the Justice and Development (AK) party, co-founded and led by Mr Erdogan until he became the nation's (theoretically non-partisan) president, the Sunni Muslim component of Turkey's complex national identity has strengthened. The long shadow of Kemal Ataturk, the ruthless modernizer who 90 years ago built a secular republic on the ashes of the Ottoman Empire, has faded.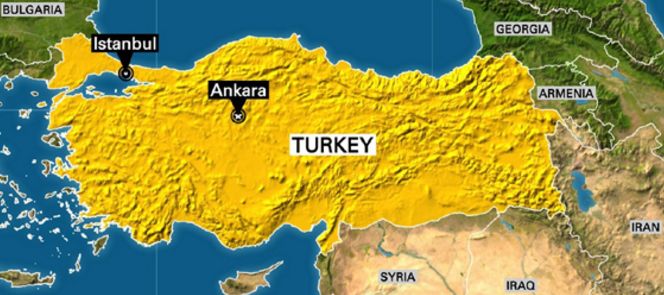 Erdogan's Assault on Freedom and Democracy
In the cables released by WikiLeaks in 2010, US diplomats wrote about corruption at all levels in the country. They make it clear that the US suspected Erdogan of having enriched himself via the privatization of a state-owned oil refinery, for example. Prime minister at the time, he was said to have control over eight Swiss bank accounts. He has denied the accusations and said merely that he had received gifts. But three years later, a corruption scandal plunged the AK party into its deepest crisis to date. AK party politicians and sons of three government ministers were accused of, among other things, accepting millions of euros in bribes and setting up illegal oil deals with Iran. At the home of the general director of the state-owned Halkbank, investigators found $4.5 million in a shoe box.
Erdogan's own son Bilal has been accused of fraudulently obtaining preferred treatment in the awarding of property and construction rights -- accusations that he has vehemently denied. Opposition politicians have also accused Bilal of setting up illegal oil deals with Islamic State. In one alleged phone conversation, Erdogan reportedly ordered his son to remove illicit funds from the house. Erdogan has said the recordings were a conspiracy, accusing opponents of having created a "shameless montage," and police and public prosecutors who dealt with the case were fired or transferred.
When the AK party stumbled badly in parliamentary elections in June 2015, pundits were quick to herald an end to Mr Erdogan's long winning streak. Whiffs of corruption and abuse of power had tainted his party, and terrorist acts by Islamic State (IS) and the influx of more than 2m Syrian refugees into the country had made Turks question his judgment.
Shorn of a parliamentary majority for the first time since 2002, the AK party should have sought a coalition partner, but instead  Erdogan boldly gambled on a new election on November 1st. To everyone's astonishment his party surged back, trouncing a trio of rival parties. With 317 seats in the Grand National Assembly, Turkey's unicameral 550-seat parliament, the party can now again legislate at will.
However, its majority is insufficient to allow it to revise Turkey's 1982 constitution on its own. That was what Erdogan had been trying to achieve in the June election, in the hope of creating a presidential system that would greatly widen his ostensibly limited (but in fact extensive) powers as president. In the absence of a two-thirds majority, he must work in tandem with his hand-picked prime minister, Ahmet Davutoglu, who is a less divisive figure.
Ahead of the November election Erdogan wisely toned down rhetoric about expanding his own powers but quietly strengthened his control over the party. At a party meeting last September he engineered the replacement of 31 members (out of 50) of the party's politburo with people personally loyal to him. One of these, his son-in law, is now also a cabinet minister; and one of the party's new members of parliament is Erdogan's former chauffeur.
For Erdogan it seems, the world is divided into two groups: on the one hand, his voters; on the other, a dizzying coalition of foes that includes the political opposition, Western countries allegedly envious of Turkey's progress, the global financial elite, and a secretive Islamic movement, the Gulen community. In the eyes of his supporters, the coup attempt has proven Erdogan right. He can now claim a popular mandate for amassing even more power and eliminating the remaining centers of opposition.
Another target will be the above mentioned Gülen movement, a Muslim sect headed by a cleric, Fethullah Gülen, who was an ally of Erdogan before falling out with him in 2013. The government immediately charged the group with masterminding the violence. The Turkish government labeled the Gülenists a terrorist group earlier this year, and it now has a green light to pursue anyone even remotely suspected of links to them. On July 16th, the prime minister, Binali Yildirim, demanded that America extradite Gülen, and that the US harboring Gülen is a hostile act.
In parliament, Mr Erdogan has long sought to undermine his political opposition. Last summer he responded with massive force to a growing insurgency in the southeast by groups linked to the banned Kurdistan Workers' Party (PKK), fanning the flames of the violence and providing an excuse to link moderate Kurdish MPs to the terrorists. They have since been stripped of parliamentary immunity, and now face terrorism charges. Bomb attacks by the PKK and by Islamic State, which Turkey is battling in Syria, have legitimized a government crackdown on independent media and free expression. The main independent newspapers and television stations have been taken over by government-friendly management. Prosecutors have opened some 2000 cases against people suspected of insulting the president since 2014. After the coup, such repression will probably intensify.
The irony is that the coup's failure demonstrated just how slight a threat Erdogan actually faces. Practically the entire political class, as well as the overwhelming majority of Turkish citizens, Erdogan supporters and opponents alike, spoke out against the coup.
For Erdogan, the failed coup thus is a golden opportunity to heal a deeply divided society. Past experience suggests that he will respond with a vicious crackdown.
Consolidating the Party
Today there is no doubt about who is boss. Bureaucrats in Ankara, the capital, respond to the merest whisper from the saray (palace), the grandiose 1,000-room presidential complex, built atop a hill on the city's outskirts at a reported cost of $615m and opened in 2014.
The famously short-fused Mr Erdogan will most likely continue to dominate Turkish politics until the end of his term in 2019, and very possibly beyond: some say he has set his sights on 2023, the 100th anniversary of the Turkish republic. By then he would have served at the helm of the Turkish state for far longer than Ataturk himself.
To his party's pious core constituency, that is something to rejoice in. Much of the country's urban working class, as well as those living in the stretch of central Anatolia sometimes known as Turkey's Koran belt, share this cult-like devotion to the former food vendor and semi-professional footballer turned statesman. Other AK voters, such as small businessmen and property developers, may be warier of  Erdogan. They support the party mainly because of its record of economic growth and relative stability after decades of turbulence. The AK's swift comeback between the June and November polls reflected fear of a return to political volatility as much as enthusiasm for its policies.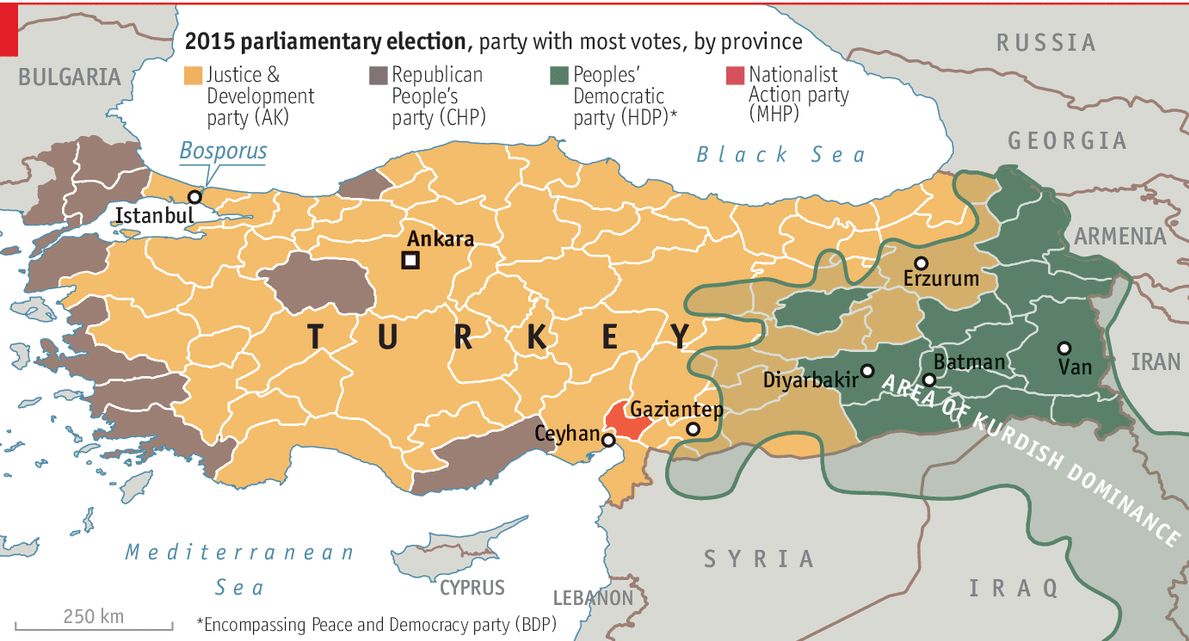 The collapse last summer of peace talks between the government and the Kurdistan Workers' party (PKK), an armed rebel group, raises the specter of more bloodshed. The talks had made little progress but did much to calm the restless south-east, a region dominated by ethnic Kurds, who make up 15-20% of Turkey's population nationwide. Fighting in the region in the 1980s and 1990s had left some 40,000 soldiers, rebels and civilians dead and displaced perhaps 1m Kurds from their homes. Soon after the June election, clashes between security forces and Kurdish activists, which had been suspended for two years, resumed. In the months since, heavily armed police have clamped curfews on Kurdish towns. The clashes have left well over a hundred civilians dead, in addition to scores of Turkish security men and, says the Turkish army, more than 400 alleged PKK guerrillas.
At the same time Erdogan faces rising economic headwinds. Between 2002 and 2007 Turkey's GDP grew at an annual average of 6.8% and its exports tripled, but since then GDP growth has settled at around 3.5% a year and exports have remained virtually flat. Income per person, which the AK party four years ago rashly promised would rise to $25,000 a year within a decade, is stuck at around $10,000.
None of this is disastrous, and Turkey's economy is far more robust than it used to be. The trouble is that Erdogan's government has continued to behave as if the good times had kept rolling. Although the country's chronic current-account deficit has narrowed lately, thanks to falling energy prices, Turkey relies heavily on foreign capital and is finding it increasingly difficult to attract money from abroad. Yet in recent years its government has shied away from reforms to boost the meager domestic savings rate or promote industry, even as a consumer credit binge and heavy infrastructure spending have crowded out private investment. Rigid labour and tax rules remain a burden.  Erdogan himself has shaken confidence further by bullying his central bank to keep money cheap and by hitting the business interests of political rivals. Without a serious policy shift, including an effort to deal with concerns about institutional independence and the rule of law, Turkey's economy will continue to under perform.
Darker scenarios have less to do with the country's domestic market than with geopolitics. Because of the way it straddles cultures and continents, Turkey has always held a complicated hand. In recent years the mayhem on its southern borders, coupled with renewed tension pitting its NATO and European allies against an expansionist Russia, have made its position all the more delicate. Yet Erdogan's government has failed to show much diplomatic finesse.
Everyone agrees that Turkey has been generous in accommodating well over 2m refugees from Syria's civil war. It has also worked hard to resolve long-standing squabbles with neighbors such as Greece, Bulgaria, Cyprus and Armenia. But it has often appeared aloof and suspicious, failing to communicate effectively or to work with allies.
The most important of these, and Turkey's dominant trading partner, is the European Union. Fear of a continuing tidal wave of migrants has lately prompted Europe to proffer aid and a resumption of stalled talks on Turkish membership in exchange for tighter border controls. But there is little warmth in the relationship. Most European governments still see Turkey as a buffer more than a partner. And Erdogan's government has appeared more concerned to extract concessions than to adopt European norms as a good thing in their own right.
The danger of isolation was sharply underlined in November when Turkish jets shot down a Russian fighter over Syria that had briefly entered its air space. The Russian president, Vladimir Putin, swiftly responded with a broadside of sanctions. The Russian measures could trim up to 0.7% from Turkish GDP growth this year, according to the European Bank for Reconstruction and Development.
With lukewarm support from its allies, Turkey has tried to calm the excitement. But given its support for militias fighting against Syria's president, Bashar al-Assad, and Russia's growing military commitment to his survival, there could well be more clashes. Turkey seems in danger of stumbling into an unplanned but potentially costly fight. It imports most of its gas from Russia, and Turkish construction firms have well over $10 billion-worth of Russian contracts on their books.
Now Turkey faces a new threat. A double suicide-bombing in Ankara on 10 October last year aimed at a march by leftist trade unions and Kurdish activists killed more than 100 people. In January suicide-bombers struck again, this time in the heart of Istanbul, killing ten tourists. Both attacks were attributed to Islamic State. In a country that has long seen itself as insulated from Middle Eastern turmoil, the intrusion of violent radical Islam came as a particular shock. Worse, it partly reflected Erdogan's slowness to recognize the danger of blow-back from his own policies in Syria, where Turkey for too long indulged radical Islamists so long as they opposed the Assad regime.
Rather than blame the party in power for such setbacks, worried voters in November rallied behind Erdogan, backing a strong, tested government rather than risk rule by a possibly weaker coalition. It helped that the ruling party, in effect, controls Turkey's mainstream media, which pumped up nationalism in the face of danger.  Erdogan had carried the 2014 presidential election with a slim majority of 52%, and his AK party, for all its success, enjoys the support of just half the Turkish public. Many of the rest remain skeptical or even bitterly opposed to him.
The Curse of Timing
Turkey's leaders, with their ambitions still set on mastery, are not doing nearly enough to heal the above internal rifts. The Kurdish issue looms as one big danger, and so does the Turkish economy's growing vulnerability to external shocks. Erdogan's blustering, bulldozing style, together with his party's growing intolerance for dissent, portends trouble.
Also the upcoming crackdown following today will further erode the military's capabilities. It will erode morale and lessen fighting cohesion.
Yet the Turkish military is heavily engaged in fighting the Kurdistan Workers' Party (PKK) and entangled in Syria and Iraq. A military weakened in the aftermath of a failed coup will present Ankara with fewer tools to handle these challenges. The much-touted possibility of a Turkish military push into Syria is now too risky. This is also true of an expanded Turkish military presence in Iraq, as the push to drive the Islamic State from Mosul gears up. Turkish operations against the PKK may also suffer, though it is unlikely that they will grind to a complete halt.
Turkey's military incoherence will also complicate regional efforts by other powers. U.S. efforts against the Islamic State rely heavily on Turkey as a base for air operations. Washington also relies on Turkey to cut off the logistical lines to the extremist group. With Ankara distracted, support for its rebel proxies in Syria may also wane. This would weaken an already beleaguered rebel movement. For the Kurdish People's Protection Units (YPG) in Syria, Turkish infighting could provide an opening to expand and connect Kurdish-controlled territorial pockets.
In Turkey, the least bad, Erdogan's survival, has prevailed. That does not mean much worse will not follow.