By Eric Vandenbroeck
After another incident just before in the Baltic Sea, currently the news is abuzz with reckless behavior by Russia vis a vis a US plane.
The incident came just days after Russian aircraft buzzed the USS Donald Cook as it conducted exercises with the Polish military. The Russian jets and a helicopter flew to within 75 feet of the destroyer in another sign that the Russian military is using increasingly aggressive tactics in the Baltic Sea to deter U.S. ships.
Since Russia annexed Crimea in 2014, tension with the West has been high, affecting eastern Ukraine, Syria and hot spots across the former Soviet sphere. Less overtly, Moscow has been working to protect areas vital to Russian interests by raising the stakes of U.S. operations there. This has manifested in numerous aggressive interceptions of U.S. military aircraft in flight, especially over the Black and Baltic seas. The interceptions, which are reportedly occurring more frequently, aim to dissuade Washington from operating in that airspace.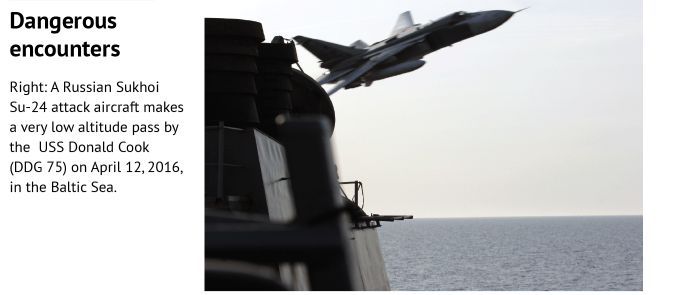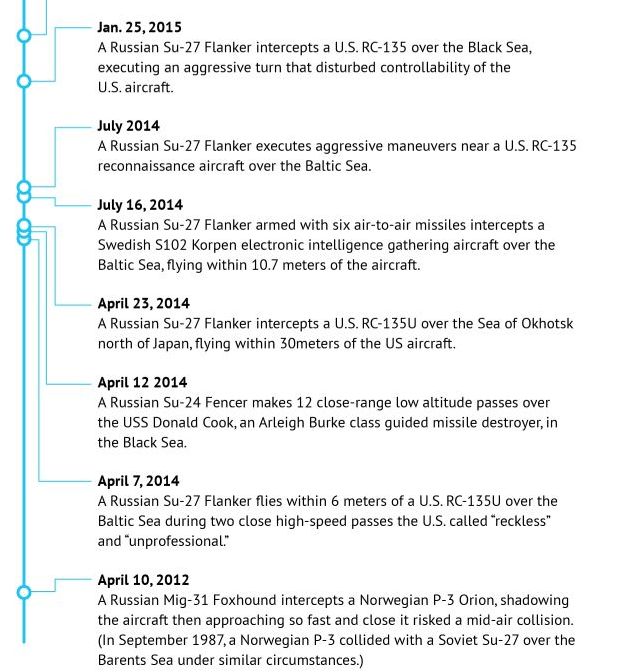 The most recent intercept came less than a week before the NATO-Russia Council is set to convene for the first time since 2014. Along with the fighting in Ukraine and Afghanistan, military transparency and risk reduction — timely and relevant topics given the interception incidents — will be up for discussion at the meeting.
Not all interceptions are aggressive. In fact, the tactic is standard practice among militaries, both in the air and at sea. Around the world, aircraft and ships from a multitude of countries routinely intercept, visually inspect and escort other aircraft and maritime vessels passing through sensitive airspace or waters. Air forces, navies and coast guards worldwide regularly perform intercepts of this kind to enforce an air defense identification zone such as that in the East China Sea, to police operations such as NATO's Baltic Air Policing mission or, as necessary, to conduct ad hoc tactics. In these capacities, interceptions are almost invariably non-threatening; they are simply a means by which nations enhance their situational awareness and protect against contingencies.
But some interceptions deviate from the norm. In a deliberate ploy to deter a nation's forces from transiting a specific space, aircraft or ships may display aggressive maneuvers, harassing and intimidating targets. These interceptions resemble a high-stakes game of chicken, daring the foreign craft to continue on its route, despite the increased risk of collision, or back down.
Though the tactic carries a risk of damage to both sides, the initiator holds the advantage. Usually in aerial interceptions, a sleek, fast fighter jet targets a lumbering bomber or reconnaissance plane. The initiator of the encounter is often far less valuable — in monetary cost and in the number of flight crew aboard — than the intercepted target, raising the stakes for leaders (and crew) as they decide how to respond. As a fighter jet carries out dangerous maneuvers around it, the target is left to wonder about the interceptor's intentions and skill.
All in all it is most likely that the stunt will end up as a public relations tool for Russian President Vladimir Putin, showing force against the Americans operating in his backyard.