One of the issues that should be clear from the following extensive investigation is that the United States Department of Justice Special Counsel's Office, headed by Robert Mueller is looking at multi-state collusion, not just a bipolar collusion between the Trumps and Russia.
Furthermore, in part one of this investigation, I wrote that one of the reasons why I previously avoided US politics or/and anything to do with the Trump/Mueller investigation (which is believed to last into 2019) is because the latter is very much a moving target. But by now the Manafort trial has passed following the latter to some degree cooperated with Mueller whereby former Manafort deputy Rick Gates is currently still cooperating with Mueller. 
As is known Manafort was present for the 2016 Trump Tower meeting for "dirt" on Hillary Clinton; this meeting and statements made about it are apparently on Mueller's radar; the president's son, Donald Trump Jr., is reportedly worried he may be indicted for making false statements about said meeting; Gates reportedly continued visiting the White House until June 2017 working for Trump advisor Tom Barrack. And one of the questions now is could Gates know something about that meeting?
The case that was being built, Bob Woodward wrote in his book "Fear: Trump in the White House" had to be examined seriously. "On alleged collusion the questions included Trump's 2013 trip to Moscow, what he might have known about efforts by his former campaign manager Paul Manafort and his longtime attorney Michael Cohen to do business in Russia during the campaign, and what Trump might have known about other aides, such as Roger Stone's alleged role in Hillary Clinton's hacked emails. In a celebrated July 27 news conference during the 2016 campaign, Trump had invited Russia to publish the emails that Clinton's lawyer had deleted because he had determined they were not relevant to the FBI investigation. "Russia, if you're listening," candidate Trump said, "I hope you're able to find the 30,000 emails that are missing. I think you will probably be rewarded mightily by our press." He later tweeted, "If Russia or any other country or person has Hillary Clinton's 30,000 illegally deleted emails, perhaps they should share them with the FBI!"
And as Woodward indicates that is also the role of Roger Stone that still needs investigating. For all we know Roger Stone did indeed discuss WikiLeaks plans ahead of the election. 
In a 23 August interview with CNN famous Watergate reporter Dan Rader said that if you think the Michael Cohen guilty plea and Manafort's conviction was a shock then "stay tuned." The former news anchor said other things Mueller is working on will make yesterday "pale by comparison." In fact today (for those who do proper research) we know much more already about the Mueller investigation.
That same month (August 2018) Putin's right-hand man and Kremlin spokesman Dmitry Peskov said that "From the United States, we hear there was not any [Russian] meddling in the elections," referring to statements made by the president of the United States.1
It was in July 2017 however, that Congress bucks years of ever-increasing partisan rancor to agree almost unanimously on a single subject: the need to punish the Russian government for its interference in the 2016 presidential elections. The result is CAATSA (Countering America's Adversaries Through Sanctions Act), which passes through both houses of Congress with a total vote of 517–5.2 The bill mandates that the White House submit for congressional approval any proposal to terminate or waive Russian sanctions; that current sanctions against Russia be maintained; and that the executive branch identify new targets for sanctions in ten sectors of Russian activity. Trump signs CAATSA in August 2017, yet declares that the bill is "seriously flawed" and "encroaches on the executive branch's authority to negotiate Sent from my iPad[with the Kremlin]." 3 When the October 2017 deadline for the White House to identify new sanction targets arrives, the White House ignores it; indeed, Secretary of State Rex Tillerson, an "old friend" of Putin's according to Vanity Fair, has shut down the State Department office that oversees sanctions. 4 At the very end of November, the White House finally issues a preliminary list of new targets upon whom sanctions will be leveled in January. 5
In January 2018, the Trump administration grudgingly meets CAATSA's six-month deadline for new sanctions to be announced, identifying twenty-one new persons and nine new companies to be sanctioned, but announces that it will go no further, reasoning that "the threat of sanctions [is] already acting as a deterrent" against continued Russian cyber attacks on the United States and that Russia's defense industry is "already suffering" to a sufficient degree under the existing sanctions. 6 While the White House does release, consistent with CAATSA's reporting requirements, an unclassified list of 114 senior Russian politicians and 96 businesspeople considered Russian "oligarchs," it does not impose any penalties on them. 7
Trump's hostility to legally mandated sanctions after signing off on a new round is not the only mixed signal coming out of his administration. Mike Pompeo, Trump's hand-picked CIA director, declares in January that he "fully expects" the Russians to interfere in the midterm elections-even though the administration has soft-pedaled the CAATSA sanctions on the grounds that they cannot deter Russian cyber-aggression any more than current U.S. countermeasures are. 8 Less than seventy-two hours later, news breaks that Pompeo has secretly met with the chief officers of Russia's foreign intelligence agency and internal security agency, both men barred from entering the United States under the sanctions imposed on Russia in 2014.9 Pompeo is said to have followed a "multi-agency legal process" to get the two Russian intelligence officers into the United States. 10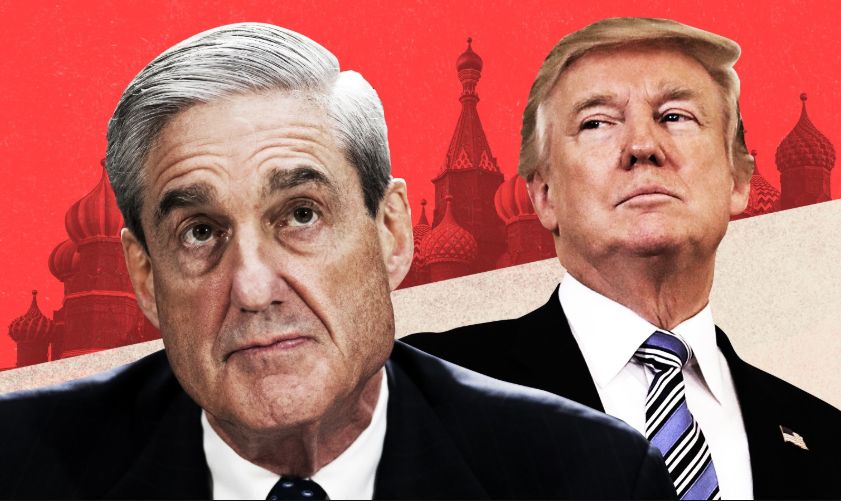 Meanwhile, Mueller continued his interrogations of key figures in the Trump-Russia case. In January, he strikes an agreement with former Trump campaign CEO Steve Bannon to interview him out of court rather than subpoena him to appear before a grand jury. 11 Around the same time, Jeff Sessions becomes the fifteenth member of the Trump administration to be interviewed by Mueller; the attorney general's voluntary interview lasts "several hours," according to confirmation by the Justice Department. 12 In March, investigators from Mueller's team question Trump national security adviser Erik Prince and subsequently seize his phones and a computer. 13 Media reports note that one of Mueller's many possible areas of inquiry for Prince is the means by which Prince's January 2017 meeting in the Seychelles was arranged. While Prince claims it was merely a fortuitous event, other reporting, most notably from the Washington Post, suggests otherwise:
The United Arab Emirates arranged a secret meeting in January between Blackwater founder Erik Prince and a Russian close to President Vladimir Putin as part of an apparent effort to establish a back-channel line of communication between Moscow and President-elect Donald Trump, according to U.S., European and Arab officials. . . . [T] he UAE agreed to broker the meeting in part to explore whether Russia could be persuaded to curtail its relationship with Iran, including in Syria, a Trump administration objective that would be likely to require major concessions to Moscow on U.S. sanctions. Though Prince had no formal role with the Trump campaign or transition team, he presented himself as an unofficial envoy for Trump. 14
In his November 2017 testimony before Congress, Prince had grudgingly admitted to being told of a single meeting involving Steve Bannon and the crown prince of Abu Dhabi, but according to the Post there were multiple such "discussions." They also involved Michael Flynn and Jared Kushner, and the crown prince decided to assist the Trump transition team in setting up a back channel to Putin only after "[ meeting] twice with Putin in 2016 . . . and urg[ ing] the Russian leader to work more closely with the Emirates and Saudi Arabia—an effort to isolate Iran." 15
In April, Special Counsel Mueller asks Dana Boente, the FBI's general counsel, to testify before the Trump-Russia grand jury. The request is significant because Boente is one of Comey's corroborating witnesses, fellow FBI officials to whom Comey related his conversations with Trump shortly after they were completed and who kept their own contemporaneous notes. While Trump has successfully cast doubt on Comey and his deputy, Andrew McCabe (another Comey confidant), in the minds of many Republicans in Washington, Boente remains undiscussed and untouched by Trump and his allies thus far. Boente's testimony also underscores that Mueller is considering obstruction of justice charges in the Trump-Russia affair—if brought against Trump, an impeachable offense—and not merely Trump-Russia collusion, which would in the first instance be charged as aiding and abetting or conspiracy. 16
In June, Mueller's team questions Ukrainian politician Andrii V. Artemenko for "several hours" before a grand jury. Artemenko will later say that most of the questions were focused on Michael Cohen, confirming that Mueller retains a significant interest in Trump's personal attorney and fixer on the Russia collusion question, even as federal prosecutors in Manhattan are investigating Cohen for white-collar financial crimes. 17 This interest is confirmed when it is revealed that Mueller's agents have also detained and questioned Viktor Vekselberg, the Russian oligarch who paid Cohen hundreds of thousands of dollars in alleged consulting fees, at a New York airport. 18
In August, prosecutors in the Southern District of New York grant immunity to Allen Weisselberg, the chief financial officer of the Trump Organization. While the grant is a "limited" one that is allegedly focused on the ongoing investigation of Michael Cohen, the deal with Weisselberg raises the specter of Mueller sometime soon piercing the Trump Organization's corporate veil to get information on Trump's own financial dealings and tax returns. 19 According to CNN, Weisselberg is "so much more than [the Trump Organization CFO]. Hired first by Trump's father, Weisselberg has been the money man in Trump's orbit for decades. And, he didn't just handle finances for the Trump Organization but also for Trump's personal accounts." 20 According to Bloomberg, "Nobody knows the Trump Organization like Allen Weisselberg." 21 The Atlantic, writing on the grant of immunity to Weisselberg, concluded that "New York prosecutors may pose a bigger threat to Trump than Mueller." 22 Mueller's relationship with New York prosecutors is procedurally a two-way street, however; just as Mueller can, in August, refer three individuals for prosecution by the Southern District of New York for failing to register as foreign lobbyists, the Southern District is presumed to be willing to share with Mueller any information from its own investigations. 23 Slate will even speculate that Mueller's intention in "spread[ing] [his] workaround" to other prosecutors is to hedge his bets against his own eventual firing, making the investigation of Trump's business dealings impossible to derail even if Jeff Sessions, Rod Rosenstein, and Mueller himself are all fired by the president.
In late February, the House Permanent Select Committee on Intelligence interviews Hope Hicks in a closed session. Hicks reportedly refuses to answer any questions about events post-inauguration—while admitting she may have lied for Trump on occasion, although she insists none of the lies were "substantive." 24 The next day, she announces that she will be resigning her position at the White House. 25 Within twelve days, the committee has ended its investigation. It will later issue a report—endorsed only by its Republican members—concluding that there was no collusion whatsoever between the Trump campaign and Russia. 26
In March, federal agents detain self-described Trump adviser Ted Malloch—also a known associate of Roger Stone's—and seize his cell phone. Their subsequent questioning of him focuses on Stone, WikiLeaks, Julian Assange, Nigel Farage, and Malloch's repeated contacts with both Stone and the Trump campaign in 2016. 27
Throughout 2018, Mueller proceeds expeditiously with his work, periodically issuing indictments that rock America's political ecosystem before returning to the necessary secrecy and opacity of his ongoing investigation. While some of the major advancements in Mueller's federal criminal probe are attributable to charges brought by Mueller and his D.C. team, others are the result of Mueller's referrals to federal prosecutors elsewhere. Into this latter category falls one particularly critical set of Trump-Cohen related convictions: eight convictions for Trump's former personal attorney Michael Cohen, for offenses including tax fraud, bank fraud, causing an unlawful corporate contribution, and making an excessive campaign contribution.28 While there is no direct link between these convictions and the Trump-Russia case, other than them comprising additional evidence that Trump is easily blackmailed-a perpetual concern if Putin holds kompromat on him-they do directly implicate Trump in a crime for the first time since he has taken office. At his in-court allocution, Cohen unambiguously identifies Trump (using a euphemistic appellation required by Department of Justice protocols) as the man who directed him to commit a number of his crimes.29 Because the prevailing wisdom in the Department of Justice and the legal community more broadly is that a sitting president cannot be indicted-or, if indicted, cannot be tried in a criminal court-Cohen's accusation does not lead to immediate legal jeopardy for Trump.30 But it adds evidence of criminality to any future impeachment proceedings and, perhaps as important, puts Cohen at the mercy of Special Counsel Mueller. Cohen's plea deal in Manhattan all but ensures he will spend at least four or five years in prison. But cooperation with Mueller could potentially shorten that sentence, or any sentence Mueller might seek on collusion-related conspiracy charges down the line though at the time of Cohen's plea all parties agree no such deal yet exists. 31
Cohen faces additional legal liability for his clandestine negotiations with Russian nationals during the campaign; for ferrying a policy proposal by a foreign power to the White House, which would violate the Logan Act; and for possibly selling access to Trump prior to Trump's inauguration. He was also paid $ 400,000 by Ukrainian nationals to set up a back channel between Trump and Ukrainian president Petro Poroshenko in June 2017, according to the BBC. The timing of the payment is significant because shortly afterward, the Ukrainian government halted its domestic criminal investigations of Paul Manafort. 32
Another case Mueller's hands off to other prosecutors that likewise could, in time, become significant to the Trump-Russia investigation is Maria Butina's indictment in the District of Columbia in July for conspiracy to act as an agent of a foreign government and failing to register as a foreign agent. 33 While the very fact of Butina's arrest (and the continued freedom of her boyfriend, Paul Erickson) suggests that Erickson may be a cooperating witness in the case against her, her youth, vulnerability as a Russian national caught in a nation not her own, and apparently substantial knowledge of Russian intelligence activities and capabilities within the United States suggest she, too, could be susceptible to a cooperation agreement. 34 Certainly, the information Mueller appends to her indictments suggests that she has substantial knowledge to offer Mueller on the subject of illicit Russian activities from the same period of time the Trump-Russia investigation is focused upon: 2012 to 2016. 35
Of course, Mueller also remains busy in 2018, continuing his prosecution of Trump associates while adding to his prosecutorial brief new charges against Russian nationals directly involved in Russian interference in the 2016 presidential election. In February, he indicts thirteen Russian nationals and three Russian organizations on charges of conspiracy to defraud the United States, conspiracy to commit wire fraud and bank fraud, and six counts of aggravated identity theft. 36 Because the special counsel uses what is called a "speaking indictment"-an indictment that not only lays out charges but discusses in some detail the inculpatory facts undergirding them-his indictment of participants in Russia's Internet Research Agency gives Americans their first look at the Russian propaganda operation from the inside. What Americans learn is that Russia's election influence and interference campaign began in May 2014, approximately six months after Trump returned from his November 2013 Miss Universe Moscow trip. Putin's anger over the American response to his 2014 annexation of Crimea is more likely to have prompted his initiation of such a complex, hostile, and geopolitically dangerous operation in May 2014 than Trump's still-incipient presidential campaign, but it is nevertheless clear-given Trump's December 2013 conversations with New York politicians and Trump aide Sam Nunberg's observations of when Trump decided to run for president-that for those in the know, particularly those in personal or business partnerships with Trump, his plans for 2016 were evident in late 2013. Mueller's indictment of the Internet Research Agency and a number of its participants also establishes that several Russian nationals traveled to the United States to conduct reconnaissance before the operation began, raising the possibility that they were in contact with American political operatives during their travels. 37 As NPR notes, Mueller's indictment does confirm that Trump campaign workers corresponded with "Russian influence-mongers . . . [who] even paid some Americans to show up for protests they organized," but "none of the Americans knew they were dealing with Russian operatives," despite their actions offering "important help" to the Russian operation. 38 Russian interactions with unwitting Republican political operatives even aided the Russians in determining which states to target their activities toward for maximum impact during the 2016 election cycle. 39
While both Mueller and his Russian defendants are aware the case will never be prosecuted-the DOJ and FBI have no expectation the Kremlin will extradite the men and women charged-the indictment does have the unanticipated side effect of briefly forcing Trump to acknowledge Russian malfeasance. On February 16, 2018, Trump tweets, "Russia started their anti-US campaign in 2014, long before I announced that I would run for President. The results of the election were not impacted. The Trump campaign did nothing wrong-no collusion!" 40 Trump's erroneous statement of when information about his anticipated 2016 presidential run became common knowledge in select political and corporate circles aside, his reference to an "anti-US campaign" by Russia will be one of the only times he ever recognizes Russian criminality during the 2016 election as a certainty rather than one possible scenario among many.
In July 2018, Mueller charges twelve spies from Russia's military intelligence agency, the GRU, as key culprits behind the Russian hacking operation that attacked America's electoral infrastructure in 2015 and 2016. The GRU-the same Russian outfit with which Michael Flynn was unusually enamored in 2013 and 2014-is accused by Mueller, per Vox, of "hacking the computer networks of members of Hillary Clinton's campaign, the Democratic National Committee, and the Democratic Congressional Committee . . . [and] coordinat[ing] to release damaging information to sway the election under the names 'DCLeaks' and 'Guccifer 2.0.' "41 The former of these two entities, a website, had its first full day of operation on June 9, 2016, the very day the Kremlin promised to give the Trump campaign materials damaging to Clinton, while the latter, a persona, was in contact with Trump adviser Roger Stone on more than one occasion. Mueller's indictment is silent on whether the actions of these GRU spies affected the outcome of the 2016 election, and indeed it takes the same non-position on that question that Mueller's February indictments did. But in mid-July, Trump will nevertheless tweet that the special counsel's investigation is intended as merely a "Democrat excuse for losing the '16 Election." 42 In all, Mueller's July indictment charges eleven Russians with conspiracy to commit computer crimes, eight counts of aggravated identity theft, and conspiracy to launder money, while two defendants are charged with a separate count of conspiracy to commit computer crimes. 43
In between these two sets of indictments, the first person to serve time as a result of the Trump-Russia investigation, Belgian-born lawyer Alex van der Zwaan, reports to prison for a thirty-day sentence. 44 Van der Zwaan had, according to his plea deal, lied to Mueller's team in November 2017 about his phone calls and emails with Trump deputy campaign manager (and later Trump-RNC liaison) Rick Gates. 45 Special Counsel Mueller will announce, in March 2018, that Gates had "repeated contacts during the final weeks of the 2016 presidential race with a business associate tied to Russian intelligence . . . a person the F.B.I. believes had active links to Russian spy services at the time. . . . [Gates] told an associate the person 'was a former Russian Intelligence Officer with the G.R.U.,' the Russian intelligence agency." 46
After his February 2018 plea to one count of making false statements, Alex van der Zwaan begins serving his prison time in April. 47 The case is considered significant, not because someone closely connected to a top Trump associate is imprisoned or because the lies van der Zwaan told and evidence he destroyed stemmed from Gates's and Manafort's actions in Ukraine in the aughts, but because van der Zwaan told "a knowing lie during an investigation of international importance," according to Judge Amy Berman Jackson, and hence deserved his sentence. The facts already publicly known in the Trump-Russia investigation suggest that before Mueller's investigation is complete, a similar allegation may be leveled at several Americans in Trump's immediate orbit.
In August 2018, Paul Manafort is convicted of eight federal felonies, including five counts of tax fraud, two counts of bank fraud, and one count of failure to disclose a foreign bank account. 48 The jury hangs-11 to 1 for conviction-on ten additional charges. 49 While the trial does not directly implicate Trump's 2016 campaign, the facts revealed during the course of the prosecution's case in chief underscore that Manafort had no intention of being Trump's campaign manager for free; instead, he was deeply in debt and hoping to use his work for Trump as a means of settling his debts with Russian oligarch Oleg Deripaska. The trial thereby establishes a motive for collusion for the man running Trump's presidential campaign from early April to mid-August 2016. Moreover, it gives Mueller enough leverage over Manafort to get Manafort's cooperation in prosecuting other defendants in the Trump-Russia investigation, despite Trump's dangling of a presidential pardon for Manafort in the press. 50 As an op-ed in the New York Times will note after Manafort's trial, "by speculating about [a Trump pardon of Manafort], the president and his surrogates have already acted improperly." 51
Later in August, W. Samuel Patten, an associate of Paul Manafort's longtime Russian business partner Konstantin Kilimnik, pleads guilty to acting as an unregistered foreign lobbyist, admits to lying to Congress, and acknowledges facilitating the transfer of money from a Ukrainian oligarch to Trump's inaugural fund. 52 The case brings into even greater relief a growing controversy surrounding the tens of millions of dollars missing from the inaugural fund; $ 26 million of the more than $ 100 million raised for Trump's inauguration was paid out to a firm run by Melania Trump's top adviser, and a significant percentage of that $ 26 million went to a team run by Mark Burnett, creator of the program that made Trump a television celebrity, The Apprentice. 53 According to the New York Times, Trump personally requested Burnett's involvement with the inaugural festivities, a significant fact, given that multiple Trump associates have alleged that Burnett is still today protecting Trump from the disclosure of Apprentice outtakes in which Trump can be heard uttering misogynistic and racist slurs. 54 Should Mueller's investigation extend to possible corruption in the form of bribery or money laundering in the inaugural activities coordinated by Trump friend Thomas Barrack, who was lobbying Trump on Middle Eastern energy issues while managing the money for Trump's inauguration, it could open the door to a more robust public consideration of both Trump's pre-election payoffs to bury damaging information and his receipt of funds from foreign nationals during and after the 2016 presidential campaign.
Whether it is these indictments and convictions that rile Trump or something else, 2018 sees the president expressing increasing desperation in his public remarks on the Trump-Russia case, calling it (or, variously, individual elements of it) "rigged" 44 times on Twitter between January and August 2018, a "witch hunt" 106 times, and "illegal" 24 times. 55
In an April 2018 interview, former FBI director James Comey implies that he perceives "consciousness of guilt" in certain of Trump's actions since allegations he and his team colluded with the Russian government became public. 56 The Washington Post has been even more forceful, publishing an article by Pulitzer Prize-winning columnist Eugene Robinson alleging that "Trump seems to be staging a cover-up." 57
Trump's actions in 2018 will do much to further this impression among his critics and others in law enforcement. His fury at his enemies and anxiety over the loyalty of his allies lead to an erratic course of conduct that sees Trump courting potential allies and persecuting perceived enemies throughout the year in ways that may eventually produce criminal liability for him or, in the short term, hurt him politically. When former CIA director John Brennan becomes a vocal critic of Trump-calling Trump's claims that he did not collude with the Russians "hogwash"-Trump revokes his lifetime national security clearance, an act of vengeance against a political critic that is unprecedented in American politics. 58 He threatens to do the same to several other officials who have disagreed with him publicly, including former director of national intelligence James Clapper. 59 As Brennan himself observes, writing in the New York Times in August, Trump began "[s] tep by step, from the moment 10 days into his administration that he fired the acting attorney general, Sally Q. Yates . . . [to oversee] the removal of top national security officials who have defied him or worked at senior levels of the Russia investigation. They include James B. Comey, the former F.B.I. director; Andrew G. McCabe, the former F.B.I. deputy director; and Peter Strzok, the former F.B.I. counterintelligence agent who helped oversee . . . the Russia investigation." 60
In February 2018, the FBI also loses David Laufman, whom the New York Times calls "the top Justice Department official overseeing espionage investigations, as well as cases involving foreign lobbying and leaks of classified information," for "personal reasons." His exit is deemed "surprising"; the fact that he is mentioned in controversial anti-Trump text messages sent by Peter Strzok to former FBI attorney Lisa Page, and was in charge of "aspects of the investigation into Russian interference in the 2016 election," raises the possibility that he is another victim of the president's withering public critiques. 61 Other significant personnel developments at the FBI and DOJ from April 2017 through 2018, all involving individuals connected in some way to the Russia investigation, include Lisa Page, who resigns in May 2018 after being accused of texting controversial messages about Trump to and receiving controversial messages about Trump from FBI agent Peter Strzok; James Baker, the FBI's general counsel, who is demoted in 2017 and then resigns in 2018, and is known to be a "close friend and longtime associate" of Trump enemy Comey (this fact leads to complaints, according to Business Insider, by "national-security experts and former intelligence officials," who question the timing of Baker's departure and "whether it was a politically motivated decision in response to pressure from President Donald Trump and his allies"); James Rybicki, also a close associate of Comey-in fact, his former chief of staff-who quits the Bureau in January 2018; Bill Priestap, the head of the FBI counterintelligence division and in a "pivotal leadership position," per the Hill, in the Russia probe, who is called to testify before the House and remains "under fire from conservatives" throughout 2018, in part because of a "trip to London . . . in May 2016 . . . [that may be] connected to the Russia case"; and Mary McCord, the Justice Department's lead attorney on the Russia investigation, who announces her resignation in April 2017, in the midst of her work, offering no public reason for leaving besides telling her staff that "the time is now right for me to pursue new career opportunities." 62
In August 2018, Bruce Ohr's name is added to the above list of federal officials hounded or punished by Trump, when the president, having already successfully pushed for Ohr's demotion at the Department of Justice, engages in a public campaign to have him fired, even as he is also threatening to revoke Ohr's security clearance-which, were it to happen, would make it impossible for Ohr to do his job. That Ohr's role at the Department of Justice has long been to investigate and prosecute Russian organized crime, and that the Russia investigation has at certain points connected Trump to Russian organized crime, is difficult to ignore. Indeed, in September 2018, the New York Times will report that Ohr was at the head of an effort at the Department of Justice to "flip" Oleg Deripaska against Russian organized crime and expose "possible Russian aid to President Trump's 2016 campaign." 63 The effort Trump launches to oust Ohr-tweeting about him and sometimes his wife, a Fusion GPS employee, thirteen times over the final three weeks of August 2018-must be understood in this context. 64
In addition to investigating Russian organized crime and seeking to turn Russian oligarchs into informants, Ohr was also Christopher Steele's primary contact at the FBI when Steele wanted to turn his raw intelligence over to federal law enforcement during the 2016 campaign. The two men had known each other for more than a decade before Steele was asked to research Trump's Russian business ties by an anti-Trump Republican in 2015.65 According to CNN, when Steele gave Ohr the first few entries in what would become the "Steele dossier" at a breakfast in July 2016, the former MI6 agent told the Justice Department lawyer that "Russian intelligence thought they had the then-candidate [Trump] 'over a barrel' during the 2016 campaign." 66
Even DOJ and FBI officials much higher in the ranks than Ohr, and even those higher in the ranks and nominated by Trump himself, face Trump's ire as he attempts to purge both institutions of those who persist in investigating his ties to Russia. Axios reports in January 2018 that Trump's replacement for Comey at the FBI, Christopher Wray, "threatened to resign" if Attorney General Sessions fired Andrew McCabe, a plan of action the digital news outlet notes came "at the public urging of President Donald Trump." 67 Sessions fires McCabe anyway, doing so less than forty-eight hours before McCabe's scheduled retirement. 68
The decision denies the FBI's second-in-command his early retirement benefits and a portion of his anticipated pension, and is now the subject of a lawsuit. 69
Trump's triumphant tweet after McCabe's firing is characteristic of his public statements on social media throughout 2018 regarding the DOJ and FBI officials he most associates with the investigations of his conduct: "Andrew McCabe FIRED," writes the president on March 17, "a great day for the hard working men and women of the FBI-A great day for Democracy. Sanctimonious James Comey was his boss and made McCabe look like a choirboy. He knew all about the lies and corruption going on at the highest levels of the FBI!" 70
Trump's pick for deputy attorney general, Rod Rosenstein, also spends 2018 in professional uncertainty, with Trump "threaten[ing] to 'get involved' [in the Russia investigation] and fire [him]," according to the Daily Beast, and "considering firing" him, according to CNN. 71 The threat comes as Trump's closest allies in the House are preparing articles of impeachment against Rosenstein for what they say is his failure to turn over documents to them in a timely fashion; the documents they seek aim to prove a "deep state" conspiracy at the FBI and DOJ to frame Trump for impeachable offenses using fraudulent intelligence. 72
Impeachment of the personal or political sort is not enough of a punishment for Christopher Steele, however, in the judgment of Trump's congressional allies; in January 2018, Republicans on the Senate Judiciary Committee unilaterally refer Steele to the Department of Justice for criminal prosecution on the allegation that Steele misled federal investigators on whether he'd spoken to the media about the raw intelligence he'd compiled on Trump. 73 While the referral does not lead to a prosecution, it successfully keeps Steele from testifying before Congress or traveling to the United States to assist federal investigators working on the Trump-Russia case.
These attacks come in the context of all the Republican-led congressional investigations of possible Trump-Russia ties shutting down, with the exception of one: the Senate Select Committee on Intelligence, which, per the New York Times, Trump spends the last few months of 2017 lobbying to have end its work as well. 74 Moreover, Trump's attacks are by and large against individuals who are likely witnesses against him in a federal investigation; his tweets apparently seek to intimidate them into silence, threaten them with professional punishment, or impugn their character following demotions or firings he encouraged-and may ultimately be regarded as witness tampering under federal law. 75
Friendly witnesses can be tampered with also, of course, and Trump's 2018 record of conduct on this score likewise requires some consideration. Knowing that Hope Hicks is an almost certain federal witness in any future legal or political proceeding against him, Trump in early August 2018 invites Hicks to travel to Ohio with him; during the trip the two have several private meetings. 76 Soon afterward, it is revealed that Hicks has been offered a paying job on Trump's 2020 reelection campaign. 77 Hicks is not the only Trump associate or employee Trump offers a job. The Republican National Committee signs a $ 15,000 per month contract for "security services" with Trump's former bodyguard Keith Schiller after he leaves the White House. That deal comes under scrutiny when former Trump adviser Omarosa Manigault Newman alleges that the White House is systematically pushing former aides to sign agreements of exactly this sort-and at exactly this pay scale-to silence them, even knowing that many of these aides will have to testify before Congress, Mueller's grand jury, or both. 78 And by 2018, the Republican National Committee is paying not just for the services of Keith Schiller, but at least half a million dollars in legal fees for Hope Hicks and others, according to the Washington Post. 79
At various moments in the strange, chaotic sequence of events marking Trump's second year in office, he will be accused of using pardons not just for political purposes, but to send a message to potential government collaborators among his set-most notably Roger Stone and Paul Manafort-that the reward for keeping quiet is a future presidential pardon and effective immunity for their past actions. After Trump pardons conservative firebrand Dinesh D'Souza for making illegal campaign contributions in 2014, Stone announces that the pardon is a message to Robert Mueller: "indict people for crimes that don't pertain to Russian collusion and this [a pardon] is what could happen." 80
Stone has since said that he believes Mueller will indict him, but not for a crime pertaining to Russian collusion, which makes him part of a group that would benefit from what he perceives to be Trump's largesse with pardons. 81
Stone has made the same prediction with respect to Donald Trump Jr. as well. 82
Meanwhile, in late August, Bloomberg will accuse Trump attorney Rudy Giuliani of being on "thin ice" legally-perhaps even guilty of obstruction-for "hinting at a presidential pardon for a key witness" in the Trump-Russia case, namely, Paul Manafort. 83
Giuliani aside, many news outlets, and even some Republican politicians, hint or plainly assert in 2018 that Trump's own public comments on the presidential pardon power could constitute new acts of obstruction. 84
Throughout this bizarre, possibly illegal course of conduct, Trump vacillates publicly on whether he will cooperate with the Mueller investigation, though many in the media concluded from the beginning that he would not. 85
Even so, he says twice in January 2018, "I am looking forward to it," when asked about being interviewed by Mueller, adding-also twice-" I would do it under oath." 86 The result of these misdirections is that by August 2018, media outlets are writing articles with titles like "Trump's Lawyers Can't Talk Him Out of Talking with Mueller," although Trump's initial promise to do so had come fourteen months earlier, and in the meantime he has secured the demotion, firing, or resignation of many of those he considered enemies at the DOJ and FBI and has even attempted to fire Mueller on two occasions. 87 By mid-2018, Trump's attorneys have outstripped even the president's reluctance to speak to Mueller, arguing that Trump will have every right to ignore a Mueller subpoena as well as an interview request should he wish to do so. 88
Whether Trump will speak to Mueller ranks, in 2018, as a mystery with little real mystery at all: the seemingly universal presumption is that Trump will not speak to Mueller voluntarily, possibly not even if compelled by a subpoena, whatever he may say on occasion about being willing to do so.
But many other 2018 mysteries remain unresolved. One of them is so significant yet unknowable that even top U.S. officials-on both sides of the political aisle-want to resolve it but cannot: what Donald Trump and Vladimir Putin said to each other at their hastily arranged "summit" in Helsinki in July. 89
Only interpreters were present for the two-hour private conversation between the two men, which was then followed by a press conference. That conversation is cause for concern if what Trump said publicly at the post-summit press conference is indicative of what he said to Putin behind closed doors. As the Washington Post noted at the time, American foreign-policy officials were stunned by Trump's behavior [in Helsinki], which ranged from rejecting his intelligence community's assessment that the Kremlin interfered in the 2016 election to considering, albeit briefly, handing over a number of current and former American diplomats for questioning by Russian authorities. His performance earned rebukes from lawmakers and former officials, and even a retort from his own Director of National Intelligence. 90
In August, that director of national intelligence, Dan Coats, will say that he still doesn't "fully understand" what happened in Helsinki, as he is "not in a position" to "know what happened in that meeting." 91 He will add that it is the "President's prerogative" to have private conversations with foreign leaders without informing his top intelligence officials of any of the contents of those conversations. 92
On September 14, 2018, Trump's former campaign manager, Paul Manafort, pleads guilty in D.C. to one count of conspiracy against the United States and one count of conspiracy to obstruct justice; Manafort's plea deal could land him in federal prison for seventeen to twenty-one years-with the incarceration to run concurrent to any prison time he receives in the Eastern District of Virginia-but his sentence can be reduced if he offers full cooperation to Mueller across all areas of the Trump-Russia probe. 93
News of Manafort's plea sends shockwaves through U.S. politics, given NBC News' January 2018 reporting that Trump considers Manafort the one person who could place him in legal peril should he "flip." "Trump is telling friends and aides in private that things are going great-for him," NBC News wrote at the time. "Some reasons: He's decided that a key witness in the Russia probe, Paul Manafort, isn't going to 'flip' and sell him out." 94
As America nears the 2018 midterms, the popular political speculation is that voters will rebuke Trump's excesses and malfeasance with a "blue wave": a Democratic takeover of the House of Representatives. The Republicans' Senate majority is considered safe; in any case, should the Democrats by some significant electoral surprise take the Senate, the sixty-seven votes needed to convict a president who has been impeached by the House means that any removal of Trump from the Oval Office would have to be bipartisan.
Now that the Democrats have taken the House, however, they can push on their own for significant progress in the investigation of the president-an investigation that might culminate in impeachment proceedings. Witnesses who previously were not subpoenaed and therefore were not compelled to testify before Congress could be subpoenaed; witnesses who appeared voluntarily but refused to answer certain questions could be required by either subpoenas or threats of being held in contempt of Congress to answer those questions; documents Congress never sought that would normally have been the subject of investigative inquiry and eventually, if not produced, subpoenaed-such as Trump's tax returns-could now be demanded.
Another  source of information could come from 'tell all' White House recollections, for example Cliff Sims's book, a Trump adviser who joined the West Wing staff on Day One as a special assistant to the president after working on the campaign, is writing a memoir about his time working for the president is expected to be published in January.
So far the above theory holds that years before the announcement of Trump's presidential candidacy, the Kremlin, anticipating the New York City businessman's political future, successfully bribed him into adopting a foreign policy distinctly beneficial to Russia and harmful to America. Once in-campaign, this money-for-policy quid pro quo led to a series of collusive meetings and agreements that both aided and abetted Russian cyber warfare against the United States and illegally solicited monetary and in-kind donations (including stolen digital materials) from both Kremlin agents and Russian cutouts.
In this context, Mueller has at least 6 months of work left to do, and the media's repeated claims that he's almost finished are not plausible. Also, if Trump refuses a face-to-face meeting, Mueller could seek a subpoena to put him before the grand jury. That could be fought all the way to the supreme court. There is a precedent, US v Nixon, when the justices ruled that the president must deliver subpoenaed materials to a district court. Sixteen days later, Nixon resigned. If Mueller decides not to have that fight, he could write a report saying he believed the president obstructed justice. If he does not reach that conclusion, the Democratic-led House could issue its own subpoenas.
Postscript 19 Nov. 2018: The mind-boggling reasons why Trump defends MBS and why the Khashoggi case might receive more traction going forward.
P.1, 12 Aug. 2018: The Trump/Russia investigation what can be said today.
P.3, 19 Nov. 2018:  The mind-boggling reasons why Trump defends MBS and why the Khashoggi case might receive more traction going forward.
1. "Microsoft Thwarts New Russia Attacks Ahead of Midterms; President Trump Asserts He Could Run the Russia Probe," CNN, August 21, 2018, http://transcripts.cnn.com/TRANSCRIPTS/1808/21/cnr.03.html.
2. "US senators vote overwhelmingly for new sanctions on Russia," Independent, July 28, 2017, https://www.independent.co.uk/news/world/americas/us-politics/us-senate-vote-russia-sanctions-donald-trump-vladimir-putin-retaliate-latest-crimea-a7864041.html.
3. Alexandra Wilts, "Deadline looms for Trump to issue further sanctions against Russia over election meddling," Independent, January 29, 2018, https://www.independent.co.uk/news/world/americas/us-politics/donald-trump-russia-sanctions-deadline-presidential-election-meddling-vladimir-putin-a8184391.html.
4. Abigail Tracy, "Vladimir Putin Sours on His Old Friend Rex Tillerson," Vanity Fair, September 7, 2017, https://www.vanityfair.com/news/2017/09/vladimir-putin-rex-tillerson.
5. Darya Korsunskaya et al., "For Some Russian Oligarchs, Sanctions Risk Makes Putin Awkward to Know," Reuters, November 30, 2017, https://www.reuters.com/article/russia-sanctions-oligarchs/for-some-russian-oligarchs-sanctions-risk-makes-putin-awkward-to-know-idUSL8N1NU356.
6. Wilts, "Deadline looms"; Tom Embury-Dennis, "Trump refuses to impose new Russia sanctions despite law passed by US Congress over election hacking," Independent, January 30, 2018, https://www.independent.co.uk/news/world/americas/us-russia-sanctions-trump-no-new-congress-law-election-hacking-intervention-putin-kremlin-a8184866.html.
7. Korsunskaya et al., "For Some Russian Oligarchs"; Embury-Dennis, "Trump refuses to impose."
8. Eli Meixler, "CIA Director Mike Pompeo Says He 'Fully Expects' Russia Will Try to Interfere in U.S. Midterms," Time, January 30, 2018, http://time.com/5124313/cia-mike-pompeo-russia-midterm-elections/.
9. Jim Sciutto and Nicole Gaouette, "CIA chief met with sanctioned Russian spies, officials confirm," CNN, February 2, 2018, https://www.cnn.com/2018/02/01/politics/pompeo-russian-spies-meeting/index.html.
10. Ibid.
11. Ariane de Vogue, "Mueller's Office Spoke with Sessions, Comey in Russia Investigation," CNN, January 23, 2018, https://www.cnn.com/2018/01/23/politics/jeff-sessions-robert-mueller-interview/index.html; Carrie Johnson, "Sessions Sits for Voluntary Interview with Mueller," NPR, January 23, 2018, https://www.npr.org/2018/01/23/579952874/sessions-sits-for-voluntary-interview-with-mueller; Michael S. Schmidt and Maggie Haberman, "Sessions Is Questioned as Russia Inquiry Focuses on Obstruction," New York Times, January 23, 2018, https://www.nytimes.com/2018/01/23/us/politics/jeff-sessions-special-counsel-russia.html?rref=collection%2Fbyline%2Fmichael-s.-schmidt&action=click&contentCollection=undefined&region=stream&module=stream_unit&version=latest&contentPlacement=1&pgtype=collection.
12. Ibid.
13. Betsy Woodruff, "Special Counsel Mueller's Team Questioned Blackwater Founder Erik Prince," Daily Beast, May 9, 2018, https://www.thedailybeast.com/special-counsel-muellers-team-questioned-blackwater-founder-erik-prince; James Gordon Meek, "Special counsel obtains Trump ally Erik Prince's phones, computer," ABC News, June 2018, https://abcnews.go.com/Politics/special-counsel-obtains-trump-ally-erik-princes-phones/story?id=56143477.
14. Adam Entous, "Blackwater founder held secret Seychelles meeting to establish Trump-Putin back channel," Washington Post, April 2017, https://www.washingtonpost.com/world/national-security/blackwater-founder-held-secret-seychelles-meeting-to-establish-trump-putin-back-channel/2017/04/03/95908a08-1648-11e7-ada0-1489b735b3a3_story.html?utm_term=.3cab3e2cc8f9.
15. Ibid.
16. Alex Johnson, "FBI general counsel says in letter that Mueller asked him to testify in Russia probe," NBC News, April 10, 2018, https://www.nbcnews.com/politics/national-security/fbi-general-counsel-says-letter-mueller-asked-him-testify-russia-n864886.
17. Rosalind S. Helderman and Tom Hamburger, "Pressure on Michael Cohen intensifies as Mueller stays focused on the Trump attorney," Washington Post, June 13, 2018, https://www.washingtonpost.com/politics/pressure-on-michael-cohen-intensifies-as-mueller-stays-focused-on-trump-attorney/2018/06/13/00a207fe-6f12-11e8-bf86-a2351b5ece99_story.html?utm_term=.f43137c08ca8.
18. Adam Goldman et al., "Viktor Vekselberg, Russian Billionaire, Was Questioned by Mueller's Investigators," New York Times, May 2018, https://www.nytimes.com/2018/05/04/us/politics/viktor-vekselberg-mueller-investigation.html.
19. Chris Cillizza, "Why the Allen Weisselberg immunity deal may be the biggest news of this bananas week," CNN, August 24, 2018, https://www.cnn.com/2018/08/24/politics/allen-weisselberg-trump/index.html.
20. Ibid.
21. Shahien Nasiripour and Caleb Melby, "Nobody Knows the Trump Organization Like Allen Weisselberg," Bloomberg, August 30, 2018, https://www.bloomberg.com/news/articles/2018-08-30/nobody-knows-the-trump-organization-like-allen-weisselberg.
22. Natasha Bertrand, "New York Prosecutors May Pose a Bigger Threat to Trump than Mueller," Atlantic, August 24, 2018, https://www.theatlantic.com/politics/archive/2018/08/new-york-prosecutors-allen-weisselberg-trump/568516/.
23. Colby Hamilton, "Former Skadden Partner, 2 Others Referred to SDNY by Mueller," New York Law Journal, August 1, 2018, https://www.law.com/newyorklawjournal/2018/08/01/former-skadden-partner-2-others-referred-to-sdny-by-mueller/?slreturn=20180802000242; Jed Shugerman, "Why Robert Mueller Handed Off the Michael Cohen Raid," Slate, April 2018, https://slate.com/news-and-politics/2018/04/why-robert-mueller-handed-off-the-michael-cohen-raid.html.
24. Manu Raju and Jeremy Herb, "Hicks acknowledges white lies, but won't talk White House in testimony," CNN, February 2018, https://www.cnn.com/2018/02/26/politics/hope-hicks-house-intelligence-committee/index.html.
25. Maggie Haberman, "Hope Hicks to Leave Post as White House Communications Director," New York Times, February 2018, https://www.nytimes.com/2018/02/28/us/politics/hope-hicks-resign-communications-director.html?smid=tw-share.
26. Philip Ewing, "House Intelligence GOP Releases Full Report Clearing Trump in Russia Imbroglio," NPR, April 27, 2018, https://www.npr.org/2018/04/27/606351800/house-intelligence-gop-releases-full-report-clearing-trump-in-russia-imbroglio.
27. Tom Winter, "Trump ally detained, served with Mueller subpoena at Boston airport," NBC News, March 30, 2018, https://www.nbcnews.com/politics/white-house/trump-ally-detained-served-mueller-subpoena-boston-airport-n861456.
28. Veronica Rocha et al., "Michael Cohen Pleads Guilty to 8 Counts," CNN, August 22, 2018, https://www.cnn.com/politics/live-news/michael-cohen-trump-lawyer-plea-deal-fbi/index.html; Jenni Fink, "Will Michael Cohen Go to Prison? How Much Jail Time Is Former Trump Attorney Facing?" Newsweek, August 21, 2018, https://www.newsweek.com/will-michael-cohen-go-prison-how-much-jail-time-former-trump-attorney-facing-1084211.
29. Adam Liptak and Jim Rutenberg, "Cohen Implicates President Trump. What Do Prosecutors Do Now?" New York Times, August 21, 2018, https://www.nytimes.com/2018/08/21/us/politics/cohen-trump-indicted.html.
30. Salvadore Rizzo, "Can the President Be Indicted or Subpoenaed?" Washington Post, May 22, 2018, https://www.washingtonpost.com/news/fact-checker/wp/2018/05/22/can-the-president-be-indicted-or-subpoenaed/?utm_term=.d07acdad9c42.
31. Fink, "Will Michael Cohen Go to Prison?"
32. "Ukraine Allegedly Paid Michael Cohen $400,000 for Trump Meeting," BBC, May 23, 2018, https://www.bbc.com/news/av/world-us-canada-44233864/ukraine-allegedly-paid-michael-cohen-400000-for-trump-meeting
33. Quinta Jurecic, "Document: Indictment against Maria Butina," Lawfare, July 17, 2018, https://www.lawfareblog.com/document-indictment-against-mariia-butina.
34. Ibid.
35. Ibid.; Sean Rossman, "Sex and schmoozing are common Russian spy tactics. Publicity makes Maria Butina different," USA Today, August 28, 2018, https://www.usatoday.com/story/news/investigations/2018/08/28/maria-butina-accused-russian-spy-nra-networking-old-russian-spy-tactic-not-being-public-figure/1002964002/.
36. Philip Ewing, "The Russia Investigations: Mueller Indicts the 'Internet Research Agency,' " NPR, February 17, 2018, https://www.npr.org/2018/02/17/586698361/the-russia-investigations-mueller-indicts-the-internet-research-agency; Chantal Da Silva, "What Is a Speaking Indictment? Mueller Deploys Key Tool in Russia Investigation," Newsweek, August 24, 2018, https://www.newsweek.com/what-speaking-indictment-muellers-key-tool-russia-investigation-1089564; DOJ indictments, Case 1:18-cr-00032-DLF, United States of America v. Internet Research Agency LLC et al., filed February 16, 2018, https://www.justice.gov/file/1035477/download.
37. Ewing, "The Russia Investigations."
38. Ibid.
39. Ibid.
40. Donald J. Trump (@realDonaldTrump), "Russia started their anti-US campaign in 2014, long before I announced that I would run for President. The results of the election were not impacted. The Trump campaign did nothing wrong - no collusion!" Twitter, February 16, 12:18 p.m., Donald J. Trump on Twitter ref_url=https%3A%2F%2.
41. Alex Ward, "Read: Mueller Indictment Against 12 Russian Spies for DNC Hack," Vox, July 13, 2018, https://www.vox.com/2018/7/13/17568806/mueller-russia-intelligence-indictment-full-text/.
42. Donald J. Trump (@realDonaldTrump), "The Rigged Witch Hunt, headed by the 13 Angry Democrats (and now 4 more have been added, one who worked directly for Obama W.H.), seems intent on damaging the Republican Party's chances in the November Election. This Democrat excuse for losing the '16 Election never ends!" Twitter, July 21, 2018, 3:40 p.m., https://twitter.com/realdonaldtrump/status/1020800615226793986.
43. Ward, "Read: Mueller Indictment."
44. Pete Williams, "Attorney Alex van der Zwaan, first person sentenced in Mueller probe, gets 30 days in prison," NBC News, April 3, 2018, https://www.nbcnews.com/politics/justice-department/attorney-alex-van-der-zwaan-first-person-sentenced-mueller-probe-n862186.
45. Mark Mazzetti, "Trump Aide Spoke During Campaign to Associate Tied to Russian Intelligence," New York Times, March 28, 2018, https://www.nytimes.com/2018/03/28/us/politics/rick-gates-trump-campaign-russian-intelligence.html.
46. Ibid.
47. Williams, "Attorney Alex van der Zwaan."
48. Sharon LaFraniere, "Paul Manafort, Trump's Former Campaign Chairman, Guilty of 8 Counts," New York Times, August 21, 2018, https://www.nytimes.com/2018/08/21/us/politics/paul-manafort-trial-verdict.html.
49. Ibid.
50. Lydia Wheeler, "Manafort Faces Maximum of 80 Years in Prison," Hill, August 21, 2018, http://thehill.com/homenews/administration/402935-manafort-faces-maximum-of-80-years-in-prison.
51. Alex Whiting and Ryan Goodman, "Will Trump Pardon Manafort?" New York Times, August 30, 2018, https://www.nytimes.com/2018/08/30/opinion/trump-manafort-pardon-mueller.html.
52. Katelyn Polantz, "Lobbyist pleads guilty, says he helped steer foreign money to Trump inaugural and lied to Congress," CNN, August 31, 2018, https://www.cnn.com/2018/08/31/politics/w-samuel-patten-plea-russia-ukraine/index.html.
53. Maggie Haberman and Kenneth P. Vogel, "Trump's Inaugural Committee Paid $26 Million to Firm of First Lady's Adviser," New York Times, February 15, 2018, https://www.nytimes.com/2018/02/15/us/politics/trumps-inaugural-committee-paid-26-million-to-first-ladys-friend.html.
54. Maria Puente, "Trump 'Apprentice' Slur Tapes: A who's who of people associated with alleged recording," USA Today, August 16, 2018, https://www.usatoday.com/story/life/people/2018/08/16/trump-apprentice-slur-tape-whos-who-people-associated/996532002/.
55. Donald J. Trump (@realDonaldTrump), Trump Twitter Archive, search terms "rigged," "witch hunt," and "illegal," January 1, 2018, to August 2018, http://www.trumptwitterarchive.com/.
56. Toby Harnden, "Comey on Trump's 'Consciousness of Guilt,' " RealClearPolitics, April 25, 2018, https://www.realclearpolitics.com/articles/2018/04/25/comey_on_trumps_consciousness_of_guilt_136899.html.
57. Eugene Robinson, "Trump seems to be staging a cover-up. So what's the crime?" op-ed, Washington Post, May 2017, https://www.washingtonpost.com/opinions/trump-seems-to-be-staging-a-coverup-so-whats-the-crime/2017/05/11/d728c58a-3681-11e7-b4ee-434b6d506b37_story.html?noredirect=on&utm_term=.01efd1869444.
58. Julie Hirschfeld Davis and Michael D. Shear, "Trump Revokes Ex-C.I.A. Director John Brennan's Security Clearance," New York Times, August 15, 2018, https://www.nytimes.com/2018/08/15/us/politics/john-brennan-security-clearance.html; Jeremy Diamond and Betsy Klein, "Trump revokes ex-CIA director John Brennan's security clearance," CNN, August 2018, https://www.cnn.com/2018/08/15/politics/john-brennan-security-clearance/index.html.
59. Hirschfeld Davis and Shear, "Trump Revokes."
60. Ibid.
61. Josh Gerstein, "Two More Officials Cited in FBI Texts Step Down," Politico, February 8, 2018, https://www.politico.com/story/2018/02/08/fbi-texts-officials-resign-400533.
62. Eliza Relman, "James Comey's Former Chief of Staff Quit the FBI," Business Insider, January 23, 2018, https://www.businessinsider.com/james-comey-former-chief-of-staff-quit-the-fbi-2018-1; Laura Jarrett and Josh Campbell, "FBI Officials Lisa Page and James Baker Resign," CNN, May 2018, https://edition.cnn.com/2018/05/04/politics/fbi-officials-lisa-page-james-baker-resign/index.html; Natasha Bertrand, " 'Trump fears them': Former officials defend FBI leaders swept up in the Trump-Russia firestorm," Business Insider, December 24, 2017, https://www.businessinsider.com/fbi-general-counsel-james-baker-reassigned-amid-trump-russia-firestorm-2017-12; Samuel Chamberlain and Catherine Herridge, "Demoted FBI agent Peter Strzok had larger role in Clinton, Russia probes than previously known," Fox News, June 2018, http://www.foxnews.com/politics/2018/06/05/demoted-fbi-agent-peter-strzok-had-larger-role-in-clinton-russia-probes-than-previously-known.html; Carrie Johnson, "Leader of Justice Department National Security Division on theWay Out," NPR, April 20, 2017, https://www.npr.org/2017/04/20/524905899/leader-of-justice-department-national-security-division-on-the-way-out.
63. Kenneth P. Vogel and Matthew Rosenberg, "Agents Tried to Flip Russian Oligarchs. The Fallout Spread to Trump," New York Times, September 1, 2018, https://trump-christopher-wray-877adb3e-5f8d-44a1-8a2f-d4f0894ca6a7.html.
64. Donald J. Trump (@realDonaldTrump), "Wow, Nellie Ohr, Bruce Ohr's wife, is a Russia expert who is fluent in Russian. She worked for Fusion GPS where she was paid a lot. Collusion! Bruce was a boss at the Department of Justice and is, unbelievably, still there!" Trump Twitter Archive, August 30, 2018, 5:54 a.m., http://www.trumptwitterarchive.com/archive.
65. Associated Press, "Trump Target in Russia Probe Questioned by Republicans," New York Times, August 28, 2018, https://www.nytimes.com/aponline/2018/08/28/us/politics/ap-us-trump-russia-probe-congress.html.
66. Jeremy Herb, "Ohr says Steele told him Russian intel believed they had Trump 'over a barrel,' " CNN, August 31, 2018, https://www.cnn.com/2018/08/31/politics/bruce-ohr-christopher-steele-donald-trump/index.html.
67. Jonathan Swan, "Scoop: FBI director threatened to resign amid Trump, Sessions pressure," Axios, January 23, 2018, https://www.axios.com/scoop-sessions-fbi-trump-christopher-wray-877adb3e-5f8d-44a1-8a2f-d4f0894ca6a7.html.
68. Laura Jerrett and Pamela Brown, "Ex-FBI Deputy Director Andrew McCabe is fired-and fires back," CNN, March 17, 2018, https://www.cnn.com/2018/03/16/politics/andrew-mccabe-fired/index.html.
69. Ibid.
70. Donald J. Trump (@realDonaldTrump), "Andrew McCabe FIRED, a great day for the hard working men and women of the FBI - A great day for Democracy. Sanctimonious James Comey was his boss and made McCabe look like a choirboy. He knew all about the lies and corruption going on at the highest levels of the FBI!" Twitter, March 16, 2018, 9:08 p.m., https://twitter.com/realDonaldTrump/status/974859881827258369.
71. "Trump Threatens to 'Get Involved' and Fire Rosenstein," Daily Beast, April 2018, https://www.thedailybeast.com/trump-threatens-to-get-involved-and-fire-rosenstein; Pamela Brown et al., "Trump considering firing Rosenstein to check Mueller," CNN, April 2018, https://www.cnn.com/2018/04/10/politics/trump-rod-rosenstein-robert-mueller/index.html.
72. Ibid.
73. Jeremy Herb, "GOP Senators Send Criminal Referral to Justice Department for Dossier Author," CNN, January 2018, https://www.cnn.com/2018/01/05/politics/dossier-judiciary-committee-investigations/index.html.
74. Jonathan Martin et al., "Trump Pressed Top Republicans to End Senate Russian Inquiry," New York Times, November 2017, https://www.nytimes.com/2017/11/30/us/politics/trump-russia-senate-intel.html.
75. 18 U.S.C. § 1512. 1729. Protection of Government Processes-Tampering With Victims, Witnesses, or Informants-18 U.S.C. 1512, United States Department of Justice, https://www.justice.gov/usam/criminal-resource-manual-1729-protection-government-processes-tampering-victims-witnesses-or.
76. Jacqueline Thomsen, "Trump Officials Pushing Hope Hicks to Join 2020 Campaign: Report," Hill, August 9, 2018, http://thehill.com/homenews/administration/401130-trump-officials-pushing-hope-hicks-to-join-2020-campaign-report
77. Ibid.
78. Josh Dawsey and Ashley Parker, " 'Everyone signed one': Trump is aggressive in his use of nondisclosure agreements, even in government," Washington Post, August 13, 2018, https://www.washingtonpost.com/politics/everyone-signed-one-trump-is-aggressive-in-his-use-of-nondisclosure-agreements-even-in-government/2018/08/13/9d0315ba-9f15-11e8-93e3-24d1703d2a7a_story.html?utm_term=.b782c8ee0284.
79. Michelle Ye Hee Lee and Anu Narayanswamy, "RNC paid nearly half a million dollars to law firm representing Hope Hicks and others in Russia probes," Washington Post, May 20, 2018, https://www.washingtonpost.com/news/post-politics/wp/2018/05/20/rnc-paid-nearly-half-a-million-dollars-to-law-firm-representing-hope-hicks-and-others-in-russia-probes/?utm_term=.cfee1d0661e3.
80. Justin Wise, "Roger Stone: Trump Pardon of D'Souza Was a Signal to Mueller," Hill, June 1, 2018, http://thehill.com/policy/national-security/390220-stone-calls-pardon-of-dsouza-a-sign-for-mueller-trump-has-awesome.
81. Ken Dilanian, "Ex-Trump adviser Roger Stone says he expects Mueller to charge him with a crime," NBC News, August 30, 2018, https://www.nbcnews.com/politics/donald-trump/ex-trump-adviser-roger-stone-says-he-expects-mueller-charge-n905091.
82. Joshua Caplan, "Roger Stone Predicts Mueller Will Indict Donald Trump Jr. on Process Crime," Breitbart, August 24, 2018, https://www.breitbart.com/big-government/2018/08/24/roger-stone-donald-trump-jr-mueller-indict-process-crime/.
83. Noah Feldman, "Giuliani the Prosecutor Would've Called This Obstruction," Bloomberg News, August 24, 2018, https://www.bloomberg.com/view/articles/2018-08-24/rudy-giuliani-is-on-thin-ice-with-paul-manafort-pardon-quote.
84. Jonathan Chait, "Trump, Obstructing Justice Again, Asked Lawyers About Manafort Pardon," New York, August 23, 2018, http://nymag.com/daily/intelligencer/2018/08/trump-obstructing-justice-manafort-pardon.html; Joe Lockhart, "President Donald Trump issuing pardons during special counsel Robert Mueller's investigation could be considered obstruction of justice," CNN, June 1, 2018, https://www.cnn.com/videos/politics/2018/06/01/joe-lockhart-trump-pardons-obstruction-of-justice-newday.cnn; Steven T. Dennis, "Republican Senators Warn Trump Not to Obstruct Justice or Pardon Himself," Bloomberg, June 5, 2018, https://www.bloomberg.com/news/articles/2018-06-05/key-senate-republicans-warn-trump-on-obstruction-pardon-powers; "Former FederalProsecutor: A Pardon Can Equal Obstruction of Justice," Hardball with Chris Matthews, "MSNBC, August 21, 2018, https://www.msnbc.com/hardball/watch/fmr-federal-prosecutor-a-pardon-can-equal-obstruction-of-justice-1303730755624?v=railb; Abigail Tracy, " 'That's Obstruction of Justice': What Pardoning Manafort Would Mean for Trump," Vanity Fair, August 24, 2018, https://www.vanityfair.com/news/2018/08/donald-trump-paul-manafort-pardon; Sean Illing, "10 legal experts on why Trump can't pardon his way out of the Russia investigation," Vox, August 21, 2017, https://www.vox.com/2017/8/29/16211784/paul-manafort-charged-guilty-trial-trump-pardon-power
85. Randall D. Eliason, "Trump Won't Talk to Mueller. Here's Why," Opinion, Washington Post, February 2018, https://www.washingtonpost.com/opinions/trump-shouldnt-talk-to-mueller-heres-why/2018/02/14/0be8a8c2-11a5-11e8-9570-29c9830535e5_story.html?utm_term=.4a6b47b294fe; Kellan Howell, "Legal Experts: Almost No Upside for Trump to Speak to Mueller," NewsChannel5, August 2018, https://www.newschannel5.com/newsy/legal-experts-almost-no-upside-for-trump-to-speak-to-mueller
86. Dan Merica and Pamela Brown, "Trump says he wants to talk to Mueller, would do so under oath," CNN, January 25, 2018, https://www.cnn.com/2018/01/24/politics/robert-mueller-donald-trump/index.html.
87. Jonathan Chait, "Trump's Lawyers Can't Talk Him Out of Talking to Mueller," New York, August 6, 2018, http://nymag.com/daily/intelligencer/2018/08/trumps-lawyers-cant-stop-mueller-interview.html.
88. Laura King, "Giuliani: Trump wouldn't 'have to' obey a Mueller subpoena, could take the 5th," Los Angeles Times, May 6, 2018, http://www.latimes.com/politics/la-na-pol-giuliani-trump-20180506-story.html.
89. Ishaan Tharoor, "What happened in Helsinki? We Still Don't Know," Washington Post, July 23, 2018, https://www.washingtonpost.com/news/worldviews/wp/2018/07/23/what-happened-in-helsinki-we-still-dont-know/?utm_term=.21cb8dba2893.
90. Ibid.
91. Zachary Cohen, "Trump's intel chief still doesn't 'fully understand' what happened in Putin meeting," CNN, August 2, 2018, https://www.cnn.com/2018/08/02/politics/dni-coats-trump-putin-helsinki-meeting/index.html.
92. Ibid.
93. Del Quentin Wilbur, "Paul Manafort pleads guilty to reduced charges and agrees to cooperate with special counsel's probe," September 14, 2018, Los Angeles Times, http://www.latimes.com/politics/la-na-pol-manafort-plea-20180914-story.html; Paul J. Manafort, Jr. "Complete Plea Offer," Case 1:17-cr-00201, U.S. v. Paul J. Manafort, Crim. No. 17-201-1, U.S. Department of Justice, The Special Counsel's Office, September 14, 2018, https://www.justice.gov/file/1094151/download.
94. Howard Fineman, "The 'state' of Donald Trump? He thinks it couldn't be better," NBC News, News analysis, January 30, 2018, https://www.nbcnews.com/storyline/2018-state-of-the-union-address/state-donald-trump-he-thinks-it-couldn-t-be-better-n842501