By Eric Vandenbroeck 19 Nov. 2018
While it is known that Robert Mueller is looking at multi-state collusion, ever since US Secretary of State Mike Pompeo 16 Oct. meeting with the Saudi Crown Prince Mohammed bin Salman (MBS) rumors have been circulating that the discussion was all about how to absolve MBS and to develop a roadmap how to insulate MBS from the scandal. As known from special counsel Robert Mueller's investigation, already late 2015  in a meeting attended by the brother of MBA Mohammed bin Zayed, Arab leaders decided that a wildcard presidential candidate in the shape of Trump could be the key to their plans to become the new regional hegemons. Thus before Saudi Arabia's crown prince, Mohammed bin Salman, seemed implicated in the killing of Jamal Khashoggi, American intelligence agencies were trying to solve a separate mystery: Was the prince laying the groundwork for building an atomic bomb? Hence in addition to my analyses in part one and part two, here a brief postscript as to why the Khashoggi case might receive even more traction going forward.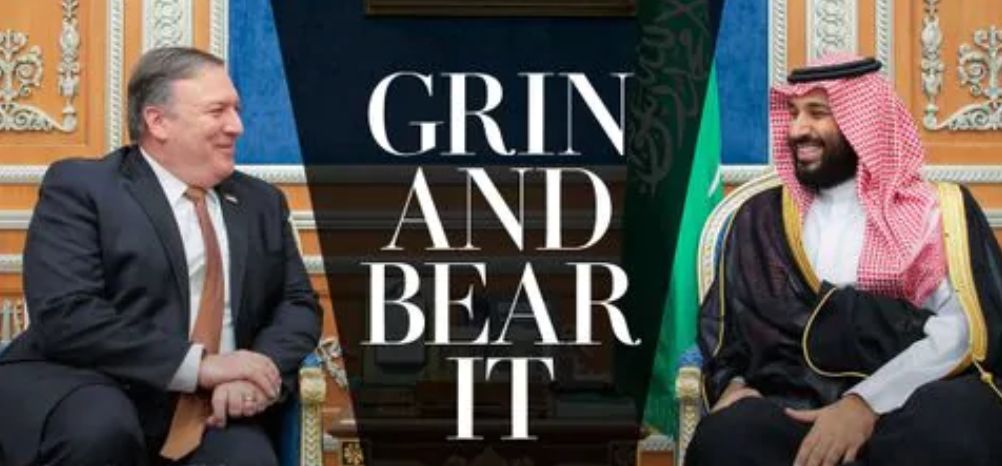 Three months before the 2016 election, a small group gathered at Trump Tower. Erik Prince, the private security contractor and the former head of Blackwater, arranged the meeting, which took place on Aug. 3, 2016. The emissary, well-connected Lebanese-American businessman named George Nader, told Donald Trump Jr. that the princes who led Saudi Arabia and the United Arab Emirates were eager to help his father win election as president. The social media specialist, Joel Zamel, extolled his company's ability to give an edge to a political campaign; by that time, the firm had already drawn up a multimillion-dollar proposal for a social media manipulation effort to help elect Trump.
The August 2016 meeting, not surprising, has echoes of another Trump Tower meeting two months earlier, also under scrutiny by the special counsel, when Donald Trump Jr. and other top campaign aides met with a Russian lawyer after being promised damaging information about Hillary Clinton.
Of course, we understand Saudi Arabia, Israel, and the UAE all view Iran as their chief regional enemy. Iran is propped up by Russia. Therefore the Saudis, Israelis, and Emiratis all need a US government willing to find a way to get the Kremlin to stop supporting Iran in the Middle East.
The best way to get Russia to stop supporting Iran-or reduce support-was/is to drop all sanctions on Russia over its 2014 annexation of Crimea, as that'd be worth trillions to the Kremlin over the next decade. Everyone knew that Clinton wouldn't do this-and that Trump would.
Thus the Saudis' desire for nuclear power and, eventually, the right to build a nuclear weapon; the Emiratis' own nuclear ambitions; Saudi and Emirati hostility toward Iran, and particularly Iranian involvement in the war in Syria; Russian construction firms' opposition to U.S. sanctions, which are hindering them from making tens of billions of dollars building new nuclear reactors in Saudi Arabia and the United Arab Emirates; and Russian actions relative to the war in Syria, which are ostensibly being coordinated with Russia's ally, Iran. These issues engage parties that don't at first appear connected to one another, but at least part of their correlation involves the United States dropping sanctions against the Kremlin in exchange for the promise of a big financial windfall for Trump and his relatives.
The August 2016 overture followed an intense and secretive lobbying push involving Michael Flynn, Tom Barrack, Rick Gates and even Iran-Contra figure Robert McFarlane.
As the transition team does its work in December 2016, a small (if overlapping) group of additional Trump aides, associates, and allies-including Michael Flynn, Tom Barrack, Rick Gates, and Bud McFarlane-do a different sort of work: they lobby Trump to give nuclear technology to Saudi Arabia so that Russian companies and others can get billions of dollars in contracts to build nuclear reactors in the Middle East.  The proposal would "require lifting sanctions on Russia," according to Reuters, to allow currently sanctioned Russian companies to partner with American entities to build reactors in Saudi Arabia and the United Arab Emirates-the latter nation, too, because, under the terms of a deal signed many years ago by the United States, if the American government relaxes nuclear-weapon safeguards on Saudi Arabia, a "gold standard" clause from a past U.S.-UAE nuclear deal would ultimately entitle the UAE to enrich uranium as well.
Underneath Trump at King Khalid International Airport on 22 May 2, 2017, in Saudi Arabia.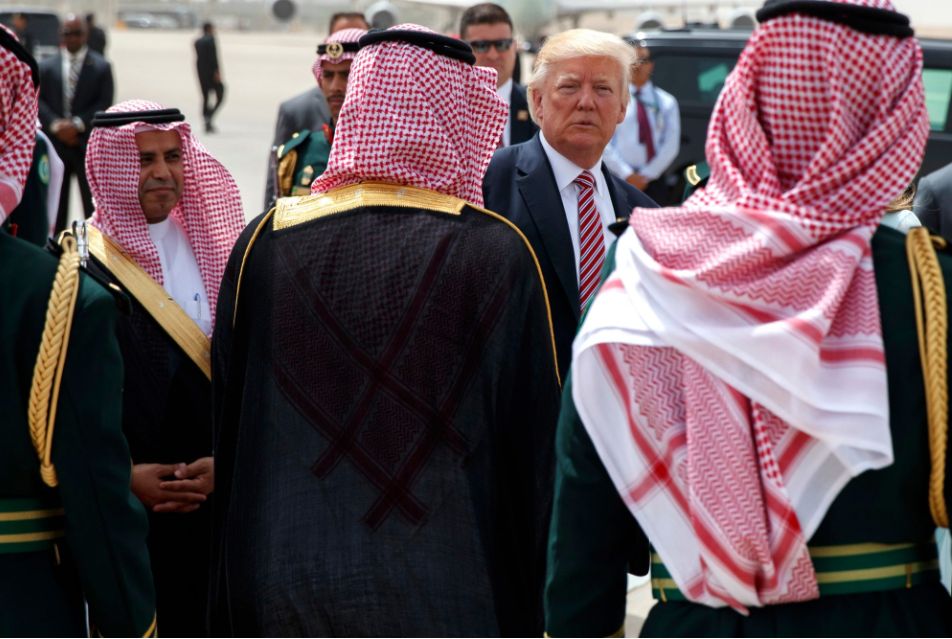 But the Saudis, Emiratis, Israelis, and Russians didn't offer the Trumps pre-election collusive assistance for free-indeed they asked for a lot.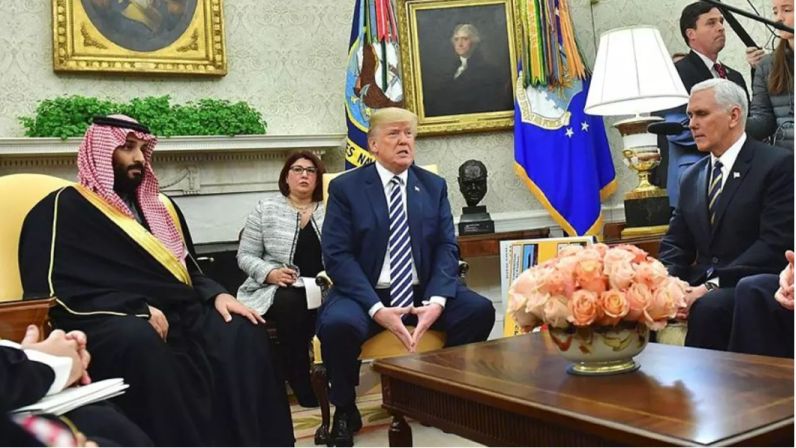 Using the carrot and a stick approach following a meeting between MBS and Trump, Khalid al-Falih, the kingdom's energy minister, said in an interview that if the U.S. is not with us, they will lose the opportunities on a range of issues.
Trump adviser Erik Prince-who was also at the secret meeting with the above mentioned George Nader (who The Middle East Eye reported proposed to start an "elite group" that would supersede the Gulf Cooperation Council), Zamel, and Don Jr. at Trump Tower in August '16-ran a mercenary army. Elliott Broidy, who had enormous access to Trump as a lobbyist and RNC finance co-chair, also was connected to a mercenary company. Kushner-who wasn't at the August '16 meeting but would attend a followup in December with MBZ (who secretly entered the US for the meeting), Bannon, and the Zamel-connected Mike Flynn-struck up a very close "friendship" with MBS post-election.
Below Erik Prince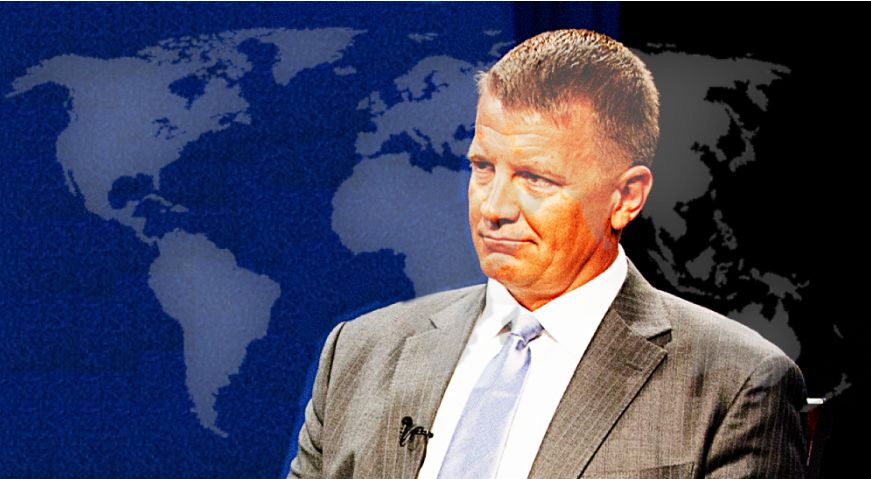 Special Counsel Robert Mueller has obtained evidence that calls into question Congressional testimony given by Trump supporter and Blackwater founder Erik Prince last year, when he described a meeting in Seychelles with a Russian financier close to Vladimir Putin. Prince denies that is the case and says it was a chance meeting after he went to the island to meet the crown prince of Abu Dhabi, Mohamed bin Zayed...and that Zayed brought with him Hamad al Mazroie, the de facto head of the United Arab Emirates intelligence service. He also brought Mohammed Dahlan, a bin Zayed adviser who is fluent in Russian and is seen as a conduit from the UAE to Putin's Kremlin. Prince did not disclose both men's presence when he testified under oath about the meeting to the House Intelligence Committee.
In fact Prince's claim to have had no formal communication or contact with Trump's campaign is contradicted by revelations about the above mentioned August 3, 2016, Trump Tower meeting Prince set up between himself, Donald Trump Jr., George Nader, and Joel Zamel. The inquiry into the meetings suggests there is growing interest by the Mueller team into whether foreign financing, specifically from Gulf states, has influenced President Donald Trump and his administration.
Numerous reports  furthermore say Kushner got intel from his father-in-law's Presidential Daily Briefing-which only Trump could permit him to take-and gave it to MBS. The intel-a list of MBS' enemies-allowed MBS to target his domestic enemies and kill some of them. MBS subsequently told friends that Kushner was "in his pocket." And why would he think otherwise? Trump had (apparently) declassified intel for MBS' use as part of his program of domestic and international assassination. It was that very program that targeted Jamal Khashoggi.
So no one was surprised when Trump said he believed MBS wasn't involved in the killing because MBS told him he wasn't.
The above five-party collusion also explains why Trump went to Saudi Arabia first on his first trip abroad and immediately sold them weapons. The trip organized and pushed for by Kushner, who is chummy with MBS and has acted as the de facto ambassador to Saudi Arabia. Khashoggi was not banned from Saudi media for his criticisms of MBS, but rather for his criticisms of Donald Trump. More importantly, U.S. intelligence knew of a plan to lure Khashoggi back to arrest him, so the president and the de facto ambassador to Saudi Arabia must have also known.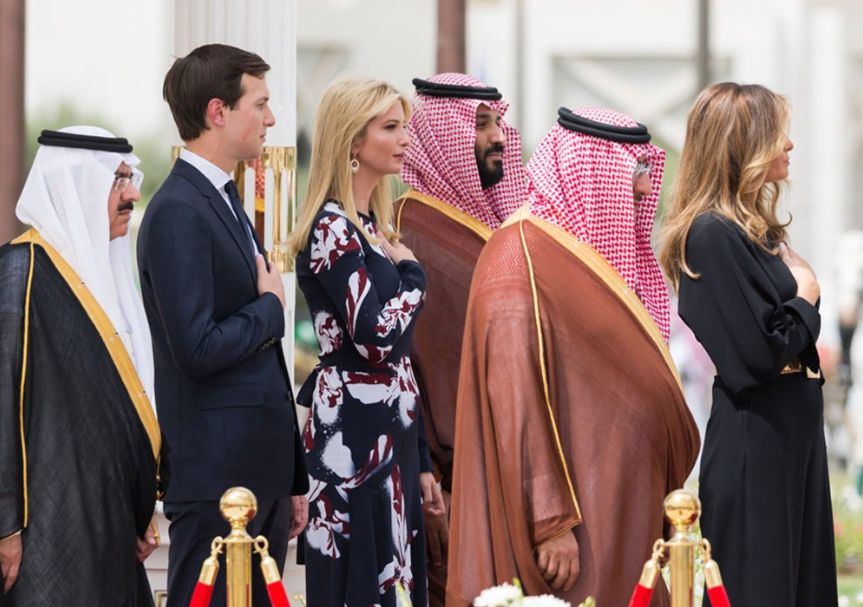 Last October, Jared Kushner paid an unannounced visit to Riyadh, where it's reported that he stayed up until the wee hours talking "strategy" with the crown prince, apparently his new BFF. He allegedly gave MBS an "enemies list" culled from the classified president's daily brief, which MBS seems to have used the following month to purge disloyal relatives from government and take their money. Also last October, Kushner's company received a $57 million loan from Fortress Investment Group, which was recently purchased by SoftFund, a Saudi investment concern, to bail out its troubled property at One Journal Square in Jersey City. (A larger and more widely-reported loan, to bail out the troubled property at 666 Fifth Avenue, came the following summer, via Qatar.)
It is also not surprising why Kushner uses WhatsApp for all his MBS communications (it frustrates oversight); why Prince was Trump's envoy to Russia in Seychelles, why Broidy was given $1 billion in business by Nader; why Nader met with White House officials repeatedly in the first 60 days of Trump's administration; why Mueller originally suspected Papadopoulos as an Israeli spy; why Flynn, Barrack, Gates, and other Trump allies began lobbying Trump as soon as he was elected to send nuclear tech to Saudi Arabia (partly to build new nuclear reactors but with a longer-term goal of letting Saudi Arabia and the UAE develop nuclear weapons as a deterrence of Iran); why Trump ripped up the Iran deal even though Iran was in compliance; and more. Look: we know Trump's top aides were willing to assist foreign nations in assassinating people living in the U.S., because that's what Mike Flynn was caught trying to do-extradite a Turkish cleric to be killed abroad.
In fact just four days ago, Trump now suddenly floated the idea of handing over this Turkish dissident Fethullah Gülen to Erdogan's government. a move for which Trump's former national security adviser Flynn was offered $15 million by the Turks to achieve this result.
The reason some of the above is confusing is that some of the motives in play may have been reasonable. Iran 'is' a state sponsor of terrorism-so it's not so far out of bounds to think that a U.S. government might want to assist Iran's many enemies in the Middle East if possible. But a reality is also the Trumps are trying to expand (and 'have' expanded) their real estate empire into the UAE, which makes pleasing the Emiratis important as a business proposition. Or as Trump said 'I love the Saudis'.
There are also other angles, for instance, one wouldn't normally think Bannon would be at all the planning meetings for Trump-Russia-Saudi-Emirati-Israeli collusion-but it makes sense when you understand that Zamel and Cambridge Analytica were crucial to the plan.
Flynn's involvement might also be a mystery until you learn that Zamel had previously tried to recruit him for his intel outfit (Flynn had one too), and Flynn thereafter became an energy lobbyist trying to bring nuclear energy (thus, eventually, weapons) to Saudi Arabia.
One of the additional oddities in this whole story is Dmitry Rybolovlev who received a huge cash donation from MBS in the form of what possible was a fake painting.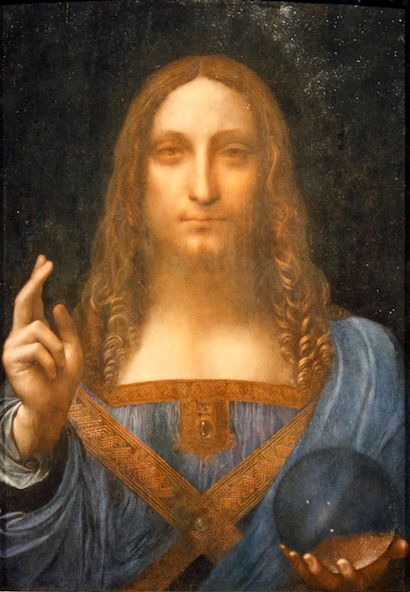 Dmitry Rybolovlev, of course, was the Russian billionaire who in the summer of 2008 paid an inflated price for a property Trump thus made a $54 million profit. Rybolovlev apparently also had two secret tarmac meetings with Trump himself in the 10 days before the 2016 election. Whereby Rybolovlev came in the Mueller investigation orbit due to Rybolovlev's connections with the above mentioned Joel Zamel. In other words, a Rybolovlev agent offers Trump Jr. a Russia disinformation campaign in the presence of an MBS agent, MBS apparently offers to bankroll it, Trump Jr. says yes. A year later, an MBS agent overpays Rybolovlev by $300 million plus for a painting.
The plausible reason Nader an MBS agent offers collusive assistance to the Trumps at the same secret Trump Tower meeting at which Zamel (a Rybolovlev agent) pitches a disinformation campaign mirroring Russia's is if the Saudis can bankroll it. So MBS 'owed' Rybolovlev. What is more, the painting is possible a fake, making the transaction even more suspicious.
But so this appears to be Mueller's theory of the case with respect to Trump-Russia: that it is a bribery, money laundering, fraud, and conspiracy case involving multiple nations.
Where this might go next?
Asked in Congress last March about his secret negotiations with the Saudis, Energy Secretary Rick Perry dodged a question about whether the Trump administration would insist that the kingdom be banned from producing nuclear fuel.
Eight months later, the administration will not say where the negotiations stand. Now lurking behind the transaction is the question of whether a Saudi government that assassinated Mr. Khashoggi and repeatedly changed its story about the murder can be trusted with nuclear fuel and technology. Such fuel can be used for benign or military purposes: If uranium is enriched to 4 percent purity, it can fuel a power plant; at 90 percent it can be used for a bomb.
Nuclear experts said Prince Mohammed should have been disqualified from receiving nuclear help as soon as he raised the prospect of acquiring atomic weapons to counter Iran.
One of the core challenges for the Trump administration thus is that it has declared that Iran can never be trusted with any weapons-making technology. Now, it must decide whether to draw the same line for the Saudis.
Countries Trumps (illegally?) colluded with pre-election:
RUSSIA
SAUDI ARABIA
THE UNITED ARAB EMIRATES
ISRAEL
TURKEY
Countries Trumps are suspected of colluding with pre-election:
Egypt
Hungary
Countries Trumps colluded with post-election:
QATAR
CHINA
Update 2 Dec. 2018: Yesterday Saturday, the WSJ reports that Saudi Crown Prince Mohammed bin Salman sent at least 11 messages to his closest adviser, who oversaw the team that killed journalist Jamal Khashoggi, in the hours before and after the journalist's death in October, according to a highly classified CIA assessment. The Saudi leader also in August 2017 had told associates that if his efforts to persuade Mr. Khashoggi to return to Saudi Arabia weren't successful, "we could possibly lure him outside Saudi Arabia and make arrangements," according to the assessment, a communication that it states "seems to foreshadow the Saudi operation launched against Khashoggi."
Meanwhile, U.S. Secretary of State Mike Pompeo said on Saturday he has seen all the intelligence possessed by the United States on the killing of Saudi journalist Jamal Khashoggi and repeated that no direct evidence links Saudi Crown Prince Mohammed bin Salman to the incident.
Update 13 Dec. 2018: Today it has been officially confirmed that what I covered above will be covered by Mueller as a bribery, money laundering, fraud, and conspiracy case involving multiple nations.
What also can be said in conclusion is that the ongoing federal investigation into the collision of Donald Trump's presidential campaign is the most complex, far-ranging criminal investigation of our lifetimes. The story of Trump-Russia collusion crosses so many continents, decades and areas of expertise – and has swept into its net so many hundreds of public officials and private citizens from nations around the world – that it can be difficult to understand any one piece of reporting on the scandal without having access to the context provided by several dozen others.
This historic complexity makes the Trump-Russia story exceptionally difficult to report on using conventional methods alone. And it has led some members of the public and the press to misunderstand the significance of parts of Mueller's investigation, or even doubt its importance – a fact which Trump and his cronies have tried to capitalize on by calling the probe a witch-hunt, a hoax, and fake news.
For instance, the American media has often uncritically reported White House claims that candidate Trump lacked much connection to Paul Manafort, Rick Gates, Flynn or Papadopoulos – all of whom have since been convicted of charges brought against them by Mueller. But these reports don't exhibit an awareness of the full stories of how Trump came to know each of these men, and of their respective roles in Trump's campaign – stories which, together with other facts, establish that Trump colluded with the Russians and, in doing so, violated of a number of federal criminal statutes.
Oversights like this are not the result of media incompetence, laziness or malfeasance, however. The truth is banaler: the archive of prior relevant reporting that any reporter could review before they publish their own research is now so large and far-flung that more and more articles are frustratingly incomplete or even accidentally erroneous than was the case when there were fewer media outlets, a smaller and more readily navigable archive of past reporting for reporters to sift through, and a less internationalized media landscape.
.
P.1, 12 Aug. 2018: The Trump/Russia investigation what can be said today.
P.2, 17 Nov. 2018: What Robert Mueller Knows.
P.4, 8 Dec. 2018: The start of Robert Mueller endgame.