The oil price went negative on Monday, signaling that there is no place to store all the crude the world is producing but not using.
The huge drop in US gasoline consumption in recent weeks due to stay-at-home orders during the COVID-19 outbreak has pushed down both oil and gasoline prices, since there is excess supply of both. And the space needed to store that excess supply is running short, which is part of what led to the negative oil price on Monday.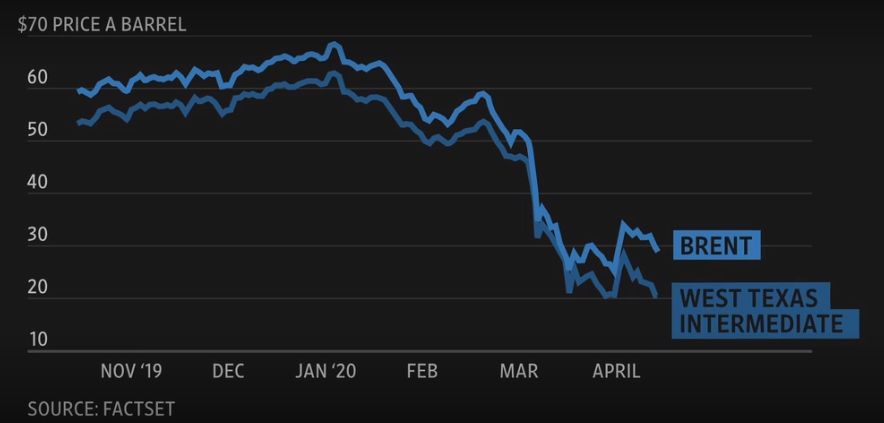 The average price of a gallon of gas heading into Monday stood at $1.81, according to AAA, down 5 cents a gallon from a week and off 36 cents a gallon from where prices stood a month ago as the stay-at-home orders were just starting.
As with any product, the business of oil isn't a once-and-done. It must be produced, shipped and processed, and then the refined product must be shipped and retailed. What happened April 20 is a bottleneck in that process. Production surged ahead of pipeline shipping capacity, leaving some producers with nowhere to put their crude.
As a result, Oil dropped to its lowest level in 30 years: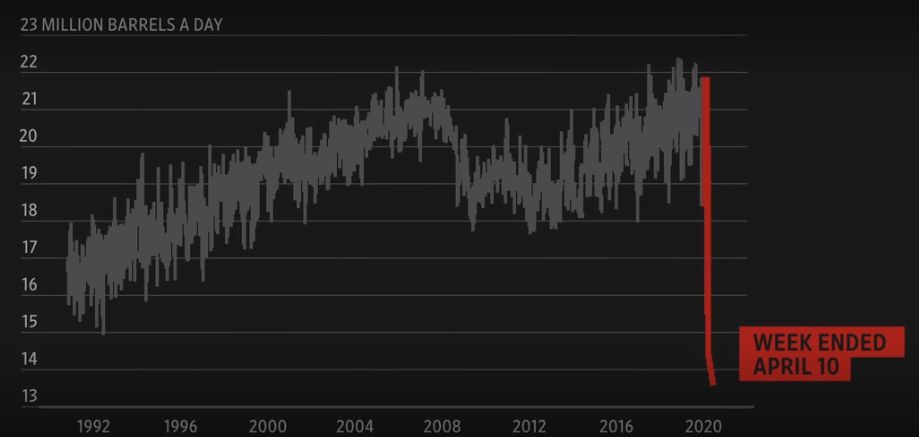 In fact even today Crude's collapse picks up steam.
What will happen when the world runs out of storage
As of yesterday, there were still at least 24 supertankers carrying at least 50 million barrels of Saudi crude en route to the U.S. Gulf Coast. Most will arrive in May, seeking to fill up as much of what remains of U.S. storage as possible. Similar volumes are en route to Europe and even bigger volumes to Northeast Asia. In most cases, the destinations are the transshipment nodes that enable the distribution of inland-produced oil to coastal locations: Rotterdam, Suez, Singapore, Korea.
Thus right now there's still a fair amount of spare oil tankers to shuttle about the world. The Saudis have been leasing out every tanker they can find, so before long all the world's tankers will be full as well.
Today then Companies including Chevron's Tengizchevroil, Karachaganak Petroleum Operating (KPO) and state-owned Kazmunaigaz (KMG) plan to redirect 4.5 million barrels to transit via Russia's Novorossiisk and Ust-Luga ports.
This would allow them to mix their barrels and to export Urals oil instead that trades $5-6 a barrel above the CPC Blend and is much easier to place, they said.
Oil has been a panacea for all sorts of inefficient, compromised, and in some cases evil regimes for decades. Huge demand in the West and Northeast Asia allowed a raft of previously insignificant or morally reprehensible leaders and societal situations to effectively print dollars out of the ground and count the industrialized world like a hungry customer. Not anymore. Demand patterns have shifted, the United States is now an exporter of crude oil and products, and the petro-economy that has kept ayatollahs and ideologues afloat is crumbling. Before anyone cheers, it's worth remembering that things will get a lot uglier before they have any hope of improving.
Also today a collapse in the price of oil continued to disrupt world markets.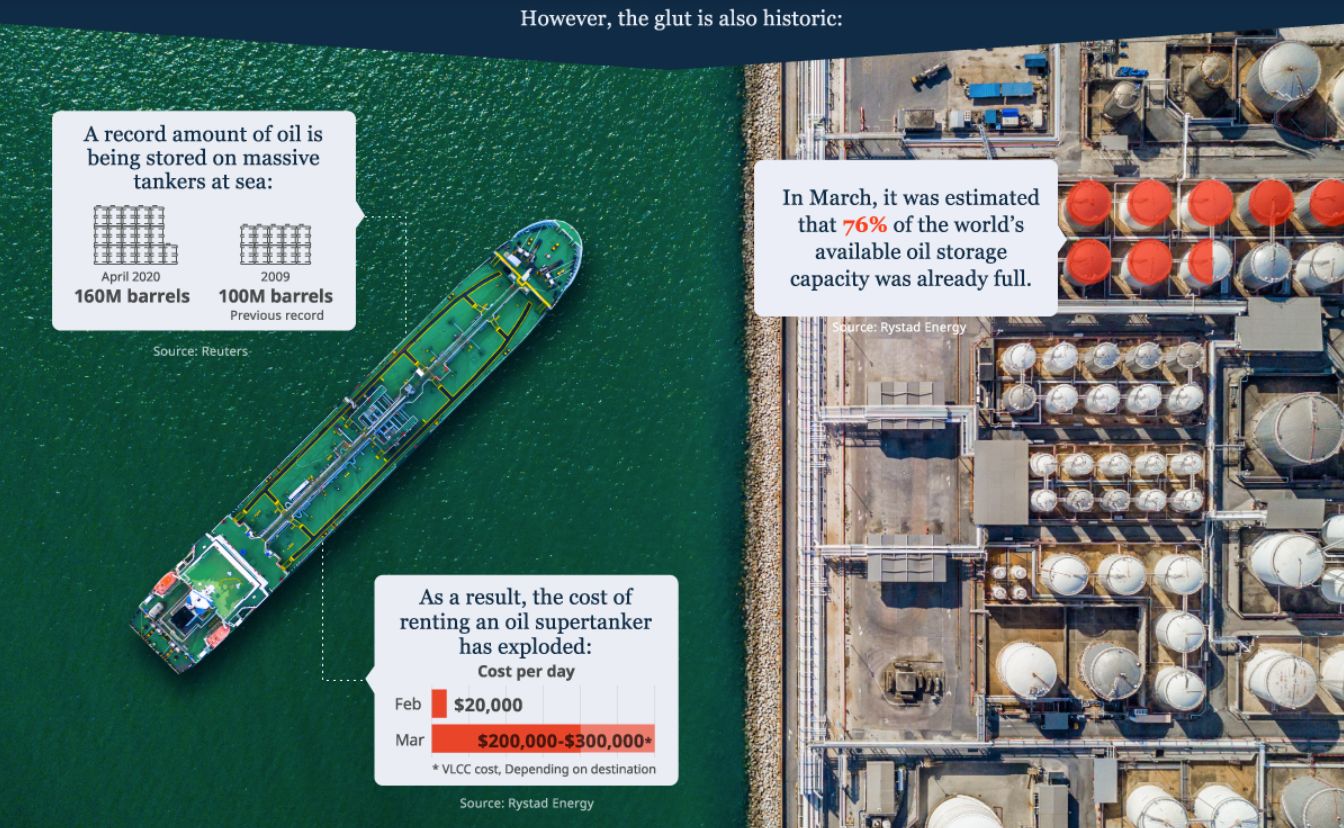 And the winner is?
Clearly, the biggest winner is China since it is the world's largest energy importer.
Evidence suggests that China has already been taking advantage of low oil prices for months, by amassing inventory for its strategic and commercial stockpiles. Last year, the country's annual oil imports jumped by an average of over 10 million barrels per day, up from 900,000 from its 2018 average, according to the Energy Information Administration.
Despite an ostensible truce between Saudi Arabia and Russia that was brokered by the U.S. and meant to end a price war, the collapse in crude prices has been nothing short of stunning – even in a market whipsawed by a worldwide pathogen outbreak.
Thus one can say that the shocking drop in WTI is a result of a huge miscalculation by Saudi Arabia and OPEC+. Engaging in a price war when demand is evaporating due to the COVID-19 was ill-advised, to say the least.
Yet even China might not be completely immune from the ravages of sinking global demand, and limited storage capacity. According to data cited by Eurasia Group, China's oil inventories checked in at 31.5 million tons or 65% of total commercial reserve capacity.
This is close to the 70% storage utilization red line which is normally regarded as full storage capacity," Eurasia said, noting that Beijing's stockpiling of already cheap crude may start catching up to it.
Additional stockpiling capacity has been limited by a steep buildup of crude owing to refining activity disruptions from the coronavirus outbreak before the oil crisis," the firm said, noting that full capacity has forced the country to "divert cargoes elsewhere.
Meanwhile, China's crude imports surged by nearly 5% year-on-year in March, and will likely continue to rise "as previously ordered low-priced oil cargoes gradually arrive. With domestic fuel consumption below pre-crisis levels, higher inventories are expected.
For updates click homepage here