By Eric Vandenbroeck
Nine bombings of churches, luxury hotels and other sites on Easter Sunday killed more than 200 people and wounded hundreds more in Sri Lanka's deadliest violence since a devastating civil war in the South Asian island nation ended a decade ago.
Sri Lankan officials were reportedly warned earlier this month that a Muslim jihad group planned to attack Christian churches on Easter Sunday. According to Agence France-Presse, Pujuth Jayasundara, the island nation's chief of police, issued an intelligence alert 10 days ago, warning about National Thowheeth Jama'ath.
Late last night, Sri Lanka's telecommunications minister, Harin Fernando, tweeted out photos of the memo from intelligence agencies – dated 11 April – warning of attacks.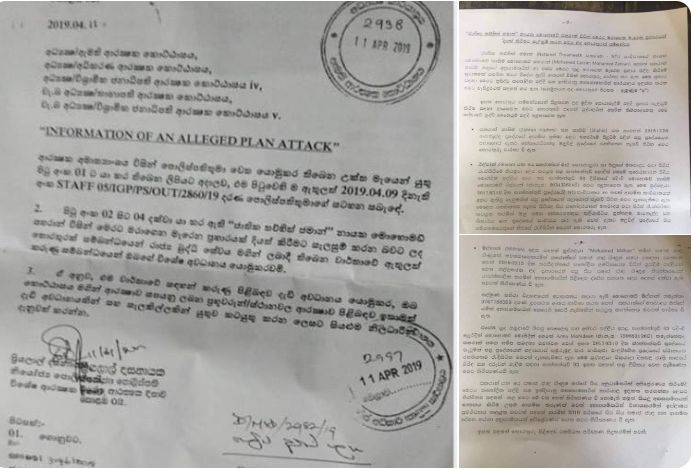 Sri Lanka had previously received warnings of possible attacks on churches, but not on hotels.
It was unclear today why the red flags went unheeded. But Sri Lanka has been wracked by political divisions since a constitutional crisis last year (for more on that see below). So far it appears that Sunday's terrible loss of life did not amount to a failure of intelligence, but a failure to mount an appropriate response to the intelligence.
A Sri Lankan government forensic analyst told AP news agency that six of the bombings on the churches and hotels on Sunday were carried out by seven suicide bombers.
According to police spokesman Ruwan Gunasekera 290 people have been confirmed dead.Police spokesman Ruwan Gunasekera said 24 people had now been arrested in connection with the attacks, according to AFP.
Sri Lanka's government has declared an indefinite national curfew and blocked social media networks such as Facebook and WhatsApp in order to prevent the spread of rumors that might spark intercommunal violence, as happened in March 2018 when Buddhist mobs attacked Muslim mosques, businesses, and homes.
Sri Lankan Airlines said there were disruptions to flights and has asked leaving passengers to report to the check in counters at least four hours prior to departure because of tight security checks at the International airport.
Sri Lanka's foreign ministry has confirmed at least 37 foreign citizens are among the dead. Three Indian citizens, three British and two Turkish citizens were confirmed by the department, AFP reports. There are also 25 unidentified bodies "believed to be of foreigners," the ministry said
The unprecedented strikes on Christians and foreign tourists represented a shift from the violence between the predominately Buddhist Sinhalese majority and mostly Hindu Tamil minority in a conflict that ended in 2009. The Colombo Stock Exchange put its Monday opening on hold and schools will remain closed until Wednesday.
Following red arrows pointing at the blast areas: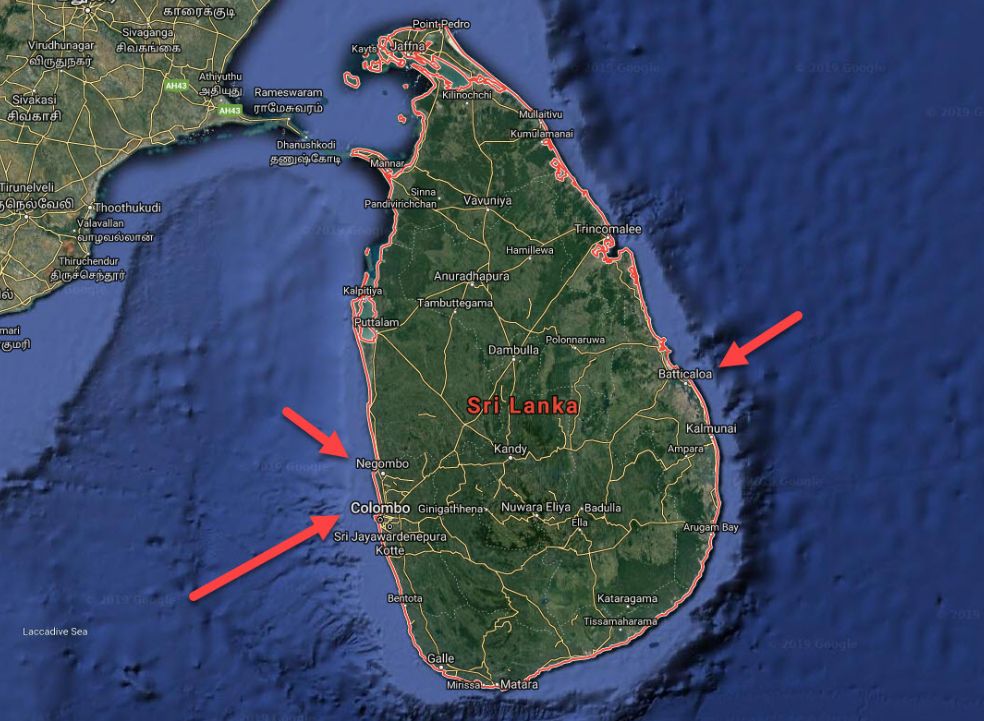 The attacks will test a government that's reeling from a political crisis last year that has weighed on the economy and led to downgrades in Sri Lanka's credit rating.
Prime Minister Ranil Wickremesinghe said on Sunday that neither he nor his cabinet ministers had been informed of the warning, highlighting the power struggle between him and President Maithripala Sirisena, who is also the defense minister. Late last year, the feud led, for a time, to there being two officials claiming to be the rightful prime minister.
The current President Maithripala Sirisena, the commander of the country's security forces, became president in 2015 after he won a surprise victory over the strongman Mahinda Rajapaksa, who had controlled the country's politics for more than a decade. Sirisena appointed his ally Wickremesinghe as prime minister, and the two set out to reform the country's economy and seek accountability for atrocities committed during the country's civil war.
But Sirisena and Wickremesinghe fell out in 2018, leading the former to suspend parliament and appoint his one-time rival Rajapaksa as the new prime minister. Weeks later, under pressure from the country's Supreme Court, Sirisena reinstated Wickremesinghe as prime minister. Relations between the two have not recovered, with observers expecting Sirisena to seek a fresh mandate at the polls.
Meanwhile, Sri Lanka's economy has grown at a tepid 4 percent, the currency has weakened, and Colombo has struggled to repay loans from donors such as the International Monetary Fund. In one case, Sri Lanka lost a major port--as well as 15,000 acres of land--to China after it could not repay funds it had borrowed for infrastructure projects.
Authorities are being cautious to keep a lid on tensions: They've imposed a nationwide curfew, blocked platforms like Facebook and Whatsapp, and withheld information about those detained. Or could this mean that Sri Lanka's social media blackout reflects sense that online dangers outweigh benefits?
Catholics, split between the Sinhalese and Tamils, make up 6.5 percent of Sri Lanka's population, according to the nation's 2012 census. Buddhists account for 70 percent of the total, while Hindus and Muslims make up the rest.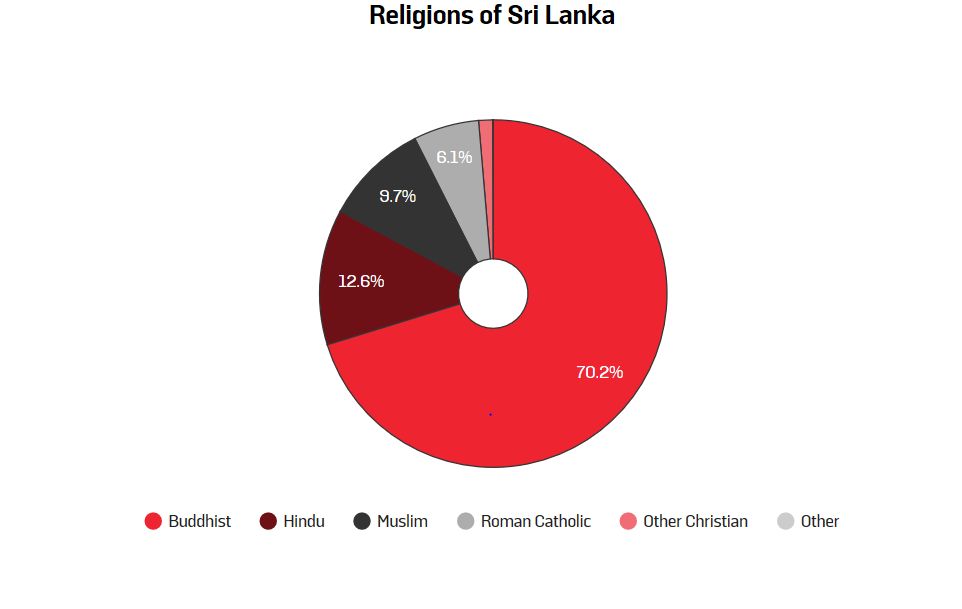 It remains to be seen whether Sri Lanka's politicians will unite in the face of the attacks, which threaten to further hurt economic growth. Wickremesinghe said his government was taking immediate steps to contain the situation, and appealed to citizens to maintain peace and avoid propagating unverified reports and speculation.
Sri Lanka has 22 million inhabitants. Of these, about three-fourths are ethnic Sinhalese, most of whom are Buddhist. Nearly a fifth of Sri Lankans identify as Tamil--either of Sri Lankan or Indian extraction--and are mostly Hindu. About 10 percent of the population is Muslim, and 7 percent Christian--a group that includes both Tamil and Sinhalese.
Reuters cites the National Christian Evangelical Alliance of Sri Lanka, which represents more than 200 churches, as having recorded 86 incidents of discrimination, threats, and violence against Christians last year.
The other main targets seem to be people who would frequent Colombo's hotels--usually a mix of tourists, business people, and wealthy locals. At least 30 of the dead are believed to be foreigners.
The ability to launch several attacks all at once suggests a degree of sophistication, planning, funding, and reach. While authorities are still piecing together what happened, the blasts bear at least some resemblance to the November 2008 attacks in Mumbai, which simultaneously targeted two luxury hotels, a busy railway terminal, and a Jewish outreach center. According to Indian intelligence, the Mumbai attacks were designed not only to cause the highest possible number of casualties but also to target groups--such as Western tourists--that would lead to the greatest amount of international media coverage. One of the 2008 attackers was apprehended, and the others successfully identified, leading authorities in India to declare the Pakistan-based Lashkar-e-Taiba militant group responsible. But there are several differences with Sunday's attacks in Sri Lanka, not least the fact that they were spread out across the country instead of concentrated in a single city, and that unlike Mumbai, no hostages were taken.
A history of violence
Attacks like we have now often increase sectarian tensions and destabilize the governments of the countries where they take place, this whereby Sri Lanka has a recent history of violence.
In the early 1980s, the Liberation Tigers of Tamil Eelam -- known as the Tamil Tigers -- began fighting for an independent homeland in the north and east of Sri Lanka. The conflict, marked by the use of child soldiers and human-rights violations on both sides, killed more than 100,000 people before former strongman Mahinda Rajapaksa's government won a decisive victory in 2009.
Anne Speckhard, the director of the International Center for the Study of Violent Extremism, however, contrasted the attacks by Tamil guerrillas with those attributed to National Thowheeth Jama'ath. Unlike the bombings on Sunday, she said, those during the civil war were part of a nationalist or ethnic separatist movement, and generally did not have religious targets.
"These attacks appear to be quite different," she said, "and look as if they came right out of the ISIS, Al Qaeda, global militant jihadist playbook, as these are attacks fomenting religious hatred by attacking multiple churches on a high religious holiday."
National Thowheeth Jama'ath is a small but violent group of young Muslims that started at least three years ago in eastern Sri Lanka, far from the country's more cosmopolitan western and southern coasts. Prior to Sunday's attacks, the group was mainly linked with the vandalization of Buddhist statues in Sri Lanka in December.
Within hours of the bombings, Sri Lankan security services arrested at least 24 suspects, suggesting the government knew where key members of Thowheeth Jama'ath could be found. The group was under surveillance, and the authorities had learned as far back as January that radical Islamists possibly tied to the group had stockpiled weapons and detonators.
It is possible the group splintered off from the political organization "Sri Lanka Thowheeth Jama'ath," which carries hardline views and anti-Buddhist sentiments. Yet one should note that many organizations in Sri Lanka use the name "Thowheeth Jama'ath," making it difficult to pinpoint the origins of the group. For example there is also a group with the same name that was founded in Tamil Nadu, India.
The name roughly translates to "a group in the name of oneness of God."
And while so far it's unclear if the country's history played a role in Sunday's attacks, Sri Lankans have experienced decades of sectarian violence.
Also hardline Buddhist groups, like Bodu Bala Sena, also known as Buddhist Power Force, has been accused of sowing hate and anti-Muslim violence.
In 1948, Sri Lanka, then known as Ceylon, won independence from British rule. The country's Sinhalese majority, countering what they saw as colonial favoritism toward Tamils, disenfranchised Indian Tamil migrants, leading to the groups' neglect.
That led to the formation of an armed insurgent group known as the Liberation Tigers of Tamil Eelam (LTTE) in 1976. The group initially campaigned for a Tamil homeland in the country's northeast. But the movement turned violent, with the LTTE attacking police and army forces as it sought greater national prominence. The Tigers became known for their suicide bombings, which they were among the first militants to pioneer, and deployment of child soldiers. In 1997, the U.S. State Department officially designated the LTTE a terrorist group.
For years, Sri Lanka's army--mostly Sinhalese and Buddhist--carried out campaigns to root out the insurgents from their hideouts in the country's northeast. The war finally ended in 2009 after the army killed LTTE leader Vellupillai Prabhakaran. But watchdog groups say both the LTTE and the army were guilty of war crimes and rights abuses. According to the United Nations, about 40,000 civilians were killed in the final stages of the civil war.
Tourism dropped sharply during the war years, hitting a low point after a tsunami devastated Sri Lanka in 2004. There were only 500,000 visitors in 2009; the industry has since recovered to attract 2 million visitors last year.
Even so, the tensions of Sri Lanka's bloody history have lingered. The final, intense period of the civil war left hundreds of thousands of Tamils displaced, thousands of whom are still missing. Communal tensions reignited last year: In the central district of Kandy, Buddhist Sinhalese mobs attacked mosques and Muslim establishments. In response, Colombo imposed a nationwide state of emergency.
Whereas today, in the case of the highly coordinated nature of the attacks, which targeted Roman Catholic churches in the midst of Easter celebrations, luxury hotels and a housing development, suggests that the said group could not have carried out the bombings without outside assistance and I would not be surprised if evidence will show that it was a local group that worked in co-operation with ISIS.
Update 23 April 2019:  The Islamic State today claimed responsibility for the Easter Sunday bombings at churches and hotels in Sri Lanka, as the government there raised the number of people killed to 321. The group's Amaq news agency called the bombers "Islamic State fighters." The Islamic State news agency also released a video showing Zaharan Hashim, a radical Muslim preacher who in 2014 started a group in Sri Lanka called National Thowheeth Jama'at. Standing among seven masked men in black, Zaharan is the only one with his face exposed. Sri Lankan investigators believe that eight suicide bombers carried out the attacks on the hotels and mosques on April 21. There were also early warnings from India's intelligence services to Sri Lankan officials ahead of the Easter Sunday bombings that were based on information gleaned from an ISIS suspect.