24 July 2016:  Most foreign analysts think an alliance of officers from different backgrounds took part in the plot to topple Turkey's president, Recep Tayyip Erdogan. But the government blames the the Gülen cemaat exclusively, and most Turks agree. Then today, a leading Turkish newspaper printed a picture of a US military commander it claims led the attempt to overthrow the Erdogan government only hours before a massive blaze broke out near a NATO base.
The pro-Erdogan paper (front cover see below) on Sunday officially targeted a US commander as coup leader adding his name & picture, in what local commentators dubbed as an "all out war" by Erdogan on the US.  Former Rear Admiral Cem Gurdeniz tells the Turkish paper that perpetrators of the coup were "Atlanticist", pro-NATO Gülenists faction. The newspaper appeared on news stands today with the headline "This man led the coup", accusing United States Army General J.F. Campbell of commanding the uprising financed by CIA.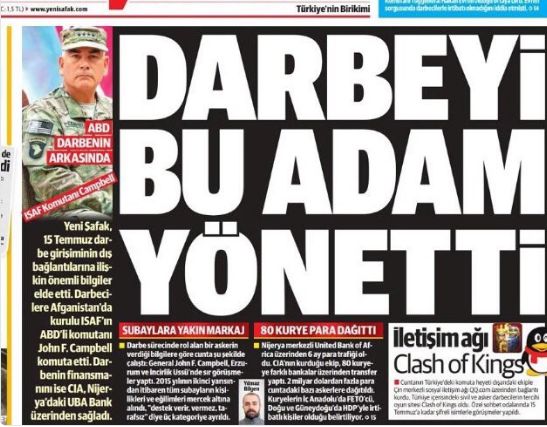 The article, based on sources associated with pro-coup detainees, accuses former four-star Army General John Campbell, who led NATO forces in Afghanistan before retiring earlier this year, made the secret trips to Turkey and managed billions of dollars to distribute to pro-coup military personnel in Turkey. The money is claimed to have come from the Central Intelligence Agency to the coup plotters while Campbell was allegedly holding secret meetings at Turkey's Incirlik Air Base, where the U.S.-led coalition carries out daily airstrikes against Islamic State forces in neighboring Syria and Iraq.
And added that the US general "directed the process of trending / blacklisting the military officers in the base."
Within hours of the appearance in the Turkish media certain English language outlet's quickly followed suit like for example Serbia's state media here.
"The former commander of NATO forces in Afghanistan, retired US Army General John F. Campbell, was the mastermind behind the failed military coup in Turkey, the Yeni Safak daily has reported, citing sources close to investigation."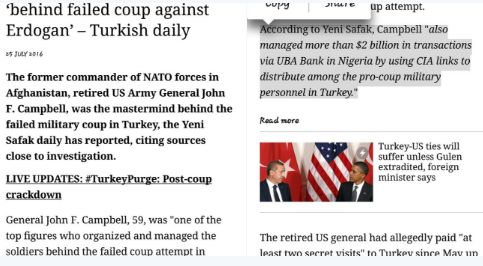 More important, the same day the leader of Turkish Nationalist Movement Party was immediately seen on TV addressing it's party congress about the above issue announcing that: "This means that the U.S. and the global centers of power are planning to drag Turkey into civil war."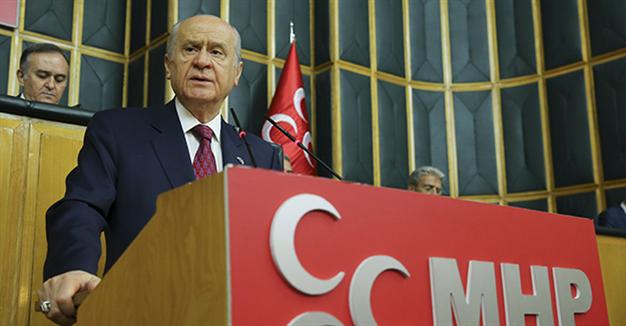 Also, two hours after the publication of the article, the NATO military base in Izmir became victim of a mass fire that continues to rage on at this hour despite desperate attempts by forces to contain the blaze using helicopter and airplane water drops. The fire threatens US munitions stockpiles at the base which could result in a severe exacerbation of the fire, loss of expensive weaponry, and safety dangers.
The fire, which has already burnt through an elderly nursing home, is being investigated by officials as an act of anti-American sabotage.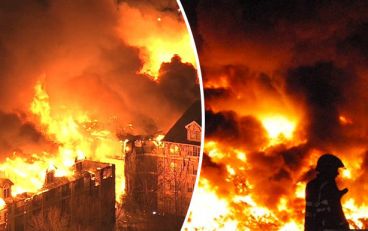 Despite intense efforts by NATO-stationed troops to stop the fire this evening, the rapidly-spreading flames are moving closer to the arsenal, T24 News reports.
The US maintains a stockpile of as many as 90 tactical nuclear weapons in Turkey, more than in any other foreign country, but the atomic bombs are not threatened by the current blaze in Turkey. Those weapons are stored at a different base in Incirlik and reportedly no such munitions are stored at Izmir.
Why today's examples matters
I earlier presented an analyses of what led to the coup here, and how it unfolded and what to expect next, here.
As I mentioned in my two previous articles on the subject, a successful overthrow of Erdogan, could have sent Turkey spiraling into conflict. The intrigue in the aftermath, including irrational conspiracy theories like the above,  however are helping justify a wide crackdown, with currently more than 60,000 soldiers, police, civil servants and other officials detained, suspended or under investigation.
Conspiracy theories have spiced up Turkish crises for decades amid the struggle between Islamists and secularists to shape the country, with superpower America often accused of fuelling the fire. Erdogan blamed foreign powers for stirring up nationwide anti-government protests three years ago.
Sometimes the perceived enemy is less formidable.
During contentious local elections in 2014, seen as a referendum on Erdogan's rule, power cuts disrupted the count. Turkey's energy minister blamed a cat, saying it had walked into a transformer unit, drawing ridicule from social media users who portrayed a "cat lobby" threatening the government.
In 2013, authorities detained a bird on suspicion it was spying for Israel, but freed it after X-rays showed it was not embedded with surveillance equipment, local newspapers said.
Nevertheless, Turks take their conspiracies seriously and the latest tensions are providing fresh material.
Today according to many Turkish observers, including Ibrahim Karagul, an editor at Yeni Safak, a prominent newspaper that favors the governing Justice and Development Party (AKP), was only one stage of a grand offensive against the Turkish government waged by the United States, members of the European Union, and Israel working together to destroy Erdogan and to occupy, or perhaps partition, the Republic of Turkey. To this end, Karagul has called upon his readers, he has about 220,000 Twitter followers and appears regularly on television, to rally around their president, transform the country into a "fortress of relentless resistance," and prepare for a "new national struggle" against subversive forces.
Gülen lives in a secluded compound in Pennsylvania's Pocono Mountains. But as I pointed out before, Erdogan has good reason to worry about the reclusive cleric's reach inside Turkey.
In 2013, his followers in the police and judiciary opened a corruption probe into business associates of Erdogan, then prime minister, who denounced the investigations as a foreign plot.
"Why don't they hand him over? Why do they keep making insinuations? He (Gülen) lives there. "Why does he live in the United States? These are details we notice."
As explained in my two earlier comments, and why I mention the above incidents, is because they form part of a larger tendency.
One of the problems here is Erdoğan's shallow understanding of how democratic governments work. He views other countries through the lens of his own autocratic ways. For instance, in April 2009, Turkey objected to Danish prime minister Anders Fogh Rasmussen's appointment as Nato's secretary general. In the aftermath of the Danish cartoon crisis, Ankara's reasoning was that Rasmussen had allowed Prophet Muhammad's cartoons to be published in Danish media.
This said, Turkey has been a partner in the international coalition against Islamic State, and a partner in stabilizing Iraq and Afghanistan. The U.S. has supported Turkey's own national security priorities of battling against the armed insurgency know as the Kurdistan People's Party, which Washington has joined with Ankara in branding a terror group.
However today, the two nations aren't in sync in regards to the Gülen organization, which Turkey elevated to a national security threat equal to Islamic State and the PKK last summer. In May, Turkey declared the Gülen movement a terrorist organization.
So far, citing legal procedures, the Obama administration hasn't followed suit. This however might also be in part because of a view in Washington that the campaign against  Gülen was part of a campaign of repression and political retribution against rivals of Turkish President Recep Tayyip Erdogan and his ruling Justice and Development Party, or AKP.
If US courts reject his request for Gülen's extradition, Erdoğan will certainly blame the White House. Subsequently, the Turkish leader will have two options. First, he may link the extradition issue to anti-Isis co-operation. If Turkey were to present the US with an ultimatum, this would backfire, and the US would move its anti-Isis operations from Turkey to Mediterranean aircraft carriers and Persian Gulf bases. Alternatively, Erdoğan could retaliate by simply pulling the plug on anti-Isis co-operation with Washington.
In short, Turkish foreign policy now stands at a crossroads. If Washington does not convince Turkey of its commitment to a thorough review of Ankara's request for Gulen's extradition, Ankara may turn to Russia. And should Ankara bring back capital punishment, which looks highly likely, the EU-Turkey ties and refugee deal are likely to fail.
In separate news, and confirming what I wrote on 20 July, according to Focus, the Turkish secret service was informed  in advanced and five hours before the putsch started, is said to have held a meeting to discuss it. Also: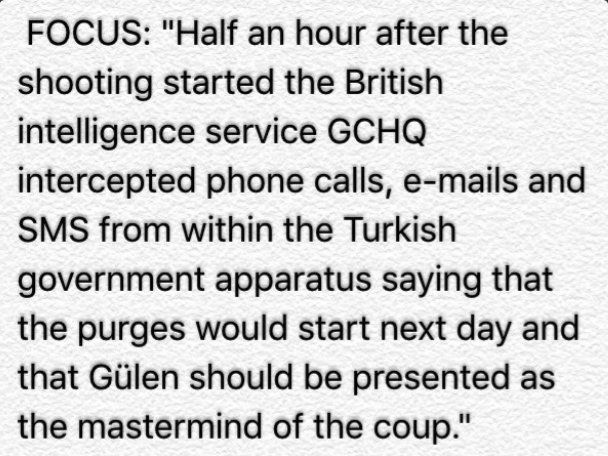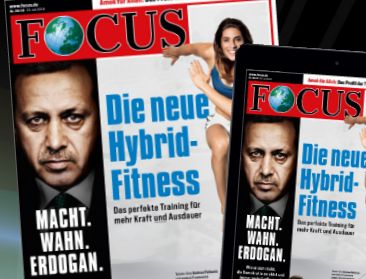 Erdogan's personal authority is being enhanced by his bravery and vigor in defeating the coup attempt and by the removal of remaining obstacles to his rule. But the failed putsch was also a sign that Turkey, a nation of 80 million people with an army 600,000-strong, is becoming weaker and more unstable.
Polls show that Turks are suspicious of pretty much every country that isn't Turkey, but levels of anti-Americanism are particularly high.