Having followed this matter for some months, today, Russian President Vladimir Putin asked Russia's Federation Council today, to reverse its March decision authorizing military intervention. At the same time, Putin also announced that while he supports Ukrainian President Petro Poroshenko's cease-fire, talks with separatists in eastern Ukraine are necessary too.
Roll back to late March: President Putin had annexed Crimea while denying Russian troops were involved. He had put tens of thousands of Russian troops on high alert near Ukraine's border. He was insisting Viktor Yanukovych was still the rightful Ukrainian president even though he had absconded. He was castigating the new Kiev government as illegitimate and neo-fascist, and rejecting Kiev's plan for early elections. And he was warning that if Russian speakers in what he claimed were historically Russian lands in Ukraine were threatened, he might use the authority granted him by the Russian parliament to send his troops in. His position was one of apparent strength and he was milking the opportunity to demonstrate Russia's clout. Three months on the picture looks rather different. President Putin's position has shifted - so where does he stand now?
He has contradicted himself by admitting that Russian troops were in fact involved in taking over Crimea and even honoured some of them with medals, although he continues to deny Russian military involvement in eastern Ukraine. He has stopped calling the Kiev government illegal, recognised Ukraine's new President, Petro Poroshenko, and engaged with him on peace negotiations. And despite their repeated calls for help, he has not acted on his chilling threat to order a full-blown invasion of eastern Ukraine to aid pro-Moscow rebels. He has not even backed their secessionist moves - either their May referendums, or their proclamations of self styled republics since. Instead, Russian troops near Ukraine's border have been ordered back to barracks (though the Americans say some build up may still be going on).
About turn
He has some good reasons to back off. His retaking of Crimea was popular in Russia in part because it looked so painless: a simple bloodless transfer of power. But eastern Ukraine is different. It is a bloody, murky conflict with mounting numbers of casualties and refugees. This is a war most Russians do not want to see and which they certainly do not want their sons involved in. Putin needs to cast himself as a peace envoy, not threaten invasion any more.To add to that, the Ukraine government's response has probably been tougher than Mr Putin expected. Having learnt a bitter lesson from Crimea that trying to avoid conflict can lead to territory being seized, President Poroshenko has ordered the army in, to push back at the rebels and negotiate a settlement from a position of relative strength. And the West too has been more robust and less forgiving than perhaps Mr Putin expected, given what happened in 2008.
Then, Russia's short war with Georgia ended after some EU leaders hurriedly brokered a peace deal which left two chunks - South Ossetia and Abkhazia - nominally independent but actually under Moscow's thumb. Putin probably thought that once again EU leaders would weigh their economic interests and conclude that a damaging row with Russia was something they could not afford. In fact, the experience of Georgia has had the opposite effect. It has made the annexation of Crimea look part of a pattern. It has made some EU countries fear that Mr Putin plans might extend to seizing further territory. And this time they worry that the conflict is not far away in the Caucasus, but right on Europe's - and Nato's - doorstep. Hence the co-ordinated push on sanctions, currently still minimal, but which could become tougher in time. And it seems that Western governments are no longer inclined to take Mr Putin at face value. Having concealed the use of Russian troops in Crimea, when he protests now that none of his troops are involved in Eastern Ukraine, he sounds disingenuous. He is instead suspected of conducting another "maskirovka" - destabilizing part of Ukraine by stealth, through irregulars and volunteers who are nonetheless with their heavy weapons allowed free access across the Russian border, at the same time as he loudly appeals to Kiev to halt its advance.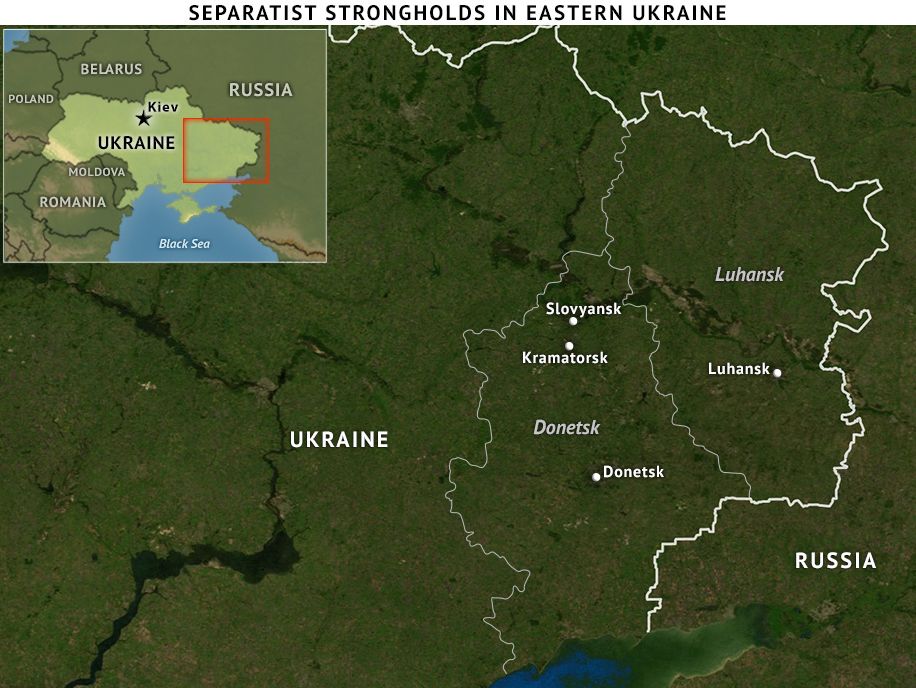 Putin said it is "pointless" for separatist groups to disarm while other groups, such as the pro-Ukrainian Right Sector movement, have not. On June 23, after informal consultations, the self-proclaimed prime minister of the Donestk People's Republic, Alexander Borodai, declared a cease-fire in the region. On June 24, however, separatists near Slovyansk shot down a Ukrainian military Mi-8 helicopter with a man-portable air defense system, killing all on board. Fighting continues in the Slovyansk area and in some of the eastern border regions.
Although Putin's public support for diplomatic talks and the decision of some separatist leaders to call for a cease-fire may lead to a limited de-escalation in eastern Ukraine, a significant reduction in armed separatist activity throughout the contested east is unlikely. EU and U.S. pressure as well as Russia's long-term goal of creating a neutral, decentralized Ukraine have extended the cessation of hostilities. The Kremlin wishes to avoid imposing significant, sectorwide sanctions -- a Russian proposal that the European Union is set to discuss at its upcoming summit this week.
While European leaders are unlikely to agree on effective sanctions against Russia, Moscow is under pressure from Paris and Berlin to take some sort of public action to help resolve the crisis. Russia is not willing to sour relations with two European heavyweights that can help Russia promote its agenda in other areas. By supporting talks, Russia shows it is working to promote de-escalation in eastern Ukraine and aims to avoid further sanctions. On the other hand, these informal consultations enable Russia to continue negotiating over the future of Ukraine while pursuing concessions from the government in Kiev. The Kremlin is also coming under increasing pressure domestically. There is a growing sentiment in Russia that Moscow needs to focus more on domestic matters and less on Ukraine.
The participation of Donetsk People's Republic members in informal consultations June 23 signals an evolution in the ongoing conflict. Poroshenko had previously rejected Russian pressure to negotiate with the leadership of the armed separatist movement in eastern Ukraine. Similarly, separatists had opposed the idea of holding direct talks with the government in Kiev. On June 23, separatist leaders, pro-Russian Ukrainian politicians, Russia's ambassador to Ukraine, former Ukrainian President Leonid Kuchma and an Organization for Security and Co-operation in Europe representative, Heidi Tagliavini, met in Donetsk. While Ukrainian government officials -- who were represented informally by Kuchma -- were notably absent along with some key separatist leaders, the unofficial discussions demonstrated that all parties are open to a limited form of negotiations.
Understanding Putin's Logic
Despite the informal consultations, however, the Kiev government, the Kremlin and the various separatist leaders remain divided on most key issues. Even as Borodai declared a cease-fire in Donetsk, he emphasized that the separatist leadership will take part in formal negotiations only if Ukrainian troops leave eastern Ukraine and the self-declared republics are granted a special status under Ukraine's Constitution. While Poroshenko has advocated a cease-fire and proposed decentralization as a part of his peace plan, the separatists' policy demands remain unacceptable to the government in Kiev, which has worked to reassert military control over the eastern regions and strongly opposes the federalization of Ukraine.
So what happens next?
It may well depend on Mr Putin's calculation about how far Russia and Russians are prepared to stomach further sanctions - and that is more complicated than it seems. There appear to be two opposing schools of thought on this in Moscow. On the one hand there are nationalists and conservatives - including many involved in defence and security - who see the West as hostile and unfriendly and welcome sanctions as a means to decouple from it. On the other hand there are pro-Western liberals and reformers who believe a long term rift with the West would be disastrous for Russia's economy. Which side is Mr Putin on? I suspect his nationalist heart is with the anti-Westerners, but his pragmatic head may be with the economic reformers. And perhaps he will use that dichotomy to his advantage.
For the Kremlin, limiting Ukraine's moves toward European integration and integration with other Western institutions in general remains a priority. When Ukraine signs the European Union's association and free trade agreements on June 27, Russia is likely to respond with some trade restrictions but will not go as far as military intervention or suspending ties with the Kiev government. Russia's long-term goal remains to preserve Ukraine as a neutral buffer state, protecting the Russian core. The Kiev government's aspirations for further Western integration will therefore continue to challenge the Kremlin's position on Ukraine's future.
Poroshenko has indicated that constitutional amendments regarding decentralization will be introduced in the Ukrainian parliament this week, but the timeline for implementation remains unclear. Moreover, critical natural gas negotiations with Russia are ongoing. On these issues, as well as more long-term matters such as Ukraine's integration with Western institutions, the Kremlin is working to safeguard its leverage in ongoing negotiations with Kiev. As a result, Russia will not approve the disarmament or withdrawal of separatist groups operating in eastern Ukraine until Kiev takes significant action on these matters.
Under the current circumstances the EU is also unlikely to slap new sanctions on Russia, and the US, for the time being will follow suit.
Conclusion
Putin's seizure of Crimea appears to have been an improvised gambit, developed under pressure, that was triggered by the fear of losing Russia's strategically important naval base in Sevastopol.
NATO's enlargement remains a sore point for Russian leaders, and some in the Kremlin certainly dream of restoring Russia's lost grandeur. Yet the chaotic manner in which the operation in Crimea unfolded belies any concerted plan for territorial revanche. Although this might at first seem reassuring, it in fact pre­sents a formidable challenge to Western officials: in Putin, they must confront a leader who is increasingly prone to risky gambles and to grabbing short-run tactical advantages with little apparent concern for long-term strategy.