By Eric Vandenbroeck 5 June 2020
Having covered a related subject before in an interesting twist since yesterday reporting came in that three men were arrested Saturday on the way to a protest in downtown Las Vegas after filling gas cans at a parking lot and making Molotov cocktails in glass bottles. An informant stated that the "idea behind the explosion was to hopefully create civil unrest and rioting" whereby the complaint filed in U.S. District Court in Las Vegas on Wednesday said they self-identified as part of a movement, which U.S. prosecutors said in the document is to signify coming civil war and/or fall of civilization.
As I reported last year it is a myth that the extreme right hides in the shadows. Investigators found that most offenders openly advocated their ideology online, often obsessively posting on racist forums and blogs for hours every day.
Whereby reference this time is to the "boogaloo" movement initially rooted in online culture, until the coronavirus pandemic has become a catalyst for real-world activity. Its name, a reference to a 1984 movie sequel called "Breakin' 2: Electric Boogaloo," is a code word for a second civil war.
Thus in more than 30 of America's 50 state capitals angry crowds were soon gathering to protest against stay-at-home orders. Buoyed by tweets from President Donald Trump encouraging them to "liberate" their states, some even compare their elected officials to the Nazis. A few among them toting assault weapons are dressed incongruously in Hawaiian shirts. They might seem almost comical were it not for the fact that, in the fetid corners of the internet, such beachwear is recognized as the uniform of the extreme right.
The Hawaiian shirts that dot the crowds are a reference to "the big luau", another name for the "boogaloo", which celebrates pig (police) roasts. (A luau is a traditional Hawaiian feast.)
The extreme right thus is making good use of the pandemic. A fractious movement by nature, its followers have responded to COVID-19 in many ways besides displays of brash shirts and guns. They have carried out Zoom-bombings (ie, interrupting video-conference meetings), encouraged others to infect police officers and Jews, and sought to disrupt government activities, including New York City's 311 lines for non-emergency information and National Guard operations.
In April, armed demonstrators passed out "Liberty or Boogaloo" fliers at a statehouse protest in Concord, New Hampshire. A leader of the Three Percenters militia movement who organized a rally in Olympia, Washington, last month encouraged rally participants to wear Hawaiian shirts. On Saturday, a demonstration in Raleigh, North Carolina, promoted by a Facebook group called "Blue Igloo" 2, a derivation of the term, led to a police investigation of a confrontation between an armed protester and a couple pushing a stroller.
A 22 April report by the Tech Transparency Project, which tracks technology companies, found 125 Facebook "boogaloo"-related groups that had attracted tens of thousands of members in the previous 30 days. The project pointed to the coronavirus crisis as a driving factor.
Some have even come perilously close to committing deadly acts of terrorism. In March a man with ties to neo-Nazi groups was killed in a shootout with FBI officers who were attempting to arrest him for planning to bomb a hospital in Missouri. Though he had been planning the attack for some time and had considered a variety of targets, the outbreak of COVID-19 persuaded him to strike a hospital to gain extra publicity.
The man in question told an undercover FBI agent that his goal was "to kick start a revolution" and referred to his plans as "operation boogaloo," according to an agent's affidavit.
Next, the U.S. Department of Homeland Security issued an alert that said a white supremacist group was inciting followers to shoot through their doors at FBI agents and police officers, federal prosecutors wrote in a court filing. The warning related to "associates" of Bradley Bunn, a 53-year-old U.S. Army veteran who was arrested on May 1 after FBI agents allegedly found four pipe bombs at his house in Loveland, Colorado, the filing said.
Thus such adherents exploit the virus's geographical origins to drum up racial antipathy towards Chinese people. Anti-semites have been accusing Jews of deliberately spreading plagues ever since the Black Death, and COVID-19 gives them a chance to reuse the template. The supremacists thus use fears about "white genocide" to argue for closed borders and eventually a white ethnostate. "Open borders is the virus," declares one protest sticker placed on road signs.
Their presence has been disturbing for other protesters at George Floyd protests and local governments, who have been suspicious about their intentions and ideologies.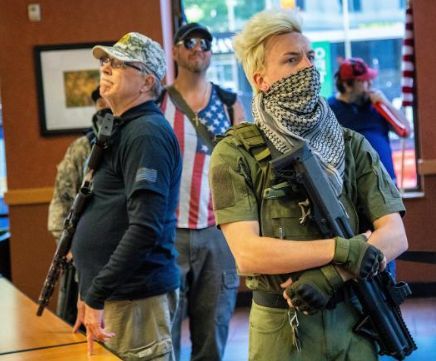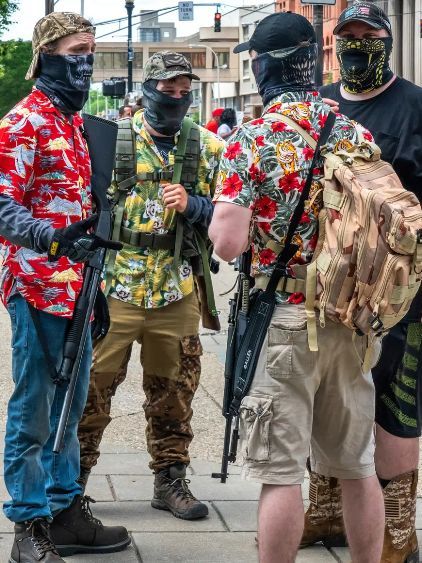 While the anti-lockdown protests have provided the spotlight on the "boogaloo" movement, a police shooting in Maryland has galvanized its supporters.
Duncan Lemp, 21, was shot and killed by police on March 12 as officers served a search warrant at his family's home. An eyewitness said Lemp was asleep in his bedroom when police opened fire from outside his house, according to an attorney for his family. Police said he was armed with a rifle and ignored commands.
On his Instagram account, Lemp had posted a photograph that depicts two people holding up rifles and includes the term "boogaloo." His death spawned a hashtag campaign within the movement.
"A lot of individuals are very upset at the way this country is being run and the laws that are getting passed that criminalize law-abiding citizens," said Mike Harts, a U.S. Army infantry veteran who befriended Lemp through social media.
Of course, that is why with previously President Trump's anger was directed solely at a loose movement called Antifa now a right-wing group is considered Anti-government.
But Boogaloo is far from a cohesive group, said J.J. MacNab, a fellow at George Washington University who studies anti-government extremism.
"While there are pockets of white supremacist Boogaloos, the younger and bigger groups are generally not," she said in a recent Twitter thread. "While there are Boogaloos that support police, the younger and bigger groups detest them. While there are Boogaloos that want to discredit protests angry at the murder of a black man, there are younger Boogaloos that are incensed by the murder and want to join the protests."
MacNab added that such internal divisions don't always play out according to age.
"They share jargon, outfits, a love of firearms, and a desire to use violence to gain power, but they don't actually share a common goal once power is achieved," she said.
It is true that while some groups have been described as a libertarian militia and some boogaloo groups are white supremacists, but there are others that condemn racism. Attempts by some elements of the Boogaloo movement to support anti-racist groups, such as Black Lives Matter, have been met with wariness and skepticism.
It seems however that a constellation is emerging of what one could call the Milita-Sphere coalescing around gun rights, anti-government messages and threats of violent action, often infused with the false claims of conspiracy theorists such as QAnon.
Researchers are uncertain what role these groups have in the violence that has exploded across dozens of U.S. cities in recent nights, but they cite worrying signs. These include the seizure by Denver police last week of guns and ammunition from a man who said he was inspired by the Boogaloo but kept the weapons for sport shooting.
Members of boogaloo groups typically believe in accelerationism, and support any action that will speed impending civil war and eventually the collapse of society. According to The Economist, to this end boogaloo group members have supported the "spreading of disinformation and conspiracy theories, attacks on infrastructure (such as that on New York's 311 line) and lone-wolf terrorism."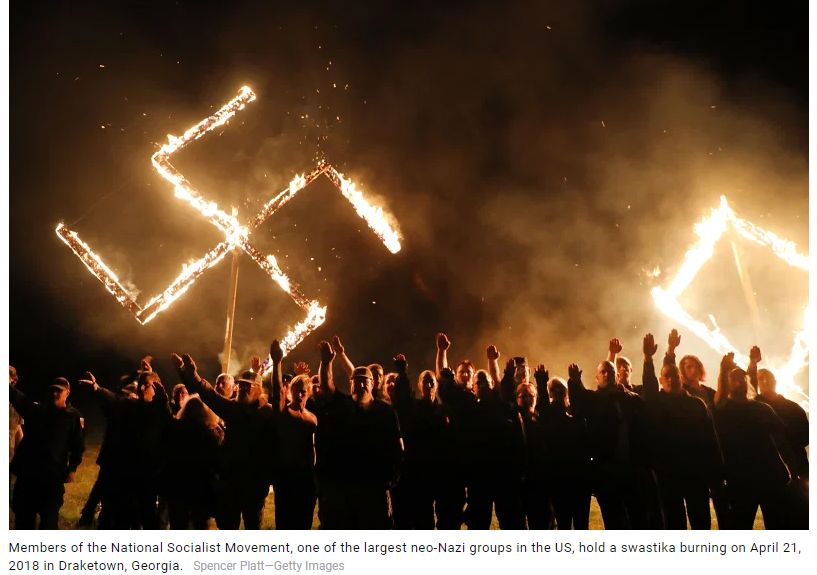 But even before the coronavirus pandemic hit, white supremacist terrorism was a growing menace. Although the specter of jihadism has received more attention, the threat of racially motivated extremism—of which white supremacy is a part—has been rising steadily over the last few years. As recently as 2016, it accounted for only 20 percent of terrorism-related deaths in the United States, according to the Anti-Defamation League. By 2018, that figure had increased to 98 percent. In February, FBI Director Christopher Wray testified before Congress that racially and ethnically motivated extremists had been the "primary source of ideologically motivated lethal incidents and violence" over the last two years. Wray also noted that 2019 marked the deadliest year of white supremacist violence since the Oklahoma City bombing in 1995.
Just as they have for food delivery services and videoconferencing platforms, lockdowns have proved to be a time of growth and opportunity for white supremacists. Indeed, violent extremists across the ideological spectrum have exploited the pandemic to take advantage of people who are at their most vulnerable, desperate, and available—relegated to their homes (or their parents' homes) with little to distract them aside from surfing the Web. The dearth of large public gatherings and crowds moved the terrorism battle space inside and online. But with an anti-government message designed for online virality, twenty-first-century white supremacists were especially well-positioned to profit from this shift. And the evidence so far suggests that they succeeded in doing so, with results that, as the recent arrests show, can all too easily become offline threats.
As with terrorist groups such as the Islamic State (or ISIS), today's white supremacist threat is both global and virtual. The war in Ukraine, for example, has attracted hundreds of foreign fighters with ties to the far-right who use the battlefield as a networking space. That includes dozens of Americans, some of whom have come home with new contacts and fighting experience. Outside Ukraine, white supremacist training camps exist in Poland, Bulgaria, and even the United Kingdom, and many white supremacist organizations operate transnationally.
But whereas for ISIS the Internet is a tool to create and grow the caliphate, for white supremacists the Internet is the caliphate: a headquarters, a virtual training camp, and a staging ground all in one. This reliance on the Internet has served the group well during the pandemic. But it may also be its Achilles' heel.
And whereby this article would get to long if I were also to cover other countries besides the US there are articles that have, for example here the BBC.
For updates click homepage here