By Eric Vandenbroeck
As I reported the latter part of December 2015, ethnic groups in Myanmar are divided on how they view Aung San Suu Kyi and the NLD as not able or willing to move the peace process forward. Going a step further Suu Kyi last week advised the United States against using the term "Rohingya" to describe the persecuted Muslim population that has lived in Myanmar for generations (reported on by me here). Her government, like the previous military-led one, will not call the Rohingya people by that name because it does not recognize them as citizens, said her spokesman, U Kyaw Zay Ya.
Already last month, after an interview with BBC's veteran journalist Mishal Husain for the Today programme, Suu Kyi was reportedly heard to say angrily, "No-one told me I was going to be interviewed by a Muslim."
This time around the US embassy faced criticism from Myanmar's nationalists since it issued a statement of condolence after an April 19 maritime accident in which as many as 40 Rohingya drowned. The victims were traveling to a market and a hospital from a camp for internally displaced people in western Rakhine state. The embassy's statement linked the tragedy to restrictions on basic services in the state, which it said "can lead to communities unnecessarily risking their lives in an attempt to improve the quality of life."
The refugees fleeing Myanmar, from the Muslim Rohingya ethnic minority, have been persecuted for decades. They have been evicted from their homes and kicked off their land, and attacked by the military and by Buddhist extremists in Rakhine, the western coastal state where they live. Their voting rights were effectively revoked in February.
They could qualify for second-class citizenship by proving that their families had been living in Burma since 1948, the year of independence, or be placed in camps and face deportation.
Sittwe, the capital of Rakhine state has been 'cleansed' of Muslims – or more specifically the Rohingya. Before the 2012 violence there were approximately 20,000 Rohingya living around Sittwe, now nearly all traces of Rohingya have been erased – save for some burnt out Mosques and the 4000 strong hidden away ghetto of Aung Mingalar (which people are unable to freely leave, and have to go under police guard just to travel to the market). Some 125,000 Rohingya thus remain displaced and face severe travel restrictions.
The previous military-linked government of former junta general Thein Sein referred to the group as Bengalis, implying they were illegal immigrants from Bangladesh, though many have lived in Myanmar for generations. Whereby, showing that it is possible, the outgoing Burmese government recently granted citizenship to tens of thousands of ethnic Chinese living in northern Shan State's Tarmoenye sub-township. Called Mong Wong or Mone Wun, their militia is estimated to number around 100 soldiers in Shan State and has helped the Burma Army with reconnaissance and fighting against other ethnic armed groups in Kutkai Township and elsewhere in northern Shan State. 
On 30 March 2015 then, Htin Kyaw, a confidante of Aung San Suu Kyi, was sworn in as Myanmar's president, with Suu Kyi appointed as foreign minister and has said the new president will effectively answer to her.
The NLD took 364 seats in both houses, whilst the military-backed Union Solidarity Development Party (USDP) took just 40. However, 25% of total seats were already reserved for unelected military officials: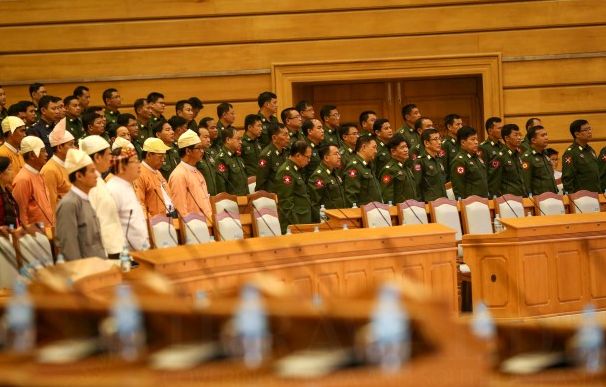 Because the NLD is constitutionally unable to fully control the military, it will be impeded by Myanmar's core challenge: controlling the geographically fractured and ethnically diverse border areas. See also here and here.
In the medium to long-term, the government must address Myanmar's complex economic and social challenges. For many years, the country has been beset by the acute development problems of poverty, malnourishment, high infant mortality rates, fragile education and healthcare systems, and a chronic lack of modern infrastructure. Maintaining the current rate of economic growth will be a key objective of the new parliament, with the economy growing at 8.5% in 2015 as a result of recent reforms and the influx of Foreign Direct Investment (FDI). Despite this, poverty and unemployment are endemic problems which must be tackled. Huge swathes of the country rely on agriculture for a large proportion of economic production, whilst faster development is held back by unequal electricity access, poor transport networks and an unskilled workforce. State corruption must also be combated, with Myanmar ranked 147th out of 158 countries in Transparency International's 2015 corruption index.
But the biggest challenge remains the resolution of long-standing ethnic tensions and conflict. Many states remain semi-war-zones, prone to ethnic conflict between the security forces and local armed groups. Overall, minority groups comprise up to 40% of Myanmar's population of 52 million people, and most feel some degree of grievance or disadvantage. Outgoing President Thein Sein signed a national ceasefire agreement with 8 armed groups last October; however fighting continues on an almost daily basis in Kachin and Shan states. Among those that did sign the ceasefire agreement was the Karen National Union (KNU), one of Myanmar's oldest revolutionary groups. However, the influential and powerful Kachin Independence Army (KIA) and United Wa State Army (UWSA) refused to sign the accord.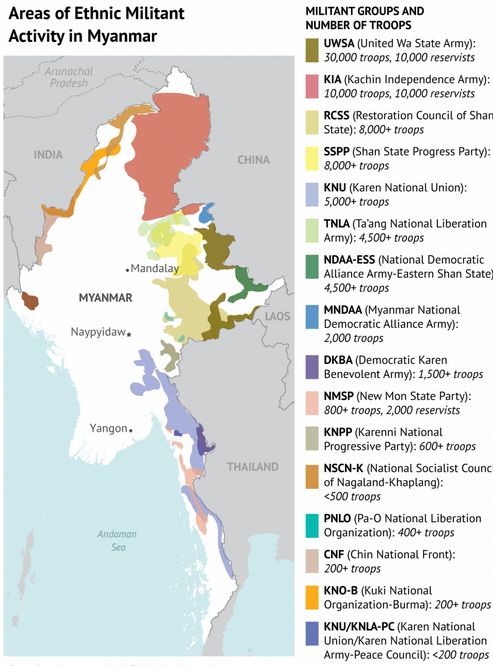 The UN estimates that in the past 4 years, 100,000 people have been internally displaced, whilst thousands more have fled across the borders into neighboring Thailand, Laos and China. Many groups have a distinct lack of trust towards the military, so the new government represents an opportunity for progress. Ending these multiple conflicts could prove the key to enabling future economic prosperity across the country; therefore the new government has a huge incentive to reach out and push forward a renewed dialogue. It can also be argued that considering most of the conflict-torn regions voted heavily in favour of the NLD in November's election, the party has a responsibility to increase engagement and further integrate disenfranchised groups into the political process.
Ending Myanmar's ethnic conflicts, tacking anti-Muslim sentiment and improving the treatment of the Rohingya population will be viewed as an essential measure of the country's progress in the eyes of the international community. However despite renewed hopes, these problems will remain difficult to resolve, as years of military rule have resulted in a legacy of social divisions and inter-communal distrust which will take years, if not decades to overcome.
In the wider geopolitical context, Myanmar also faces the strategic challenge of forging its place in the world as a democratic state. China has long been Myanmar's closest ally, turning a blind eye to the human rights abuses of the ruling military junta in return for access to natural resources and favorable business contracts, such as the Myitsone Dam Project. In stark contrast, the US and many EU states have championed the pro-democracy cause.
Yet as a senior western diplomat recently said: This is one of the most corrupt countries in the world-Bad things happen here every day. You will see problems everywhere.
No matter how EU, the United States, and Myanmar choose to proceed, continued reform will be messy.
According to Peter Popham author of "The Lady and the Generals: Aung San Suu Kyi and Burma's Struggle for Freedom"(2016) Suu Kyi seems to have lost interest in human rights.
But the victory of Suu Kyi's NLD in the November elections has also brought a degree of hope. Yet if that hope is to be realized, the new government must take at least three important steps.
First, newly appointed President Htin Kyaw and State Counselor Suu Kyi should immediately authorize unfettered humanitarian access for the United Nations and international aid groups to Kachin and northern Shan states. Upon gaining access, aid agencies should redouble their support for ethnic Kachin and Shan-led aid organizations that have operated in the conflict zones for the past five years.
Second, if the NLD government is going to break with the previous regimes' legacies of violence, it must make good on the promise to prioritize Burma's peace process. Not all of Burma's armed ethnic groups were invited to sign a cease-fire agreement orchestrated by President Thein Sein's administration. A mere seven groups did so in October 2015 as attacks by the Burmese army continued. Absent were several of Myanmar's largest armed groups, including the KIA. Without all relevant actors at the table, peace will remain elusive.
Finally, the NLD government must build trust with ethnic populations and nonstate ethnic armies. It needs to publicly acknowledge the scale of abuses by Burmese soldiers against civilians, the depth of discrimination against ethnic nationalities and the continued impunity. If left unchecked, impunity for grave abuses in Burma's ethnic states will only stifle the country's development.
For updates click homepage here