Intriguingly a British newspaper reported that its armed forces are stepping up their contingency planning for potential military action against Iran amid mounting concern about Tehran's nuclear enrichment programme.
Further fuel was added to this speculation when today Al Jazeera's Nicole Johnston reported from Jerusalem that also Israel warns of possible attack on Iran over its nuclear programme.
July 2009 Israel indeed sent two Saar‐class missile ships and a Dolphin‐class submarine into the Red Sea in what was seen as a preparation for a possible attack on Iranian nuclear facilities. However while Israel has postured to attack Iran for some time, the likelihood of the nations coming to blows seems low.
As suggested before, attacking Iran could result in a dropp in oil output from either Iran itself or Saudi Arabia should Iran attempt to close the Strait of Hormuz, sending world prices soaring.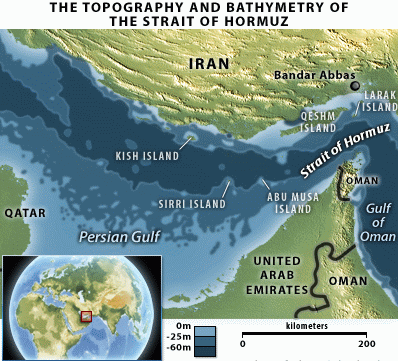 Plus in addition to Iran's covert network of militant proxies, Iran's conventional forces are substantial.
One other place to block Iran however, and were also Saudi Arabia Turkey and the USA might be inclined to do so (see my next upcoming article) is Syria.
In the last week, the Syrian unrest appeared to take on a new dimension. Until recently, the most significant opposition activity appeared to be outside of Syria, with much of the resistance reported in the media coming from externally based opposition groups. The degree of effective opposition was never clear. Certainly, the Sunni majority opposes and hates the al Assad regime. But opposition and emotion do not bring down a regime consisting of men fighting for their lives. And it wasn't clear that the resistance was as strong as the outside propaganda claimed.
Last week, however, the Free Syrian Army — a group of Sunni defectors operating out of Turkey and Lebanon — claimed defectors carried out organized attacks on government facilities, ranging from an air force intelligence facility (a particularly sensitive point given the history of the regime) to Baath Party buildings in the greater Damascus area. These were not the first attacks claimed by the FSA, but they were heavily propagandized in the past week. Most significant about the attacks is that, while small-scale and likely exaggerated, they revealed that at least some defectors were willing to fight instead of defecting and staying in Turkey or Lebanon.
It is interesting that an apparent increase in activity from armed activists — or the introduction of new forces — occurred at the same time relations between Iran on one side and the United States and Israel on the other were deteriorating. The deterioration began with charges that an Iranian covert operation to assassinate the Saudi ambassador to the United States had been uncovered.
Of all the players in this game, Israel's position is the most complex. Israel has had a decent, albeit covert, working relationship with the Syrians going back to their mutual hostility toward Yasser Arafat. For Israel, Syria has been the devil they know. The idea of a Sunni government controlled by the Muslim Brotherhood on their northeastern frontier was frightening; they preferred al Assad. But given the shift in the regional balance of power, the Israeli view is also changing. The Sunni Islamist threat has weakened in the past decade relative to the Iranian Shiite threat. Playing things forward, the threat of a hostile Sunni force in Syria is less worrisome than an emboldened Iranian presence on Israel's northern frontier. Regardless of its preferred outcome, Israel of course cannot influence events inside Syria. Instead, Israel is adjusting to a reality where the threat of Iran reshaping the politics of the region has become paramount.
Iran is, of course, used to psychological campaigns. I continue to believe that while Iran might be close to a nuclear device that could explode underground under carefully controlled conditions, its ability to create a stable, robust nuclear weapon that could function outside a laboratory setting (which is what an underground test is) is a ways off. This includes being able to load a fragile experimental system on a delivery vehicle and expecting it to explode. It might. It might not. It might even be intercepted and create a casus belli for a counterstrike.
The main Iranian threat is not nuclear. It might become so, but even without nuclear weapons, Iran remains a threat. The current escalation originated in the American decision to withdraw from Iraq and was intensified by events in Syria. If Iran abandoned its nuclear program tomorrow, the situation would remain as complex. Iran has the upper hand, and the United States, Israel, Turkey and Saudi Arabia all are looking at how to turn the tables.
At this point, they appear to be following a two-pronged strategy: Increase pressure on Iran to make it recalculate its vulnerability, and bring down the Syrian government to limit the consequences of Iranian influence in Iraq. Whether the Syrian regime can be brought down is problematic (see my next contribution). Libya's Moammar Gadhafi would have survived if NATO hadn't intervened. NATO could intervene in Syria, but Syria is more complex than Libya. Moreover, a second NATO attack on an Arab state designed to change its government would have unintended consequences, no matter how much the Arabs fear the Iranians at the moment. Wars are unpredictable; they are not the first option.