By Eric Vandenbroeck 7 Dec. 2018
This was an explosive week for the Russia probe as the special counsel signals interest in wrapping up at least some of his most high-profile efforts with a sentencing memo's involving Michael Flynn, Michael Cohen, and Paul Manafort.
As we have seen Robert Mueller's investigation exposed illegal schemes across international borders and produced more than 100 criminal charges, here are the indictments so far.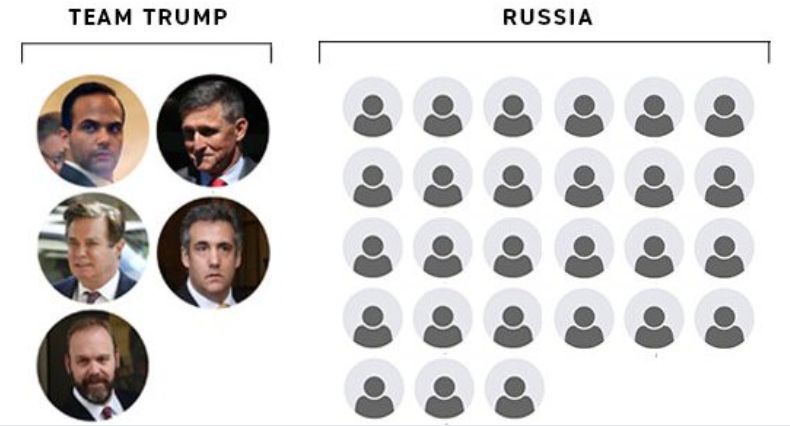 At least 33 people and three companies have been charged so far as a result of the special counsel's investigation into 2016 election tampering.
On 19 Nov. 2018 taking the Saudi saga as an example, I added to the earlier suggestion that Robert Mueller is looking at a multi-state collusion, not just a bipolar collusion involving Russia.
Last week then there was a suspicion that Mueller has laid a Perjury Trap for President Trump. Whereby on Friday, Mueller and federal prosecutors in New York released a separate filing that revealed former Trump personal lawyer Michael Cohen conferred with Trump about arranging a meeting with Russian President Vladimir Putin in the early stages of the 2016 campaign.
The Michael Flynn sentencing memo
Late Tuesday, special counsel Robert S. Mueller III filed his much-anticipated sentencing memorandum in the case of former national security adviser Michael Flynn. Large portions of Mueller's memo were redacted because they relate to ongoing investigations. But reading between the blacked out lines, the latest salvo from the special counsel suggests the White House should be very uneasy about what may be still to come.
The Flynn memo initially set of a lot of speculation.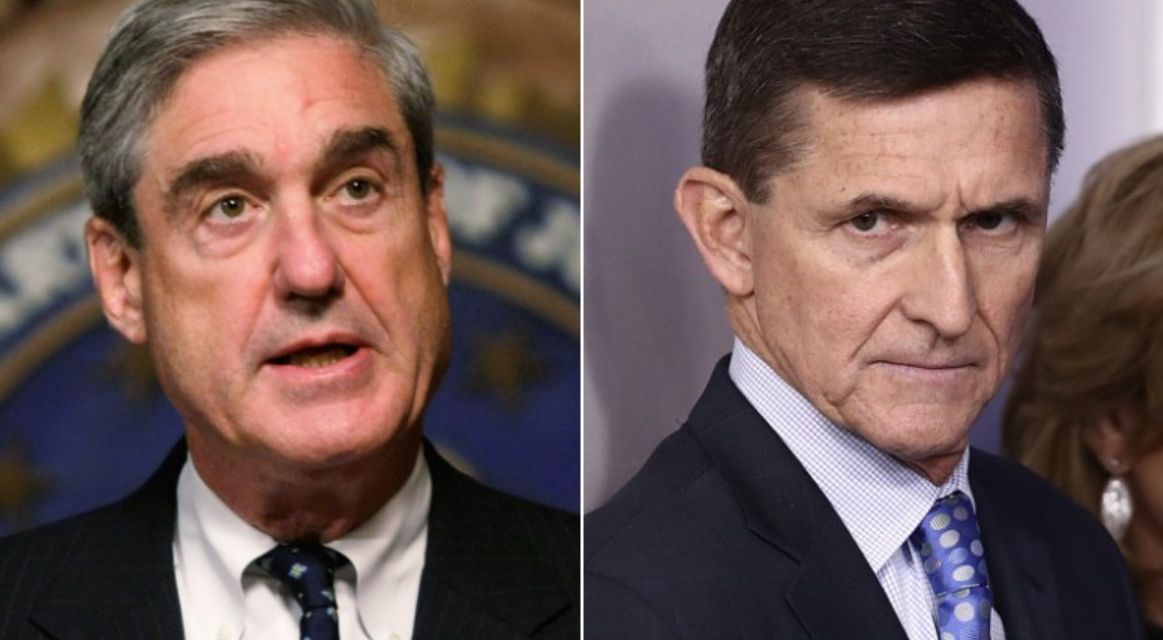 Yet it is clear that Michael Flynn whose contacts with Russians and others led to a guilty plea for lying to the FBI in the memo is said to deserve credit for substantially assisting the government.
The sentencing memo and its addendum--which recommend that Flynn receive little to no prison time--appear to identify three matters on which Flynn helped the special counsel investigation. One is openly described: collusion. The memo states that Flynn has assisted with the investigation into any "links or coordination between the Russian government and individuals associated with the campaign of Donald J. Trump."

No surprise there; Flynn himself was charged primarily because he had lied to the FBI about his own contacts with Russia. The memo's matter-of-fact description of Mueller's collusion review, and Flynn's help with it, clearly undercuts Trump's refrains of "no collusion" and "collusion is not a crime." Those mantras have been less frequent of late, and with good reason, both are wrong, legally and factually. And the Flynn sentencing memo, in its own low-key way, now signals that Mueller is taking the collusion seriously and pushing forward with it.
But the redacted portions of the sentencing documents suggest there are at least two other investigations in which Flynn has cooperated. One has a separate (redacted) heading in the memo; that, plus the reference to assisting prosecutors from other Justice Department offices, suggests the former national security adviser is cooperating in a criminal investigation being handled outside Mueller's shop. This could be another Trump-related investigation spun off from Mueller's inquiry, such as the one going on in the U.S. Attorney's Office for the Southern District of New York that led to the first guilty plea from Cohen.
One person who should be worried, argued reporter Betsy Woodruff to MSNBC's Nicolle Wallace on "Deadline: White House," is the president's son-in-law.
"Flynn had unique, and arguably unparalleled, insight into the Trump administration all the way back through transition, where he was a very senior official running the National Security Council's transition project," said Woodruff. "And of course, through the bulk of the presidential campaign, the most interesting campaign times, Flynn had a front row seat. And Flynn's cooperation with Mueller should potentially cause concern not just for the president but also for Jared Kushner."
"Mueller seems to hint in this memo that he's interested in the conversations in the lead-up to the U.N. Security Council's resolution that would have criticized Israel for building settlements in the West Bank," Woodruff continued. "Now, in court filings, it says that a very senior transition team official directed Flynn to reach out to the Russian ambassador and ask the Russians to try to postpone that key and geopolitically significant U.N. Security Council vote."
"Flynn made that ask," she concluded. "It's been reported, though it hasn't showed up in any court filings, that the individual who directed Flynn to make that outreach to the Russians, to try to change the way that geopolitics worked, was Jared Kushner."
Also Tim O'Brien points out for Bloomberg, Jared Kushner met with the Russian ambassador, Sergeu Kislyak, and other Russian figures on multiple occasions in December 2016, and reportedly discussed setting up a backchannel to the Kremlin. Kushner and the White House have claimed there was nothing untoward about any of these interactions, but it's possible, if not likely, that Flynn has provided evidence to the contrary. "If Flynn offered federal authorities a different version of events than Kushner -- and Flynn's version is buttressed by documentation or federal electronic surveillance of the former general --then the president's son-in-law may have to start scrambling," writes O'Brien.
Notably absent from the memo are any details about the extent to which Trump may have known about Flynn's communications with the Russian ambassador. Trump has denied he instructed Flynn to tell Russia he planned to ease up economic sanctions once he took office, but it's highly unlikely Flynn did so on his own volition. When acting attorney general Sally Yates informed the White House that Flynn lied to investigators about these discussions, thus exposing himself to blackmail, Trump did nothing. It was only a few weeks later, after the Washington Post revealed that Flynn had lied, that Flynn resigned. Something doesn't add up, and the answer could very well lie beneath the black bars that cover most of the memo, including the entirety of the sections detailing the two other investigations to which Flynn offered assistance.
A Dem. lawmaker however now wants not only Jared Kushner but also Trump Jr. to reappear before the House Intelligence Committee: "I think they will be subpoenaed if they don't come voluntarily and we will certainly subpoena their records," she said.
Note also what the US Attorney's Office in the Cohen Sentencing Memo said about hush money payments and "Executives" of Trump Org: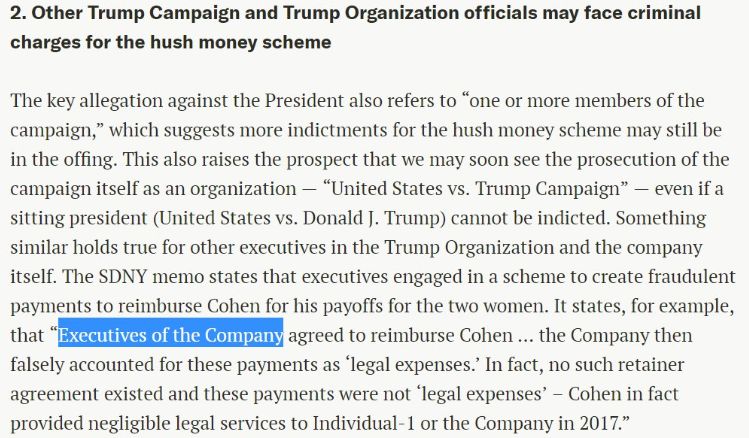 If this is Donald Trump Jr, then he is in far more legal trouble than just lying to Congress or other matters before Mueller.
The Michael Cohen sentencing memo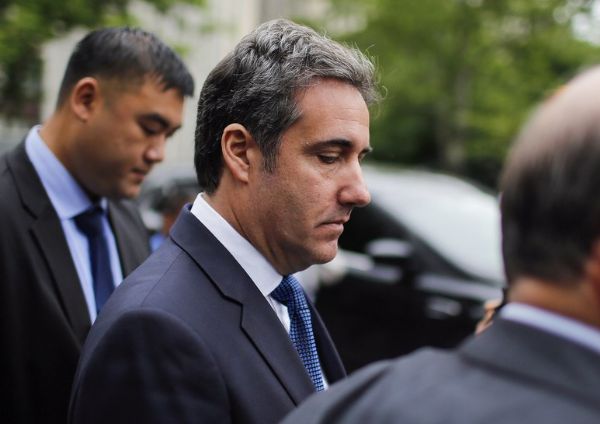 The sentence memo involving Michael Cohen Mueller lays out how the Trump Tower Moscow project is relevant to Russia's election meddling during the 2016 campaign. The special counsel memo states that Cohen's false statements to investigators about the Trump Tower Moscow project "obscured the fact that the Moscow Project was a lucrative business opportunity that sought, and likely required, the assistance of the Russian government."
Mueller's office said the fact that Cohen continued to work on the Trump Tower Moscow project -- and discuss it with Trump -- was material to both the ongoing congressional and special counsel investigations, noting in particular that "it occurred at a time of sustained efforts by the Russian government to interfere with the U.S. presidential election." Mueller argues that the false timeline that Cohen laid out publicly and in his testimony -- that the Trump Tower Moscow discussions ended in January 2016 -- was a deliberate effort to limit the investigations into Russia's election interference.
Also according to the memo, Cohen told investigators that a (in the memo unnamed) Russian "repeatedly proposed a meeting" between Trump and Putin, arguing that it would have a "phenomenal" impact "not only in political but in a business dimension as well."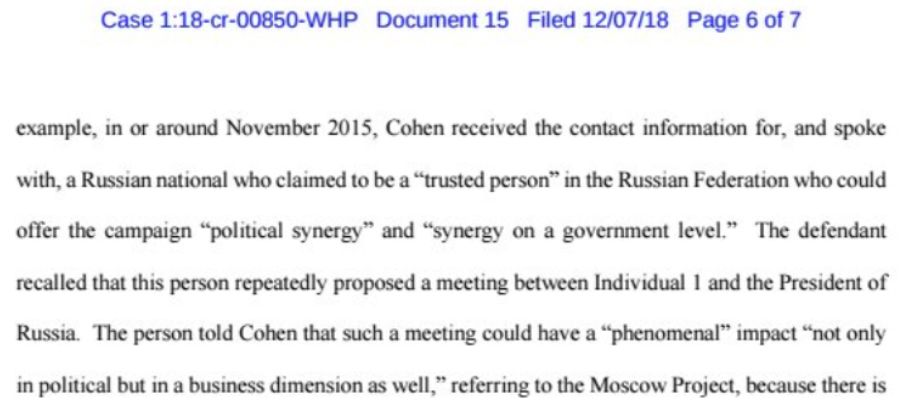 The Russian national argued that the meeting would help Trump in his quest to get approval for a Trump Tower in Moscow, since there is "no bigger warranty in any project than consent" of Putin, Cohen recalled. But he told Mueller's team that he did not follow up on the proposal since he was already working with someone who had Kremlin connections, apparently a reference to Trump's business ally Felix Sater.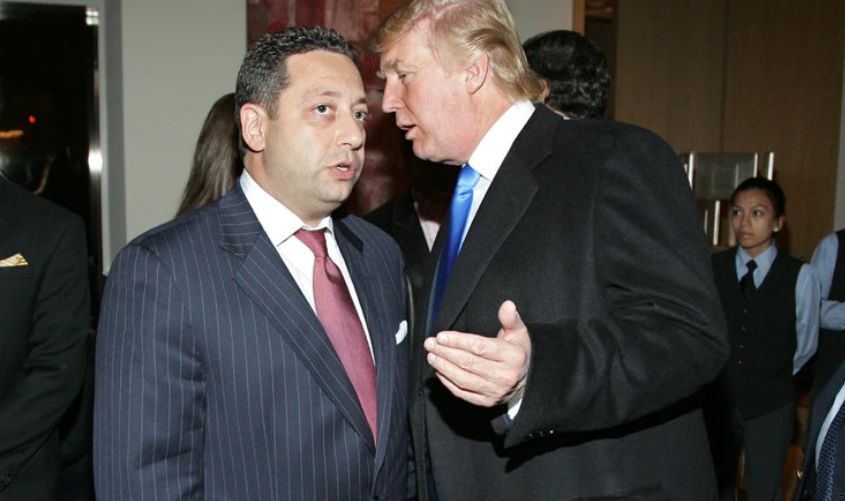 Sater organized a meeting with Cohen -- who at the time was representing Trump -- in September 2015 to discuss having Trump license his name on a Russian-built edifice. Trump's company wouldn't actually construct the tower, but the Trump name would be on the structure and his company would receive a portion of the revenue it generated. The two men came to an accord: Sater would find the builder and financiers for the project, while Cohen would ensure Trump signed the final agreement.
Sater was very confident. "I will get Putin on this program and we will get Donald elected," Sater emailed Cohen. "Buddy our boy can become President of the USA and we can engineer it. I will get all of Putins [sic] team to buy in on this."
On one visit in which he was accompanied by Donald Trump Jr. and Ivanka Trump, Sater apparently arranged for Ivanka to sit in Mr. Putin's chair during a tour of the Kremlin, he said in emails to Mr. Cohen.
The filing comes close to suggesting collusion without actually making that case. Mueller notes that Cohen's effort to engage Russia with Trump's knowledge and consent "occurred at a time of sustained efforts by the Russian government to interfere with the U.S. presidential election." Mueller provided another hint by praising Cohen for providing the special counsel's office "with useful information concerning certain Russia-related matters core to its investigation." There is arguably only one matter core to the Mueller investigation, as defined by Mueller's appointment as special counsel: "to ensure a full and thorough investigation of the Russian government's efforts to interfere in the 2016 presidential election . . . [and] any links and/or coordination between the Russian government and individuals associated with the campaign of President Donald Trump." If Cohen's information is core to the Mueller investigation, it is reasonable to conclude that Mueller does, indeed, believe he can prove that there was collusion between the Trump campaign and the Russian government.
In pleading guilty, Cohen disclosed that talks about the proposed Trump Tower project in Moscow had extended through June 2016, after Trump had become the presumptive Republican nominee for president, and that both Trump and his family members had been briefed on the discussions. Cohen also acknowledged pursuing plans to send Trump and himself to Russia in service of the project and discussing the proposed development directly with a representative of the Kremlin. And that Michael Cohen acted at Trump's direction when he broke the law.
Also in the case of two schemes to purchase the right to stories -- each from women who claimed to have had an affair with Individual-1 -- so as to suppress the stories and thereby prevent them from influencing the election. Cohen admitted, with respect to both payments, he acted in coordination with and at the direction of Individual-1 (meaning the President).
The Paul Manafort sentencing memo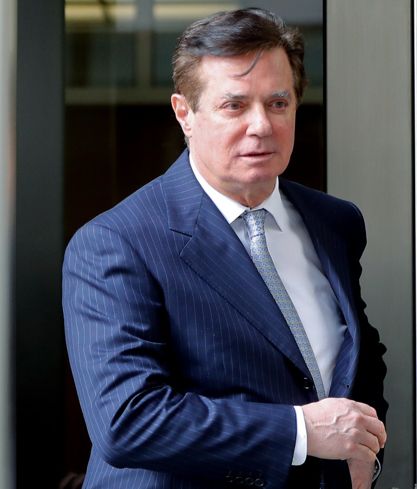 Manafort was in contact with the White House as recently as May 2018, despite his denials of such contacts, Mueller alleged. The nature of those contacts was unclear – but it is clear that Mueller has knowledge of them, and if they included a discussion of potentially criminal conduct, or methods for defending that conduct, that could be very bad for Trump.
Mueller outlined four further areas in which he said Manafort lied: about his interactions with Konstantin Kilimnik, a former business partner in Ukraine; about Kilimnick's participation in an alleged conspiracy to tailor the testimony of two witnesses; about a wire transfer to a firm working for Manafort; and about information pertinent to another justice department investigation, the details of which were undisclosed.
Manafort and Kilimnik are accused of asking business associates early this year to lie about their past lobbying work. Mueller said Rick Gates, formerly Trump's deputy campaign chairman, continued communicating with Kilimnik in the months before the 2016 election.
As part of Manafort's plea, he agreed that Kilimnik helped him attempt to witness tamper. Then, after that plea, he denied that very thing. Then, "when asked whether his prior plea and sworn admissions were truthful, Manafort conceded that Kilimnik had conspired with him."
Kilimnik, a joint Russian-Ukrainian citizen who trained in the Russian army as a linguist, later boast to political operatives in Ukraine "that he had played a role in gutting a proposed amendment to the Republican Party platform that would have staked out a more adversarial stance towards Russia." Kilimnik, also told operatives in Kiev and Washington that he met with Manafort during an April trip to the United States. And, after a late summer trip to the U.S., Kilimnik suggested that he had played a role in gutting a proposed amendment to the Republican Party platform that would have staked out a more adversarial stance towards Russia, according to a Kiev operative. Robert Mueller believes Kilimnik is currently in Russia and has ties to Russian intelligence.
Whether Manafort's ties to pro-Kremlin figures in eastern Europe are connected to Russia's interference in the 2016 election remains the central unanswered question in the investigation.  Any finding by Mueller that Trump's campaign chief was complicit in Moscow's efforts to sway the election to Trump could be devastating for the president.
According to Mueller also, Manafort "had been in communication with a senior Administration official up through February 2018." That was the same month Manafort was indicted by Mueller.
In January 2018, Howard Fineman reported for NBC that Trump was privately telling friends he had become "convinced" Paul Manafort was not going to "flip" on him. It also seems likely now that either Manafort told him that directly or through a Trump administration intermediary. And since given the above, we know that this contact extended into 2018, this means it could be related to the NBC report.
None of this is good news for the president, who has reportedly submitted written answers to Mueller's investigators while also communicating and coordinating with Manafort's legal team.
What it means for Donald Trump
President Trump responded to today's filings from federal prosecutors in the cases of Michael Cohen and Paul Manafort with a Twitter cry of triumph:
But as an informed Lawfare article aptly comments don't spend a lot of time looking through the three filings for the section entitled, "The President is Totally Cleared."
The potential innocent explanations for Donald Trump's behavior over the last two years have been steadily stripped away, piece by piece. Special counsel Robert Mueller and investigative reporters have uncovered and assembled a picture of a presidential campaign and transition seemingly infected by unprecedented deceit and criminality, and in regular--almost obsequious--contact with America's leading foreign adversary.
A year ago, Lawfare's Benjamin Wittes and Quinta Jurecic outlined seven possible scenarios about Trump and Russia, arranged from most innocent to most guilty. Fifth on that list was "Russian Intelligence Actively Penetrated the Trump Campaign--And Trump Knew or Should Have Known," escalating from there to 7, "The President of the United States is a Russian Agent."
After the latest disclosures, we're steadily into Scenario 6.
The Cohen and Manafort court documents all provide new details, revelations, and hints of more to come. They're a reminder, also, that Mueller's investigation continues alongside an investigation by federal prosecutors in the Southern District of New York that clearly alleges that Donald Trump participated in a felony, directing Cohen to violate campaign finance laws to cover up extramarital affairs.
Through his previous indictments against Russian military intelligence and the Russian Internet Research Agency, Mueller has laid out a criminal conspiracy and espionage campaign approved, according to US intelligence, by Vladimir Putin himself. More recently, Mueller has begun to hint at the long arm of that intelligence operation, and how it connects to the core of the Trump campaign itself.
In fact, what's remarkable about the once-unthinkable conclusions emerging from the special counsel's investigation thus far is how, well, normal Russia's intelligence operation appears to have been as it targeted Trump's campaign and the 2016 presidential election. What intelligence professionals would call the assessment and recruitment phases seems to have unfolded with almost textbook precision, with few stumbling blocks and plenty of encouragement from the Trump side.
Mueller's court filings, when coupled with other investigative reporting, paint a picture of how the Russian government, through various trusted-but-deniable intermediaries, conducted a series of "approaches" over the course of the spring of 2016 to determine, as Wittes says, whether "this is a guy you can do business with."
The answer from Michael Cohen in January 2016, from George Papadopoulos in spring 2016, from Donald Trump, Jr. in June 2016, from Michael Flynn in December 2016--appears to have been an unequivocal "yes."
Mueller and various reporting have shown that those in Trump's orbit rebuffed precisely zero of the known Russian overtures. Whereby each approach seemed to have been met with enthusiasm.
Given every opportunity, most Trump associates--from Paul Manafort to Donald Trump, Jr. to George Papadopoulos--appeared to take overt action to encourage further contact. Not once did any of them inform the FBI of the contacts.
And it seems possible there's even more than has become public, beginning earlier than we might have known. As Mueller's report says in Cohen's case, "The defendant also provided information about attempts by other Russian nationals to reach the campaign. For example, in or around November 2015, Cohen received the contact information for, and spoke with, a Russian national who claimed to be a 'trusted person' in the Russian Federation who could offer the campaign 'political synergy' and 'synergy on a government level.' The defendant recalled that this person repeatedly proposed a meeting between Individual 1 [aka Donald Trump] and the President of Russia. The person told Cohen that such a meeting could have a 'phenomenal' impact 'not only in political but in a business dimension as well,' referring to the Moscow Project, because there is no bigger warranty in any project than consent of [the President of Russia].'"
A footnote then clarifies that the reason Cohen didn't follow up on the invitation was "because he was working on the Moscow Project with a different individual who Cohen understood to have his own connections to the Russian government." In other words, the only reason Cohen didn't pursue a Kremlin hook-up was because he didn't need a Kremlin hook-up--he already had one.
Further sentences throughout Cohen's document hint at much more to come--and that the Trump campaign, the Trump Organization, and even the White House likely face serious jeopardy in the continuing investigation. As Mueller writes, "Cohen provided the SCO with useful information concerning certain discrete Russia-related matters core to its investigation that he obtained by virtue of his regular contact with Company executives during the campaign."
What precisely those "discrete Russia-related matters" are, we don't know--yet--but the known behavior of the Trump campaign associates and family members appears damning.
Not least of all is Don Jr.'s now infamous email, responding to a suggestion of Russian assistance: "If it's what you say I love it especially later in the summer," which happens to be precisely when Russia dropped the stolen Clinton campaign emails, funneling them through WikiLeaks, another organization where there appears to have been no shortage of Trump-linked contact and encouragement by a team that allegedly included Roger Stone, Randy Credico, and Jerome Corsi's conversations with their "friend in embassy," WikiLeaks founder Julian Assange.
It was a pattern that continued right through the transition, as Flynn's sentencing memo this week also reminds us:
Trump's team was all too happy to set up backchannels and mislead or even outright lie about their contacts with Russian officials. There's still the largely unexplained request by Trump son-in-law Jared Kushner to establish secure backchannel communications with the Russian government, during the transition, that would be free of US eavesdropping.
Nearly everyone in the Trump orbit experienced massive amnesia about all of these contacts during the campaign, including Kushner and former attorney general Jeff Sessions himself, both of whom "revised" their recollections later to include meetings they held with Russian officials during the campaign and transition.
The lies by Trump's team would have provided Russia immense possible leverage. Michael Cohen's calls and efforts through the spring of 2016, as he sought help for the Trump Tower Moscow project, were publicly denied until last week.
But the Russians knew Trump was lying. For years, Russia has known compromising material on the president's business empire and his primary lawyer.
Similarly, Michael Flynn called to talk sanctions with Russia's ambassadors--saying, in effect, don't worry about Obama, be patient, we'll undo it--and then covered up that conversation to federal investigators and the public.
For the first weeks of the Trump administration in January 2017, then acting attorney general Sally Yates ran around the West Wing warning that Russia had compromising material on the president's top national security advisor.
While Trump has tried to slough off the Trump Tower Moscow project since Cohen's plea agreement as "very legal & very cool," the easiest way to know that they don't believe that themselves is that they lied about it. For years.
"The fact that [Trump] was lying to the American people about doing business in Russia and that the Kremlin knew he was lying gave the Kremlin a hold over him," the incoming chair of the House Judiciary Committee, Jerry Nadler, told NBC's Meet the Press on Sunday. "One question we have now is, does the Kremlin still have a hold over him because of other lies that they know about?"
As Mueller put it in Friday's Cohen court documents: "The defendant's false statements obscured the fact that the Moscow Project was a lucrative business opportunity that sought, and likely required, the assistance of the Russian government. If the project was completed, the Company could have received hundreds of millions of dollars from Russian sources in licensing fees and other revenues. The fact that Cohen continued to work on the project and discuss it with Individual 1 [aka Donald Trump] well into the campaign was material to the ongoing congressional and SCO investigations, particularly because it occurred at a time of sustained efforts by the Russian government to interfere with the U.S. presidential election. Similarly, it was material that Cohen, during the campaign, had a substantive telephone call about the project with an assistant to the press secretary for the President of Russia."
Legal analyst Jeffrey Toobin phrased it slightly differently in the wake of Cohen's plea agreement: "It would have been highly relevant to the public to learn that Trump was negotiating a business deal with Russia at the same time that he was proposing to change American policy toward that country."
Surreptitious recordings made by the Cohen and quoted in the document remind us that it's possible that prosecutors even have recordings of Trump ordering his fixer to commit a felony.
Mueller doesn't say precisely what he has, but the new documents are littered with breadcrumbs--mentions of travel records, testimonial evidence, emails, draft documents, recordings, and more. And he has both a very helpful Cohen and, to at least some extent, Manafort. While the former campaign chair wasn't cooperative, he did, according to the new filing, testify twice to a grand jury in recent weeks, meaning that his testimony is being used as part of a criminal case targeting someone else.
One of the most intriguing aspects of the Manafort document came in its final paragraphs, where Mueller's team outlines that the former campaign chairman had been in contact with various administration officials well into 2018. "A review of documents recovered from a search of Manafort's electronic documents demonstrates additional contacts with Administration officials," the report says. What--and who--Mueller doesn't hint at, but it's surely part of the massive iceberg of evidence resting just below the surface of this case.
In a February Mueller indictment of officials of the Russian troll factory Mueller (or/and his team) announce that three Internet Research Agency employees traveled to the U.S. in 2014. They indicted two of them but left unindicted someone from the IRA who evidently traveled to Atlanta as part of the operation for four days in 2014. it is made clear in the indictment that Mueller knows the precise IRA official to whom this unnamed male traveler filed his Atlanta expenses after the trip. And then as seen above, in last week's Michael Cohen plea agreement, it was made public that a "Moscow Project" meeting about a Trump-branded building in Russia was called off, by Cohen, on the same day that the DNC hack became public.
Conclusion
Put together all the clues, and Occam's Razor comes to mind: The most obvious scenario is the most likely scenario. And the most likely scenario now is that there was no division between the apparent Trump-Russian collusion on business matters and in the election.
Trump's defenders--and Donald Trump himself--contend that the Special Counsel has yet to allege, let alone prove, that Trump committed a crime in the sense that "Trump's fingerprints are on the murder weapon." There's no "smoking gun."
What these contentions overlook is the law of criminal conspiracy
<![if !supportLists]>· <![endif]>Guilt in a criminal conspiracy doesn't require that every participant in the conspiracy commit a criminal act. All it requires is that there is an agreement by two or more people to commit a criminal act and that at least one of the co-conspirators commits an overt act towards the accomplishment of the conspiracy.
<![if !supportLists]>· <![endif]>Nor is it necessary that the goal of the conspiracy has been successfully accomplished: it is enough if at least one overt step has been taken towards implementing the conspiracy.
<![if !supportLists]>· <![endif]>Nor is it necessary that co-conspirators know the identity of the other members of the conspiracy.
<![if !supportLists]>· <![endif]>Nor does the conspiracy have to be planned in secret.
Repeated actions by Donald Trump, his campaign, his organization, and his associates appear to fit this definition of criminal conspiracy in multiple instances. At least, that is the possibility that the Special Counsel's Office is investigating.
How Trump's Campaign Joined Russia's Criminal Conspiracy
The "core illegal act" at the heart of the Russia Probe is the conspiracy of the Russian Federation and its agents to intervene in the 2016 presidential election in favor of Donald Trump and so defraud the American people of a free and fair election (the Russia Intervention).
It is irrelevant whether the Russia Intervention was successful in its efforts to affect the outcome of the election and whether Trump would have won anyway. All that is necessary to prove a criminal conspiracy is that there was an agreement for a foreign government to intervene illegally, combined with overt acts to intervene (of which there were multiple instances outlined in the Special Counsel's indictment of several dozen Russians).
We learn from the Special Counsel's filing of December 7 that Donald Trump, his campaign, his organization, and his associates knew of the intent of the Russian Federation to effect "synergy" (aka collusion) with Trump's campaign at least as early as November 2015. We know that multiple members and associates of the Trump campaign had meetings with representatives of the Russian Federation, and in many of these interactions, they demonstrated a willingness to collaborate, encourage and enable the representatives of the Russian Federation to continue intervening. They did not, as they should have done, contact the FBI.
We also know that on July 27, 2016, Donald Trump himself spoke on national television and invited Russia--"Russia, if you are listening"--to intervene in the election and "find Hillary Clinton's 30,000 missing emails." It seems that Russia was listening: just the next day, Russians illegally hacked into the Democratic Party's computer system stole files. Redacted sections of the Special Counsel's filing suggests that there is further evidence of collaboration that has yet to be revealed.
It, therefore, seems likely that the Special Counsel's Office has evidence to prove that Donald Trump, his campaign, his organization, and his associates illegally conspired throughout the 2016 presidential election to encourage and enable the Russian Intervention so as to defraud the American people of a free and fair election.
Participation in a criminal conspiracy is itself a crime, even if the illegal acts were committed by someone else, in this case, agents of the Russian Federation. Participation in such a conspiracy is a felony, whether or not the Russian Federation was successful in affecting the outcome of the election.
How The Conspiracy Expanded To Include Trump Tower Moscow
Trump's involvement with Russia wasn't limited to getting assistance to win the election. What we learned on December 7 from the Special Counsel's filing is that Donald Trump, his campaign, his organization and his associates effectively expanded the Russian Intervention by endeavoring, from November 2015 at least through June 2016, to launch the Moscow Trump Tower Project. The filing notes that this Project would, if realized, bring "hundreds of millions of dollars from Russian sources in licensing fees and other revenues" to Donald Trump, his organization and some of his associates.
The Moscow Project was a lucrative business opportunity that "likely required, the assistance of the Russian government." The Trump campaign, organization, and associates sought that assistance at a time when the Trump campaign knew that the Russian Federation was trying to commit the crime of intervening in the U.S. election.
This is why Senator Rand Paul is mistaken when he said on the Meet the Press on December 9 that "Nothing's wrong with Donald Trump pursuing a hotel deal in Moscow while running for president." Pursuing a hotel project in Russia that effectively required the consent of the President of Russia made Donald Trump beholden to President Putin and prevented him from independently reflecting and representing the interests of America.
The continued pursuit of the Moscow Trump Tower Project thus explains why Donald Trump, his campaign, his organization, and his associates repeatedly tried to curry favor with the Russian Federation, by pursuing policies consistent with the goals of the Russian Federation and even proposing to offer the President of Russia a $50 million penthouse in the Moscow Tower.
Those efforts attempted to advance the financial interests of Donald Trump, his organization and some of his associates, but they were in tension with the interests of the American people. Thus, the efforts defrauded the American people both of a free and fair election and of an independent government solely devoted to the interests of the American people.
How Trump Conspired To Hide The Conspiracies
The Special Counsel's filing also shows that while participating in these conspiracies, Donald Trump, his campaign, his organization, and his associates systematically sought to hide them from the American people. Donald Trump and his campaign repeatedly denied that he or his campaign had any interactions with representatives of the Russian Federation or business with Russia. It now appears that at least 14 members and associates of Trump's campaign interacted with representatives of the Russian Federation in the course of the presidential campaign, in some cases encouraging or enabling the Russian Intervention.
Until this month, Donald Trump, his campaign and his associates repeatedly maintained that Moscow Trump Tower Project was abandoned in January 2016, i.e. before the primaries of the U.S. presidential election. The Special Counsel's filing of December 7, 2018, says those statements are false.
The Special Counsel alleges that efforts to bring the Moscow Trump Tower Project to fruition continued at least through June 2016. Indeed, the fact that Donald Trump still argues that there was "nothing wrong" with pursuing the Moscow Trump Tower Project while engaged in the presidential election campaign may indicate that Donald Trump even today continues to pursue the Moscow Trump Tower Project--despite the obvious conflict of interest with his duties as president. This possibility may shed light on why Donald Trump continues to curry favor with Moscow by pursuing a foreign policy closely aligned with the goals of the Russian Federation and at odds with the entire thrust of U.S. foreign policy over the last 70 years.
How The White House Tried To Guide Other Witnesses
The filing by the Special Counsel's Office on December 7 also states that Michael Cohen not only gave false testimony in August 2017 in private sessions to the Congress and the Senate to the effect that the Moscow Trump Tower Project was abandoned in January 2016, i.e. before the 2016 presidential election. Cohen, in collaboration with associates, also issued a public statement at the same time.
The filing also states that Cohen "amplified his false statements by releasing and repeating his lies to the public, including to other potential witnesses." [italics added] In effect, the filing is suggesting that Cohen's unusual public statement about the content of a private hearing was a signal to other witnesses who were due to give evidence before Congress to align their testimony with Cohen's falsehood. If, as the filing implies, Donald Trump, his campaign or his associates followed that signal in giving testimony, it is possible that they too committed perjury.
How Trump Put Himself At Risk Of Kompromat
There has of course been much theorizing about what the Mueller probe might come up with. Among the most comprehensive analyses was: "What More Do We Know About L'Affaire Russe?" by Quinta Jurecic, and Benjamin Wittes in July 2018. Based on what was known at the time, this article argued that Trump was probably the victim of "soft kompromat" i.e. he himself didn't know whether the Kremlin had anything on him, but was treading carefully on the chance that it might. As New Yorker writer Adam Davidson explained:
"A decade or so ago, Trump, naïve, covetous, and struggling for cash, may have laundered money for a business partner from the former Soviet Union or engaged in some other financial crime… He fears that there is kompromat out there--maybe a lot of it--but he doesn't know precisely what it is, who has it, or what might set them off."
That may be true. But on December 7, the Special Counsel's filing goes further. In addition to any soft kompromat from shadowy dealings a decade ago, the Special Counsel's filing points to the risk of hard kompromat from Trump's dealings in the here and now--the Moscow Trump Tower Project.
Thus, the Russian Federation knew that Trump and his campaign were lying to the American people about the pursuit of that Moscow Project in the course of the presidential campaign of 2016 and subsequently as presiden6t. Since the Russian Federation knew what Trump was up to--while the American people didn't--Trump himself is at risk of becoming a victim of hard Kompromat and in effect turning himself into a Russian intelligence asset.
Those who thought Mueller might be close to wrapping up his investigation may need to think again. Recent developments demonstrate that prosecutors, both in the special counsel's office and elsewhere, are still actively pursuing a number of investigations that have yet to be fully revealed. There are likely a number of potentially very large shoes still to drop.
But about all Mueller can do in the end is indict a large number of people and have those people involved in cooperation deals where they give significant enough information regarding criminality by Donald Trump, which the DOJ then gives to Congress as a referral for impeachment proceedings. Impeachment proceedings do not preclude him being criminally tried once he is removed from the Oval Office should that happen or once his presidential term ends. So it's not that Donald Trump can never be indicted or tried, just not while he's in office.
If things continue as per above the Mueller report probably will show a year's long course of bribery, money laundering possibly to the extent of RICO violations on the part of the Trump Organization, which were the approximate cause of Donald Trump's historically pro-Russian foreign policy and historically anti-America to the extent that the foreign policy he offered toward Russia had no benefit whatsoever to the United States. So I think it will show that.
And it might also show that there was an illegal source of donations during the campaign. That after August 17, 2016, when Donald Trump and Michael Flynn had their first classified security briefing as Trump being the candidate of the Republican Party, they were told the Russians were committing cyber crimes against the United States and trying to influence the election. Robert Mueller might find that after that meeting, Donald Trump engaged in sufficient actions to be charged with aiding and abetting computer crimes after the fact by trying to cover up, with the assistance of the Russians who had committed the hacking and who committed the disinformation propaganda campaign, any role the Russians had in coordinating WikiLeaks to get this information to the American voters. All of that is separate from the other half of Mueller's investigation which can be broadly called obstruction, and quite possibly witness tampering as well.
P.1, 12 Aug. 2018: The Trump/Russia investigation what can be said today.
P.2, 17 Nov. 2018: What Robert Mueller Knows.
P.3, 19 Nov. 2018: Example of why Mueller is looking at a bribery, money laundering, fraud, and conspiracy case involving multiple nations.