By Eric Vandenbroeck
In a book released in April (The Algebra of Warfare-Welfare: A Long View of India's 2014 Elections, Oxford University Press) the authors describe Indian democracy as  more like a spectacle of crass majoritarianism where denial of justice to victims of the state-mediated massacres - whether of the 1984 anti-Sikh riots, 1996 anti-landless massacres (in Bihar's Bathani Tola and Laxmanpur Bathe), 2002 anti-Muslim riots and many more - militates against any genuine democracy. And that the "road shows" politicians organize during the election periods show nothing except their own faces because actual challenges ordinary people face largely remain concealed.
Below Narendra Modi during his 2019 roadshow in Varanasi: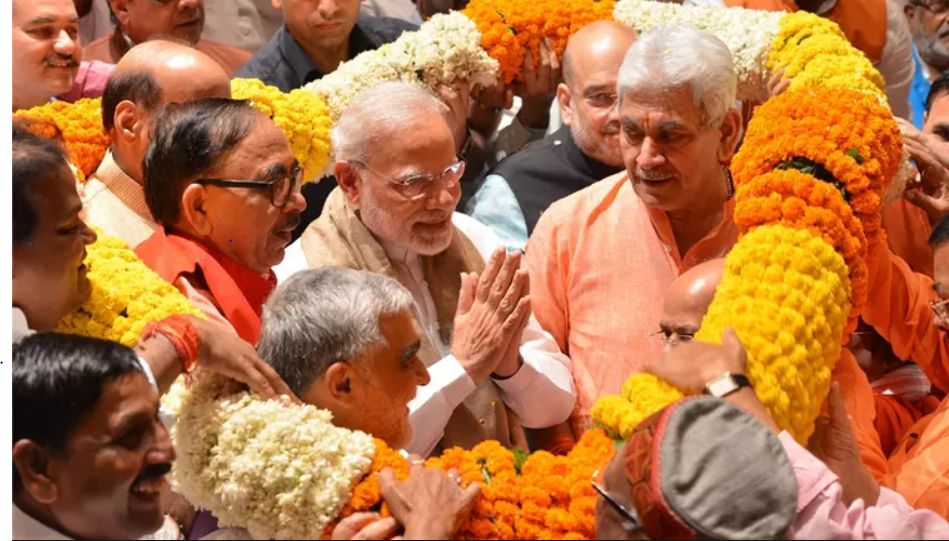 With below Modi that same day in Varanasi performing the Hindu religious ritual called Ganga Aarti: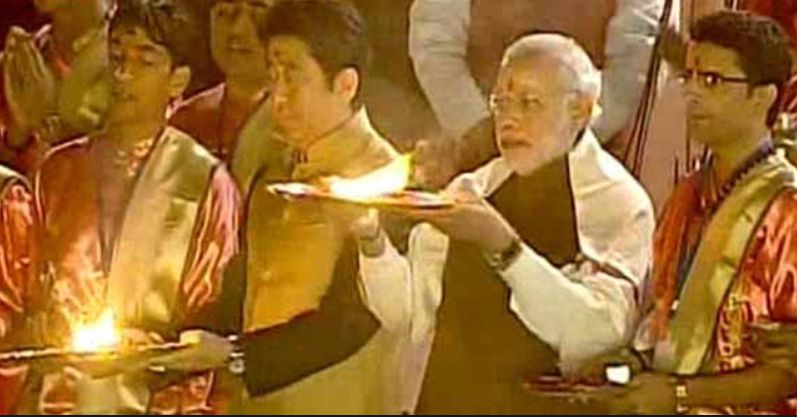 While I soon will come to the Kumbha Mela (/ˌkʊmb ˈmeɪlə/) it should be mentioned that Narendra Modi is a lifelong adherent of the Hindu nationalist movement called Hindutva, and particularly his closeness to the Rashtriya Swayamsevak Sangh (RSS).
The power of the secretive, all-male Rashtriya Swayamsevak Sanghstretches way beyond dusty villages and sprawling urban centers. More members of the group, founded in 1925, are in the top ranks of government than ever before -- including India's president and vice president, the head of the ruling party and even Prime Minister Narendra Modi, who joined its children's unit when he was eight years old.
Underneath Volunteers of the Rashtriya Swayamsevak Sangh (RSS) gather for a large-scale congregation in Meerut on Feb. 25, 2018. Photographer: Sajjad Hussain/AFP via Getty Images: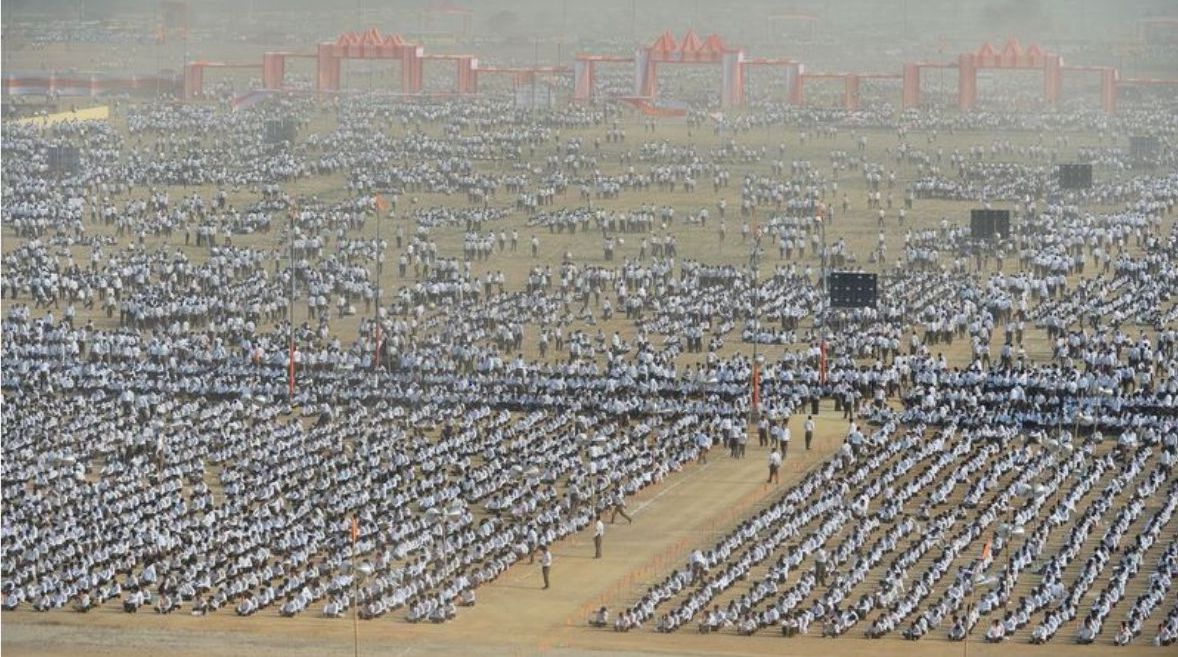 For nearly a century, the RSS has sought to place itself at the center of the country's policy-making process. During Modi's regime it has grown exponentially, with a 32 percent rise in daily gatherings across the country, according to figures provided by the organization.
This was also illuminated by James Crabtree's 2018 book " The Billionaire Raj: A Journey Through India's New Gilded Age" where during an interview with Crabtree Modi's brother Prahlad the latter recalls that Modi started on his current path as a full-time volunteer  and lived in the Ahmedabad headquarters of the RSS where he went "very deep into the RSS and its works of nation-building and patriotism" and "decided to dedicate his life to that."(1) Modi then set up a unit of the RSS's students' wing, the Akhil Bharatiya Vidyarthi Parishad, after which, Modi rose steadily in the RSS hierarchy, and his association with the organization significantly benefited his subsequent political career.
It is known of course that the RSS has been banned several times since its inception in 1925, once after a former member of the group assassinated independence hero Mahatma Gandhi in 1948.That attack came after the RSS accused Gandhi of appeasing Muslims at a time when Pakistan, an all-Muslim nation, was being carved out of India. The ban was later lifted in the absence of any evidence the group planned the attack.
According to Walter K. Andersen and Shridhar D. Damle the RSS sought to draw upon the dense network of mutts, ashrams and other organizations of monastic orders to develop political Hinduism.(2)
A group of RSS pracharaks (which take four levels of training) act as the core of the body, a vast network of prominent sadhus of various Hindu religious sects formulate Hindu perspectives not just on social but also on political issues.
In 1985 the RSS assigned Modi to the BJP, when Modi rose to the rank of its General Secretary. Modi then was appointed Chief Minister of Gujarat in 2001 where his administration has been considered complicit in the 2002 Gujarat riots.
The turning point of the dispute was the planting of an idol of an infant Ram in the Babri Masjid on the night between December 22 and 23, 1949. It was this conversion of the mosque into a temple that led to what initially was a legal battle.
By the time Modi was appointed Chief Minister in 2001 Gujarat and had become a kind of laboratory for the spread of BJP Hindu Nationalism where hard-line Hindus called for the Babri mosque to be destroyed. It was built on the exact spot in Ayodhya where Hindu faithful believe a Hindu god, Lord Ram, was born. Some believe a Hindu temple stood there centuries earlier, though it's a matter of debate among archaeologists.
In the late 1980s, calls for the Babri mosque's destruction grew louder when Hindu nationalists — those who believe India should be a Hindu nation — were gaining influence. Then in 1992 RSS members were among those wielding hammers back in 1992 at the Babri mosque. Footage from that day shows mobs rampaging through Muslim homes and businesses in Ayodhya.
Even a decade later, in 2002, the memory of the mosque's destruction remained so incendiary that a train carrying Hindu pilgrims from Ayodhya came under attack in the Indian state of Gujarat, sparking riots that left more than 1,000 people dead — most of them Muslim.
Many blamed Modi for doing little or nothing to stop the violence. (In 2005, Modi was even denied a U.S. visa for this reason).
Senior Gujarat police officer Sanjeev Bhatt has told the Supreme Court in an affidavit that chief minister Narendra Modi had asked police officials to "let Hindus vent out their anger against Muslims following the Sabarmati Express train burning incident in Godhra on February 27, 2002".
Claiming that the riots were systematically planned by a political party with the help of criminal elements, Bhatt said, the riots could have been averted had timely action been taken.
"Such things (mass killing) will continue, unless and until we raise our voice. First 1993 riots in Mumbai, then the 2002 riots took place in Gujarat. If we keep quiet now, then things will not change. If Muslims were killed now (in Godhra riots), Hindus may be killed tomorrow," Bhatt said.
Shankar Menon, a former bureaucrat of Maharashtra government, said, "When I had spoke to the then deputy collector in Gujarat, the collector told me that Modi had asked to take three Muslims lives for each Hindu."
The relationship between Modi and Hindu religious groups continued to be visible including also during the 2013 Allahabad  Kumbh  or Kumbha Mela which was estimated to have been visited by 120 million people when it strongly urged ascetics to communicate to Hindus across the country that supporting the BJP and Narendra Modi in the 2014 Lok Sabha elections was a divine project.
Nilanjan Mukhopadhyay, an expert in Hindu nationalist politics and author of a Modi biography, said that the Kumbh Mela has always been used by right-wing Hindu groups to promote religious polarization and mobilize support for issues like the Ayodhya dispute.
What gave the 2013 Kumbh an extra frisson however was the image creation of Narendra Modi -- the chief minister of Gujarat during the anti-Muslim carnage of 2002, who seemed set to become the BJP's prime ministerial candidate -- as the best choice for political leadership in the country because he alone could ensure the success of the divine project of Hindus.
According to recent interview with Walter Andersen, a professor of South Asia studies at Johns Hopkins University in Washington, who has studied the right-wing group for over five decades and also co-authored two books on the RSS, the organization now has unprecedented influence across India. "On policy process, yes, it is much more active and outspoken than ever before and that is because the affiliates have grown rapidly and those affiliates have penetrated every aspect of Indian society,'' Andersen said. Modi enjoys their support because they "have a measure of influence in a BJP government to achieve what they want.''
While the RSS officially says it's apolitical, volunteers work in their "individual capacity" at polling booths to ensure maximum voter turnout for the ruling party. They coordinate with millions of members from its 40 affiliated organizations, including labor, student and education wings, as well as another 500 social groups that want Modi to win again.
Thus during the 2019 Kumbh, Uttar Pradesh authorities set up temporary bridges, hundreds of mass kitchens, more than 120,000 portable toilets, temporary power stations and arranged thousands of free shuttle buses.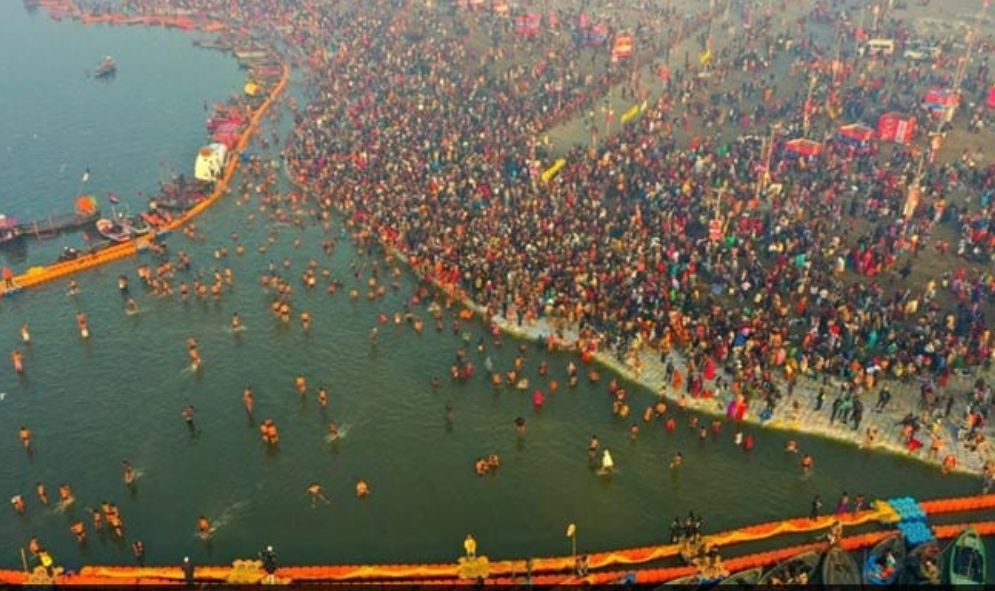 Images of Prime Minister Narendra Modi and Uttar Pradesh Chief Minister Yogi Adityanath, the two prominent poster boys of Hindutva, loomed large on giant billboards all over the Mela area, while RSS workers roamed the grounds in groups, making the religious congregation seem more like a party meeting rather than a fair of sadhus and pilgrims.

It was nearly impossible to take 20 steps along the pilgrimage route without passing a huge sign featuring Mr. Modi's face or the grinning visage of his close ally, Yogi Adityanath, the monk turned chief minister of this state, Uttar Pradesh.
According to Mukhopadhyay embellishing his image as a man of action, Modi likes to be portrayed as a modern-day Vivekananda, a monk with a mission. In his words: "I am not religious but I am definitely spiritual." "Even now I have not completely returned to the material world … I felt that if I have to do something then I have to become part of some system, some structure." Probed by Mukhopadhyay about his role as a leader, he says: "I think it is probably a god-gifted ability … Even I do not know how God gets me to do these things or how I come to get these ideas."
Behind his carefully cultivated persona of sociability Modi is an undoubtedly astute operative. And regardless of whether he continues forging his legacy for another five years, there are crucial ways in which he has already permanently 'Modi-fied' India's political landscape. Recent temple visits by the INC president, Rahul Gandhi, in poll-bound states and the reluctance of veteran liberal Shashi Tharoor to denounce gender segregation at a Kerala temple demonstrate the frenzy into which Modi has spun his opponents. Insecure as India's conservative majority may be, it maintains a grasp on power which makes it impossible to ignore.
First articulated in Vinayak Damodar Savarkar's seminal 1923 treatise "Hindutva: Who is a Hindu?", this world view holds that followers of Islam and Christianity cannot claim equal membership in the Indian nation, and indeed pose an existential threat to it, as their sacred sites lie elsewhere.
Many Indian liberals supported Modi in 2014, hoping for decisive economic reform while turning a blind eye to his Hindutva agenda. This time round, there can be no illusions that a vote for the BJP is simply a vote for faster economic growth. Along with the dream of a developed, prosperous India, the party seems to be grooming voters for the sociopolitical ascendance of the militant Hindu nationalism that cheered the destruction of the Babri mosque.
But it is crucial to remember that since the 1980s, the Hindutva movement rode on a wave of evolving media and technology as much as of democratic criticism against a liberal democracy that acted in the interests of privileged elites (chießy embodied by the Nehru-Gandhi family). Hindutva thus appropriated popular urges for the democratization of an often self-serving and benevolent established democracy.
The mainstreaming of Hindutva ideology under Modi's leadership has already changed India's political climate in fundamental ways. Now the country faces an existential question, according to Shashi Tharoor, Congress party leader and author of the book Why I Am a Hindu.
"Is India going to be the India of the freedom struggle and the constitution, which sees every Indian as equal irrespective of their religion, their region, their language, their caste or any other marker of their identity from birth?" he asks. "Or is India going to be redefined as an ethno-religious state in which Hindus will be seen as the constituent elements of the nation, and all other minorities will be here on sufferance, as guests or interlopers?"
Having now spent, largely without interruption, almost a century violently working themselves through India's diversity and democratic structures, they also have recruited large numbers especially of young unemployed or underemployed men for the "defense of Hinduism" in paramilitary groups such as the Bajrang Dal (Hanuman's Force). Over the past few years they have also been trained in the use of firearms. Modi and his professionally agitated supporters are thus if that were to happen, not likely to take losses in these elections lightly.
On the day before the final election is to take place, in a series of tweeted images, Modi, is seen meditating while wrapped in an orange robe at a holy cave located at a famous Himalayan pilgrimage site: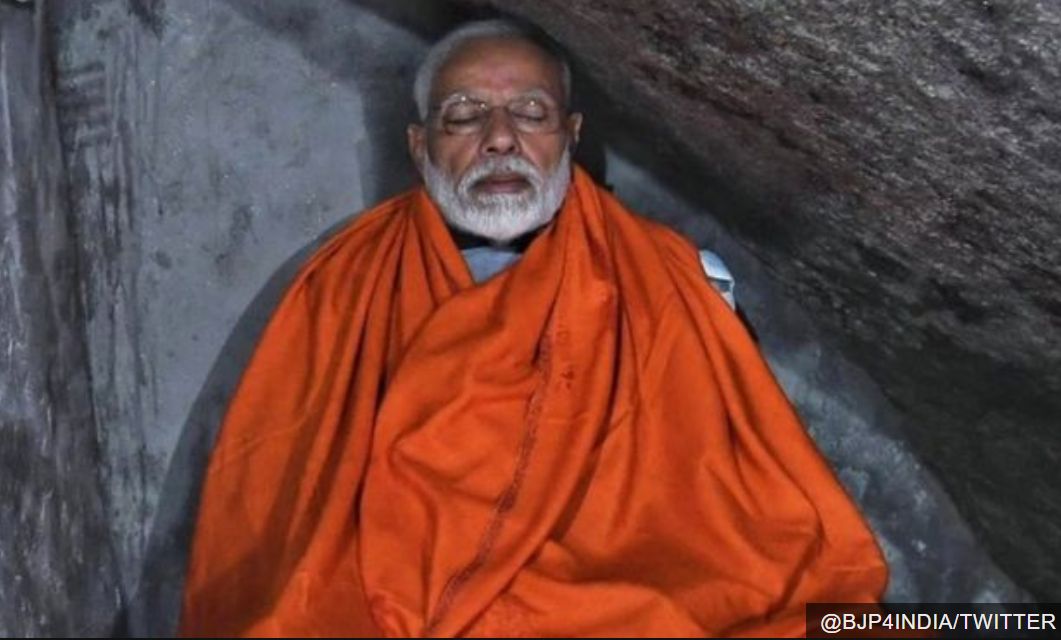 Thus tomorrow May 19, will mark the final and seventh phase of this endurance test in democracy. Voting will take place in eight states across 59 constituencies, with the entire state of Punjab voting for the first and only time.
Another aspect of Modi's ideology that I have not expanded on in the above article is illustrated by an article last year titled: Blood nationalism: Why does Hindutva perceive a mortal danger from the Aryan Migration Theory?
In an 2 June 2018 article I presented a factual overview of the current stand of research about the alleged "Aryan migration theory" and the current stand of research as to where the Indo-European languages came from.
1) James Crabtree, The Billionaire Raj: A Journey Through India's New Gilded Age, 2008, p. 123
2) The Brotherhood in Saffron. The Rashtriya Swayamsevak Sangh and Hindu Revivalism, 1987, p. 133
For updates click homepage here