For seven decades, North Korea's ruling Kim family maintained its grip on power with a simple conceit: nobody but the Supreme Leader could rule the country.
Adding to the rumor mill surrounding Kim Jong Un, a five-minute video made to look like a news report has emerged in North Korea, claiming the country's leader dropped dead during an inspection, according to a report.
Authorities in the Hermit Kingdom have set up a task force to investigate how the footage made it inside the country, the UK's Sun reported Wednesday.
The faux news report, which was mocked up to appear like a real one from state broadcaster Korean Central Television, is believed to have made it over the secretive country's border from China, according to the news outlet.
It claimed Kim, 36, died Saturday and will be replaced by his 32-year-old sister, Kim Yo Jong, who has been reported to be his most likely successor, though the despot's uncle Kim Pyong Il also has emerged as a possibility.
Included in the video are clips from his father Kim Jong Il's 2011 funeral, as well as screenshots of nonexistent articles about the despot's alleged death, according to the South Korea-based Daily NK.
The video's circulation throughout North Korea comes after a viral photograph appeared to show Kim lying in a coffin, an apparently doctored version of an image of his father.
Enter China
From the outside, the Kim family regime appears unassailable, but whatever is happening to the leader raises the specter of an uncertain transfer of power with no clear heir in sight. If factions face off, a vicious internal conflict is certain, and a civil war not unthinkable. With North Korea's nuclear and ballistic missile sites potentially falling into the hands of whoever acts most quickly, Asia could face an unprecedented nuclear crisis.
Of these known unknowns, one stands out above all: Could any weakness in the Kim regime induce China to try to assert control over Pyongyang? If crisis equals opportunity, then it is only prudent to consider how Chinese President Xi Jinping might view making a bold move to reshape the regional balance of power. A successful intervention by Beijing would permanently alter the geopolitical map of East Asia, isolating Japan and reducing U.S. power in the region.
This is the most dangerous moment for the three-generation Kim regime in decades. Some reports claim that Kim Jong Un either had emergency heart surgery or is in a vegetative state, and that Beijing has already sent a team of medical experts to help. The dictator has not been seen in public for weeks and missed several high-profile events, including the country's main national holiday, which celebrates the birth of his grandfather and founder of the regime, Kim Il Sung.
Kim is only 36 years old but has hardly been the picture of good health. Obese, often photographed smoking cigarettes, and likely to enjoy the same sybaritic lifestyle of his father, he has been a prime candidate for a health crisis. And while the North Korean state media insists the country has no coronavirus cases, it cannot be ruled out that the supreme leader is a victim of the pandemic.
Coming to power in late 2011 after the death of his father, Kim Jong Il, Kim ruthlessly consolidated his position. Named heir only the year before the elder Kim died, the little-known successor executed his powerful pro-Beijing uncle, Jang Song Thaek, and later reportedly had a half-brother murdered in Malaysia. His own children are still young, leaving a gap in who would take over as ruler or regent. If he is indeed incapacitated, it may be taking weeks for the regime to acknowledge the fact precisely because of behind-the-scenes machinations.
A power struggle is thus an entirely possible scenario, whether Kim is dead or weakened. His sister, Kim Yo Jong, has been raised to near second-in-command status, but she is only 32 years old—and whether North Korea's patriarchal system would accept a woman as supreme leader is unknown. Top military officers might decide to install a puppet or fight among themselves for dominance. Outsiders' lack of knowledge about the dynamics of power in North Korea makes assessing any of this difficult.
Kim's apparent medical crisis offers Beijing the first real opportunity in decades to strengthen its hand over Pyongyang. Kim's apparent medical crisis offers Beijing the first real opportunity in decades to strengthen its hand over Pyongyang. Even if Kim reappears tomorrow, the questions over his health and the regime's cohesion will certainly make the Chinese Communist Party consider if it might be an opportune time to move in.
Kim has had a fraught relationship with Xi, reportedly spurning multiple requests to meet until acceding in March 2018, a few months before his pathbreaking summit with U.S. President Donald Trump. Pyongyang's independence is legendary; its successful nuclear and ballistic missile programs make the rogue state even more resistant to external pressure.
The opportunity to bind North Korea more tightly to China and maintain it as a buffer state facing U.S. allies South Korea and Japan would be a geopolitical gift to Xi. Regaining the influence Beijing lost in Pyongyang with the execution of Jang would be another reason to make a move. Moreover, South Korea's political left is ascendant after legislative victories this month, and President Moon Jae-in has deepened his country's ties with Beijing. In short, the trends have been more auspicious for a dramatic expansion of Chinese power on the Korean Peninsula.
Exerting political control through economic power is one route for Beijing. Another, more difficult path would be an actual physical move into North Korea. In a world distracted by the coronavirus pandemic, Beijing might well make a bold gamble to intervene in North Korea in the name of peace and order, supposedly to prevent a government collapse and humanitarian crisis. Suborning North Korean military leaders based near the Chinese border would ease passage toward Pyongyang, along with making deals with regime insiders beforehand. Securing nuclear and missile sites, ostensibly to ensure stability, would cement Beijing's control over the Kim regime. A pliant client state, perhaps even headed by Kim's sister, would naturally follow.
The geopolitical implications of Beijing's control over North Korea would be enormous. Given the likelihood that Chinese naval and air force units could be present in North Korea, Chinese and American forces would face each other across the Demilitarized Zone. That would make the U.S. alliance with South Korea much more difficult. With both pressure and inducements from Beijing, Seoul could even decide to throw in its lot with China. With both pressure and inducements from Beijing, Seoul could even decide to throw in its lot with China; given Moon's leanings and an endemic anti-Americanism in South Korea, that should not be inconceivable. Beijing could neutralize any Southern opposition to reduced or severed ties with Washington by promising to help Seoul enforce its control over the Liancourt Rocks, a group of small islets held by South Korea, which refers to them as Dokdo, and also claimed by Japan, which refers to them as Takeshima. The Chinese navy would thereby gain access to the strategic Korea Strait, which connects the Sea of Japan, Yellow Sea, and the East China Sea, helping Beijing dominate Asia's vital inner waters.
That, in turn, would leave Japan isolated in Northeast Asia, facing a Chinese-dominated Korean Peninsula and with little choice but to dramatically increase its military budget, perhaps including the nuclear option. Tokyo would also put enormous pressure on Washington to maintain a credible military capability in the region.
Kim's true whereabouts?
We should add that recent satellite photos indicate that North Korean dictator Kim Jong Un might actually be at a luxury coastal resort on the Hermit Kingdom's northeast coast, despite worldwide speculation about his health.
On Tuesday, the North Korean-monitoring website NK Pro reported that recent commercial satellite imagery showed leisure boats often used by Kim near his exclusive villa in Wonsan.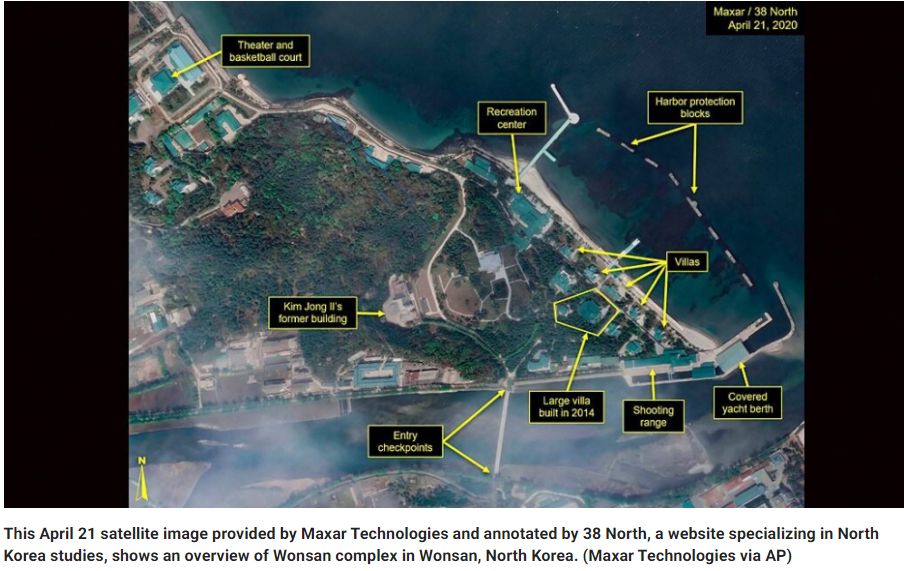 The Wonsan compound features guest villas, a private beach, basketball court, a covered yacht berth, shooting range and private train station.
The North Korean dictator is believed to have a multimillion-dollar yacht. It was spotted in the background of photos released by state media in 2013.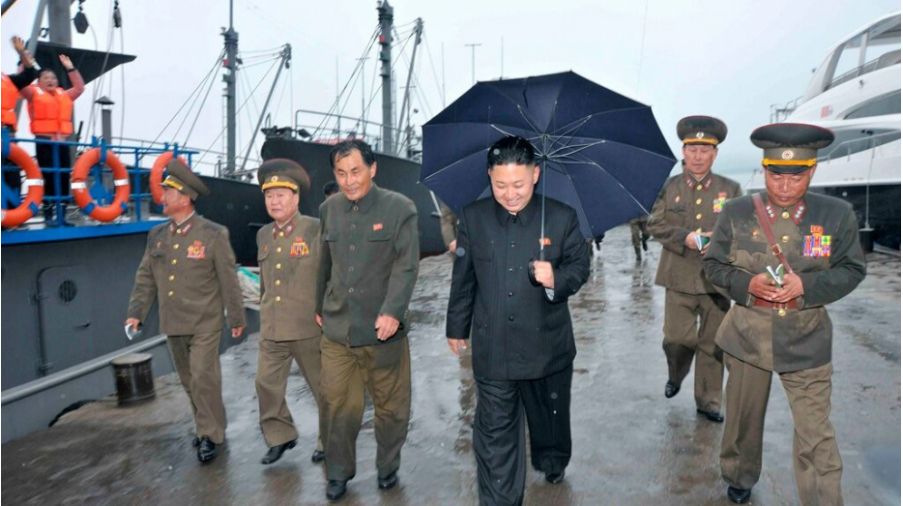 The NK News website at the time said the yacht was the 95-foot Princess 95MY. The vessel, which has four double berths, three with en-suite bathrooms, flat-screen televisions, and a dining table large enough to seat eight, was valued around $7 million in 2013, the South China Morning Post reported.
News about the leisure boats came after satellite photos released Saturday by 38 North, a Washington-based website specializing in North Korea studies, showed increased activity in the resort town of Wonsan in April.
Kim's train has been parked at the Leadership Railway Station servicing the Wonsan compound since at least April 21, 38 North said Saturday, citing an analysis of recent satellite photos of the area.
For updates click homepage here