By Eric Vandenbroeck and associates
With Sultan Qaboos being replaced by its new ruler Haitham bin Tariq Al Said new challenges appear.
Oman's Qaboos was the last of a special Gulf Arab breed, a leader whose rule bridged the poverty of the pre-oil era and the wealth of the post-petroleum boom. America and Iran, Iran and Israel, Saudis and Houthis, Sunnis and Shiites, the ruler of Oman shuttled between them all.
While America and Europe preach democracy, Iran Islamic revolution and the dictatorships of the Middle East various forms of Arab socialism, the importance of preserving Oman's mild-mannered autocracy is paradoxically the one thing on which all rivals agree.
Internationally, he allowed his capital Muscat to be used as a meeting place for the region's many enemies.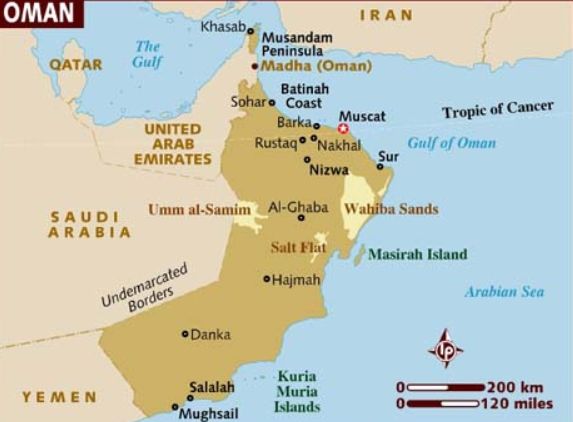 The strategic Importance of Oman
Because of its earlier history as an Indian Ocean empire, Oman has an unusually diverse population, including large numbers of Baluchis, South Asians and Swahili-speaking East Africans, as well as Arabs. Although it has a large Sunni population and a small Shiite minority, its predominant form of Islam is the much smaller, austere Ibadi sect, which tends to be politically quietist and tolerant of other faiths.
By turning this distinct, mixed heritage into an overriding national value, Qaboos was able to unite a divided population, now about 4.6 million strong, under his modernizing regime. It helped that he also kept the country tightly in his grip, personally holding the titles of defense minister, foreign minister, finance minister, prime minister and commander of the armed forces, and swiftly quelling any hint of religious extremism.
In the first two years of the current US administration, Sultan Qaboos bin Said, the late ruler of Oman, confronted a stark situation: Iran-backed Houthi rebels were fighting on his doorstep in Yemen, Israel was attacking his Palestinian allies, and Washington was largely giving up on diplomacy in the Middle East.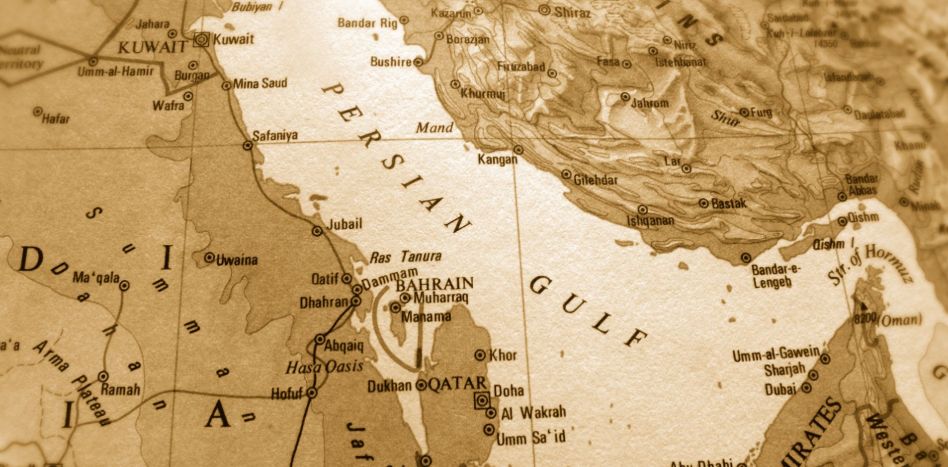 Instead of seeking refuge in the Saudi Arabia-led alliance of Sunni Gulf states, the veteran leader did something different. First, he invited the Iranian president, Hassan Rouhani, to his palace in Muscat. Then, he welcomed Prime Minister Benjamin Netanyahu of Israel and Yossi Cohen, the head of the Mossad, Israel's spy agency, for a formal state visit.
In almost any other Arab country today, hosting the leaders of both the Jewish State and the Islamic Republic would be unthinkable. For Qaboos, who died on Jan. 10 after running his country for nearly 50 years, this was simply a way of reinforcing Oman's status as the region's most ambidextrous conciliator.
As recently as November, Oman hosted indirect talks between Saudi Arabia and the Houthi rebels to try to end the devastating five-year war in Yemen. Yet the greatest fruit of Qaboos's diplomacy was the rapprochement he helped engineer between Iran and the United States.
While diplomats and rebel groups negotiated behind the scenes, Muscat was known for its internationally acclaimed opera house, which was inaugurated by Plácido Domingo and Franco Zeffirelli in the fall of 2011, at a time when the surrounding region was convulsed in protests. (Oman had its Arab Spring, too, but it was carefully swept under the rug.)
Cultivated and worldly, the bachelor sultan cut an impressive figure to generations of Western statesmen and Middle East leaders alike. "He has the soul of an artist," Mr. Netanyahu commented after his visit in 2018. "We found out that we read the same books."
As we will see underneath Iran relations trace back to the early 1970s when Iranian troops helped the sultan's armed forces defeat a revolution taking place in Dhofar, the southern region of Oman. At the request of Sultan Qaboos, Mohammed Reza Pahlavi, the last shah of Iran, sent troops and military assistance to back the sultan. Qaboos, who had become ruler of Oman in July 1970 after a British-led coup, was leading a British-backed war against the Marxist revolutionaries, the Popular Front for the Liberation of Oman and the Arabian Gulf (PFLOAG). The guerrillas had waged an 11-year anti-colonial revolution in Dhofar from 1965 to 1976, fighting British imperialism in Oman and the region. With Qaboos's victory, the modern Omani nation emerged.
In recent years, Oman has been a vital conduit for Iran in diplomatic matters. Most notably, in 2012, the Omanis facilitated secret talks in Muscat for senior American and Iranian officials ahead of the multilateral negotiations for the 2015 Iran nuclear deal. The Omani channel helped resolve differences between the two sides and also made way for the historic phone call between then-U.S. President Barack Obama and Iranian President Hassan Rouhani in 2013. In other high-profile cases, the Omanis have played an important role in mediation. They negotiated with the Iranians for the release of three American hikers, who were detained in 2009. Leaked cables showed that in a communication with the U.S. Embassy in Oman, Yusuf bin Alawi, the Omani foreign minister, had "offered Oman as both an organizer and a venue for any meeting the U.S. would want with Iran—if kept quiet." Similarly, when the Iranian Canadian academic Homa Hoodfar was released in 2016, she thanked Omani officials for helping to secure her release.
Underneath Sultan Qaboos and Iranian President Hassan Rouhani in 2014: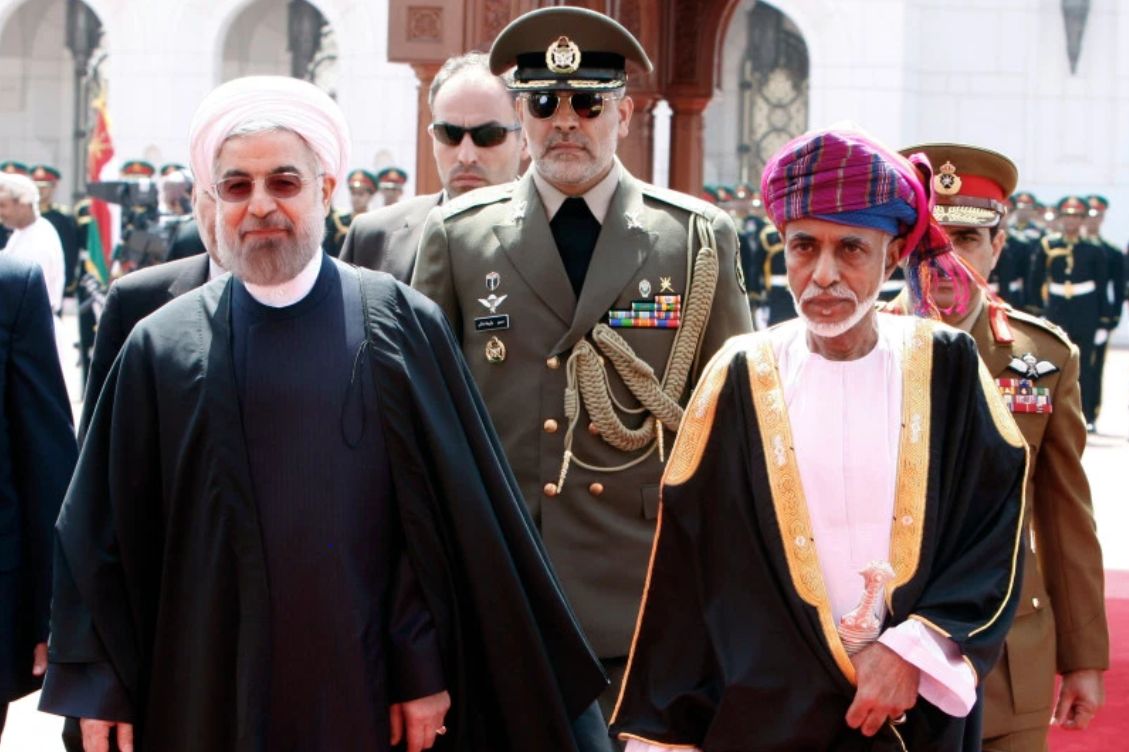 Thus Qaboos was the last of a special Gulf Arab breed, a leader whose rule bridged the poverty of the pre-oil era and the wealth of the post-petroleum boom. After taking power from his father in a palace coup in 1970, the 29-year-old Qaboos took the helm of a state, but not a nation.
The re-inventing of Oman
After taking power from his father in a palace coup in 1970, the 29-year-old Qaboos took the helm of a state, but not a nation. At the time, Oman seemed benighted, with hardly any paved roads, overwhelming poverty and illiteracy, and Qaboos's eccentric father, fearing change, had banned many forms of modern technology, even eyeglasses. A Marxist rebellion roiled the south, threatening to tear the country apart.
Its neighbor in Communist South Yemen sought to export revolution through an active rebellion in Dhofar province; its Gulf Arab brethren in the budding United Arab Emirates and Saudi Arabia coveted Omani territory and gaining influence in its royal palace. In the mudbrick towns around Nizwa in the interior, the followers of Oman's ousted Imam Ghalib Alhinai, a formerly independent religious-political authority, grumbled against Muscat after enduring the government's British-backed conquest of the interior regions in the 1950s. But the once-mighty British Empire was in fatal decline, and it was not clear who might replace it as guarantors in those unstable Cold War days.
However, with much help from Britain and the shah of Iran, the young sultan handily suppressed the uprising. Then, exploiting the country's oil reserves, he set out on a program of rapid development centered around schools, roads, hospitals and a strong assertion of Omani identity.
To fend off competitors and keep Oman's foreign policy largely independent, he made Oman useful to powers big and small, from the United States and the United Kingdom to Iran and Israel. He spread out Oman's limited energy wealth to key tribes, villages and business figures, building a wide network of supporters loyal to his direct handouts, relying on them and his security forces to keep Omani politics in stasis.
By the 1980s, Oman's "al-nahda," or the renaissance, as the country's transformation is officially known, was well underway, and Qaboos could apply his skills as a unifier to foreign policy. During the Iran-Iraq war, Oman maintained ties with both sides, and the sultan hosted secret peace talks. In the 2000s, Oman became particularly adept at bridging the Shiite-Sunni divide, despite active membership in the Gulf Cooperation Council, the alliance of Sunni monarchies that includes Saudi Arabia and the United Arab Emirates.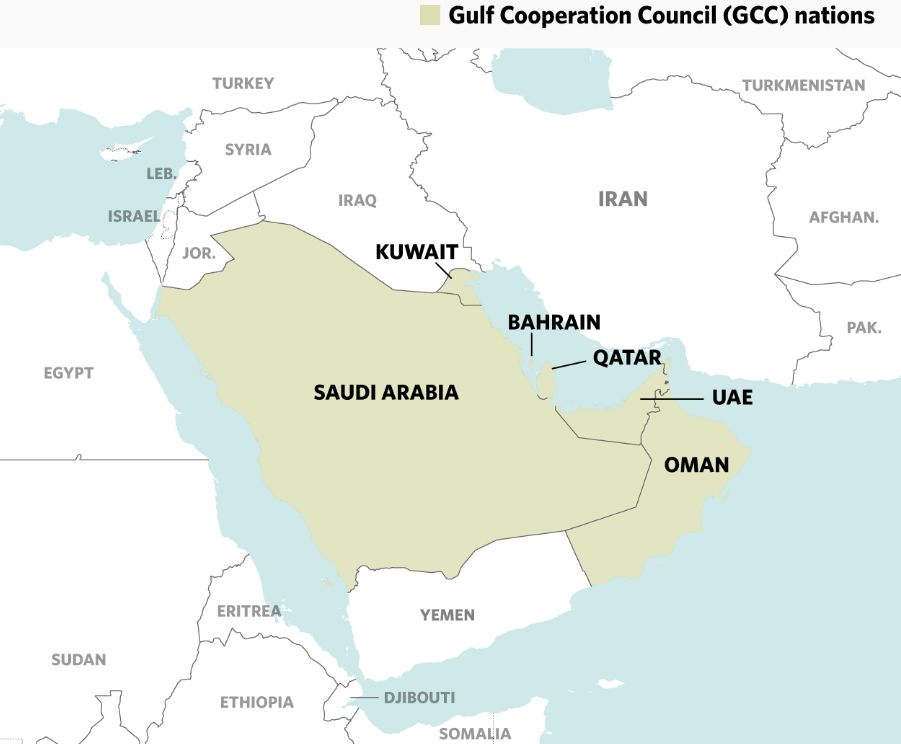 Even as this diplomacy was unfolding, however, the sultan's own liberal autocracy was coming under increasing pressure. Nearly half of Oman's growing population is under 25, and with declining oil revenues, job growth had not kept apace. During the Arab Spring, Oman experienced widespread protests, some of them aimed directly at the regime. Young activists called for an elected legislature and even a contractual constitution, and, as thousands took to the streets to demand jobs and political freedoms, there were violent clashes with police.
Badly shaken, Qaboos quickly announced 50,000 new jobs and gave his advisory councils some additional powers. He also placed new limits on free speech, and several dozen bloggers and activists were arrested.
Charting the future of Oman
Oman's new ruler, Haitham bin Tariq Al Said, has promised to continue Qaboos's policies and is expected to be much aided in this by Yusuf bin Alawi, the late sultan's seasoned lead diplomat.
But Haitham has little of the clout of his revered predecessor, nor is it clear that he can count on the close relationship with the United States that Oman had long enjoyed.
A few months after coming to office, President Trump held talks with every member of the Gulf Cooperation Council except Oman. Since then, his administration has cut military aid to the country while enhancing ties with the Saudi crown prince. Apparently, the sultanate is now viewed as too close to Iran.
While Oman has been presented in glowing terms in most of Sultan Qaboos's obituaries, an understandable sentiment given the country's relative peace, prosperity and tolerance compared to much of the region, its future is not assured.
Also as seen in the end, Qaboos' strategies were not perfect: Being closer to Iran often meant angering his Gulf Arab compatriots in Abu Dhabi and Riyadh. His all-important alliance (and subsequent troop basing agreements) with the United States kept Oman in the crosshairs of Iranian missiles, should the dreaded all-out regional war ever begin. By doling out Oman's state wealth, he bought loyalty at the price of birthing deep and lasting corruption, a rot that must be addressed should Muscat's post-hydrocarbon future ever be realized. And while his monopolization of Omani politics may have minimized dissent, it did not eliminate it: in the Arab Spring, young Omanis risked their reputations and their personal freedom to demand a better economic deal from the sultan. The legacies of these imperfect strategies are now what he bequeaths to Haitham.
As the U.S.-Iran confrontation heats up, Iran's regional neighbors are assessing where they stand in the event of a serious escalation. Washington and Tehran have stepped back from the brink of war following the U.S. assassination of senior military figure Qassem Soleimani. But should such a tit-for-tat escalation occur again, spiral further or last longer, the Persian Gulf risks being increasingly perceived as a dicey business environment, which could have lasting economic repercussions for the members of the Gulf Cooperation Council including Oman.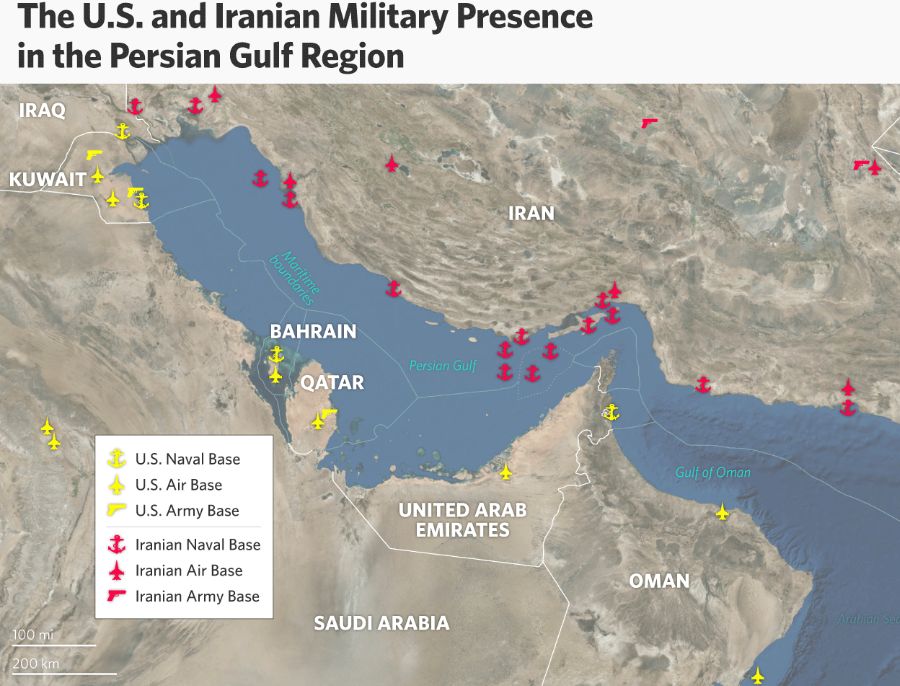 Oman's new leader thus faces plenty of challenges abroad, starting with the Saudis and the Emiratis. Qaboos kept them at arm's length, pivoting to the United States to fend off their policies while relying on his own personal mystique to prevent the influence of his powerful Gulf neighbors from building inside his borders. Haitham can, of course, stay close to the United States and may yet strengthen his predecessor's work by drawing closer to Israel as a means to gain support from Washington, in addition to being a useful partner to regional U.S. goals. But he has none of Qaboos' mystique, and as an inheritor of a wobbly Omani economy, a desperate need for investment. As Saudi and Emirati money flows into Oman, Haitham will need to find a way to ensure that Omanis continue to see him as the center of the nation, and not begin to feel split loyalties to foreign investments.
He will also need to help manage the U.S.-Iran confrontation, mediating between both sides without being seen as favoring either, considering the danger of Oman's being dragged into a war between them. Several Omani bases host a number of U.S. troops, who would be considered targets should Iran's regional retaliation grow large enough, and already oil tankers not far from Oman's waters have been sabotaged by Iranian forces. Can Haitham repeat Qaboos' deft balance and keep Oman useful to all and a threat to none? Or will he decide that he must change tack, hew closer to either America or to Iran, and change the country's diplomatic strategy to prevent Oman from being pulled into war?
Other questions are how Sultan Haitham will manage relations with Trump. Sultan Qaboos is said to have been upset by the president's decision to withdraw from the nuclear deal with Iran, which grew out of secret talks in Muscat.
Trump sent only a middling delegation to his funeral, led by the energy secretary. But the new sultan will be familiar with the Americans from his days as a diplomat when he helped negotiate agreements that allow America to use Omani airfields and position military kit in the sultanate. If Trump decides to pursue his own deal with Iran, he may ask for help.
Other Gulf states, meanwhile, may see an opportunity to meddle. Saudi Arabia and the United Arab Emirates (uae) resented Sultan Qaboos' neutrality in the war in Yemen, his refusal to join the blockade of Qatar and his ties to Iran. In recent years Omani officials and foreign diplomats have worried that the country could find itself subjected to the same treatment as Qatar. When Britain held a military exercise on Oman's Indian Ocean coast in 2018, diplomats described it as a message to the uae, a sign that Oman had powerful friends.
At home, how will Haitham proceed to step into the shoes of the father of the nation? He will have no great military campaign, as Qaboos did in the Dhofar rebellion, to endow himself with the gravitas of a general. He will have less cash to hand out to loyalists and tribes to tie them to his own person — and what cash he might have will increasingly come with strings attached, whether that's from international investors who want to see returns or from fellow Gulf Arabs who will demand influence in exchange. To offset social pressure, perhaps he will consider a liberalization of domestic politics, a great taboo under Qaboos. Or perhaps he will follow in the footsteps of his Saudi and Emirati neighbors and embark upon a crackdown against dissenters. For example many young people expressed insecurity about their future. The trend has only become worse in recent years, with youth unemployment approaching 50 percent, one of the worst rates in the Gulf region.
Such long-term costs are now Qaboos' legacy. The late sultan guided Oman out of empire; his successor now finds he must find a path toward sustainability. Much of what Qaboos did worked to bring Oman to the present. But those strategies now need updating, and choosing how to update them will be one of Haitham's first great tasks.
For updates click homepage here