By Eric Vandenbroeck
Having covered this subject here and here, it is interesting to note that French police have ended a decades-long hunt for a fugitive accused of playing a key role in the 1994 genocide in Rwanda, arresting 84-year-old Félicien Kabuga during a dawn raid near Paris.
Kabuga, who is accused of financing the killings and frequently listed as one of the world's most wanted men, was living under a false identity in the French capital's suburbs, local police, and prosecutors said in a statement on Saturday.
French officials said Kabuga had been hiding in an apartment in Asnières-Sur-Seine, north-west of Paris, aided by his children who had set up an effective system to conceal him.
Kabuga also paid large sums to establish the hate radio RTLM. His indictment at the ICTR described a 'strategy devised by fellow extremists, which included several components, carefully worked out by the various prominent figures who shared the Hutu Power ideology. Kabuga had a catalytic role in political violence. The experts found the invoices for arms expenditures and found evidence of payments for ammunition, grenades, and landmines. There was a high number of low-intensity weapons, cheap to buy, and easier to stockpile. The main arms suppliers during the 1990–1994 period were France, Belgium, South Africa, Egypt, and the People's Republic of China. These weapons contributed to the huge numbers of victims in the genocide, and to the speed of the killing.
Midway through their work, Pierre Galand and Michel Chossudovsky (in La responsabilité des bailleurs de fonds, Brussels and Ottawa,1996) put important documents on one side in a vault locked for safekeeping. These included documents they believed useful for future prosecutions; they then left Rwanda to fulfill professional commitments in Brussels. But when they returned to the bank some weeks later, they found the vault empty, their collection missing. They tried to replace the missing documents by looking for carbon copies in the Ministry of Defence and Ministry of Finance.
This was not the only time evidence disappeared. Sometimes the files they needed went missing or files were spirited away from them so quickly that those seizing them left a literal trail of paper on the floor, or they would arrive at the right place and the documents had vanished days before. They soon worked out that the disappearances were systematic. Galand believed Hutu Power moles were all over the new administration.1 He suspected there were people working at the BNR whose intention was to prevent full discovery.
The Rwandans who had fled abroad and were implicated in the genocide were trying to protect themselves and were paying bank staff to get rid of certain records. Both Galand and Chossudovsky urgently appealed to senior officials in the UN Development Programme to help the new Rwandan government to protect the archives, but they did not receive an adequate response.
In the three-year period studied by these experts, one of the poorest countries in the world became the third-largest importer of weapons on the African continent. The army increased from 5,000 to 40,000 across all ranks.
Clear warnings to the World Bank were found in the documents of the BNR. Rwanda was the subject of a Structural Adjustment Programme (SAP) under an agreement signed in October 1990. In their eventual report in November 1996, Galand and Chossudovsky pointed out that the austerity measures imposed on the country had no effect on military spending, but education, health, and infrastructure were all subject to funding cuts. There were famine and a dramatic increase in unemployment. The incidence of severe child malnutrition increased dramatically, as did the number of recorded cases of malaria.2 In a damning conclusion, the experts showed how money to pay for the genocide preparations came from quick disbursing loans from Western donors who entered into agreements with the regime stipulating that funds must be used not for military or paramilitary purposes but for necessary goods such as food and equipment.
The experts concluded that the money to pay for the genocide came from loans granted to the regime in June 1991, from the International Development Association (IDA), the African Development Fund (AFD), the European Development Fund, and bilateral donors including Austria, Switzerland, Germany, the United States, Belgium, and Canada.
The World Bank president, Lewis Preston, wrote a letter in April 1992 and raised his objections with Habyarimana about the militarisation of Rwanda. It came one month after the Rwandan Ministry of Defence concluded a further US$6 million deal with Egypt that benefited from a guarantee from French bank Crédit Lyonnais. The first deal in October 1990 for US$5.889 million was followed by another in December for US$3.511 million. By April 1991, the Rwandan government had spent US$10.861 million on Egyptian weapons. In June 1992, a further US$1.3 million was given to Egypt. A November deal included 25,000 rounds of ammunition, and in February 1993, 3,000 automatic rifles, AKM guns and 100,000 rounds of ammunition, and thousands of landmines and grenades. The largest arms deal in March 1992 was for US$6 million for light weapons and small arms and included 450 Kalashnikov rifles, 2,000 rocket-propelled grenades, 16,000 mortar shells, and more than 3 million rounds of small-arms ammunition.
Galand believed that the international financial institutions owed reparations to the people of Rwanda as a result of their negligence. Five missions were sent by the World Bank to follow and supervise the Structural Adjustment Programme between June 1991 and October 1993. Only in December 1993 did the World Bank suspend the payment of a tranche of money because certain objectives were not met.
The arrest will raise questions about how he was able to evade justice for so long and live so close to Paris, at least in recent years.
Kabuga was indicted by the UN international criminal tribunal for Rwanda in 1997 on seven counts, including genocide. Following the victory of the Rwandan Patriotic Front under Paul Kagame, he fled first to Switzerland but was expelled. It is thought he then travelled to Kinshasa, the capital of the Democratic Republic of the Congo. He narrowly avoided arrest in Nairobi, Kenya, in 1996.
The Rwanda tribunal formally closed in 2015 and its duties were taken over by the International Residual Mechanism for Criminal Tribunals (IRMCT), which also deals with cases left over from the international criminal tribunal for the former Yugoslavia.
The arrest of Félicien Kabuga today is a reminder that those responsible for genocide can be brought to account, even 26 years after their crimes.
Following the completion of appropriate procedures under French law,  Kabuga is expected to be transferred to the custody of the IRMCT, where he will stand trial.
Two others who remain at large are Protais Mpiranya and Augustin Bizimana.
On 6 April 1994, a plane carrying then-President Juvenal Habyarimana , a Hutu, was shot down, killing all on board. Hutu extremists blamed the Tutsi rebel group, the Rwandan Patriotic Front (RPF) an accusation it denied.
In a well-organized campaign of slaughter, militias were given hit lists of Tutsi victims. Many were killed with machetes in acts of appalling brutality.
One of the militias was the ruling party's youth wing, the Interahamwe, which set up road blocks to find Tutsis, incited hatred via radio broadcasts and carried out house-to-house searches.
Little was done internationally to stop the killings. The UN had forces in Rwanda but the mission was not given the mandate to act, and so most peacekeepers pulled out.
The RPF, backed by Uganda, started gaining ground and marched on Kigali. Some two million Hutus fled, mainly to the Democratic Republic of Congo.
The RPF was accused of killing thousands of Hutus as it took power, although it denied that.
Dozens of Hutus were convicted for their role in the killings by the International Criminal Tribunal for Rwanda, and hundreds of thousands more faced trial in community courts in Rwanda.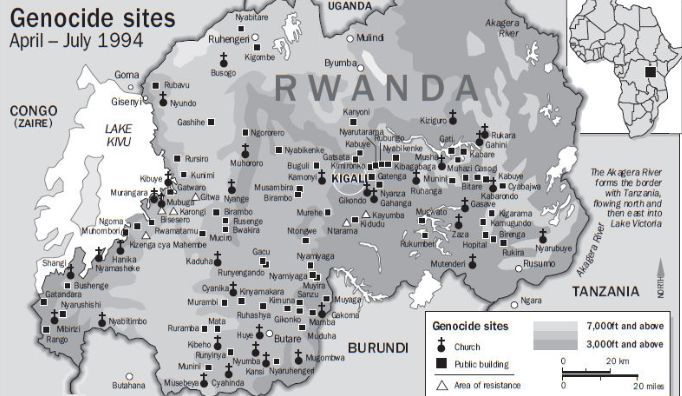 1. L'horreur qui nous prend au visage, Testimony Pierre Galand, 186.
2. L'horreur qui nous prend au visage, Testimony Eric Gillet, 228.
3. Rapport sur les financements du génocide au Rwanda: première expérience d'audit. Interview de Pierre Galand par Renaud Duterme, 29 Novembre 2016. For the interview and full report: www.cadtm.org/ Le Génocide.
For updates click homepage here