While we adressed this issue a number of years ago it happens once in a while that we receive e-mails asking if we know of the latest whereabouts of the self-styled Prince Michael of Albany. This time it was because of two articles in June one in The Scotsman newspaper and a later one in Poland. To be clear however the two articles portray art historian Peter Pininski (Piotr Piniński) as potentially real.
This subject started to get traction again when earlier this year a portrait of Bonnie Prince Charlie purchased by The Pininski Foundation went on display at the National Museum of Scotland.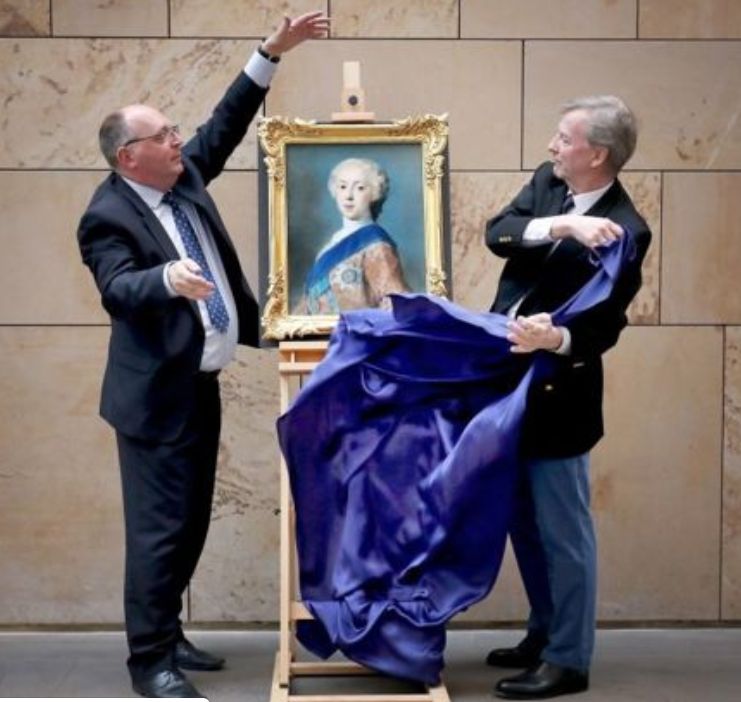 Peter Pininski who is seen presenting the painting first came to be known through his book The Stuarts' Last Secret: The Missing Heirs of Bonnie Prince Charlie (2002) which was followed by Bonnie Prince Charlie: A Life (2010).
The first book describes how Pininski's quest began in the late 1990s when he set eyes on a painting of an 18th-century relation, Marie de Thorigny', who, as it would turn out, would hold the key to unlocking the forgotten secrets of the Stuart dynasty. After scouring twenty archives in more than half a dozen countries.
History records that Charlotte Stuart, daughter of Charles Edward Stuart and Clementina Walkinshaw, gave birth to a son and two daughters fathered by Prince Ferdinand de Rohan, Archbishop of Cambrai.
The son, who was named Charles after his grandfather, died without fathering children himself, while next to nothing was known of his two sisters except only that they had existed.
But according to the findings presented in "Stuarts'"Last Secret, the daughters, including Marie-Victoire, or Marie de Thorigny as she was more formally known, had their true identities concealed due to their being the illegitimate offspring of a Roman Catholic archbishop.
And Marie's mother Charlotte was keen to veil her children's Stuart heritage too, to avoid attracting the wrong kind of attention during a century infamous for its turbulent politics.
In contrast to Pininski's historical approach "Prince Michael of Albany" (born Michel LaFosse) in his own book The Forgotten Monarchy of Scotland: The True Story of the Royal House of Stewart and the Hidden Lineage of the Kings and Queens of Scots, creates an entirely new legend in which he is the present day reincarnation of a Prince who he alleges consummated a second and valid marriage in 1785.  LaFosse polishes the accepted accounts of the sad decline of the Prince and claims that scholars, who support any negative claims about Charles, are malicious. These scholars, say LaFosse, have simple followed the demands of "authorities" to blacken the name of the "true" king.
Pininski's 2012 book in turn is a sycophantic work, determined to portray Charles Edward Stuart in the most sympathetic light and rejuvenate the myth of Bonnie Prince Charlie as a romantic hero of British history. It is completely at odds with current scholarship in the field of Jacobite studies, which is interested in deeper understanding and wider contextualisation of Jacobitism and anti-Jacobitism, scholarship which is opening up new avenues of research by diverting focus away from the Stuart dynasty and its shadow court in exile and towards the Jacobite diaspora, commercial networks and religious and intellectual means of support.
It has been argued that Bonnie Prince Charlie indeed became a "forgotten king" because he was a despised husband, a jealous lover, an alcoholic and the despair of the faltering Jacobite cause. His health declined, he lost all support of the French king and the Pope was not at home when he sought to present himself as King Charles lll. The devotion of Charles' daughter, as the Prince increasingly lost his grasp on reality, injects another element of poignancy. The period of her care of her father also coincides with the time, according to the LaFosse claim, that the Countess de Massillan became Charles' second wife and the mistress of Muti Palace. In these rather pathetic pieces of correspondence, Charlotte describes the dire condition of her father and his failing mind.  Equally well recorded are the final hours of the forgotten king.  He dies in the arms of his daughter and in the presence of a few of the remaining Jacobites.
"Prince Michael of Albany" was born on 21 April 1958 as the son of two young middle-class Belgian citizens. Doubtless, with all the joy of first-time parenthood, the father, Gustave Joseph Clément Fernand Lafosse, a shopkeeper, and the mother, Renée Julienne Dée, a business employee, undertook the legal registration of the birth.  This was done before the Registrar in the Watermael-Boitsfort district of Brussels. The first names of the boy were entered into the city record as "Michel Roger".
The family and witnesses were not to know that young LaFosse would one day repudiate this birth certificate and angrily declare it to be false. He would replace it with not just one but two crude forgeries, both of which declared him to be "son altesse royale, le Prince Michael Jacques Stewart, septième Comte d'Albanie."
Accordig to "Prince Michael" in his book The Forgotten Monarchy of Scotland, the senior Stewart line goes all the way back to King Arthur's father, King Aedan of Scots, on the one hand, and to Prince Nascien of the Septimanian Midi on the other. The Scots descent traces further back through King Lucius of Siluria to Bran the Blessed and Joseph of Aramathea (St James the Just), while the Midi succession stems from the Merovingians male ancestral line through the Fisher Kings to Jesus and Mary Magdalene." This wholly fictional claim is taken from The Bloodline of the Holy Grail - The Hidden Lineage of Jesus Revealed by Laurence Gardner, The Chevalier Labhran de St Germain, and published by Element Books. It is a complete invention, and cannot be supported by any documents or historical sources. The alleged genealogy is filled with falsehoods, the most obvious being that Prince Charles Edward, Charles III, never married "Marguerite O'Dea d'Audibert de Lussan, Comtesse de Massillan" (1749-1820), had he done so he would have been guilty of bigamy since he was already married to Princess Louise of Stolberg, who survived him. Perhaps this name is called into the equation because the Drummond Dukes of Melfort married into this same family and inherited the Lussan title.
Since 1979 he has referred to himself as "HRH Prince Michael James Alexander Stewart, 7th Count of Albany", stating that an ancestor used the title "Count of Albany". Lafosse also says he has the right to other noble titles including Comte de Blois, Duc d'Aquitaine and Baron Lafosse de Chatry.a cultural attaché at the Knights of Malta's embassy in the Democratic Republic of São Tomé and Príncipe in West Africa; and that he has been awarded the United Nations 2001 "Volunteer Service Medal" under the name "Albany". Lafosse claimed to be the Fons Honorum and Grand Protector of The Imperial and Royal Dragon Court and Order in Britain and the English-speaking world. The Federation of Autonomous Priories of the Sovereign Order of Saint John of Jerusalem, Knights of Malta. The Federation of Autonomous Priories of the Sovereign Order of Saint John of Jerusalem, Knights of Malta." And a representative of the "President of the European Council of Princes", following Archduke Otto of Austria's tenure in that position.
Soon after the alleged revelations in The Forgotten Monarchy of Scotland, The Daily Telegraph referring to "an unanswerable claim" and The Guardian with an article titled "The man who would be king" quickly interviewed the would be Stewart.
Meanwhile, LaFosse continued to cast his net wide but with the most devious discretion.  He has targeted the naïve, the romantics, the extreme nationalists and the "darn right silly."  He has assumed (correctly as it happens) that his faithful followers would not wish to demand "evidence of his claims" and made no effort to track down the sources of some of his stories. Thus he abused their friendship, exploited their frailties, and took advantage of those willing to follow his star for their own benefit. This was described among others in a 2017 book titled "Grandma Medea: A Memoir" by Feline Minne where the latter described how here grandmother Medea became an acolyte of the self-invented Prince. And how she witnessed her grandmother and other acolytes when they stood in a circle around the "Prince", holding a candle in one hand and their swords in the other, singing a Gaelic song. The "prince" was sitting in Medea's armchair, bundled up in a white sheet and Medea had placed a shiny crown, with fur on the sides, on his head. (1)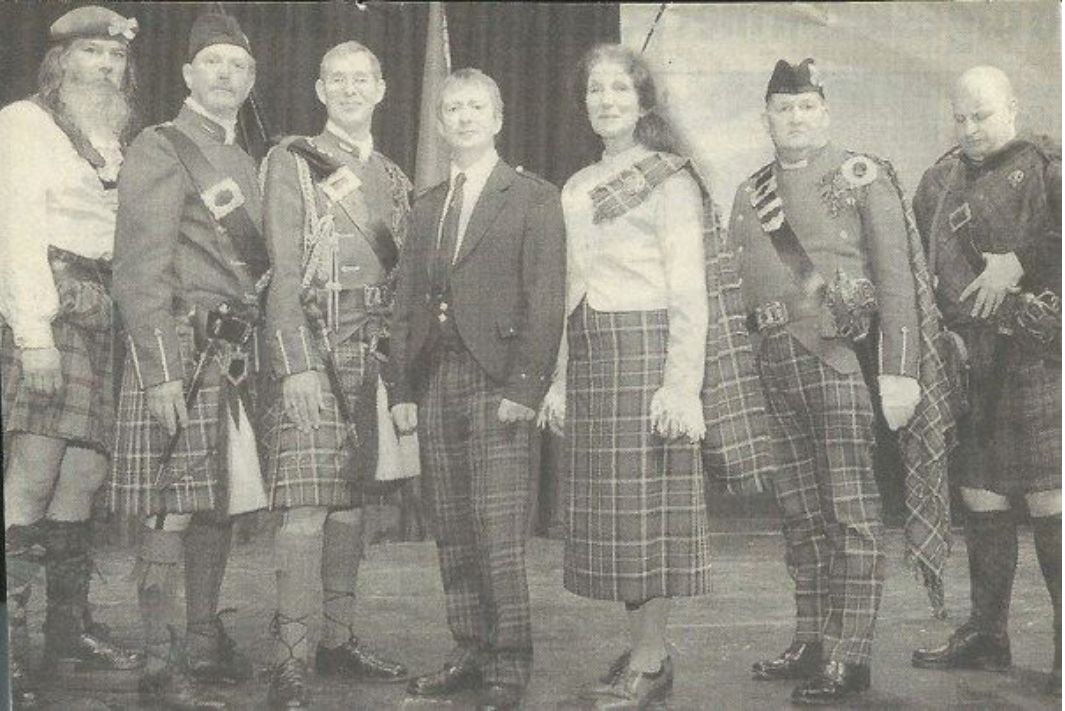 Then, when the Home Office sought clarification from Michael la Fosse in reference to his use of forged documents for the purpose of seeking (and receiving) British naturalization and the issue of a British passport he then left the United Kingdom and via Belgium moved for some time to Australia and then later back to Belgium where in 2012 he was pictured together with "Princess" Angelique Monét whose title like that of the Prince,  the title is not to be confused with in this case "the current region of Aquitaine and is not related to any government." False titles of nobility are titles of nobility that are not recognized by any government, even in countries in which titles of nobility once existed or still exist. They are often connected to occult or pseudo-masonic groups. They have received an increasing amount of press attention, as the number of schemes that attempt to sell these titles has increased. These titles are sometimes connected to self-styled orders of chivalry. Pseudo-chivalric orders or self-styled orders are organizations which claim to be chivalric orders but are not recognized as legitimate by countries or international bodies. Most self-styled orders arose on or after the mid-eighteenth century and many have  (as also that of our fake Prince) been created recently.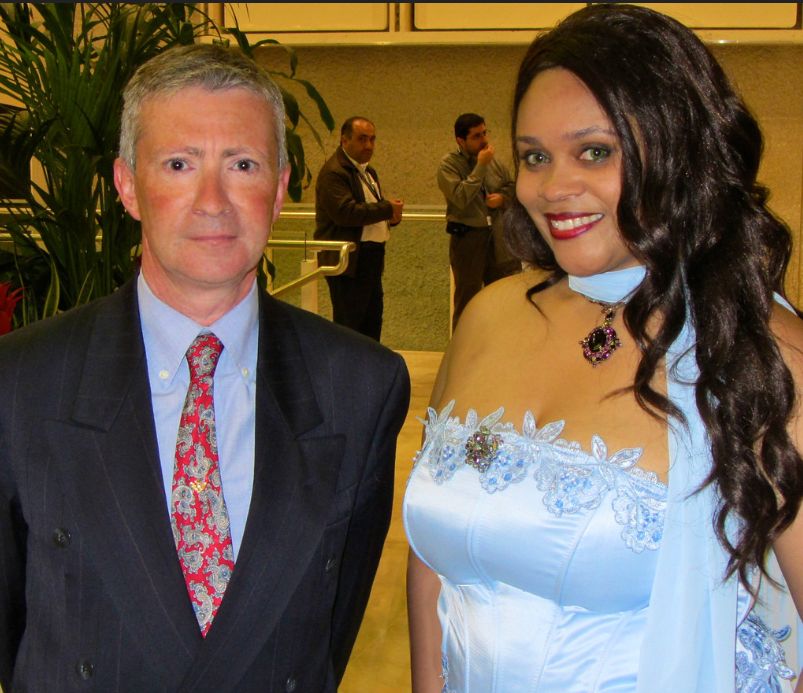 As evidenced also by his picture with "Princess Angelique Monét a few years ago he made quite a splash in the USA and Canada by creating Knighthoods, Dame-hoods and other titles in the Order of the Temple of Jerusalem. These titles were not inexpensive. A number of American ladies and gentlemen were displaying their enameled crosses (similar to the cross of Malta) at the various Scottish Gatherings & Games held in those countries.
It can also be noted that Na Fir Dileas (who want a referendum to be held on whether the country should become a republic, should continue as a monarchy under the Windsors, or whether the royal House of Stuart should be restored) in the past supported the claim of Michel Lafosse.
Peter Piniski, in The Stuarts' Last Secret, says of Lafosse's assertion:
One recent, heroically unsubstantiated claim is that Prince Charles married in 1785 and fathered a legitimate child. This 'fact' (which has escaped the notice of every historian for over two hundred years!), is particularly imaginative considering the prince was married at the time, being only separated from Louise von Stolberg-Gedern, after April 3rd 1784, who remained under the protection of the Pope. Nor was eighteenth century Rome the best of cities for an internationally known Roman Catholic prince to commit bigamy. It also ignores Charles' wretchedly infirm condition from before that date until his death three years later. Likewise does it ignore the presence (and insult the memory) of Charles' daughter and sole heir, Charlotte, who was daily at her father's side, nursing him right up to the moment of his death despite her own cancer. Professing direct descent on the female line from this 'marriage' the same claimant equally fails to provide any evidence, proper references or verifiable source documents for his additional assertion of descent on the male line from not one, but both daughters of Charlotte Stuart. Professor Lenman describes all of this as: "The industry of Stuart charlatanism".(2)
Although defended by a number of historians Pininski's hypothesis has been disputed by Marie-Louise Backhurst who in a 2013 article contends that the Charlotte's second daughter, who was always called Victoire Adelaide, was married firstly at St Roch, Paris, in 1804 to a military doctor in the service of Napoleon, Pierre Joseph Marie de St Ursin (1763–1818). By de St Ursin she was the mother of Theodore Marie de St Ursin, who was born in Paris about 1809–10 and who was still resident in Paris in 1823, although his history has not been found. His mother married again in 1823 to one Corbet James D'Auvergne, although her place and date of death have not been found. Backhurst examined Madame Nikorowicz's baptism, marriage and death, and gives her name as Marie Victoire de Thorigny, and Backhurst suggests that she was more likely to have been the illegitimate daughter of Jules, Prince de Rohan, brother of Ferdinand and thus a first cousin to Victoire Adelaide. Pininski argues that Backhurst's interpretation is based on a destroyed document that was "reconstituted" seventy years later and that no document confirms the birth of Marie Victoire's son, whereas Pininski's publications provide original archival documents and fully describe the context.
 Pininski, in turn, argued that Backhurst's interpretation is based on a destroyed document that was "reconstituted" seventy years later and that no document confirms the birth of Marie Victoire's son, whereas Pininski's publications provide original archival documents and fully describe the context.
The contender from Brussels meanwhile continued to engage in masquerades like those described by a newspaper reporter in 2016: At his side, attached to his belt, he carried a sword, and in his hands he held a huge wreath of flowers in the red and white colours of the Polish flag. He appeared disdainful and rather aloof – clearly "a somebody" – and just behind him strode two rather overweight gentlemen, also in kilts and sky blue doublets, and covered in every kind of Highland accoutrement you can imagine, dirks, powder horns, bonnets, sashes, dingly dangly orders and decoration, and firmly clamped in their right hands, drawn claymore swords."
Michael Hall suggested that it is possible, that Michael LaFosse actually believes some of the stories he spins but the extent to which he has profited by selling titles points to a possible motive.
It is hard to predict whether the fantasy life of LaFosse is really over. The appearance of a second book and the prospect of a third appears to indicate that at least one publisher believes that the "Prince" can still harvest a readership from those for whom the bizarre is still a comfortable substitute for reality.
As for Pininski the recent article in the Scotsman describes how regardless of what 'rights' he may have, Peter Pininski, never expressed a desire to challenge the House of Windsor. He commented: "I would dearly like to stay right away from Stuart claimant-type charlatanism, because it's not what I find interesting."
The same article quotes Lafosse who said: "My claim is based on primogeniture, that I came from the first born and am therefore first in line."
1) Feline Minne, Grandma Medea: A Memoir pp. 122-123.
2) Peter Piniski, The Stuarts' last secret: the missing heirs of Bonnie Prince Charlie, 2002, p. 263.