24 Jan., 2008: Hamas de-facto took over a strip of Egypt under the cover of sending thousands of civilians shopping across the border. Egypt in turn, must maintain a stable relationship with Hamas for fear of inciting the Muslim Brotherhood within its own borders. Exclusive: The Hamas File.
Note Jan. 31, 2008: South Korean and U.S. officials met on Wednesday to discuss ways to rebuild momentum in the stalled six-party process to denuclearize North Korea. Comment.
28 July, 2008:  After Tuesday's serial explosions in Jaipur, India has again blamed "the foreign hand". Who and what is behind the latest two attacks in India?
4 Aug., 2008: While smog still obscures Beijing's stadium an assault kills 16 four days before the opening ceremony of the Olympic Games. Case Study The Uigur and Central Asia File.
7 Aug., 2008: France has rejected Rwandan claims accusing French officials of playing an active role in the Rwandan genocide of 1994. But what are the real facts? Case Study The French Rwanda File:
6 Sept., 2008: Today Turkey's President Abdullah Gul has made a landmark visit to Armenia. Due to Turkey's denial of an Armenian genocide, normally such contact would take place. In fact it is only recently that also Germany's historical role in the Armenian drama is emerging. And one reason why Germany was so complacent in the matter might have been because Wilhelm II hatched a plan where Turkey would be colonized by Germans. Case Study:
17 Oct., 2008: Following an assessment of Europe and East Asia, we turn our sights to Latin America. As a region that has been relatively isolated from the immediate effects of the collapse of international financial sectors, a significant slowdown is to be expected. Continue...
3 Dec., 2008: The Intelligence War Behind The Mumbai Siege and India's Military Option Today.
7 Dec., 2008: Following a conference on Oct. 25 it is expected that Ruthenians, supported by Russia, will declare independence from Ukraine during the first quarter of 2009. Yet Ruthenian secession also holds strategic importance for Slovakia Poland and Romania. Enter for Case Study: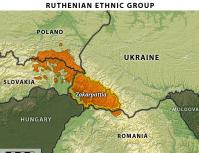 12 Dec., 2008: While so far we have seen New Delhi threaten to take action, with nothing measurable that could be convincingly described as preparation for a war. We however, still expect actions that take the form of unilateral precision strikes inside Pakistan-administered Kashmir along with special-forces action on ground. In this context we have prepared a case study about the current Geostrategic environment. Case Study Indian Subcontinent Today P.1 of 3: From Geography to Crisis in Indian-Pakistani Relations.
14 Dec., 2008: Case Study Indian Subcontinent Today P.2 of 3: Kashmiri Groups Cut Loose.
16 Dec., 2008: Case Study Indian Subcontinent Today P.3 of 3: The Pakistan/India Military Imbalance.
5 Jan., 2009: Having already commented on the Israeli military incursion into the Gaza Strip which grabbed the headlines this week, we investigated P1: Geostrategy of Israel.
7 Jan., 2009: The Problems with Israel and Palestine P2: Geostrategy of the Palestinians.
10 Jan., 2009: The Problems with Israel and Palestine P3: The Palestinian Challenge Beyond Israel.
6 Febr., 2009: The New US Administration and Sub-Saharan Africa.
17 Febr., 2009: Suggested by us on Febr.5: Russia is hinting that it could take a harder stance vis a vis  Iran, but is waiting to see what kind of a deal Secretary of State Clinton offers when she meets with Deputy Foreign Minister Lavrov in Geneva. Continue...
18 Febr., 2009: With the landmark Khmer Rouge show trial that started yesterday we investigated: The Paranoid Thruth of Khmer Rouge Terror.
24 Feb., 2009: Iran and the Protest in Saudi-Arabia Today. The Shi'ite-Suni Devide.
11 April, 2009: Thailand declares emergency, cancels Asian summit. Broader Implications.
23 June, 2009: Drawing attention to the upcoming elections on March 1, we posted a historical and sociological overview about Iran. Following the announcement of the 12 June election results, major street protests took place. What Next In Iran.
17 July, 2009: Jemaah Islamiah is most likely behind the fatal blasts in two Jakarta hotels today. Jemaah Islamiah and Global Jihad.
July 23, 2009: Details behind the Iran file's bomb revealed. Including Tehran betting on Barack Obama as next US president. And clash between the US and Iran hovering in sight?
25 July 2009: China Today.
10 Oct., 2009: Having mentioned this more than a year ago, the BBC today now confirms that Turkey and Armenia are preparing to sign a historic agreement normalizing relations.
14 Febr., 2010: Some 6,000 U.S. Marines, soldiers and Afghan National Army (ANA) troops launched a sustained assault on the town of Marjah in S.Afghanistan. Far from a monolithic movement however, the term "Taliban" encompasses everything from old hard-liners of the pre-9/11 Afghan regime to small groups that adopt the name as a 'flag of convenience'. Plus the Afghan-Pakistani border is an unnatural political overlay on a fragmented landscape that is virtually impossible for a central government to control. Geostrategic Predicament of the War in Afghanistan:
9 March, 2010: Predicaments of Pakistan in Afghanistan:
10 April, 2010: While it will have little effect on the permission for the US to have a transit bases there, it is clear from the April 7 revolution in Kyrgyzstan, that Russia is capable of creating "color revolution"-style uprisings in countries where it wants to increase its influence. Why China might be concerned, plus Uzbekistan, Tajikistan, Kazakhstan, Turkmenistan, Georgia, Azerbaijan, The Baltic States. Continue:
23 April, 2010: Eurozone's Debt crisis no longer just about Greece. Continue…
17 Sept., 2010: Pakistan using the latest Kashmir unrest in a bid to undermine Indian control of its section of the disputed region.
17 Nov, 2010: Probable Shakeup of Russian Spy Agencies Following Extradition of Viktor Bout.
7 Febr., 2011: What next with Egypt: Focusing on the Opposition.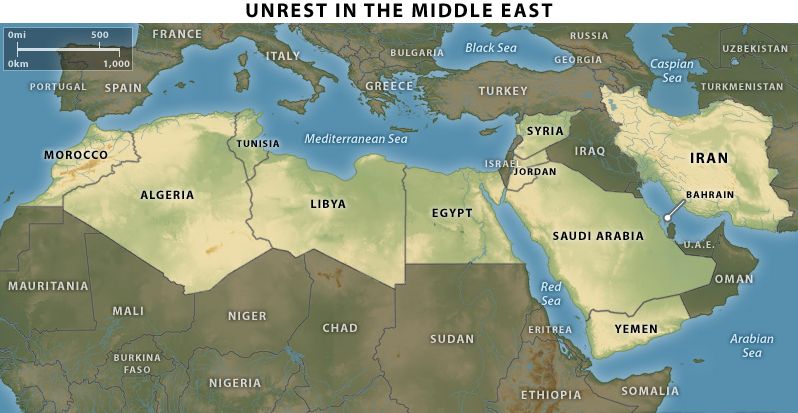 29 March, 2011: Where we looked at some of the reasons for intervention in Libya in the case of France and the U.K., today we do the same in the case of Italy. Also an analyses of the current situation on the ground plus what would happen if the Lybia rebels were armed by coalition forces (with maps). Continue…
12 May, 2011: Saudi's and Iran at loggerheads in Syria and Yemen, most likely president Barack Obama stepping in to denounce the Syrian president.
19 May, 2011: Libya's rebel commanders are in advanced secret negotiations with Qaddafi's military chiefs. Saudi Arabia to replace the League. And Moscow adopts anti-US forces in the Mid East, Persian Gulf and N. Africa. Continue…
26 May, 2011: New Saudi-controlled republic in S. Yemen, and Obama turns down UK Libya-Afghanistan trade.
9 June, 2011: Yemen, Syria and Libya.
26 Nov., 2011: Prospects for Intervention in Syria.
20 Jan., 2012: A Turning Point in Syria (with rebel Free Syria Army supply line map):
25 June, 2014: What is President Putin up to: