By Eric Vandenbroeck
On 24 Dec the UN general assembly has urged Myanmar to end a military campaign against Muslim Rohingya and called for the appointment of a UN special envoy, despite opposition from China, Russia and some regional countries.
It requests that UN secretary general António Guterres appoint a special envoy to Myanmar. The latter is because the UN special rapporteur for Myanmar, Yanghee Lee, had been banned from the country.
Thus Lee raised the suspicion that: "This declaration of non-cooperation with my mandate can only be viewed as a strong indication that there must be something terribly awful happening in Rakhine, as well as in the rest of the country" (see also Four Cuts below).
The UN human rights chief Zeid Ra'ad Al Hussein told the BBC he had urged Suu Kyi to take action after his office published a report in February detailing atrocities that had taken place up to that point.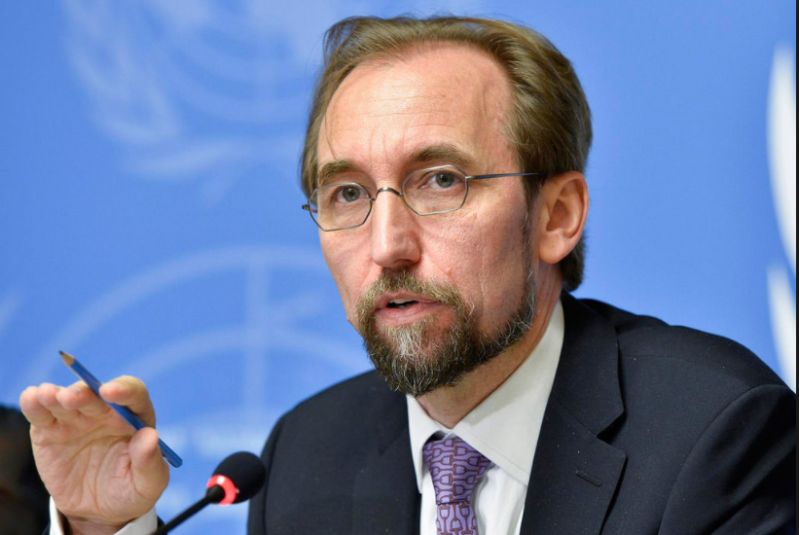 "I appealed to her to bring these military operations to an end," he said. "I appealed to her emotional standing… to do whatever she could to bring this to a close, and to my great regret it did not seem to happen."
The UN rights chief believes Myanmar's army was emboldened when it saw no international response to the operations against the Rohingya: "I suppose that they then drew a conclusion that they could continue without fear."
Suu Kyi's defenders argue that in a country where the military remains the real power, her ability to stop the campaign against the Rohingya is limited.
But Al Hussein makes the same observation several others have made: that Suu Kyi tellingly refuses to even use the term "Rohingya" to refer to the persecuted. "To strip their name from them is dehumanizing to the point where you begin to believe that anything is possible," he said.
Myanmar and Bangladesh have agreed to send Rohingya people back to Rakhine, in a deal that has been criticised by human rights groups as premature and lacking safeguards for the persecuted minority. But also known is that the local government has harvested the crops of departed Rohingya farmers. Ministers have hinted at plans to redistribute the land and no access has been given to independent observers.
"Currently, people are still fleeing from Myanmar to Bangladesh and those who do manage to cross the border still report being subject to violence in recent weeks," said MSF's Wong. "With very few independent aid groups able to access Maungdaw district in Rakhine, we fear for the fate of Rohingya people who are still there."
In a death rattle of democratic principles, Suu Kyi and Commander-in-Chief Senior General Min Aung Hlaing have synchronized denials over the scale of the carnage in Rakhine state in a series of speeches.
The world was somewhat aghast when broken her silence on spiraling abuses against the Rohingya Muslim minority, described as "ethnic cleansing" by UN officials, only to defend the government that she is part of, sparking fierce criticism from former friends, allies and supporters.
"It is incongruous for a symbol of righteousness to lead such a country," Archbishop Desmond Tutu said in a letter to his "dearly beloved younger sister". He's the latest of several Nobel peace prize winners to publicly rebuke their fellow laureate. "If the political price of your ascension to the highest office in Myanmar is your silence, the price is surely too steep," he said.
Already in previous years, the Myanmar government has effectively institutionalized discrimination against the ethnic group through restrictions on marriage, family planning, employment, education, religious choice, and freedom of movement. For example, Rohingya couples in the northern towns of Maungdaw and Buthidaung are only allowed to have two children. Rohingya must also seek permission to marry, which may require them to bribe authorities and provide photographs of the bride without a headscarf and the groom with a clean-shaven face, practices that conflict with Muslim customs. To move to a new home or travel outside their townships, Rohingya must gain government approval.
Like so many others who knew Aung San Suu Kyi during her struggle, and millions more who admired her, Tutu seems almost as baffled as he is disturbed by her stance. But as was evident in a 2003 interview it was not the first time Suu Kyi gave air to her prejudice in this case.
Also an incident at the very beginning of this year set the tone for an annus horribilis in the assassination of respected lawyer Ko Ni, architect of the NLD's constitutional reform efforts. Ko Ni was shot in the head at Yangon Airport while he was holding his grandson. The military-linked suspect was last seen in the capital Naypyidaw.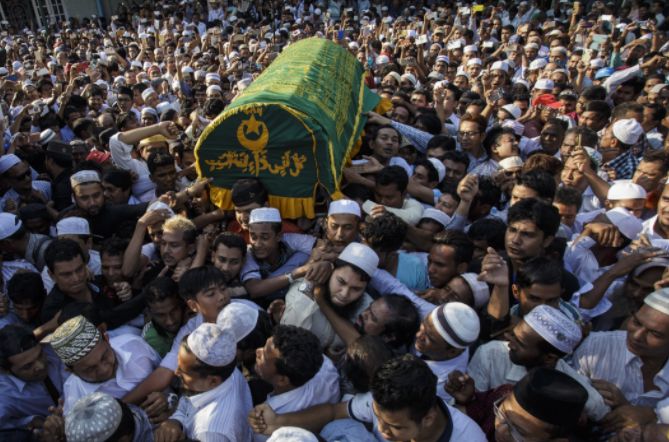 Suu Kyi did not attend Ko Ni's funeral or visit his family in downtown Yangon in the days after the killing, a widely criticized snub which put the already rattled Muslim community in the city on edge. Ko Ni was a Muslim but not a prominent activist for Rohingya rights and was seen more as a principled advocate for constitutional and political reforms.
We also know that Suu Kyi was well informed and even engaged what the recent developments concerns. For example on 9 August 2017, the commander-in-chief and other senior military officers met with leaders of the Arakan National Party, the largest party in Rakhine State – a rare meeting between the top brass and a political party. The party expressed concerns about the security situation in northern Rakhine and requested the arming of local Rakhine Buddhist militias. That same day, State Counsellor Aung San Suu Kyi convened a ministerial meeting on the security situation in Rakhine to discuss the recent killings and rising tensions. The following day, the government highlighted its deployment of some 500 troops to northern Rakhine to reassure local non-Muslim villagers and conduct patrols in the mountains between Maungdaw and Buthidaung where militants were suspected of having established training camps.(1)
A brutal military response that failed to discriminate between ARSA militants and the general population, followed by continued insecurity and restrictions that have imperiled livelihoods, has driven more than 624,000 Rohingya into Bangladesh. This is one of the fastest refugee exoduses in modern times and has created the largest refugee camp in the world. A large proportion of Rohingya villages in the area have been systematically reduced to ashes by both troops and local Rakhine vigilante groups that were equipped and supported by the military.
This whereby security forces earlier drove out almost every aid group from conflict areas in Rakhine's Maungdaw district and only desultorily granted access to the steadfastly neutral International Committee for Red Cross. ICRC has operated in an almost lunar landscape of de-population where a senior ICRC official recently observed "life has stopped" for those left in the area.
The government compounded this disdain for foreign humanitarian actors by charging them with complicity in support of ARSA militants, an affront to their professional impartiality and a sop to Rakhine nationalist rhetoric that routinely falsely alleges that international aid workers only assist Muslim communities.
Conflicting scholarship on the issue
The first one runs into when trying to research the above subject is the positioning of an analysis in the safety of the center, he is careful to avoid any real commitment to the people who are suffering. But the center is a relative concept and the center for the analyst is far different to the center of the people involved in the conflict. The scholarly researcher thus often constructs the center by putting two things alongside each other as if both have equal and exactly opposite power to determine outcomes. The Rakhine against the Rohingya; the tenacity of the Rohingya to protect their self-identification vs the Rakhine and Burmese tendency to denounce it.
Take, for instance, the NGO CDA's 2016 Reshaping Engagements: Perspective on Conflict Sensitivity in Rakhine State.  Despite aiming "to serve as a platform to build common understanding across stakeholder groups on the current conflict" and "provide a basis for joint action", the report does not actually consider the perspective of Rohingya. In fact, it does not even mention the word 'Rohingya' preferring to simply use the term 'Muslims'.  The report mentions nothing of ethnic cleansing, or the long history of state exclusion of the Rohingya. Instead, it focuses on 'breakdowns in communication' and 'competing agendas'. The author has since gone on to publicly defend the military and Aung San Suu Kyi. In another conflict analysis produced by the Harvard Kennedy school for Proximity Designs, the author similarly nervously approaches the subject of ethnicity, noting that Rohingya is a 'controversial' title and preferring to use the term 'Muslim'. Although acknowledging that 'Muslims' and Rakhine are on unequal footing, the report still falls into the bi-polar Buddhist-Islam modality while barely touching on the role of the state and capital – "[W]ith a lack of many close links between the Muslim and Buddhist communities, the recent violence has further frayed any trust… It is difficult on the Burmese side to fully recognize this lack of parity of damage. It is difficult for the Muslim side to admit that their actions have, at times, also inflamed the situation.' Another major project on conflict analysis from Deakin University Australia also insists on using inverted commas when talking about the Rohingya. Once again, the research predominantly focuses on the grievances of Buddhists and Muslims and ways for improved engagement. 
What is also remarkable about the Rohingya crisis and what makes it unique in comparison to the long list of historic ethnic insurgencies is the way in which the Central Burmese called Bamar have organically rallied around the government and military. From anti-government rallies, the last year has for the first time seen mass pro-government rallies. So too, large numbers of Bamar across many classes have been involved in online harassment campaigns of anyone who opposes the brutal treatment of the Rohingya.
Many of the conflict analyses share an intellectual cynicism about the Rohingya ethnic category. Influenced by this kind of work, several pieces have criticized the Rohingya for their insistence on self-identification. As the Burmese and Rakhine are trying to violently exclude Rohingya from Myanmar in a physical and cultural sense, some western intellectuals have continued to unhelpfully question their right to self-identification.
For example, Harvard university student wrote in the Diplomat "[I]n even a cursory survey of Rohingya history, it is clear that the Rohingya are not an ethnic, but rather a political construction…. At stake are issues of legitimacy. The international community's use of the term 'Rohingya' validates the narrative of essentialising a Muslim identity in Rakhine state".
They argue that despite a general understanding that a part of the Arakan Muslims had deep roots in the country and that Rakhine history cannot be understood without its social and religious complications with Bengal from the past down to the present, a pervasive Rakhine narrative about Muslims in Arakan has viewed them as 'guests' who have betrayed the trust of their hosts by claiming territorial ownership. The claim of a distinctive ethnicity made by Rohingyas is, therefore, considered by them as fake.
Many such analyses give a pseudo sense of complexity that seeks to water down murderous ethnic cleansing and deny any political urgency. By maintaining a centrism that can supposedly see all sides, the liberal analyst can always claim the situation is complex and nuanced." Convoluted analyses that deny this immediacy and criticise the actions of the Rohingya are politically feeble.
No one will argue that decolonizing the category "Rohingya" is today's most urgent task. Yet it seems significant that information like the above have been shared, posted, and circulated among defenders of Daw Suu and the military's actions in Rakhine.
Thus history has its limits in the context of humanitarian crisis, perhaps especially so when debates over history hinge on questions of identity.
Thus rather than obscuring the forces and processes that allow large scale violence to occur, it is urgent to keep these forces and their effects at the center of accounts of the unfolding tragedy. The way events are framed and talked about have important political ramifications at all levels. It is the political feebleness of analysis that makes it ideal as a discursive tool on the part of so many states and actors that wish to remain apathetic towards the Rohingya cause.
Noteworthy is also that the 1978  "Repatriation Agreement" with Bangladesh  and published by Princeton University in 2014 constitutes evidence that in 1978, Myanmar acknowledged that most Rohingya in 1978 still  had national registration cards or other documents, and thus were by and large "lawful residents of Burma."
The Four Cuts Strategy revisited
The groundwork for the current catastrophe, however, had already been laid. Since the 1970s, the Tatmadaw has carried out with impunity a "Four Cuts" campaign against other ethnic populations, cutting off food, funds, and information. The first reference to information about what resulted from the "Four Cuts" was published in 2005.
The four cuts strategy was applied first in the Naga hills, and then most devastatingly in the Shan and Karen States.The cuts strategy involved gross human-rights abuses, including the well-documented rape of women, torture, summary executions and more. Many witnesses have also testified to the use of conscripted labor and the employment of civilians and prisoners as human minesweepers. Some have suggested that it was the very implementation of the four cuts strategy that drove the Myanmar armed forces (Tatmadaw) to the depths of barbarity and callousness for which it has become notorious. Others argue that such was the feeling of racial animosity against the Karen, Kachin, Rohinghya, and other ethnic groups among the Burmese that the Myanmars's (Tatmandaw) soldiers were perfectly happy to prosecute the dreadful strategy from the start. Far from a relic of the past, this policy-which largely victimized civilians-was officially reinvigorated in 2011, and as we see below took on a turn for the worst in 2017 when we see what happened to the Rohinghya villages during the 2017 campaign: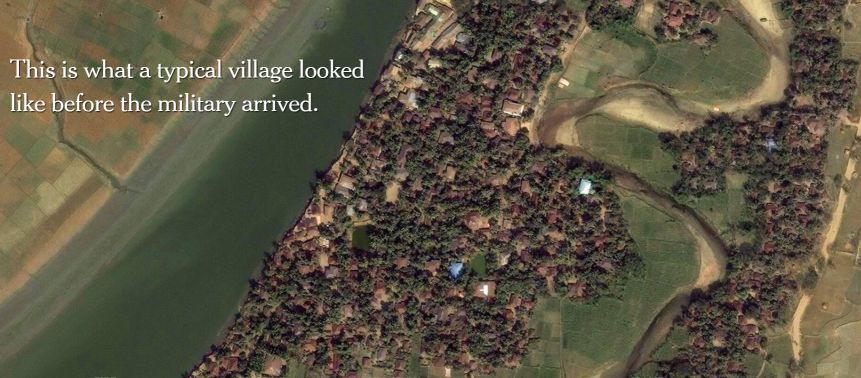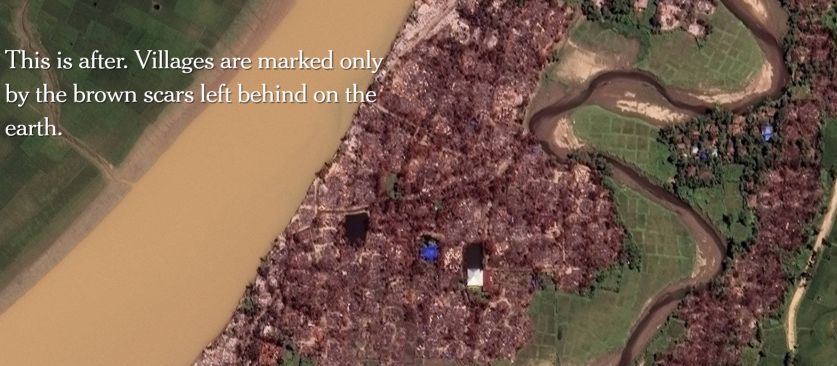 During the recent 'clearance operation' over 350 villages were burned down, and, according to conservative estimates by Docter Without Borders, 6,700 people may have been killed by security forces and vigilantes. The number of defamation cases against journalists also spiked in 2017. Many local reporters are now operating in a climate of fear under the elected National League for Democracy (NLD)-led government, undercutting hopes it would champion, not repress, free speech in line with its democratic mandate after decades of censorship under military rule.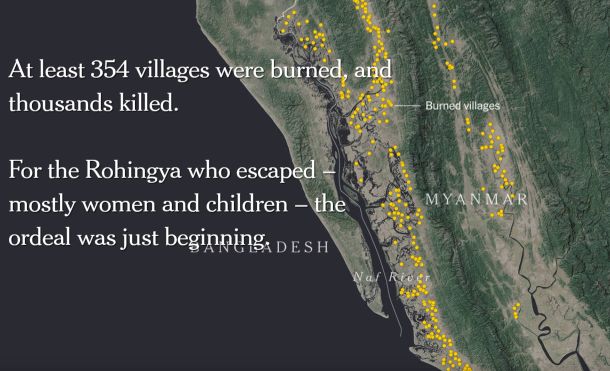 Grim details of the military and local vigilante campaign of violence, described by the UN as "a textbook example of ethnic cleansing" (a characterisation that has now been echoed by the United States) and by human rights groups as crimes against humanity, have been set out in a series of detailed reports by these organisations. They document widespread, unlawful killings by the security forces and vigilantes, including several massacres; rape and other forms of sexual violence against women and children; the widespread, systematic, pre-planned burning of tens of thousands of Rohingya homes and other structures by the military, BGP and vigilantes across northern Rakhine State from 25 August until at least October 2017; and severe, ongoing restrictions on humanitarian assistance for remaining Rohingya villagers.(2)
Myanmar and Bangladesh signed a repatriation agreement on 23 November 2017 in Naypyitaw. While it was politically expedient for both sides, Bangladesh to signal that it will not host the refugees indefinitely, and Myanmar to respond to charges of ethnic cleansing and ease pressure for action. 
It should be noted however that Myanmar has consistently declined any role for the UN Refugee Agency, which could mobilise the necessary support as well as credibility in the eyes of the Rohingya and internationally; the bilateral agreement does not require it.(3) 
Beyond the risk of further abuses against the Rohingya, the authorities have reinforced an ugly strand of nationalism that will outlast the current crisis and could be channelled to target other minorities. At a minimum, it will be more difficult for national leaders to make the necessary concessions in the peace process of greater minority rights and political and economic devolution. To this one could ad that ARSA is not (and likely never will be) part of the peace process, given that the Rohingya are not a recognized ethnic group.
Myanmar set its political direction early in the crisis, and, so far, international scrutiny, pressure and diplomatic engagement has brought about no meaningful change – not even seemingly minor concessions such as allowing UN humanitarian access to the area or signalling openness to international support or advice. Extremely strong domestic political consensus on this issue has united the government, military including in this case, a majority of the population as never before in Myanmar's modern history.
Reports also document the mass rape of women and girls, some of whom died as a result of the sexual injuries they suffered. It shows how children and adults had their throats slit in front of their families, also here. Skye Wheeler, the above listed researcher for Human Rights Watch who is one of those that investigated the sexual violence allegations, said Myanmar was denying a "terrible truth". "The lack of acknowledgement or care the Myanmar authorities including Aung San Suu Kyi have shown for Rohingya women and girls who have been brutally raped by Myanmar soldiers as part of their ethnic cleansing campaign is almost as shocking as the horrific crimes themselves," she said.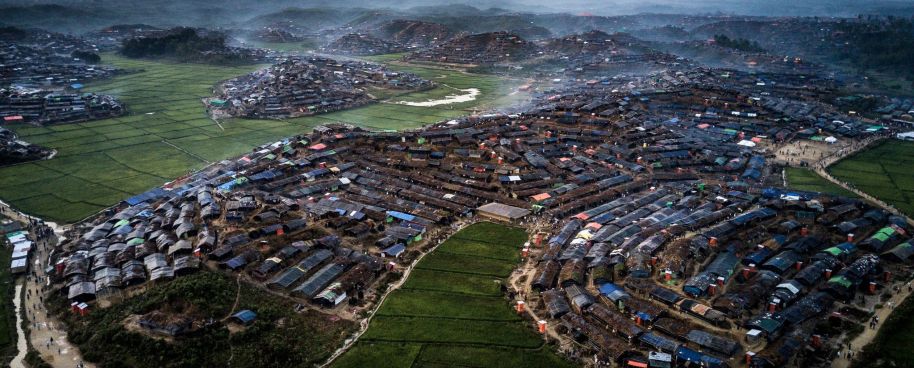 Thus in spite of the dire conditions in Bangladesh, worse could be to move these people from camps in Bangladesh to camps in Myanmar. Whereby one of the problems is that given no great power interests are going to be served in saving the Rohingyas, in spite of some financial donations for that purpose credible help for these people in Myanmar seems improbable.
This said, neither the government nor security forces possess the political will to create conditions for voluntary return and implement a credible and effective process to that end. This raises the prospect of a long-term concentration of hundreds of thousands of traumatized Rohingya confined to squalid camps in Bangladesh, with no obvious way out or hope for the future.
The Chinese friend is back
But it is not only the trouble with the Rohingya, to date, 80% of armed non-state actors have refused to sign the NCA, which they view as tantamount to surrender without any guarantees of self-determination. And there is no sign that the government or military is willing to soften that hardline stance, making a farce of Suu Kyi's 21st Century Panglong initiative as an inclusive and equal forum for peace.
Myanmar won its independence from British colonial rule in 1948. Sadly its history since then has been massively unhappy. From being the best educated (apart from Japan) country in East Asia, it spiraled down over the ensuing 65 years to being possibly the worst educated as well as one of the poorest. The primary cause of this decline was the world's longest continuing civil war in which the ethnic Bamar Buddhist majority in the central valley has sought to dominate dozens of non-Buddhist ethnic minorities inhabiting the mountainous borderlands.
The Bamar (Burmese) Buddhist majority maintained its control of the heartland by extracting natural resources, including natural gas from offshore fields that it began exporting to Thailand around 2000 and to China around 2014. Whereby the ethnic minorities have been able to smuggle enough resources to neighboring China, Thailand, and India to obtain the weapons required to defend their territories against the government's army.
Successive military leaders have belittled, denied and squelched the grievances of ethnic minorities, including (as seen above) chronic complaints of military abuses and insensitivities that have perpetuated armed conflict.
A major sticking point in ongoing negotiations between the Myanmar government, the autonomous military and the nation's many ethnic armed groups concerns how much autonomy should be granted to frontier areas and how that devolution of power should be distributed among various ethnic groups.
Internal sources are telling me that with the offensive against the Rohingya now completed, Myanmar's military troop movements show they might be preparing, among others, a new offensive against the Kachin Independence Army (KIA), an armed ethnic organization that has been fighting on-and-off for decades for self-determination. See also here, and here.
Number of Kachin people living in Myanmar, or about 1.5% of the country's total population. Most live on the government-controlled side of Kachin state, where their language and culture are strictly policed.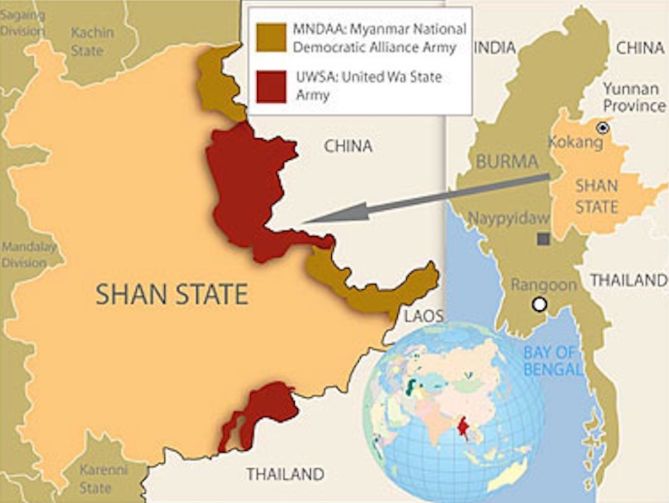 But China no doubt pleased by the turn of events in 2017. The year 2017 was a momentous one for China in so far as regaining its ground in Myanmar is concerned. China not only leveraged its salience in the ongoing peace and reconciliation process but also took advantage of Myanmar's difficulties with the UN and the Western countries on the Rohingya crisis. Further, Beijing was able to push Aung San Suu Kyi-led government to be part of its ambitious Belt and Road Initiative.
Naypyidaw appears to hope that China can be persuaded at least to stay the hand of ethnic forces. An unusual report released by the Tatmadaw on December 22 asserted that joint ethnic Palaung Ta'ang National Liberation Army and Kachin Independence Army forces had attacked security posts along the key oil and gas pipelines that run through northwestern Shan state into China.
Claiming that the attacks were specifically intended to "damage the relationship between Myanmar and China", the report pointedly implied that the ethnic groups were recklessly targeting the security of the pipelines and thereby endangering China's strategic interests.
However, none of the ethnic groups in the region has ever displayed any interest in threatening the pipelines either during their construction or since, and it is difficult to see why that might change today.
While admitting that the Tatmadaw had clashed with its forces in Namhkam township near the Chinese border through which the pipelines pass, and with KIA in Bhamo in neighboring Kachin State, the TNLA was quick to deny there had been any joint operation or that fighting had endangered the pipelines.
More broadly, given deep mistrust and a yawning rift between Naypyidaw and the Federal Political and Negotiating Consultative Committee (FPNCC) over the National Ceasefire Agreement (NCA) , it would be naïve to imagine Beijing can persuade either side to exercise significant restraint. Indeed, there exists a real possibility that continued skirmishes may provide a pretext or indeed real grounds for yet another coordinated counter-offensive by the FPNCC's northern alliance.
High-level state visits from the United States, first by then Secretary of State Hillary Clinton in late 2011, and then President Barack Obama a year later, and other Western countries brought Myanmar out of isolation, quickly turning the country from an international pariah to a darling of the West.
Myitsone and other bilateral issues, meanwhile, led to a nationalistic rise in anti-Chinese sentiment among the population and in media reports. But 2017 was the year that China bounced back to re-emerge as Myanmar's closest and most trusted political ally.
After a few years of "soft diplomacy" – including sponsorship of all-paid junket trips for Myanmar politicians and journalists and contributions to state infrastructure projects – the turning point came during the Rohingya refugee crisis, which started in late August.
While the West strongly condemned and slapped punitive measures on the Myanmar military for extreme human rights abuses during so-called "clearance operations", China kept mostly quiet while pledging to block any attempts by the UN Security Council to impose punitive sanctions.
Then, in November, Myanmar Commander-in-Chief Senior General Min Aung Hlaing visited China, where he was received by President Xi Jinping and other leaders. A couple of weeks later, Suu Kyi also traveled to Beijing for a state visit where Xi asserted that China is "committed" to "friendly ties" with Myanmar.
Myanmar's attempts to find a solution to its long-running ethnic wars have also seen China emerge as a lead actor, sidelining a host of Western initiatives and outfits that have been involved in the peace process since Thein Sein assumed the presidency in March 2011.
Only China has close connections with the ethnic armed groups in the north that have refused to sign the NCA, including the heavily armed and influential United Wa State Army (UWSA), and is thus the only viable foreign interlocutor in the peace process.
List of Main Ethnic Armed Groups and their Ceasefire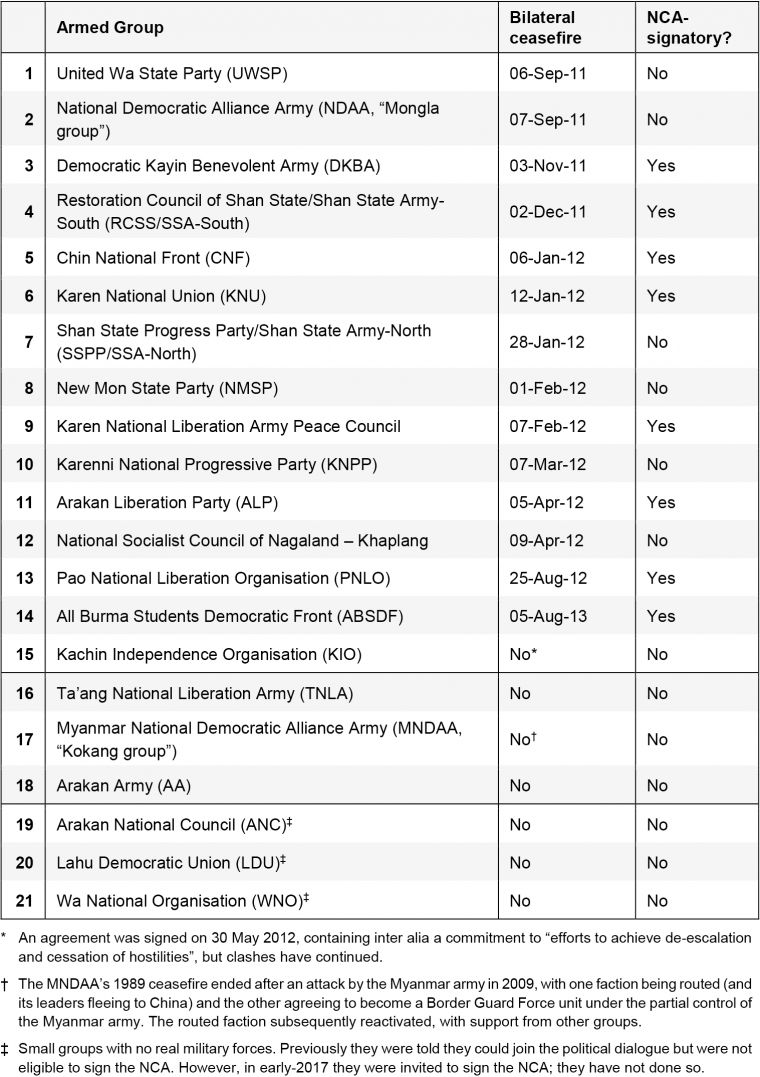 All in all, China is increasingly seen as a "friend in need" at a time Myanmar feels it is under new and unfair assault from the West and United Nations. And there are certain indications that perceived as friendly commitment will be rewarded with a new raft of economic concessions.
While the controversial Myitsone dam was not mentioned during Suu Kyi's visit to China, it is hardly a secret that Beijing would like to see the suspension lifted and the project to be completed as planned when it was first outlined in 2001.
China's interests in Myanmar, of course, extend beyond electric power, ethnic wars and refugees. Myanmar is China's main outlet to the Indian Ocean, where the Kyaukphyu port in Rakhine state and pipelines provide a strategic hedge for its fuel and other shipments that could be blocked at the Malacca Strait chokepoint in a conflict situation.
Myanmar is crucial corridor in China's US$1 trillion 'One Belt, One Road' global infrastructure development initiative. In October, Minister for Construction Win Khaing said at a forum in Singapore that "we are talking about how to complement such [Obor] initiatives because [its] objectives can very well complement our national objectives."
Several other countries in the region are starting to view Obor-backed projects with apprehension and suspicion, but Myanmar appears now to be a willing partner in the ambitious scheme.
How all these diplomatic dynamics will play out in 2018 and beyond remains to be seen. But China is now firmly back and with a vision to stay in Myanmar.
While in Western countries on the other hand, Myanmar's allure as Asia's final frontier might have been irreparably tarnished, while the many policy priorities of the elected National League for Democracy (NLD) government might have been imperiled over its incompetent and pitiless response to for example the Rakhine state crisis.
Update 2 Febr. 2018: Today there are new reports about five mass graves. Yanghee Lee, the United Nations' special envoy on human rights in Myanmar, said mounting evidence of atrocities in Rakhine bear "the hallmarks of genocide." Earlier veteran US politician Bill Richardson said from first hand experience that Aung San Suu Kyi lives in 'bubble'.
1. See Senior General Min Aung Hlaing, Facebook post, 10 August 2017, http://bit.ly/2yqQYSA; "State Counsellor, Union Ministers hold talks on security in Rakhine State", GNLM, 10 August 2017; "Myanmar Army Deployed in Maungdaw", The Irrawaddy, 11 August 2017.
2. See, in particular, Amnesty International, op. cit., as well as "Destroyed areas in Buthidaung, Maungdaw, and Rathedaung Townships of Rakhine State", UN Institute for Training and Research (UNITAR)/UNITAR's Operational Satellite Applications Programme (UNOSAT) imagery analysis, 16 November 2017; "Burma: New Satellite Images Confirm Mass Destruction", Human Rights Watch, 17 October 2017; "Mission report of OHCHR rapid response mission to Cox's Bazar, Bangladesh, 13-24 September 2017", OHCHR, October 2017; "U.N. sees 'textbook example of ethnic cleansing' in Myanmar", Reuters, 11
3. Crisis Group interviews, Rohingya refugees, Bangladesh, September-November 2017; "Sales from Maungtaw paddy kept as national budget", GNLM, 12 November 2017; "Govt Suggests Possible Daily Repatriation of 300 Rohingya Refugees", The Irrawaddy, 30 October 2017; "Tensions over Rohingya return highlight donor dilemmas", Nikkei Asian Review, 27 October 2017; "Returning Rohingya may lose land, crops under Myanmar plans", Reuters, 22 October 2017; "'Caged Without a Roof': Apartheid in Myanmar's Rakhine State", Amnesty International, 21 November 2017.