Religion in Politics
Most read Articel during 2007: Apocalyptic politics During the 20th Century and Beyond.
As a political religion, communism triumphantly entered the second half of the twentieth century reinvigorated by the prestige the Soviet Union had gained through its victory over Nazism and its rise to the status of superpower.The sacralization of politics became an essential aspect of all the com­munist regimes that arose during the Cold War and copied the Soviet model. The Human Sun:
Freemasonry and Political Radicalism in Ireland.
Case study: N. Ireland a Catholic Rebellion?
Political Religion in the USA: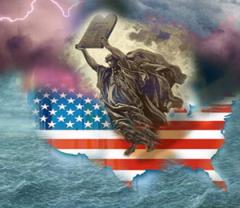 Towards a New Sociology of Religious Nationalism P.1.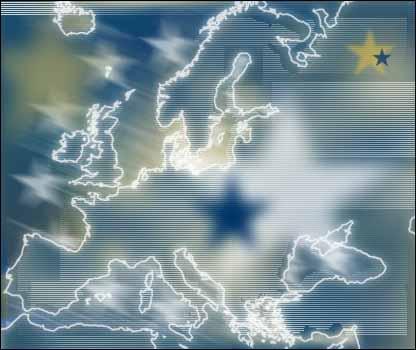 Towards a New Sociology of Religious Nationalism P.2.
Part 3-a: Albania, Austria, Belarus, Belgium, Bosnia and Herzegovina, Bulgaria,Croatia,Cyprus ,Czech Republic, Denmark, Estonia, Finland, France, Germany, Hungary, Overview.
Part 3-b: Iceland, ltaly, Latvia, Lithuania, Luxembourg, Macedonia, Malta, Moldova, The Netherlands, Norway, Portugal, Romania, Russia, Serbia and Montenegro, Slovak Republic, Slovenia, Spain, Switzerland, Ukraine.
Many have forgotten this, but Europe had its fair share of 'revolutions' and 'political religions' "Kulturkampf," it was called at the end of the 19th century, almost identical to what by the end, of the 20th Century was called clash of "Civilizations." In Germany 'Kultur' was understood to be Protestantism, an identification partly made to reinvigorate Protestantism among a bourgeoisie that no longer attended church. As for 'Kultur' in Belgium, in 1936 a liberal historian wrote that liberal "Brussels had no intention of being trodden underfoot by thousands of clogs", this being a reference to the clog-shod Catholic -Flemish (similar to Dutch, who when employed were not allowed to speak their native language) farmers, who flooded into the capital city to protest against (French language) liberal policies. (Quoted in Winfried Becker, 'Liberale Kulturkampf-Positionen and politischer Katholizismus,1983.) If one is looking for the intellectual progenitor for "the cult of the personality", look no further than Campanella. But, hyper-nationalism, was not principally a phenomenon of the far Right, it was enthusiastically embraced by many on the Left throughout much of the 19th century. P.1: The New World of 'Sociology'.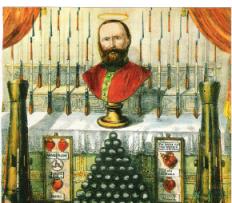 Socialists at first generally tried to get back to some sort of Christianity predating Constantine. While Russian radicals, despairing of the tsars' fitful reforms, moved from Christian reformism to evolve terrorist ideologies anticipating al-Qaida, including suicide bombers. P.2: Signor Mazzini I Presume?
Social Democrats, A Political Religion
Recently, a member of Hizbul Mujahideen founded by the head of the Jamaat ut-Dawa in Kashmir threw a grenade into a mosque compound in Kashmir targeting a preacher of the the Barelvi strand of Islam killing 5. Showing the complexity of such religious motivated political fights in S.Asia, within days a close associate the leader of the Hizbul Mujahideen was killed in Lahore. The Jamaat ud-Dawa has released a statement, claiming that Mujahid was killed by three "terrorists". And although it is not certain Pakistan 's ISI would have been involved, a Kashmir activist in India , soon thereafter admitted to a last months bombing.

A lot of questions remain about 'religious violence' especially, in Asia. For example, three days before the Sept. 19 military coup that ousted Thai Prime Minister Thaksin Shinawatra, six bombs exploded in the city of Hat Yai , in southern Thailand 's Songkhla province, killing four people. Among the dead was a Canadian schoolteacher, the first Westerner known to have died as a result of the ongoing violence in Thailand 's Muslim-dominated south.

As for religious violence as such, it is important to look at what provides the legitimation for the violence. Often used as a tool by political elites, targets are frequently symbols of collective identity and third, rumors, often grotesque ones, playa major role in fomenting violence. Political Religious Violence in Asia P.1:

However, the feeling of humiliation is the most common thread, it is critical to consider the economic, social, and political grievances, as originating causes of religious violence. When religion enters the mix however, emotional resonance of religious narratives, symbols, rituals, and their transcendental frames, makes the violent conflict become less susceptible to negotiation. But acts of terror can also function as "symbolic empowerment" of marginal men. Political Religious Violence in Asia P.2:

While early on we already researched 'political religions' like Fascism and Communism, it should not come as a surprise that 'religious discourse as such', also, can empower, engender, or disrupt violence. Political Religious Violence in Asia P.3:

A jihad in Southern Thailand reportedly caused over 1,800 fatalities since October, 2004, as against 3,200 in India 's Jammu & Kashmir during the same period. Hopes that the ouster of the former Prime Minister, Mr. Thaksin Shinawatra, would bring down the temperature and bloodshed have been belied so far. There were reportedly 10 deaths on December 6, 2006, alone. Political Religious Violence in Asia P.4:

Political Extremism in S.Asia P.4: Recently three Christian militants were sentenced, and in a direct connection last year three beheadings. Thus recently: Indonesia and Conclusion.
The Pope Today - Part of the Problem or Part of a Solution?
On Nov. 15 Hamas lawmakers Mushir al-Masri and Ahmad Bahar crossed the Egyptian border at Rafah into Gaza with $4 million in cash. We followed this up with research that shows now, why Egypt might once become a prisoner of Islam. Case Study Religious Politics in Egypt P.1:
At the heart of the Islamist challenge in Egypt has been the continuing debate over how to defme the nation. Case Study Religious Politics in Egypt P.2:
Since free elections immediately benefited the Islamist opposition, the state has limited its options by embracing conservative Islam as a source of legitimacy. Case Study Religious Politics in Egypt P.3: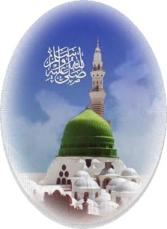 On one and the same day last week two new books were released about W.B.Yeats whom Seamus Heaney calls, a political poet with fascist sympathies. In contrast M.K. Shuchard in Why Mrs Blake Cried, highlights among others, the 'sacramental sex' W.B.Yeats had with his younger wife, in order to stimulate the 'sixth sense.' We checked on the facts presented for the first time ever, in W.B. Yeats' Nationalist Occultism.
Assessing the Spread of Early Christianity
In the later twentieth century, the Roman Catholic Church was careful not to embrace potentially violent (and certainly radical) theologies, and John Paul II apologized to victims of the crusades. Nevertheless during the past few years new accusations manifested themselves in the form of anti-Americanism. P.1.