A few days ago Foreign Policy published an article suggesting that Beijing Is Shooting Its Own Foot in Hong Kong Political paranoia is making it hard for the Chinese Communist Party to sell its own narrative, today China freed a British consulate worker whose detention only helped to fuel tension.
Last night, a human chain stretched for kilometres across both sides of Hong Kong harbour as people turned out for a peaceful demonstration inspired by anti-Soviet protesters in Estonia, Latvia and Lithuania in 1989 that became known as the Baltic Way (also pictured on).
It is worthwhile however to look at this in a larger context of what is happening with mainland China as a whole while expanding on my earlier observations about the development of China's new nationalism.
Some of the observations that can be made about about China today is that the country has just experienced a period of economic growth the likes of which the world had never before seen to which we can ad that China is ruled, increasingly dictatorially. There are also indications that the party wants to bring private enterprise to heel, by intervening more directly in how businesses are run.
Behind these policies lies a growing insistence that China's model of development is superior to the West's. Thus in the above-quoted speech, Xi claimed that "the Chinese nation, with an entirely new posture, now stands tall and firm in the East."
Hong Kong in the light of chinese nationalism
The report 0n 29 July about a mainland Chinese man pushing a female Hong Kong overseas student to the ground at the University of Auckland in New Zealand may seem inconspicuous on its own. But it's a worrying sign of how Beijing has turned Hong Kong's protests into an interethnic conflict, one that could flare into worse violence.
Also by putting a heavy emphasis on the discolored national emblem through state-controlled media, the Chinese government is deliberately whipping up nationalist fervor among mainland Chinese citizens and is granting license for people to act against imagined enemies of China. This form of political and psychological warfare has the potential to lead to even greater tragedy than a conventional military crackdown, as it could poison the relationship between Hong Kongers and mainland Chinese citizens.
Hong Kong students abroad have described an atmosphere of fear, intimidation and vitriol in dealing with ultra-nationalistic mainland Chinese since the city's anti-government protests broke out.
For example in Vancouver Canadian police needed to escort worshippers as 'bullying' pro-China protesters surround church holding prayers for Hong Kong: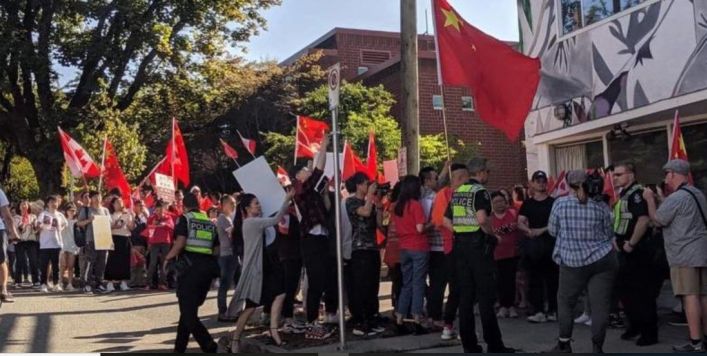 Chris Chiu said the incident had left him shaken and fearing for the worshippers' safety. "There were VPD [Vancouver Police Department] outside warding off people from the area, there were people waving Chinese flags," Chiu said. "They were obviously here trying to intimidate us."
Elsewhere in Melbourne fights broke out, where a pro-Beijing demonstrator attacked an ABC reporter.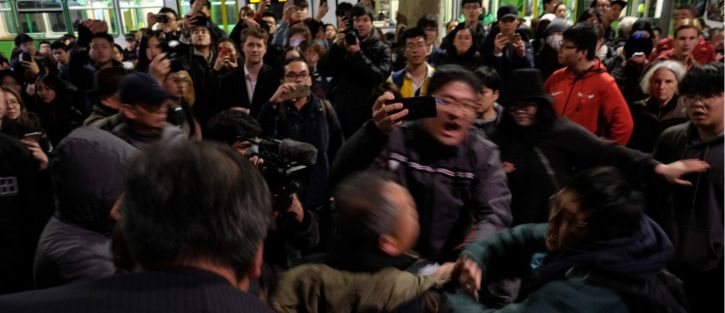 An article in the NYT titled Chinese Nationalists Bring Threat of Violence to Australia Universities describes Chinese nationalist attacked an abcnews journalist in Melbourne. The pro-Hong Kong rally turned violent as hundreds of demonstrators clashed with more than 100 pro-China protesters. Four MPs have voiced concerns about the influence the Chinese government has. And as is exemplified by the above cited NYT article in the case of organizing pro-Beijing rallies the focus has often been on Chinese Nationalist outfits like the worldwide Confucius Institutes. 
China's new nationalism is the particular view of history endorsed by the Chinese leadership, which sees the history of China from the mid-nineteenth century to the Communists' coming to power in 1949 as an endless series of humiliations at the hands of foreign powers. While there is some truth to this version of events, the CCP also makes the frightening claim that the party itself is the only thing standing between the Chinese and further exploitation. Since it would be untenable for the party to argue that the country needs dictatorship because the Chinese are singularly unsuited to governing themselves, it must claim that the centralization of power in the party's hands is necessary for protection against abuse by foreigners.
Another troubling aspect of nationalism in China today is that the country is a de facto empire that tries to behave as if it were a nation-state. More than 40 percent of China's territory, Inner Mongolia, Tibet, Xinjiang, was originally populated by people who do not see themselves as Chinese. Although the Chinese government grants special rights to these "minority nationalities," their homelands have been subsumed into a new concept of a Chinese nation and have gradually been taken over by the 98 percent of the population who are ethnically Chinese (or Han, even this refers to an earlier very different empire). Those who resist end up in prison camps, just as did those who argued for real self-government within the Soviet empire.
Externally, the Chinese government sustains a dystopia, next door in North Korea, and routinely menaces its neighbors, including the democratic government in Taiwan, which Beijing views as a breakaway province. Much of this is not to China's advantage politically or diplomatically. Its militarization of faraway islets in the South China Sea, its contest with Japan over the Senkaku/Diaoyu Islands, and its attempts at punishing South Korea over the acquisition of advanced missile defenses from the United States have all backfired: East Asia is much warier of Chinese aims today than it was a decade ago. (The percentage of South Koreans, for example, who viewed China's rise favorably fell from 66 percent in 2002 to 34 percent in 2017, according to the Pew Research Center.) Despite this dip in China's popularity, people across the region overwhelmingly believe that China will be the predominant regional power in the future and that they had better get ready.
As for Hong Kong, the economist recently spotted Chinese new nationalism in its dismay on Weibo and WeChat even in reference to certain Western brands. Whereby entertainers such as Liu Yifei and Jackie Chan also took nationalist positions vis a vis the Hong Kong protests.
Meanwhile the brief respite from violence has come to an end today, with police firing tear gas at demonstrators as the city's protests enter their 12th weekend. Protesters took to Kwun Tong district in the city's east on Saturday, reiterating the five demands that have emerged during this pro-democracy movement, and adding an additional issue: the government's installation of "smart" environmental monitoring lampposts, which have sparked privacy concerns. The protest movement still appears to have broad support, with thousands, including families, lawyers, accountants and young and old people, taking to the streets in anti-government rallies today.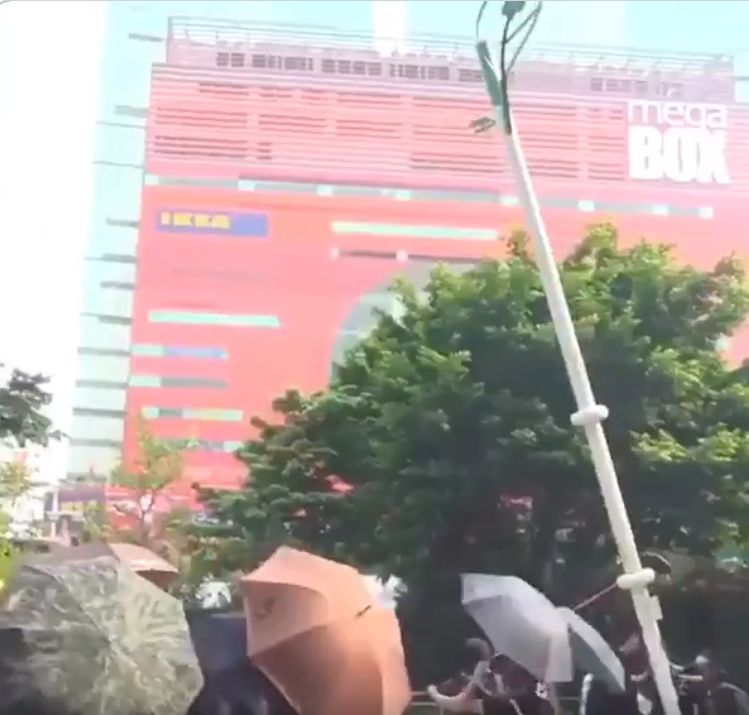 There are more protest scheduled for tomorrow, Sunday.
As to how all of this will end, it is unclear what will happen but while the Hong Kong Government so far has denied this 'will' happen, there is still 'some' possibility that Beijing at one point could cite Article 18 of the basic law, which permits the National People's Congress to impose a curfew if the Hong Kong government cannot restore order, arguing that the right to impose a curfew implies the right to police a curfew. If it did, however, local police would probably be in command of any People's Armed Police forces.
With policeman who are dressed like the are part of a military style war and demonstrators who before they as always retreat attempt at times to fight back today is another day that is leading to escalation.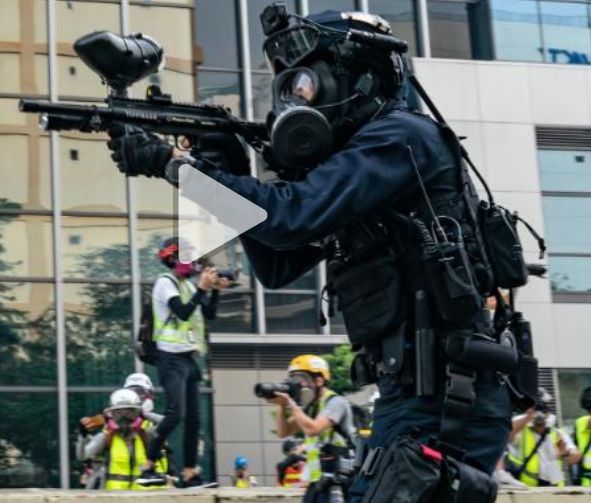 Update 29 Aug. 2019: The rotation of fresh Chinese military troops to the Hong Kong garrison sparked widespread concern Thursday, demonstrating how on edge the city is ahead of a thirteenth consecutive weekend of anti-government protests. In a statement, China's military said the "annual normal routine action" had been carried out with the approval of the Central Military Commission and the troops would "resolutely safeguard national sovereignty, security, and development interests, effectively perform Hong Kong's defense duties, and safeguard Hong Kong's prosperity."
The People's Liberation Army troop movements were carried out in the dead of the night, and took place at the same time as a rotation of the garrison in neighboring Macao. They were announced by Chinese state media early Thursday morning. The move also came as Chief Executive Carrie Lam would not rule out using emergency powers-- which would give her the right to pass new laws without the approval of legislators, if violent protests continue.
Police have denied permission for a major protest planned by the Civil Human Rights Front on Saturday. The CHRF previously organized three peaceful marches it said attracted more than a million participants. Organizers said they are appealing the police decision. While fears about a military crackdown have often focused on visions of PLA tanks crossing the border, the military has had a major presence in Hong Kong since the city was handed over from British to Chinese control in 1997.
The 6,000-strong garrison largely avoids public view, however, aside from displays to mark key anniversaries or the visits of Chinese officials, such as when President Xi Jinping inspected troops in 2017 to mark 20 years of rule from Beijing. Under the city's constitution, the Hong Kong government can request the assistance of the garrison "in the maintenance of public order and in disaster relief."
Administration and police officials have repeatedly denied any need to call on the military, even as the protests have taken an increasingly violent turn. This has not stopped the rampant concern that a crackdown could come at some point, which has been boosted by a large buildup of paramilitary forces across the border in Shenzhen.
While most analysts agree that the presence in the Chinese city of the People's Armed Police, a force under the military commission, is likely intended to send a message to domestic audiences that the government is in control and will not allow unrest to spill over the border, it has caused concern among many in Hong Kong. Lam's apparent suggestion that she could invoke emergency powers has deepened that concern. Police resources have been stretched by the months-long protests, and were the government to institute a curfew or other radical action that such a move would allow, it's likely they would require reinforcement, potentially from the military.
Today a poster was circulated illustrating what the protesters are thinking: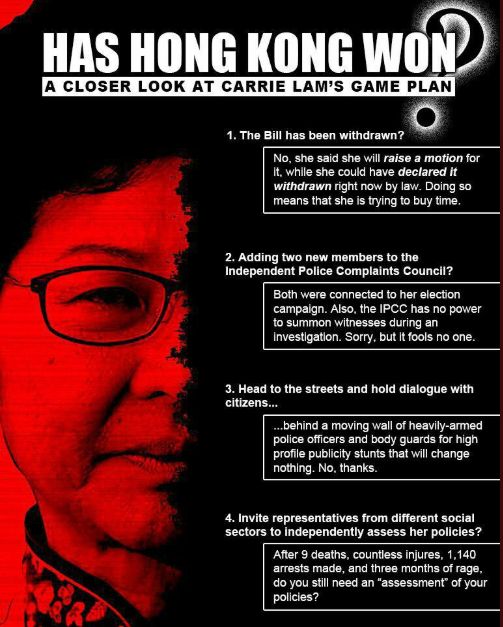 For updates click homepage here