By Eric Vandenbroeck
Earlier a naval move that seemed to be coordinated with China, near the contested Senkaku/Diaoyu islands, has raised a concern about where Russia stands.
Whereby the Chinese Defense Ministry official spokesman Col. Wu Qian suggested that it was intended as a message to US hawks, whereby in a 24 July defense paper China did not rule out the use of force against Taiwan and also alluded to China's new amphibious assault fleet.
Also Hanoi has accused Beijing of violating its sovereignty by sending a survey ship to Vanguard Bank, which sits within Vietnam's UN-recognised 370km (200 mile) exclusive economic zone (EEZ). Beijing arbitrarily claims the South China Sea, in its entirety, as its own.
"Vietnam has made contact with China and staunchly demanded China to stop all unlawful activities and withdraw its ships from Vietnamese waters," Vietnam's Foreign Ministry spokeswoman Le Thi Thu Hang said at the weekend.
It came shortly after a demand by Philippines President Rodrigo Duterte for the protection of the US Navy after a deadly collision in the disputed Spratly Islands.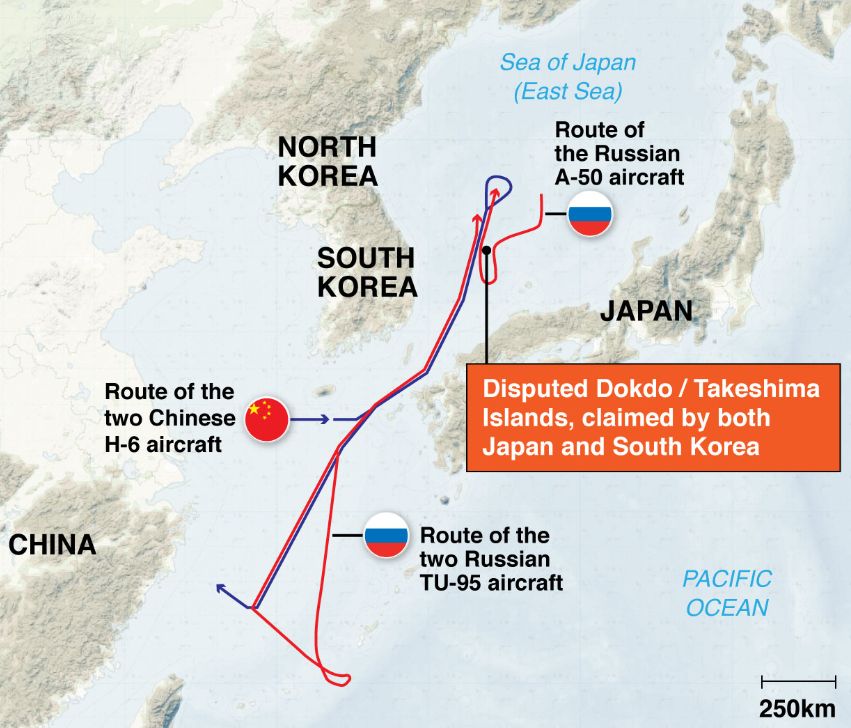 South Korea says its jets fired flares and machine-gun warning shots when Russian planes intruded. Whereby Japan has protested both to Russia and South Korea over the incident...
Thus an odd set of confrontations unfolded July 23 around the Korean Peninsula involving South Korea, Russia, China and Japan. Where warplanes from four countries face off in Asian confrontation.
The Japan Air Self Defense Force (JASDF) scrambled fighter jets in response to the joint air patrol to intercept and escort the Chinese and Russian bombers as well as their accompanying support aircraft. According to the Japanese MoD, the two Tu-95MS bombers also flew through the Miyako Strait, situated between the Japanese islands of Okinawa and Miyako in the East China Sea.
The aircraft also reportedly entered South Korea's air defense identification zone (ADIZ). "The Russian aircraft stayed in ADIZ for about 93 minutes, and the Chinese warplanes stayed there for 85 minutes," according to Yonhap news agency citing information provided by country' MoD. Air defense identification zones are not considered sovereign or territorial airspace. South Korea's MoD said that the Chinese and Russian aircraft were "engaged in coordinated maneuvering" while flying in the ADIZ. The ADIZ is airspace surrounding a nation or part of it where identification, location, and control of aircraft over land or water is required in the interest of national security.
Moscow, on the other hand, insists its aircraft did not impinge on any country's airspace and that their movement was part of a maiden joint long-range Sino-Russian patrol that had been previously scheduled to overfly international waters in the Sea of Japan and the East China Sea. Russia also underscored that it does not recognize the South Korean-declared ADIZ. South Korea filed formal diplomatic protests with Russia over the incidents.
Japan followed suit, "Takeshima is Japan's territory," Foreign Minister Taro Kono was quoted as saying by The Japan Times. "It is Japan that should take action against the Russian plane that entered its airspace. It is incompatible with Japan's stance that South Korea takes steps on that," The islets are located in the Sea of Japan about 200 kilometers from either country's mainland.
Last month, Japan reported that two Tu-95MS strategic bombers violated the country's airspace off the Japanese island of Minamidaitō southeast of Okinawa and off Hachijō island in the Philippine Sea on June 20. The JASDF conducted 343 scrambles against Russian military aircraft in fiscal year 2018, which ended this March. 638 JASDF scrambles were against PLAAF and People's Liberation Army Navy Air Force (PLANAF) aircraft, according to the Japanese MoD.
What It Could Mean
The anomalous series of events raises several questions. Intrusions into East China Sea airspace claimed by both China and Japan are fairly common, even sometimes involving South Korea. While the Japanese routinely scramble aircraft to counter East China Sea intrusions, it's unusual to see Russian aircraft in the area near South Korea in which the July 23 incident took place, making this encounter the first of its kind.
While a navigational error due to human error or equipment malfunction could have sent Russia's A-50 over Dokdo, the Russian flight path reported by South Korea shows a fairly tight loop around the disputed feature, raising the possibility that the Russian pilot's course was deliberate. Even if accidental, the Sino-Russian joint exercise and other ongoing activities highlight that infractions will inevitably become more frequent as Russia and China continue to increase aerial patrols in the airspace over the Sea of Japan, raising the risk that further incidents will occur. If it was an intentional act, the aircraft's entry into South Korea's claimed airspace would be both a brazen and risky maneuver, raising questions about Russia's intent, and, in the broader context of the joint exercise, perhaps China's as well. Notably, the alleged Chinese entry into South Korea's ADIZ was limited to Ieodo, a feature that China also claims and the site of frequent challenges to South Korean claims.
If it was an intentional act, the aircraft's entry into South Korea's claimed airspace would be both a brazen and risky maneuver, raising questions about Russia's intent.
South Korea's response was also unusually vehement, warning shots are rarely part of such an interception. For South Korea, the passage through the airspace around Dokdo is particularly troublesome given that the land feature there is its anchor in its efforts to extend its ADIZ to the northeast. That this was part of long-planned Russia-China joint patrols that included incursions in other corners of the ADIZ is doubly concerning for Seoul. It also marks an actual Russian flight over South Korean-claimed airspace, which is of much greater significance than an ADIZ fly-through.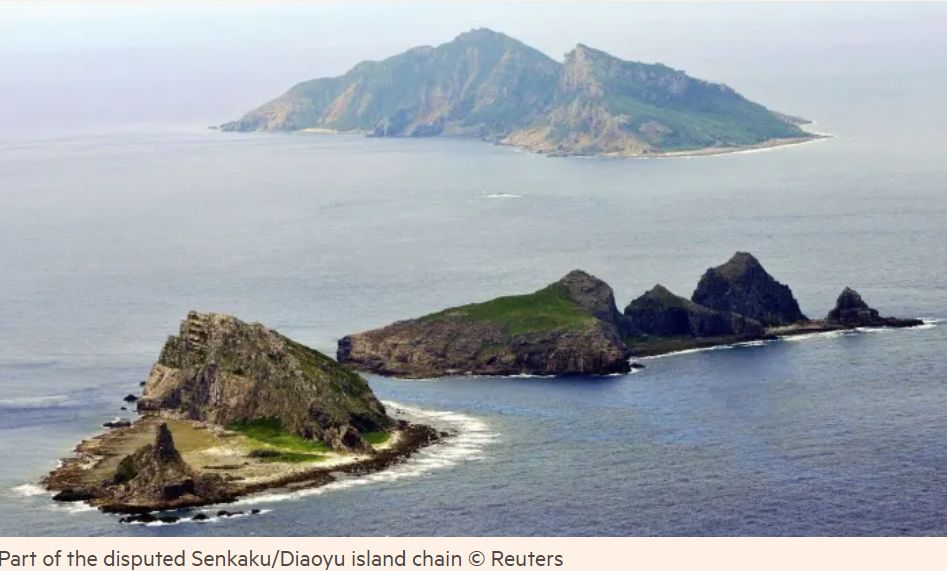 This series of incidents, which comes amid greater alignment between Russia and China in the Asia-Pacific, echoes an apparently coordinated action between the two countries in 2016 to sail through Japanese-claimed waters in the East China Sea around the Senkaku/Diaoyu islands. The Dokdo/Takeshima incident also comes amid a dispute between South Korea and Japan that has morphed into a low-level trade war, providing increased incentive for South Korea to underscore its sovereignty over the disputed geographical features.
The seeds of the trade row lie in a dispute between Seoul and Tokyo over the legacy of Japan's colonial rule over the Korean peninsula before the end of World War II. Tokyo, which beliefs it settled all necessary compensation under a treaty signed in 1965, has been angered by a South Korean court's recent order that Japanese firms must compensate wartime victims of forced labor, while Seoul believes that a victim's individual right to file a claim has not expired.
Jina Kim, a Seoul-based military expert at the Korea Institute for Defense Analyses, said while there had been previous instances of joint Russian and Chinese activities, Moscow's increased activity was a "grave concern" for Seoul. It also highlighted problems stemming from South Korea, Japan, and China having overlapping air defense identification zones.
"This is a critical issue between the neighboring countries. There haven't been sufficient discussions about how to prevent these kinds of events from taking place," she said. "Perhaps the Chinese or Russians wanted to see if there is any co-ordinated response from Seoul and Tokyo against these kinds of events today," Kim said.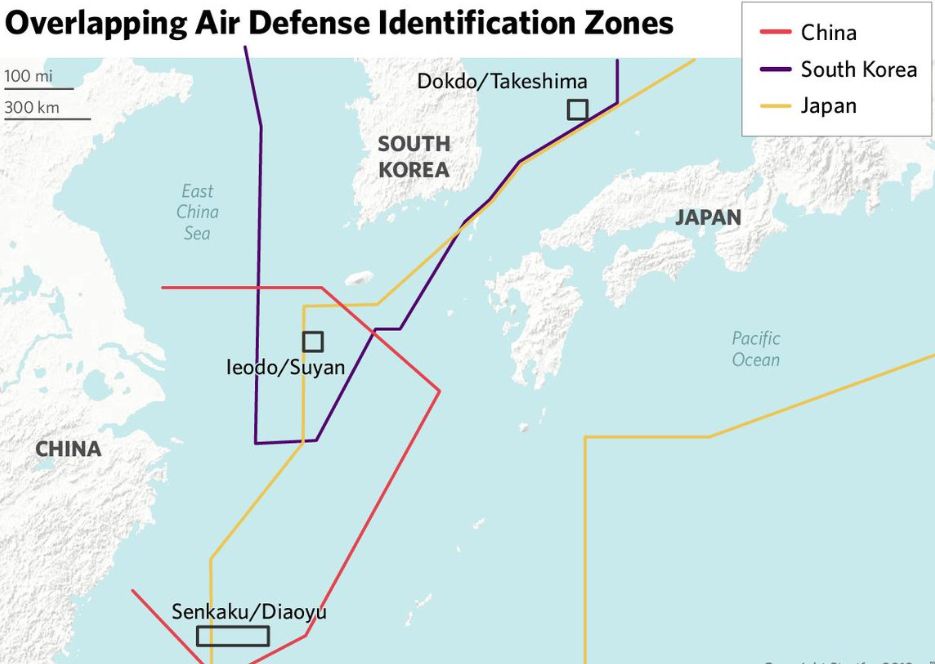 Conclusion: This first "joint air patrol" involving Russian and Chinese long-range aircraft in the Asia Pacific region, sends a powerful signal of the developing military relationship between Moscow and Beijing. This still falls short of a formal alliance, but their joint exercises are more extensive and more sophisticated.
In turn, this is a reflection of the ever-closer economic and diplomatic ties between the two countries which, though they still have points of tension, are drawing ever closer together. They broadly share a similar world view, hostile to Western liberal democracy, eager to promote an alternative model, protective of their national sovereignty, and often willing to ride rough-shod over that of others.
This poses a considerable challenge for US strategy. The nightmare in Washington is an ever-closer relationship between an assertive, but declining Russia, and a rising China, which looks set to overtake the US as a technological and economic power in the years ahead.
But what seemed a brilliant way for Putin to turn his back on the West and magnify Russia's influence is looking like a trap that his country will find hard to escape. Far from being an equal partner, Russia is evolving into a Chinese tributary.
As for Vietnam an escalation of the current dispute could well strengthen anti-China sentiment inside the Vietnamese Communist Party, sparking a call for increased security relations with the United States, a path Hanoi has so far been reluctant to take. In fact, last year Vietnam abruptly canceled dozens of military engagement activities it had scheduled with the United States. In addition, if China were to step up tactics of intimidation, it could push Vietnam to submit their maritime disputes to the International Court of Justice, putting a further strain on their relationship.
Update 25 July 2019: Vietnam today called for the "immediate withdrawal" of a Chinese ship in the South China Sea.
For updates click homepage here