By Eric Vandenbroeck
In what appears to be one of the most serious escalations between the two countries in recent years China yesterday warned India it is willing to defend territory "at all costs." This comes amid earlier reports in the case of China that thousands of tons of equipment have been moved into the region.
Thus, in what is dubbed India's China war round two, Indian and Chinese troops are facing off once again. This time, however, the skirmishes are taking place not in the disputed territories of Arunachal and Ladakh but along the border of the North Eastern state of Sikkim, at Doko-La, which lies at the tri-junction of India, China, and Bhutan.
To understand the conflict however one has to know that the area was the site of a bloody war in 1962 that ended up with China seizing control of some of the territory.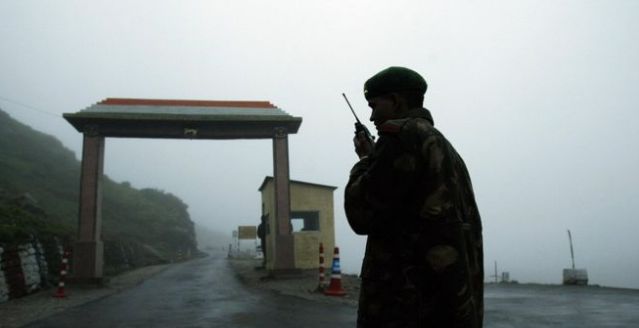 Above the Himalayan Nathu La pass was the site of clashes in the 1960s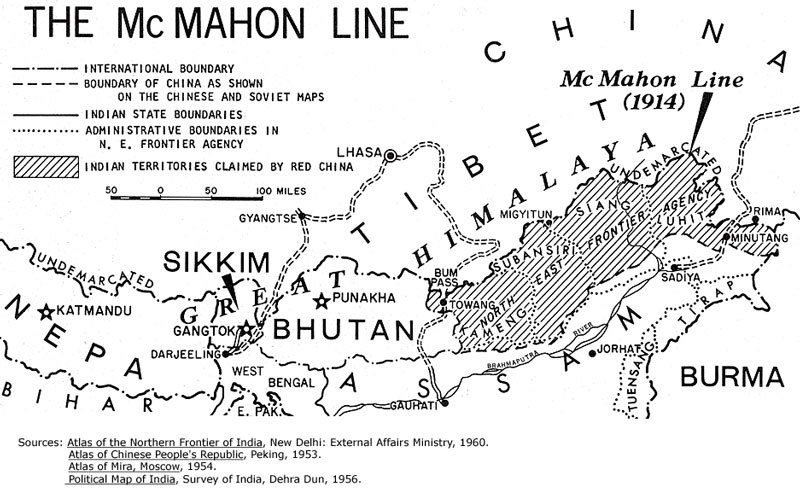 Following the 1962 debacle, diplomatic relations between India and China were suspended for almost fifteen years. They resumed only in 1976 when both countries exchanged ambassadors. It took three more years for the first official visit since 1960 to take place, when External Affairs Minister Atal Bihari Vajpayee went to China to discuss the border issue and China's support to insurgent groups in Northeast India. China's attack on Vietnam, following the latter's invasion of Cambodia, interrupted the visit but did not end the dialogue between the two countries.
In May 1980, soon after her re-election, Indira Gandhi met Chinese premier Hua Guofeng at Tito's funeral in Yugoslavia. The meeting led to the June 1980 Chinese proposal of a "package deal" institutionalizing the status quo, which India refused. The same year, however, India informed China that it was ready to resume the process of normalization. An annual dialogue at the level of vice-ministers started in June 1981 and continued until 1988 when Rajiv Gandhi visited Beijing, the first visit an Indian prime minister had made to China since 1955. India dropped its earlier demand "of asking for settlement of the border as a precondition for any improvement in relations in other fields." Two joint working groups were established to deal with trade negotiations and the border issue.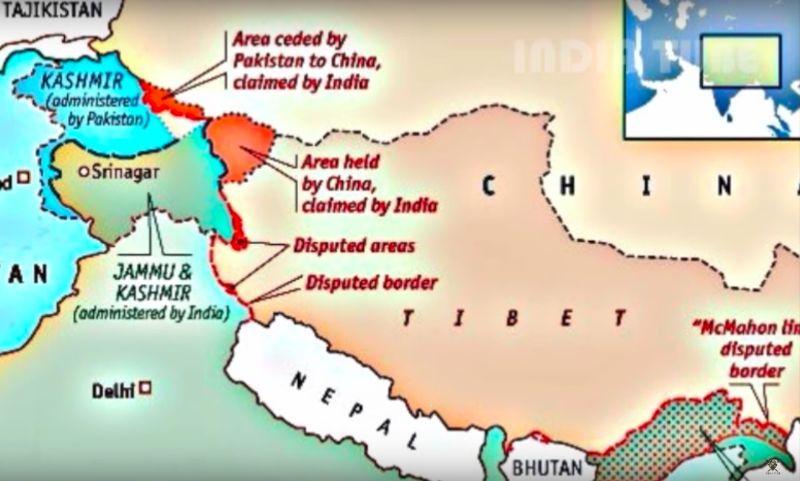 What India and China currently want
The prevailing narrative for many years was based on a book entitled "India's China War", published in 1970 and written by Neville Maxwell, an Anglo-Australian journalist. He argued that India provoked the war by setting up new military outposts along the disputed border in line with then-prime minister Jawaharlal Nehru's a "forward policy", launched less than a year before the hostilities erupted.
Recent archival research, however, has shown that China began preparing for military action as early as 1959 and that the war had more to do with domestic problems in China, including the disastrous Great Leap Forward campaign launched in the late 1950s which resulted in widespread famine and sparked opposition within the Communist Party against leader Mao Zedong.
It was also a time when China wanted to dethrone India from its dominant role in the Non-Aligned Movement, which bound together newly independent states in Asia and Africa, and replace it with Chinese leadership over revolutionary movements in what Beijing later called the "Third World."
India's motives in this conflict are relatively easy to unravel. As the patron and de facto security guarantor of Bhutan, New Delhi has an all-but-official obligation to defend that nation's territorial claims. Under the 1949 Treaty of Friendship, Bhutan's King Druk Gyalpo pledged "to be guided by the advice of the Government of India in regard to its external relations." The treaty was revised in 2007 to commit both governments to "cooperate closely with each other on the issues relating to their national interests." Beneath the diplomatic language, the intent remained the same: Bhutan would let India control its foreign policy, and India would protect Bhutan from external threat.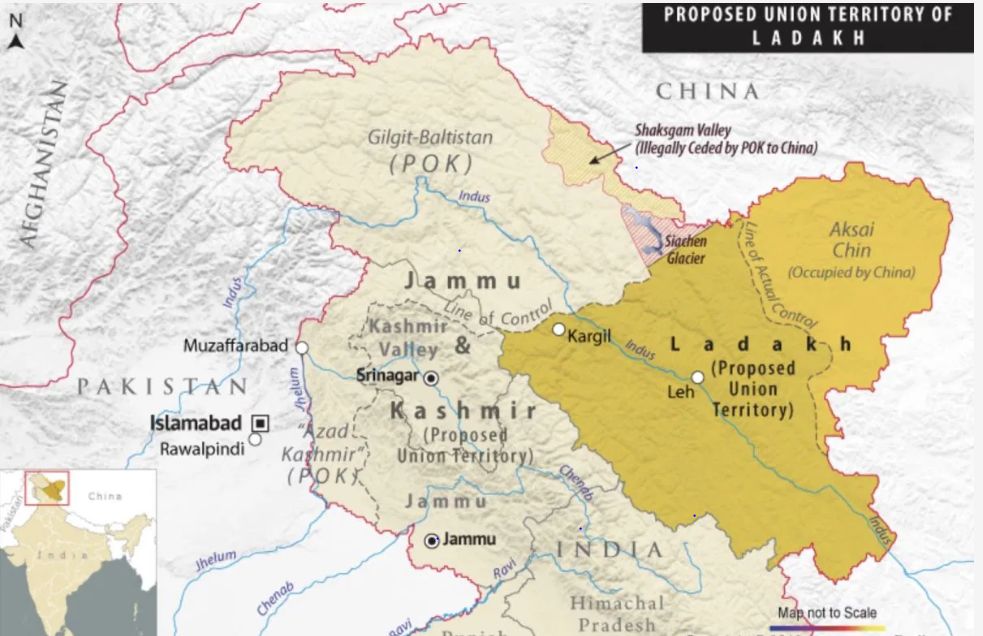 Moreover, a Chinese military presence at Doklam, particularly one with transportation infrastructure capable of supporting deeper incursions, would threaten a 17-mile-wide strip of land known as the Siliguri Corridor linking seven Northeastern Indian states to the rest of the country. The corridor is often referred to as India's "Chicken Neck", and New Delhi had no intention of letting Beijing gain control of it. The 2007 treaty with Bhutan ominously notes that "neither Government shall allow the use of its territory for activities harmful to the national security and interest of the other." Even if Bhutan were willing to let China take control of Doklam, India would likely have been unwilling (and, by treaty, unrequired) to stand aside.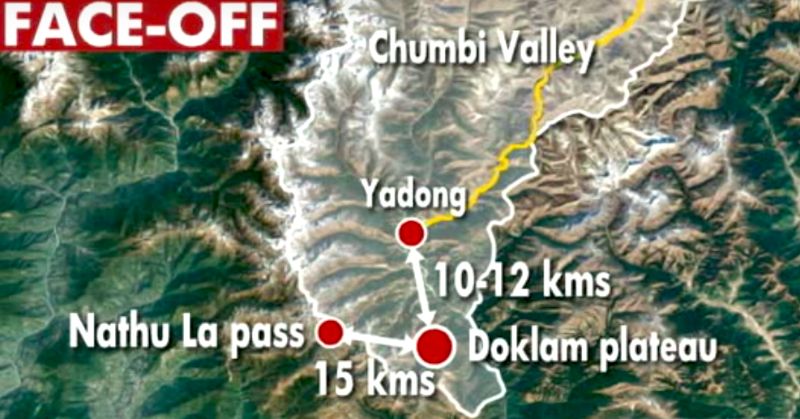 China's initial move, even if it appeared to be the opening gambit in a geopolitical chess-game, might initially not have been intended as such. Beijing has been on a nationwide infrastructure building-spree since the 1990s, and sensitive border areas have not been left out of this program. To Indian eyes, the creation of a paved highway on highly strategic terrain looked like the laying of a foundation for a potential invasion; but to China, it may have been nothing more than the same sort of gravel-to-asphalt upgrade underway throughout the country.
Chinese and Indian troops frequently push one another's border positions a few hundred yards (or more) one way or another, depending on how much ground they can seize before higher authorities intervene. In April of 2013, for example, a Chinese platoon advanced 12 miles into Indian-held territory near Daulat Beg Oldi in Kashmir, but it withdrew about three weeks later, after intensive diplomatic wrangling. Another factor suggesting mishap rather than high-level premeditation is the tactical set-up: India commands the high ground, which means if the People's Liberation Army tried to push beyond Doklam toward the Siliguri Corridor it would be forced to attack largely uphill for about 90 miles.
Having rupted in mid-June after the first week or so, it went from being a field-level initiative to a policy choice undertaken at the highest echelon of the Chinese government. Indeed, Beijing stoked nationalist sentiments among the Chinese public by running inflammatory stories in the state-controlled press and social media. The Chinese government arguably had four key objectives in the dispute, two directed squarely at India and two of with more direct implications for the U.S. and other nations around the world.
Beijing's first strictly regional goal may have been to keep India from thinking it was at parity with China. The 1962 war, in which China invaded India without great difficulty, and unilaterally withdrew a month later while retaining the only pieces of territory it wanted to keep, shattered any illusion that the two giant nations of Asia were either friends or peers. In subsequent decades, Indian leaders were generally wary of offending Beijing. Through the Mao Zedong years and after, the military and economic gap (especially from the 1990s onward) between the two nations seemed to grow ever wider. In the new century, however, India's confidence has steadily grown: leaders of both major political parties increasingly describe Pakistan as their nation's rival of the past, and China as the rival of the future. Under Prime Minister Narendra Modi, this attitude has been matched by action. Modi has stepped up India's construction of military and dual-use infrastructure along the LAC, and increased security cooperation with its Pacific partners, including Australia, Japan, and Vietnam.
This increased desire for security cooperation extends straight across the ocean. During the four summit meetings over the past three years, Indian and U.S. leaders have pushed to advance security cooperation as speedily as possible. During Modi's visit to Washington in June 2017, for example, India announced that it would purchase 22 Guardian MQ-9B unmanned aerial vehicles from the United States for maritime surveillance. On July 10, the United States and India began the twenty first edition of their annual Malabar naval exercise, which for the first time featured aircraft carriers from these two nations as well as Japan. In the past, India had generally shied away from multilateral exercises involving Washington, or from any actions which could be read by Beijing as a step toward a de facto U.S. alliance. China, understandably, would like to keep it that way.
Perhaps the most important Chinese concern in the Himalayas, however, deals with the future of the 82-year-old Dalai Lama. Indian leaders have given the Dalai Lama sanctuary in the town of Dharamsala for nearly six decades, but Modi has been more willing than any of his recent predecessors to press China's Tibetan sore spot. In 2014 he broke protocol by inviting Lobsang Sangay, prime minister of the Tibetan government-in-exile, to his inauguration. In April 2017, six months after encouraging a similar tour by the U.S. ambassador, Modi permitted the Dalai Lama to visit Tibetan communities in the state of Arunchal Pradesh-territories claimed by China.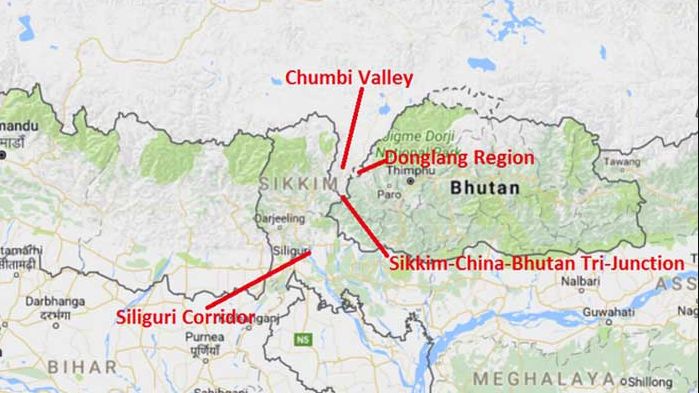 Beijing has objected vociferously to each of these steps, with the Foreign Ministry noting in April, "China will firmly take necessary measures to defend its territorial sovereignty and legitimate rights and interests." China intends to select the Dalai Lama's successor, as it did in 1995 for Tibetan Buddhism's second-ranking cleric, the Panchen Lama. China's claim to the areas held by India (and Bhutan) flows from its claim to Tibet. If Tibet is an integral part of China, then all territories ever controlled (or claimed) by Tibet are also integral parts of China. A high-profile scare on the Doklam Plateau, inhabited only by seasonal Tibetan and Bhutanese yak-herders, may have been intended to send India an implicit message: namely, not to repeat its decision to shelter the Dalai Lama 1959, and as we have seen above, a key cause of China's 1962 invasion.
Update 29 Aug. 2017:
The key takeaways from the incident
As is known by now, around 75 days after Indian and Chinese soldiers entered a what became a high-stakes standoff on the Doklamplateau, which abuts the Indo-Sino border in the Sikkim sector, the two sides agreed to withdraw their troops thus ending the danger of war.
Although China claims more than 35,000 square miles of Indian-held land along the eastern portion of the LAC alone, it did not choose any part of this area as the site for an international incident. By focusing on Bhutan instead, China may have been trying to drive a wedge between India and its most vulnerable ally. New Delhi would defend its own sovereign territory, but Beijing may have wanted to see whether India would go to war against a much stronger adversary to defend someone else's real estate. Perhaps India would back down and compromise in some way: for example, permitting Bhutan to trade its claim on Doklam for China's dropping its quest for two other disputed areas held by the tiny kingdom. Several nations in South Asia (the Maldives, Nepal, and Sri Lanka) look to India for some degree of security protection, and several in Southeast Asia (including Indonesia, Malaysia, and Vietnam) have expressed interest in greater security engagement; a failure to fully protect its most direct client would have grave implications for India's credibility as a partner.
In addition, China's speedy movement of road-construction equipment into the disputed area suggests that Beijing could be replicating its approach in the South China Sea where it is building infrastructure to establish de facto ownership. China's strategy in the South China Sea has been unfolding in public view for years. Since December 2013, Beijing has reclaimed more than 2,900 acres, essentially building islands on top of barren reefs in the Paracel and Spratly chains. So far, this strategy has been successful. None of its rivals has accepted Beijing's claims, but none has taken a meaningful step to remove China's new array of landing strips, naval facilities, and surveillance stations.
But Doklam may not be the last such move outside of the maritime arena. China not only has unresolved land disputes with India, but it could also conceivably use a build-it-and-own-it approach to reopen long-dormant border disputes with Vietnam or Myanmar. It could even leverage its investment in infrastructure projects throughout Asia, Africa, and Latin America to extract political concessions, a tactic that European imperialist powers employed for hundreds of years.
If China regards Doklam as a success, it may be tempted to reuse the same template elsewhere, whether at an atoll in the Pacific or at a copper mine in the Democratic Republic of Congo. Thus although troops are backing off their mountain-top positions, only time will tell whether their rumblings have actually subsided or rather, created the conditions for a new attempt.
For updates click homepage here