By Eric Vandenbroeck 30 Dec. 2018
Drawing headlines all over the world this years annual Asia-Pacific Economic Cooperation summit ended in unprecedented chaos and disarray, without agreement on a joint communique for the first time in its history as the escalating rivalry between the United States and China dominated proceedings and reflected escalating trade tensions. Sunday's dramatic conclusion was foreshadowed by accusations that Chinese officials had attempted to strong-arm officials in Papua New Guinea, which was hosting the event, into issuing a statement that fitted what Beijing wanted. Less noticed were two short memorandums released on the sidelines of the conference by the island nations of Vanuatu and Tonga. In return for renegotiating existing debt, both agreed to become the newest participants – following other Pacific nations like Papua New Guinea and Fiji – in Chinese President Xi Jinping's signature foreign-policy venture, the Belt and Road Initiative (BRI).
May 2017, President Xi reminded the 29 foreign heads of state and representatives from more than 130 countries and 70 international organisations that over 2,000 years ago, "our ancestors trekking across vast steppes and deserts, opened up the transcontinental passage connecting Asia, Europe and Africa, known today as the Silk Road." He went on to refer to the sea routes that later evolved linking the East with the West, and noted that the ancient silk routes "opened windows of friendly engagement among nations, adding a splendid chapter to the history of human progress . . . and embody the spirit of peace and cooperation, openness and inclusiveness, mutual learning and mutual benefit."
The standard explanation is that the Silk Road Economic Belt and the 21st Century Maritime Silk Road aims to build a trade and infrastructure network connecting Asia with Europe and Africa along the ancient trade routes of the Silk Road. Or as an upcoming book is about to explain, the BRI creates a venue for the meeting of cultures by promoting people-to-people interaction and exchange. But China's grand ambition may not necessarily be a road to riches for its partners.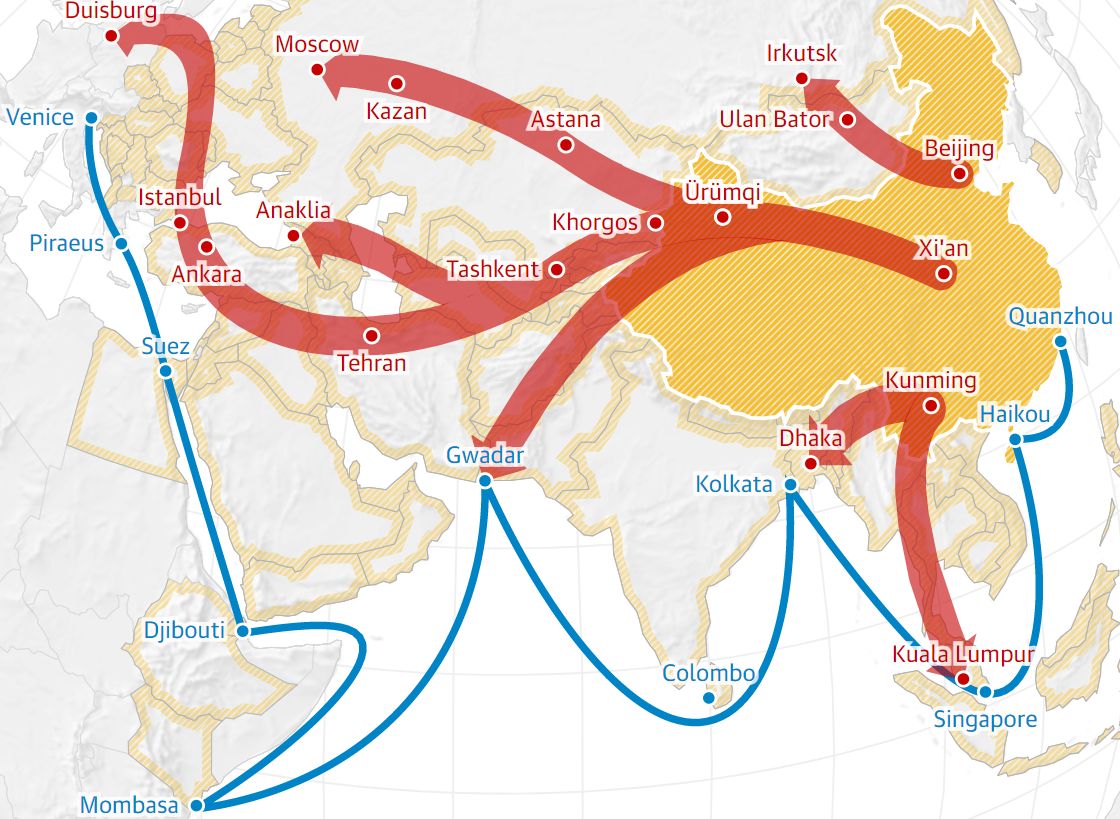 Throughout history, would-be powers have invented new ways of growing. The Mongol Empire connected lands through trade, the Qing dynasty built a tributary system, the United Kingdom collected colonies, the Soviet Union created ideologically linked spheres of influence, and the United States established an institutionalized order and a global military presence. China, too, has looked for new sources of power and has used it in ways not previously attempted.
As the analyst Nadège Rolland has written, the Belt and Road Initiative "is intended to enable China to better use its growing economic clout to achieve its ultimate political aims without provoking a countervailing response or a military conflict." Many observers have wondered whether the Belt and Road Initiative will eventually have a military component, but that misses the point. Even if the initiative is not the prelude to an American-style global military presence and it probably isn't – China could still use the economic and political influence generated by the project to limit the reach of American power. For instance, it could pressure dependent states in Africa, the Middle East, and South Asia to deny the U.S. military the right to enter their airspace or access their ground facilities.
While its inroads into places like South Asia are well known, Beijing is also building its way to European markets by flowing capital in the construction of a network of infrastructures that will grant the transfer of Chinese goods all over the Old World.
China's crude maps show the belt and road running through disputed territory, including the bitterly contested waters of the South China Sea where China has been busy building fortresses on reefs.
Thus the term itself is confusing. The "road" refers mostly to a sea route; the "belt" is on land.  The BRI's Maritime Silk Road links China by sea to Africa and southwest Asia and, via the Suez Canal, Europe. On the BRI's sea leg, China will help build seaports, improve old ports and port facilities and improve the ports' regional land transportation infrastructure.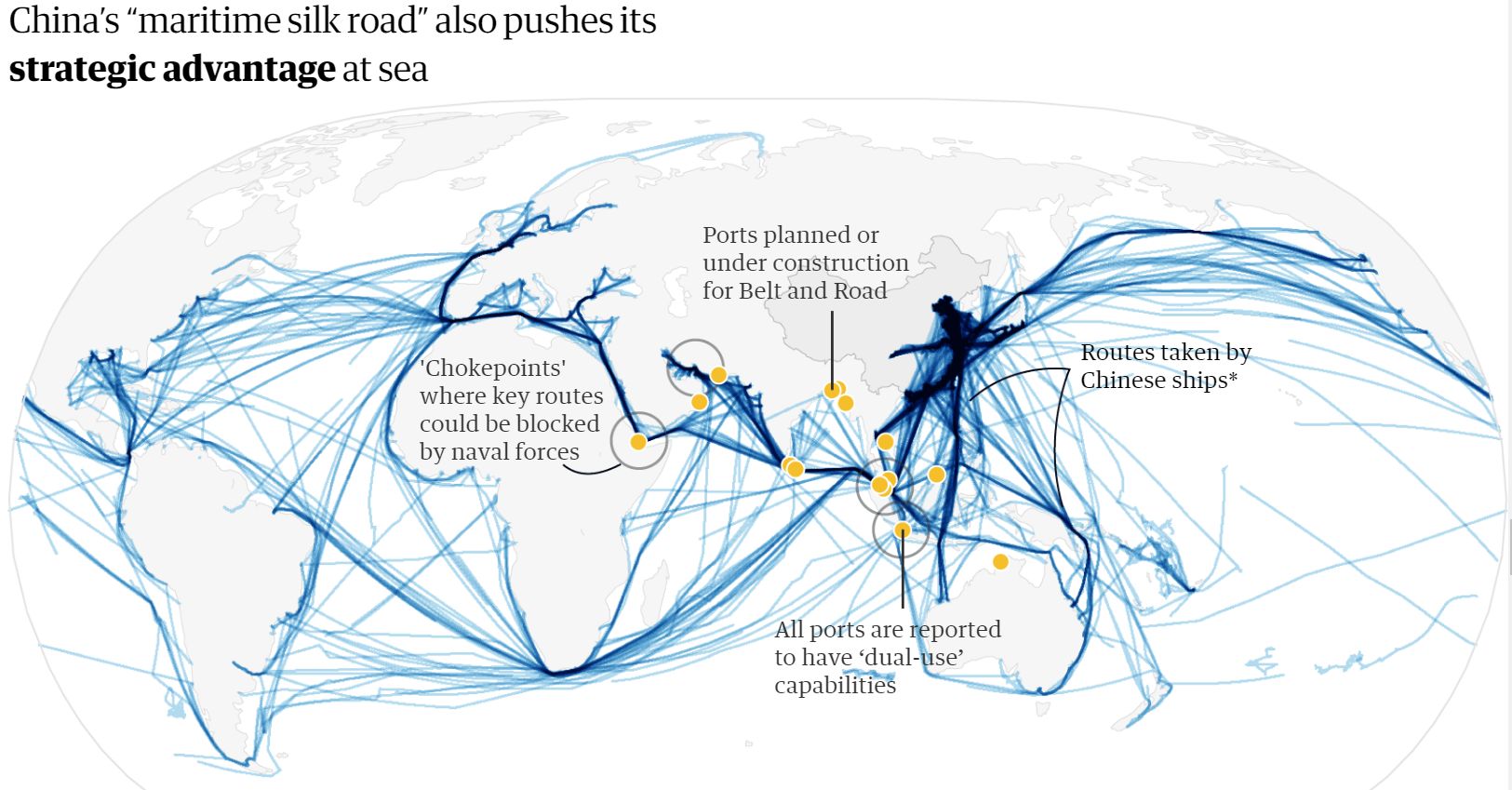 In fact, one can say that the BRI, as constituted, has no historical precedence other than in rhetoric. The ambition to encircle India by land and sea is new. So is the creation of a financial and resource exchange system for power, transportation and infrastructure development in central Asia, the Middle East, parts of Europe and Africa. Likewise, the formation of trade and security relationships designed to keep the US away from Asia, or at least stifle its reach.
It is also a never-ending challenge to evaluate and value the BRI. At the Belt and Road Forum in Beijing in May 2017, President Xi claimed that investment in BRI countries since 2013 had already exceeded $ 50 billion. This, though, was almost certainly a reference only to foreign direct investment by Chinese companies, including mergers and acquisitions account for a small proportion of Chinese foreign investment abroad –perhaps no more than 9–10 per cent on an annual basis – and also a small proportion of the much larger amounts disbursed via direct project investment, that is, financing linked specifically to projects. Thus the BRI is like holy writ –never revealed completely and all at once, but only bit by bit and over many decades.
Politically and strategically, the BRI raises other important questions. Some think, for example, that it is primarily a Eurasian development project, in which China, unusually, is assuming a leadership role in supplying public goods and improving economic welfare in large tracts of the world economy. Others accept this but also think that it is a major Chinese economic, foreign policy and international relations project designed to benefit mainly China. The distinction is quite important. A Eurasian development project would suggest that China is taking on a strong leadership role, and pursuing regional and global objectives to which Beijing would, if necessary, subordinate its immediate national interests. History offers no assurances that this is likely. It is true that China's participation in the Asian Infrastructure Investment Bank, in which it is the biggest shareholder and has an effective veto, entails its being willing to subscribe to an internationally accepted governance structure. Yet, as the core of China's international relations, it would be strange if the BRI were not principally a China First strategy.
India who feels encroached upon suggests potential BRI participants unwrap the silk camouflage and carefully consider a Chinese Road project where Beijing is pouring concrete, the deep-water port of Gawdar in Pakistan's Baluchistan province (which borders Iran). China is building a huge navy. Gawdar is a perfect base for China's blue water fleet– an Indian Ocean Chinese base challenging the Indian Navy.
Unlike America's financial and global policy thinking at the end of the Second World War, reflected in the Marshall Plan, the BRI comes with no proposals for a new international architecture. The BRI provides for no formal institutions with members or a secretariat drawn from participating countries. There are no formal commitments to established criteria, designs, financing principles and safeguards in the implementation and operation of projects. Little or no attention is paid to corruption, human rights and labor or environmental standards, and there is no transparency or accountability. The lack of institutional infrastructure may not matter to commercial and financial decisions affecting project infrastructure, but it could be a major shortcoming in relations between China and some of its larger neighbors and other powers.
Another important factor will also be is that as the Chinese age structure of the population rises, consumption patterns will change. Households save less, principally because older, retired citizens receive less income and have to live off or draw down their savings. Lower household savings mean that unless companies or the government save more, the rate of investment will come down. Lower investment and a stagnant or falling working-age population drag downtrend growth. And as explained before this is going to be especially relevant to China. Because of lower trend growth, aging societies could be places where lower inflation and interest rates plant stronger roots. Or there could be acute skill and labor shortages which push wages and inflation higher. We don't know for sure because there is no template, but we have to be vigilant about both outcomes. There is a new school of thought that argues that inflation might not pick up because labor shortages won't happen thanks to the arrival of robots and artificial intelligence that could drive millions of people out of work, contributing to chronic technological unemployment. As a result, we will end up in a low-wage economy in which poverty and income inequality will become widespread.
Testing the financial returns
Whether Chinese leaders actually seek a financial return from the Belt and Road Initiative has increasingly become questionable –the sovereign debt of 27 BRI countries is regarded as "junk" by the three main ratings agencies, while another 14 have no rating at all.
Investment decisions often seem to be driven by geopolitical needs instead of sound financial sense.
In South and Southeast Asia expensive port development is an excellent case study. A 2016 CSIS report judged that none of the Indian Ocean port projects funded through the BRI have much hope of financial success. They were likely prioritized for their geopolitical utility.
Projects less clearly connected to China's security needs have more difficulty getting off the ground: the research firm RWR Advisory Group notes that 270 BRI infrastructure projects in the region (or 32 percent of the total value of the whole) have been put on hold because of problems with practicality or financial viability. There is a vast gap between what the Chinese have declared they will spend and what they have actually spent.
Thus China's plan is like the curate's egg. More and more Chinese projects are running into trouble. According to a study by RWR Advisory Group, a Washington consulting firm, 234 of a total of 1,674 projects in 66 countries have run into either financial or political trouble in the past five years. The Centre for Global Development estimates that 23 nations are facing financial stress. Concerns over poor administration, weak governance, and Chinese political heavy-handedness are widespread. Two weeks ago, Mahathir bin Mohamad, the Malaysian prime minister, announced on a visit to China that he was canceling two Chinese-financed infrastructure projects. Worth about $23 billion, they were deemed unaffordable and figured in corruption investigations in Kuala Lumpur, centered on the previous prime minister. Dr Mahathir spoke, however, about "a new version of colonialism'" implicating his rather embarrassed hosts.
Pakistan, Nepal, Bangladesh and Burma are among countries that have cancelled projects because of financial difficulties or political interference. African countries especially, gathering in Beijing this week for the Forum on China-Africa Co-operation, acknowledge China as their biggest trade partner, but some are uncomfortable about China extracting commodities and profits, running persistent trade surpluses and providing cheap exports and its own workers, displacing both local goods and workers. The Bagamayo port and special economic zone development north of Dar es Salaam is expected to cost $10 billion, or about a fifth of Tanzania's GDP.
In Africa, the Nairobi-Mombasa rail project has accumulated substantial losses within a year of operation as cargo traffic on this critical route has remained stubbornly on trucks and lorries.
In Sri Lanka, the desperately under-utilized Hambantota Port had to be surrendered to Chinese operators in a humiliating example of debt-trap diplomacy. And Pakistan's new Prime Minister Imran Khan has been scathing in his assessment of the US$60 billion China-Pakistan Economic Corridor (CPEC) – another flagship Belt and Road project.
A further example why China's grand ambition may not necessarily be a road to riches for its partners; in September of 2018, during a major conference with African leaders, China's president Xi Jinping proposed an additional $60 billion in financing for Africa in the forms of assistance, investment and loans, the western media was quick to label the latest round of Chinese financing a "debt trap", to which a top Chinese official responded at the time that Beijing is merely helping Africa develop, rejecting criticism it is loading African countries with unsustainable financial burdens.
It turns out, the official was not exactly telling the truth, because far from handing out free money the African Stand reports that China is likely to take over Kenya's lucrative Mombassa port if Kenya Railways Corporation defaults on its loan from the Exim Bank of China.
Unsustainable debt will result in appeals for financial assistance, as they have in Pakistan, and in colonial-type "payment-in-kind" deals, including controlling stakes. Sri Lanka, for example, spends four fifths of government revenues to service debt incurred to build an overcapacity in highways,  an international airport, now labelled the "world's emptiest airport", and the desperately under-utilized Hambantota Port had to be surrendered to Chinese operators in a humiliating example of debt-trap diplomacy.
A recent article in the South China Morning Post even went as far as to suggest that "the Belt and Road has failed."
And Bruno Maçães (author of Belt and Road: A Chinese World Order) wrote that, the BRI may well never realize its goals. It may be abandoned as it runs into problems and the goals it sets out to achieve recede further into the distance. But success and failure are to be measured in terms of these goals, so we must start with them.
Update 15 Feb. 2019: Will China let Belt and Road die quietly?
For updates click homepage here