An investigative report by Eric Vandenbroeck and co-workers
The true story of the sleeping prophet...
Having already covered such figures like Carlos Castaneda, Edgar Cayce is known as 'the sleeping prophet,' was born outside Hopkinsville, parlayed a quirky, backwoods upbringing, where he claimed to absorb books by sleeping on them, into a large following that continues today. There are hundreds of people throughout the United States who will testify, at the drop of a hat, to the accuracy of Cayce's predictions, diagnoses, and other claims.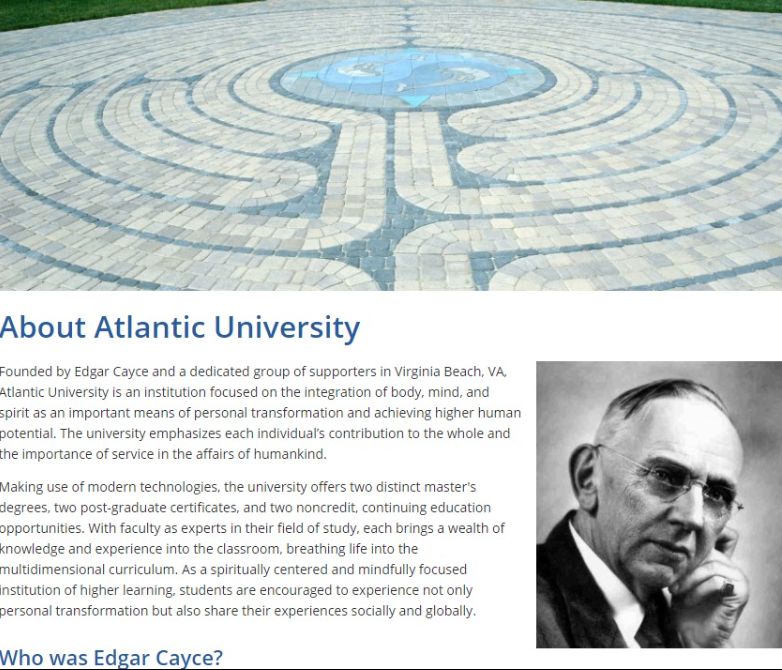 Marilyn Monroe, Irving Berlin, Harry Houdini, George Gershwin, and Thomas Edison reportedly sought him out. There are two Cayce schools, Atlantic University, which confers graduate degrees in leadership and transpersonal psychology, and a massage school that has graduated thousands of students worldwide.
The Edgar Cayce, Physician's Reference Notebook, by William A. McGarey, M.D., and associates. The book offers treatment recommendations based on the Cayce readings for over fifty diseases and conditions, including baldness, breast cancer, color blindness, diabetes, hemophilia, hydrocephalus, leukemia, multiple sclerosis, muscular dystrophy, stroke, stuttering, and syphilis. The Notebook also states:
Baldness is most often caused by glandular insufficiency and spinal lesions (subluxations).

Color blindness is caused by the conduct of the afflicted person in a past life, and treatment should include spinal adjustments and a diet consisting mostly of alkali-producing foods.

Hemophilia is correctable, "a simple case of a deep-seated defect in the assimilations of the body," and treatment of newborns so afflicted should consist primarily in the addition of blood pudding to the diet.

Obesity is caused principally by an excess of starches in the diet, and treatment should include eliminating most starches.

Psoriasis is caused by a thinning of the intestinal walls, which "allows toxic products from the intestinal tract to leak into the circulatory system and find their way into the lymph flow of the skin."
All of this while the Cayce movement is described as cult-like while others call Edgar Cayce a fraud, so who is right? So we bring you the Edgar Cayce Secret File; using a purely historical approach and having double-checked it's accurate, we believe the following chapters will tell you about everything there is to know about Edgar Cayce today:
- Cayce's ability (whatever its nature) to effortlessly absorb books' contents makes it seem inevitable that Cayce would have attempted to acquire religious knowledge in this way. The day after he arrived in Hopkinsville, Cayce searched for a town-based job and found one with E.H. Hopper & Son Bookstore, which from 1874 to 1913 also housed Hopkinsville's collection of public library books. There "seemed to be something appealing" about the bookstore, and Cayce recalls that "the several years I remained there seemed to be the stepping stones: yea. even the door to life itself." without explaining why, continue in Edgar Cayce's Secret, Part 1.
Robert Smith claimed that if Cayce did meet President Wilson, however, he was never told of this and suggested that he had confused Wilson with a cousin of the president's for whom Cayce did, in fact, give readings. Also, several of Cayce's partners and associates in the several oil ventures were clearly promoters of dubious character. The question must be asked whether Cayce himself should be considered one as well rather than simply as an innocent pawn of others, as ARE literature suggests. That Cayce no less than Kahn was an active participant in what came to be known simply as "the proposition" is illustrated by his travels to "New Orleans, Jackson, Memphis, Denver, all over Texas, St. Louis, Chicago. Indianapolis, Cincinnati- Washington, New York, Philadelphia, Florida.," as well as Columbus. Kansas City, Pittsburgh, and New York City. In any case, what began as a search for oil and then for oil investors around 1922 blurred into a direct search for hospital donors. Allies in Birmingham, New York, and Chicago all indicated a willingness to raise money for the venture, provided it would be located in their respective cities. The readings, however, indicated the Norfolk area, apparently for spiritual and karmic reasons, continue in Edgar Cayce's Secret, Part 2.
Attempts to pinpoint Cayce's religious heritage are inevitably contentious given the strong feelings of so many people who seek to claim (or reject) him as a representative of their own beliefs. Christian-oriented Cayceans such as Bro stress the Christian basis of his teachings while asleep and active church life while awake over the objections of Christian opponents of Cayce, who emphasize his many departures from mainstream Christian doctrine. New Agers note Cayce's use of language and ideas consistent with various Western esoteric traditions; simultaneously, Christian-oriented Cayceans point to his efforts to distance himself from Spiritualism and occultism. There is something to be said in favor of all of these perspectives. I propose to call Cayce a syncretizer since this brings out the diversity of his sources and suggests fruitful link's with other turn-of-the-century syncretizers.- In 1906, a test was arranged for Cayce in which he would give a reading for a patient chosen for him before a large audience of visiting physicians. However, when the reading proved accurate, members of the audience stormed up to him while he still lay in a trance and began conducting impromptu tests to see if he really was under hypnosis. One doctor peeled back one of his fingernails, while another stuck a hatpin through his face-common stunts in stage hypnosis at the time. Cayce did not flinch but later awoke in great pain. As a result of this experience, he resolved to stop trying to convince skeptics and give readings only for those who genuinely wanted his help. To Cayceans, the incident illustrates the limitations of a formal scientific or scholarly approach to the readings, continue in Edgar Cayce's Secret, Part 3.
The usual approach to the readings also ignores the passage of time. Readings from different decades are quoted alongside one another typically (due to the nature of the ARE's citation style for readings extracts) with no indication of when they were delivered. Yet, a certain evolution can be observed in the content and tone of the readings over the five decades of Cayce's psychic career, which becomes lost whenever readings from different periods are lumped together the indiscriminately.-The chronic problem is that those aspects of Cayce which manage to find their way into popular publication are those which match the needs and mores of the Cayce movement. These are often arbitrarily or ideologically chosen, continue in Edgar Cayce's Secret, Part 4.
In the course of surveying the history and teachings of the Cayce movement, it is easy to lose sight of the experience of its participants. After all, Cayceans are typically less interested in studying the origins of their institutions than in contemplating the possibility of deeper levels to the universe and themselves or in changing their lives to reflect more of spiritual orientation. How these aspirations are expressed are numerous, continue in Edgar Cayce's Secret, Part 5.
Today, the ARE's request that study groups collect contributions seems to be practiced regularly when not disregarded altogether. Of the groups I have attended, only the one at ARE headquarters solicited donations each week, with one dollar appearing to be the standard per capita contribution.- A democratic ARE (to the extent that such a thing is even conceivable) might easily prove even more anti-intellectual and personality-driven than its present incarnation. At the same time, the example of the Swedenborg Foundation demonstrates that it is possible to combine academic respectability (recent monographs have dealt with D.T. Suzuki. Henri Corbin and Kant) with at least nominal democratic safeguards (e.g., proxy voting). A key difference is that the various Swedenborgian churches are institutionally separate from the Swedenborg Foundation- whereas the ARE combines both of these functions and many more, continue in Edgar Cayce's Secret, Part 6.
Some leave when they do not find their vision reflected, complaining about the politics of Virginia Beach. Others accommodate themselves to a framework with which they are not entirely comfortable or become outspoken in their attempts to change the organization. The ARE leadership presently incorporates several distinct visions--some complementary, some not. The organization is sufficiently decentralized to keep these visions in a sort of equilibrium based partially on inertia (once a given program is started, it will probably be continued) and partially because most Cayceans have multiple interests concerning the readings. However, skeptical or scholarly approaches are definitely a minority interest within the ARE. They are almost wholly unrepresented within those functions that have the greatest capacity for influencing the Caycean masses (e.g., study groups, publishing, or conferences). -An object of ARE charity really a public relations activity, a disguised form of product development, or an expression of a liberal theological identity (against those Southern Protestant denominations that are perceived as anti-scientific). Inquiries into the source question have lacked the necessary connections for the first category, are not particularly well-suited to the second or third, and work at cross-purposes to the fourth by giving comfort to the ARE's enemies. The result is that Cayce's research has proceeded for half a century now without much appreciation of the Cayce movement's forebears, continue in Edgar Cayce's Secret, Part 7.
Edgar Cayce's readings are full of Masonic allusions- Cayce refers to Jesus's initiation through a series of degrees in Egypt. Besides the obviously Masonic concepts of initiation and degrees, turn-of-the-century Freemasonry often wrapped biblical themes in ancient Egyptian motifs, following the pattern set by Cagliostro. In addition, Cayce sees geometry as containing deep spiritual insights, a quintessentially Masonic notion. The letter "G" in the Masonic symbol is sometimes said to stand for "geometry," although American Masons usually interpret it as standing for "God." The Royal Arch degree, known as the "Knight of East and West," even uses the symbolism of the Book of Revelation in an initiatory context, as does Cayce, continue in Edgar Cayce's Secret, Part 8.
During his lifetime, Cayce was widely assumed to have some connection with Spiritualism, as illustrated by this 1930 headline from the Baltimore Sun: "Spiritualist Research Aim of Atlantic University." (177) Observers of Cayce had good reason to associate him with Spiritualism, since Cayce's practice of medical clairvoyance was known from the Spiritualist movement (Edgar Cayce would also subsequently claim to have become a reader of the "Akashic Records"), continue in Edgar Cayce's Secret, Part 9.
Like Blavatsky, Cayce, too would report being visited by a being wearing white robes and a turban. Several of Cayce's friends had an interest in Theosophy, including Arthur Lammers and Morton Blumenthal, and while awake, Cayce spoke before at least one Theosophical Society meeting (in Birmingham, Alabama), continue in Edgar Cayce's Secret, Part 10.
The Cayce readings refer to New Thought denominations from time to time; 3063-1 recommends "Divine Science, Unity, or Christian Science; provided they do not require that the body be kept from making those administrations for the physical and mental self." Except for Christian Science, Cayce appears to regard these movements favorably, without any of the qualifications which inevitably accompany his praise of other religious movements such as Spiritualism or Theosophy. Today, ARE functions bear more than a passing resemblance to New Thought services, and many ARE conferences and retreats are held in Unity churches and the like. A retreat jointly sponsored by Unity and ARE was held at Unity Village in 1996 after several previous ARE events. (Charles Thomas Cayce met his eventual wife, Leslie Goodman Cayce, at just such an occasion.) The ARE Library has acquired the Metaphysical Society of San Francisco, established by Homes of Truth founder Annie Rix Militz, continue in Edgar Cayce's Secret, Part 11.
The outlines of the "proto-New Age" should be clear enough now. Around the turn of the century, several spiritual leaders and movements whose teachings mixed themes from Spiritualism, Theosophy. New Thought, and alternative health. They emphasized reincarnation, astrology, and psychic phenomena and spoke of Atlantis, ancient Egypt, the Essenes- and Jesus's Journey to India. They endorsed alternative health practices (often naturopathic ones). They accepted a view of human anatomy which merged the chakras and nadis of Indian lore with the glandular and nervous systems of the Western fore. Many (though by no means all) 'incorporated racist or anti-Semitic beliefs into their spiritual systems. It is here that we should take for Cayce's closest theological relatives.-Despite Cayce's reluctance to endorse it, the teachings of The Aquarian Gospel of Jesus, continue in Edgar Cayce's Secret, Part 12.
Cayce's psychological or spiritual interpretation of the fourth dimension and the explanation was given, consistent with Ouspensky's explanation in Tertium Organum. Although Cayce's division of human nature and the universe into three levels seems natural, it represents a departure from most other Western esoteric traditions and comes closest to that of Rudolf Steiner, continue in Edgar Cayce's Secret, Part 13.
Apart from pulp fiction which, as we described, also led to Scientology, there is an earlier precursor that also might have inspired the ancient astronaut theory first popularized by the "Occult Science" of H.P. Blavatsky, who wrote in her widely sold book "The Secret Doctrine" (which claimed to reveal "the origin and evolution of the universe and humanity itself") that already during the time of "Atlantis" there were flying machines and that knowledge of such machines "was passed on" to later generations in India. Similarly, the founder of today's top-rated Waldorf schools Rudolf Steiner, also claimed that the Atlanteans had aircraft that had steering mechanisms by which they could rise above mountain ranges.
In the perpetual motion milieu, frauds who have appealed to occultist thinking have abounded. For example, from 1873 until he died in 1898, John E. W. Keely of Philadelphia promoted a mysterious motor that ran on "etheric force" derived from the "disintegration of water." He raised millions from financiers and the public for his company on the strength of his demonstrations of such phenomena as musical notes causing weights to rise and fall. Of these performances, which had a kinship to séances, he remarked, "I am always a good deal disturbed when I begin one of these exhibitions, for sometimes if an unsympathetic person is present, the machines will not work." Theosophists of the age admired him for combining "the intuitions of the seer with the practical knowl­edge of mechanics."
Rudolf Steiner firmly believed in and confirmed his own so-called clairvoyance the reality of the Keely phenomena to next claim to e able to duplicate Keely through his own Clairvoyantly as described in the article "From the Keely engine to the Strader machine. Except as Wouter Haanegraaf clearly demonstrated, Steiner's clairvoyance was based on ' imaginative fantasy.' continue in Edgar Cayce's Secret, Part 14.
The readings claim that Mary, Joseph, and Jesus were affiliated with an Essene community based on Mount Carmel, which was a continuation of a "school of the prophets" begun by Elijah, Elisha, Samuel, and ultimately Melchizedek (254-109). The Essenes are not mentioned in the Bible. Yet Several occult gospels confirmed that Jesus had been a member of the Essenes and the Great White Brotherhood.
The notion that Jesus had spent his "lost years" wandering Asia by no means originated with Cayce. Its first proponent seems to have been the Russian war correspondent Nicholas Notovitch (1858-c. 1916), who describes his travels in British India in work entitled La Vie Inconnue de Jesus-Christ (The Unknown Life of Jesus Christ), published in 1894. But as we pointed out early on is seen to be a fraud. Continue in Edgar Cayce's Secret, Part 15.
For updates click homepage here