By Eric Vandenbroeck and co-workers 8 August 2019
Yesterday Wednesday 7 August lawyers marched through Hong Kong whereby two days earlier, on Monday, HK police revealed armored trucks to fight protests; Bulletproof vehicles, sound, and water cannons will be deployed in future Hong Kong demonstrations.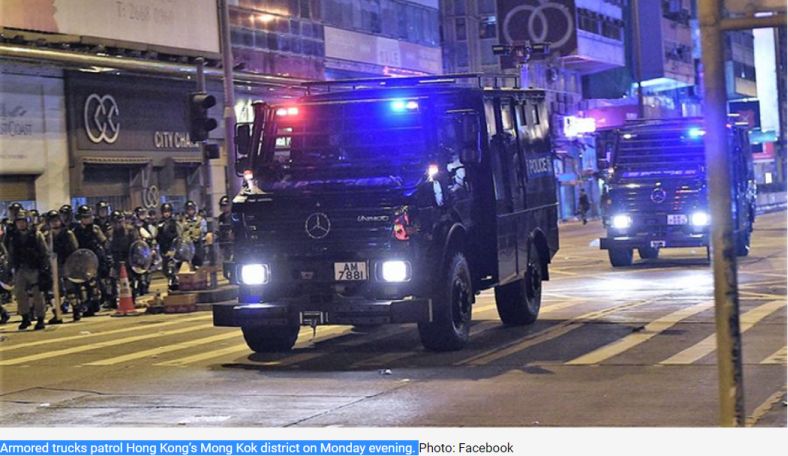 Yesterday around 3,000 legal lawyers demonstrated in Hong Kong to pile pressure on the justice department in the ninth week of protests. Dressed in black, more than 3,000 lawyers on Wednesday (Aug 7) marched from the Court of Final Appeal to Justice Place shortly before 1pm, making this the sixth and largest silent protest of its kind staged by the legal community since Hong Kong was handed back to China by Britain in 1997.

During these nine weeks, Hong Kong protesters have drawn the world's attention to the fragile state of play in this Special Administrative Region of China. As many as 2 million people, out of a population of 7.5 million, have poured into the streets, protesting the erosion of their special status. And next, three days of demonstrations are planned at the airport.
The city's pro-Beijing government is pushing a bill through the legislature that would allow extraditions to any jurisdiction with which it doesn't already have a treaty, including mainland China for the first time. The proposal has sparked some of the biggest protests the city has seen in recent years as well as criticism from influential legal groups, business associations, and western diplomats.
This week has seen escalating criticism from the city's influential legal communities, including the Law Society -- which published a detailed critique of the proposals, adding to opposition already voiced by the Bar Association and multiple chambers of commerce. Critics fear the law if passed, will entangle people in China's opaque and politicized court system.
Former Bar Association chairman Alan Leong urged authorities to act to save Hong Kong. "Because our system is deteriorating at a speed that is totally unacceptable. Unless we do something to regain the trust and confidence of not only Hong Kong, but also of the international community, in the Hong Kong legal system, we are doomed," he said.
The lawyers also said they fear that the justice department's prosecutions of arrested protesters are taking an increasingly political slant after 44 protesters were charged with rioting, an offense that carries a 10-year jail term.
"We see there has been selective prosecution," said a 29-year-old litigator who would only give her name as JL. Referring to attacks on demonstrators by suspected triads, she said: "The [lack of prosecutions over the] white shirt attack in Yuen Long, compared to the speed of charging so-called rioters, there's a difference in how police handle the case."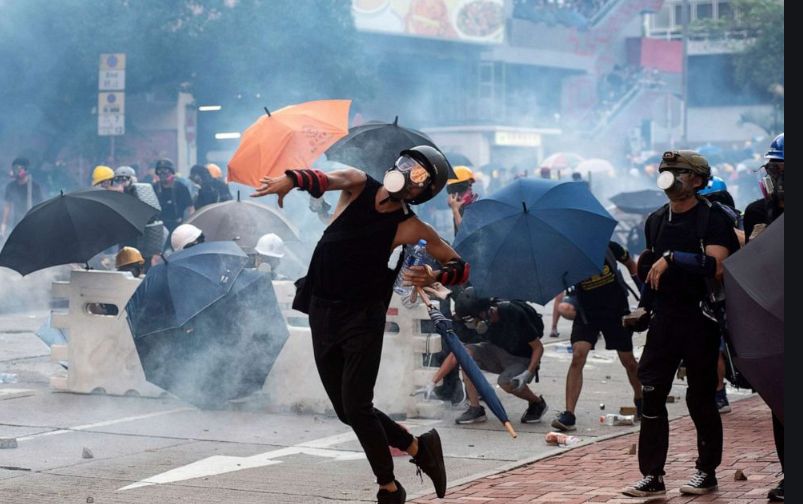 The question now is will China crush the protests in Hong Kong?
China warned Tuesday that it will be "only a matter of time" before it punishes those behind two months of pro-democracy protests in Hong Kong that have increasingly devolved into violent clashes with law enforcement. Will China crush the protests in Hong Kong?
Speculation has grown that the Communist Party-led central government will deploy the military to quell demonstrators after Chinese officials pointed to an article in Hong Kong law that allows troops already stationed in the city to help with "public order maintenance" at the Hong Kong government's request.
In a video posted by the Global Times of police drills in Shenzhen, the mainland city bordering Hong Kong, dozens of police were seen taking on a group of protesters dressed similarly to the Hong Kong demonstrators.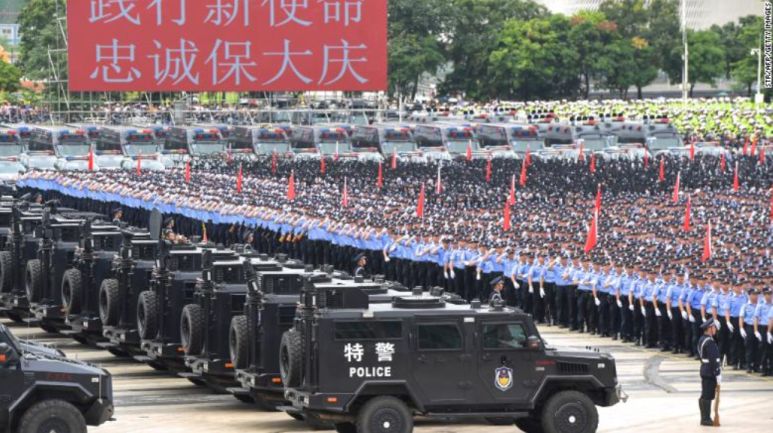 But Chinese authorities already have a tool kit, honed during the 2014 protests known as the Umbrella Movement, to keep Hong Kong in check. Rather than cracking down with its military, the mainland authorities are likely to step up other repressive measures to end the protests and restore comprehensive control without undermining an arrangement that serves them well. Beijing, in other words, doesn't need to turn to what commentators call the "nuclear option": it hopes to achieve what it wants at lower costs with tools it has used before.
Also as indicated above, the police are credibly suspected of colluding with triads, members of Hong Kong's organized criminal underworld. In a July 21 incident, hundreds of suspected triads dressed in white shirts indiscriminately beat locals with wooden sticks and metal rods at the Yuen Long train station. The police did not show up until after the gangsters had left, and senior officers were filmed speaking with the men in white shirts prior to the attack. Suspected protesters (including a nurse who volunteered emergency first aid) have been charged with rioting, which carries a maximum prison sentence of ten years, yet the gangsters have merely been investigated for unlawful assembly, a much less serious crime. Hong Kong police said they arrested 568 demonstrators aged 13-76 since June.
So far, verbal threats and physical abuse have only stiffened the resolve of Hong Kong's people to defend the freedoms they have grown up with. Various professional and community groups, including accountants, architects, civil servants, finance workers, flight attendants, and medical workers, have organized one demonstration after another. Waves of arrests have inspired protesters to surround police stations and courthouses. In the last two weeks, the confrontations between protesters and the police have spread from Hong Kong Island to residential and shopping areas across the territory. 
There is some chance that the police and the triads can end the current cycle of protests by arresting, jailing, and roughing up enough people. However, the people of Hong Kong are turning to other protest methods, such as a general strike, boycotts against pro-Beijing businesses, and targeted support for pro-democracy entities, that are less vulnerable to police and triad brutality. Most of all, indiscriminate and illegitimate coercion has backfired by creating public outrage against Beijing.
Whereby normalizing police and gangster violence, China has exposed the lie behind "one country, two systems" and its principle of "Hong Kong people ruling Hong Kong." The message that the "radical" protesters, at the high price of police beatings and heavy jail terms, want to send to Beijing is that "if we burn, you burn with us." Beijing is still unlikely to send in troops. But if it is looking for an excuse to declare an emergency, it will have one, but one that is of its own making.
Australia on Wednesday joined Ireland, the UK, and Japan in issuing Hong Kong travel warnings. More than 5 million people visited Hong Kong in June this year, of which roughly 80% were from mainland China. Still, there are varying reports about whether tourism has been affected by the protests.
Police said they arrested 148 people in connection with Monday's protests, and another nine on Tuesday night. A total of 589 people have been arrested in connection to the protests in the past two months.
During an earlier 79-day round of protests in 2014 demanding direct elections for Hong Kong's chief executive, police announced around 1,000 arrests. Eight leaders of the 2014 movement were sentenced this year to up to 16 months in prison on charges of public nuisance offenses, in what critics called an apparent effort to intimidate other activists.
As the government has refused to budge on protester demands, Chinese state-run media has ramped up its rhetoric against the demonstrators. It only worsened after Hong Kong protesters twice threw the Chinese national flag into Victoria Harbor in the major shopping district of Tsim Sha Tsui, provoking fury on the mainland.
In an editorial Monday, state-run news agency Xinhua said "the bottom line of 'One Country, Two Systems' brooks no challenge," referring to the special legal structure under which Hong Kong is governed. Xinhua said throwing the flag into Victoria Harbor was "an unforgivable, lawless act that has blatantly offended the national dignity, is an insult to all Chinese people."
But Hong Kong is not Tiananmen Square, and 2019 is not 1989. Putting these protests down with the army would not reinforce China's stability and prosperity. It would jeopardise them.
The latest protest in Hong Kong is a laser show at the space museum, intended as a rebuke to police after a student got arrested for carrying laser pointers last night.
But if Beijing is not bluffing
If Beijing is not bluffing, however, and does eventually intervene, it would do so cautiously. Rather than risk another Tiananmen Square-style incident by sending in the People's Liberation Army, Beijing would probably rely on the People's Armed Police, which is better equipped to defuse protests and riots without causing a bloodbath. Hong Kong's Basic Law doesn't provide for the entry of mainland forces other than the People's Liberation Army (and then only upon the request of Hong Kong's chief executive). Beijing might instead cite Article 18 of the basic law, which permits the National People's Congress to impose a curfew if the Hong Kong government cannot restore order, arguing that the right to impose a curfew implies the right to police a curfew. If it did, however, local police would probably be in command of any People's Armed Police forces.
More protests and civil unrest are set to rock Hong Kong, starting on Friday at Hong Kong International Airport with a rally expected to last three days.
According to information widely circulated online Wednesday, protest organizers have called for a "tourist reception by 10,000 protesters" at the Arrival Hall in Terminal 1 at the airport starting from 1pm on Friday.
Update 9 August:
The crowd at the airport, early this afternoon appeared to number in the high hundreds, included many older Hong Kongers, in contrast to the young people who have been at the forefront of recent street battles with police. Protesters held signs in English and Chinese and had printed leaflets in multiple different languages explaining the causes and demands of the demonstrations for arriving tourists.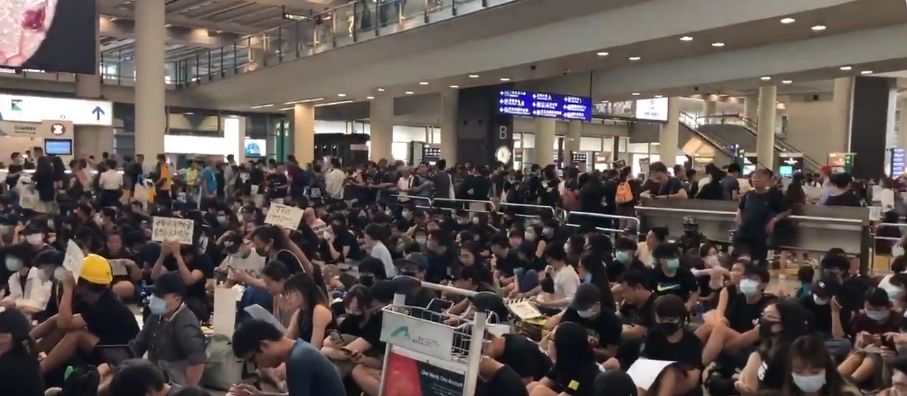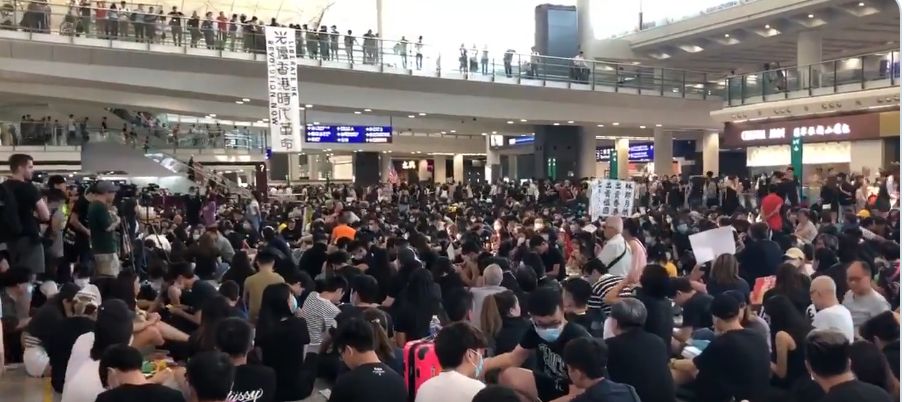 Multiple additional protests are planned for this weekend, including in the northern New Territories town of Tai Po and in Sham Shui Po, in Kowloon, where police fired tear gas in clashes with protesters earlier this week. As of Friday afternoon, police had refused to issue letters of no objection for the planned protests on Saturday and Sunday respectively, meaning they could be deemed illegal assemblies. Protesters are appealing those decisions.
For updates click homepage here