South Africa sees itself as the natural power in southern Africa. It is thus seeking to re-establish its hegemonic position, which during the apartheid era reached as far north as southern Angola and the Katanga province area in southern Democratic Republic of the Congo (DRC). Namibia, Botswana, Zambia, Malawi, Mozambique and Zimbabwe were also in this sphere of influence.
The end of apartheid in 1994 saw the African National Congress (ANC) party come to power in South Africa, first under Nelson Mandela and then under Thabo Mbeki. While both Mandela and Mbeki sought to reassure neighboring countries that South Africa no longer held hegemonic designs, South African commercial interests -- dominated by its mining sector but also including banking, construction and telecommunications -- not only continued but also expanded their operations in southern Africa.
South Africa's almost-complete consolidation of democracy under ANC rule also means its era of internal focus will be ending shortly, opening up room for maneuver elsewhere. With no credible rival political party in sight, Mbeki's party will face certain re-election in 2009. Mbeki's as-yet-unchosen successor -- or possibly Mbeki himself, since he has not ruled out seeking a third term -- will be expected to devote more resources to promoting South Africa as Africa's premier power, able to involve itself internationally by mediating conflicts in Africa and assuming leadership positions at the U.N. Security Council, the African Union and the G-8.
Already Africa's most sophisticated polity and greatest economy, South Africa's power soon will be complemented by a series of military moves. South Africa's push for a Southern African Development Community peacekeeping force, to be equipped and based in South Africa but able to inject itself into any of the continent's conflicts, will be reinforced by the procurement of Saab Grippen and BAE Hawk fighter jets, A-400M aerial refueling and transport aircraft and German submarines and corvettes. Delivery of this package began in 2006 and is expected to end by 2012. This defense package will provide South Africa, already Africa's leading military power, with an even more robust capability that will far outstrip the capabilities of any other African military.
Outside of southern Africa, South Africa has limited influence on the continent. During apartheid, South Africa did not concern itself with regions outside of southern Africa. It had enough going on domestically and in the southern region, from deal-making in the mining sector to combating liberation-seeking insurgents and domestic political opponents. Since the end of apartheid, South Africa's efforts to mediate conflicts in Africa, such as the political crisis in Cote d'Ivoire, have been blocked by countries such as Nigeria, which sees West Africa as its sphere of influence. South Africa has not even tried to mediate conflicts or become otherwise involved in the Horn of Africa.
West Africa and the Horn of Africa, however, are of great interest to AFRICOM. Securing access to energy assets in the Gulf of Guinea region is of core concern to Washington. This region includes Nigeria's violent Niger Delta, where the Nigerian government has struggled to rein in militant groups such as the Movement for the Emancipation of the Niger Delta. Combating terrorism in West Africa's largely ungoverned and violent Sahel is another of AFRICOM's core interests. Similarly, ensuring that Somalian territory in the Horn of Africa region does not fall prey to transnational jihadist fighters aiming to take advantage of that country's weak government and vast ungoverned territory is a final AFRICOM priority. This goal follows up on previous U.S. achievements through operations of the Djibouti-based Combined Joint Task Force-Horn of Africa.
While a decision has not yet been made on where to base AFRICOM -- which will begin as a subcommand of European Command by October and stand up as a separate command by fall 2008 -- a series of lily pad bases will be used to allow contingency operations in West Africa and the Horn of Africa. Administrative priorities aside, a single meaningful location for troop basing will be ruled out in deference to twin fears. One is the concern in Washington about committing large numbers of U.S. troops far from a sphere of core U.S. interests. The second is a fear held by African governments and populations that U.S. troops will serve as a colonizing power there.
Compared to other regional commands, AFRICOM will have a much more fluid, dynamic structure emphasizing civil-military cooperation. Under this framework, and to deflect criticism of imperialism, AFRICOM will work with other U.S. government agencies and with African militaries to build up local capacities to respond to humanitarian crises in addition to combating terrorism.
South Africa's limited influence outside southern Africa means Pretoria cannot be expected to block the bilateral agreements under which the United States will secure AFRICOM basing privileges. Liberian President Ellen Johnson-Sirleaf, whose nation enjoys a very close relationship with the United States, has been the most persistent African promoter of AFRICOM. Sao Tome and Principe and the Malabo archipelago of Equatorial Guinea are two possibilities for AFRICOM basing in the Gulf of Guinea region. And Manda Bay, on Kenya's east coast, and continuing operations at Camp Lemonier in Djibouti and in Ethiopia will figure into AFRICOM's Horn of Africa activities.
Strategy and enforced circumstances thus will result in a small but flexible AFRICOM footprint in a limited number of locations in West Africa and the Horn of Africa, something that does not directly clash with South African interests. Less pressing AFRICOM priorities in southern Africa resulting in the U.S. command's focus being directed elsewhere removes a possible major rival to South Africa's return as the dominant power in southern Africa.
Other potential rivals remain, however, and are contributing to South Africa's prickly posture. China is such a potential rival, which prompted Mbeki to warn that Africa must guard against a neocolonial relationship with Beijing. South Africa also is keeping a close eye on Angola. Historically, Pretoria has had a conflicted relationship with the Popular Movement for the Liberation of Angola, Angola's ruling party. Flush with energy and diamonds, Angola also no longer faces an imminent insurgency to distract it. That combination of circumstances means Pretoria is keeping a close watch on Angola's behavior in neighboring Zimbabwe and the DRC, which in turn means Pretoria must ensure that it remains fully capable of maneuvering in southern Africa.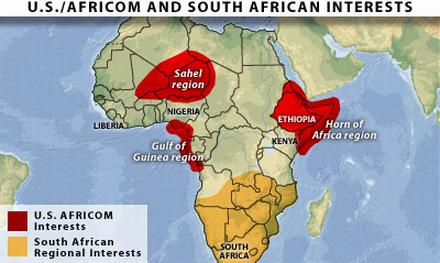 <![if !supportLineBreakNewLine]>
<![endif]>
For updates click homepage here